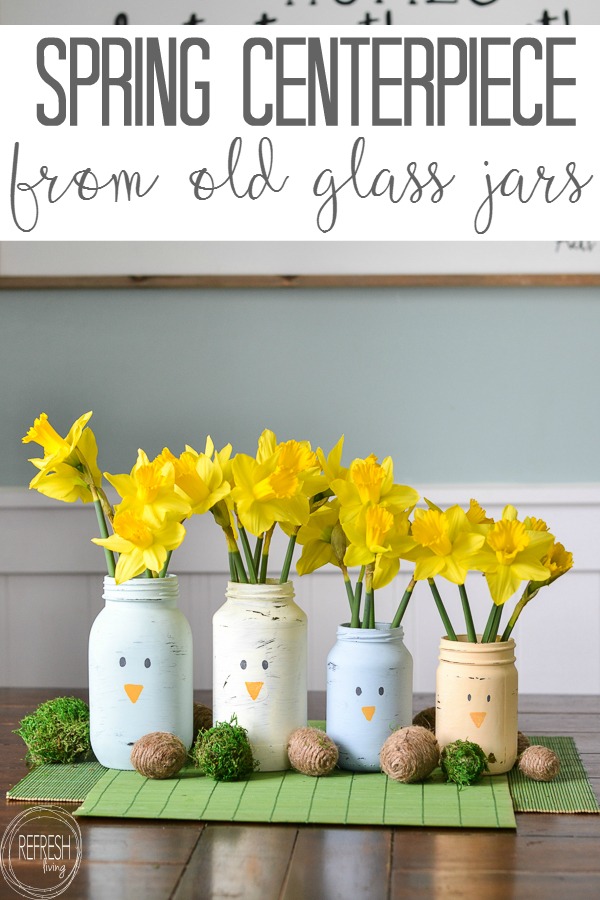 If you've been around here for any length of time, you know that I love to reuse items and create unique and inexpensive items to decorate our home.  Now that I have kids, I have a new found love for decorating for the holidays; every season I have a new challenge of how I can bring in seasonal decor without spending much money.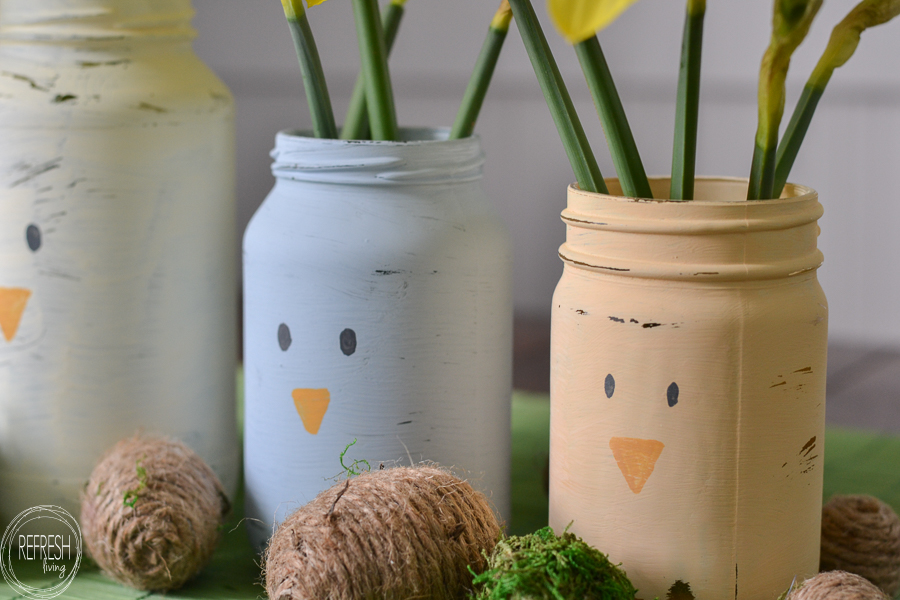 This spring, I used some of my old glass jars from my stash in the basement to make these cute little chalk painted jars.  I also found the BEST paint to use on glass jars that will not wash off AND gives a chalky finish.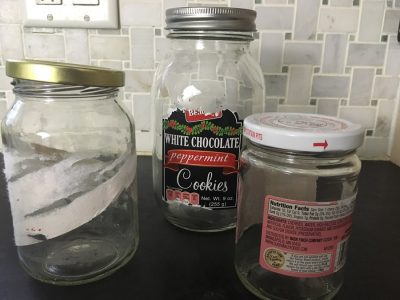 I started with some glass jars in different sizes.  You can see the labels were not cooperating, but thankfully I've figured out the best way to remove those stuck on labels.  It's a little strange, but it works so well!
After the labels were removed, I ran them through the dishwasher, and then cleaned them off with rubbing alcohol.  Anytime you paint glass, a good wipe-down with rubbing alcohol right before you paint is the way to go.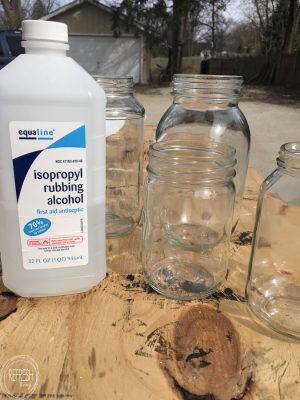 After completely cleaning the jars, it was time to get painting!
DecoArt provided me with the paint to try out for this project.  All opinions are my own.  Just know I simply wouldn't recommend a product I don't love!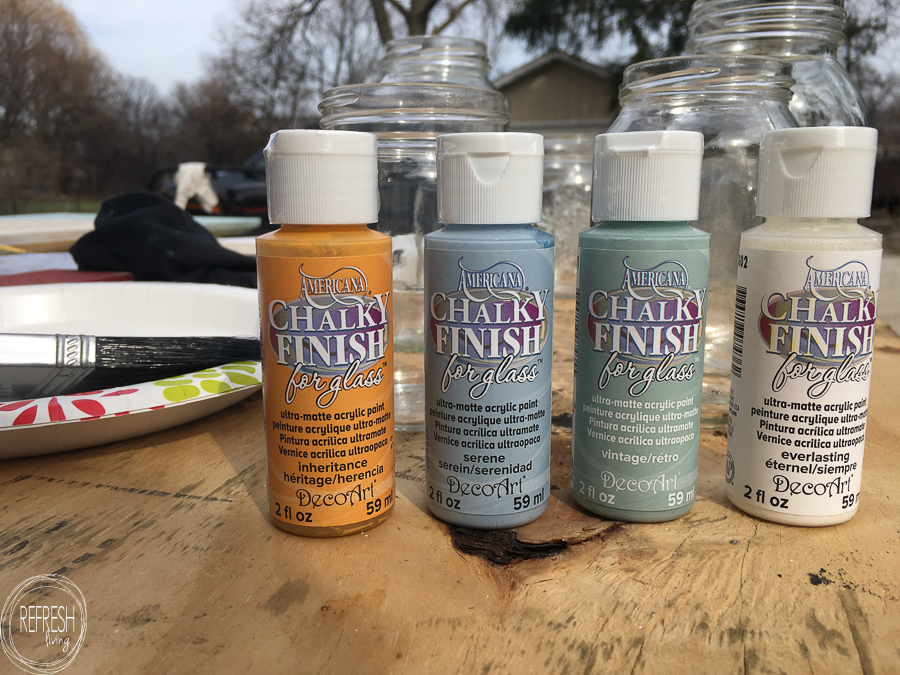 This Chalky Finish for Glass paint by DecoArt is awesome.  Regular chalk paint is not permanent on glass.  It can easily be washed off, and it certainly can't be put in the dishwasher.  Well, this paint is different!  After painting, you actually bake the glass jars in the oven (similar to other glass paints) making the finish permanent, and able to go in the dishwasher!


I mixed a little of the Everlasting (white) with each of the colors to get a more muted color.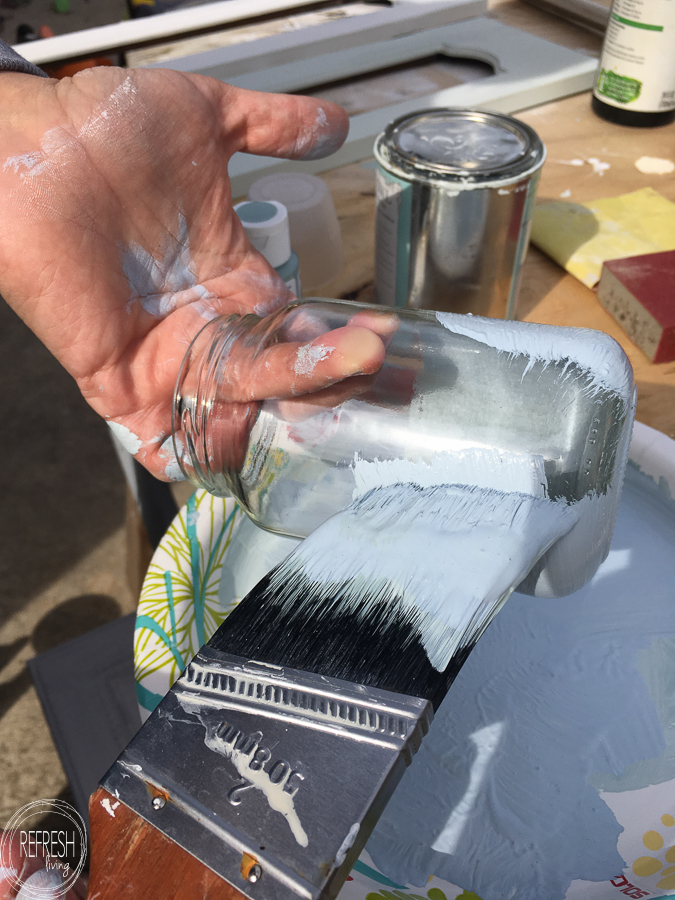 Using a regular paint brush I just painted the colors onto each of the jars.  If you've ever painted on glass before with most types of glass paint, you know that you often need to do multiple coats for it to cover correctly.  This paint is different.: one coat is all you need!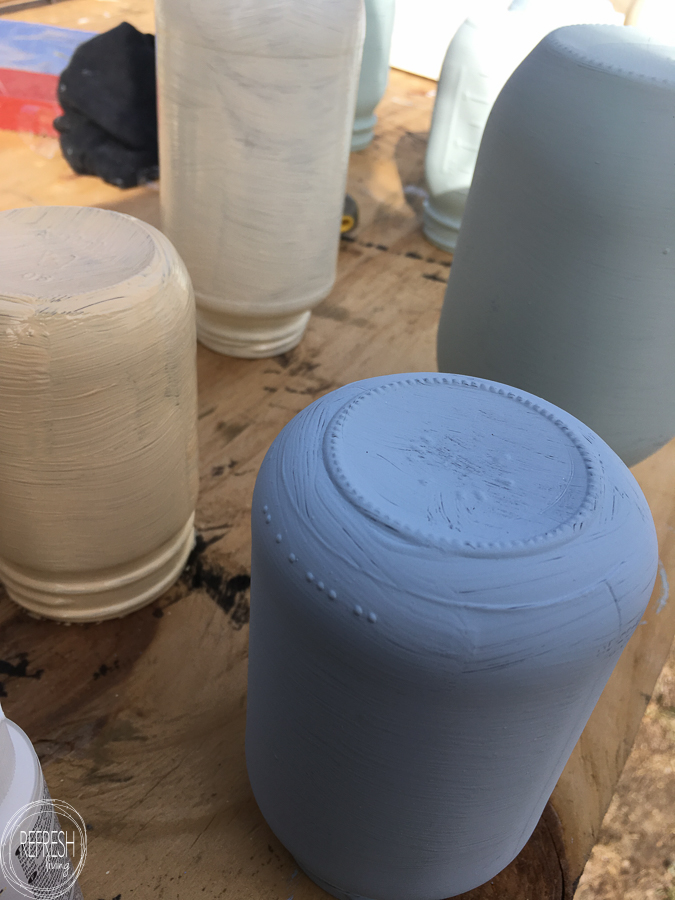 I then used Inheritance and Relic to paint on the beaks and eyes.  Once painted, they need to dry for four days (according to the directions on the back, if you want them to be dishwasher safe in the end).  After this four-day drying period, I used 220 grit sandpaper to distress the jars slightly.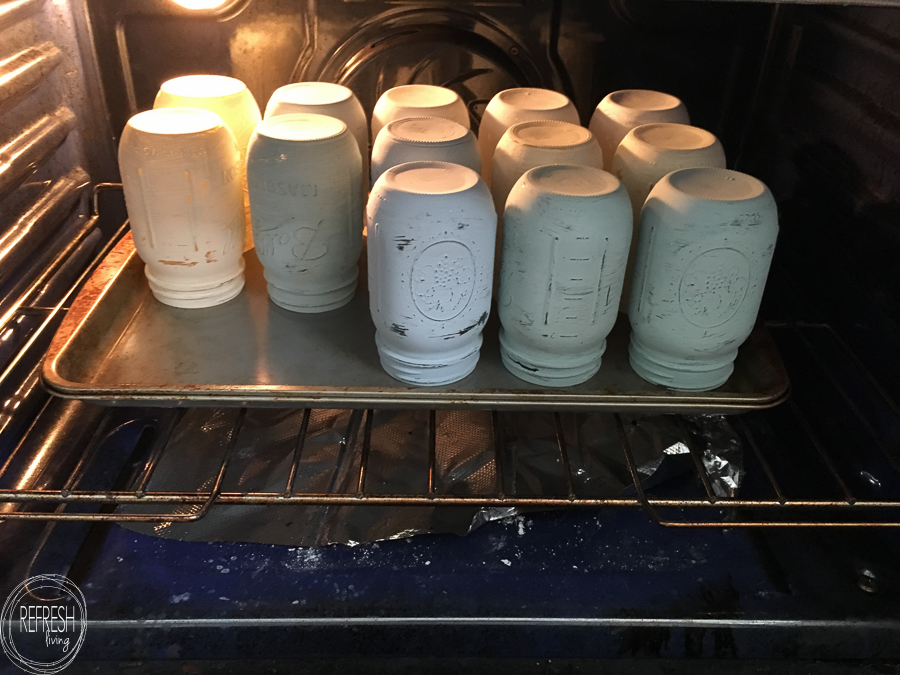 After drying, you place them in a cool oven, set the temperature to 325 degrees, and let them bake at that temperature for 30 minutes.  After the baking time, you turn off the oven, open the door a crack, and let the jars cool in the oven.  (I was obviously working on another project at the same time as this one, hence all the painted mason jars!)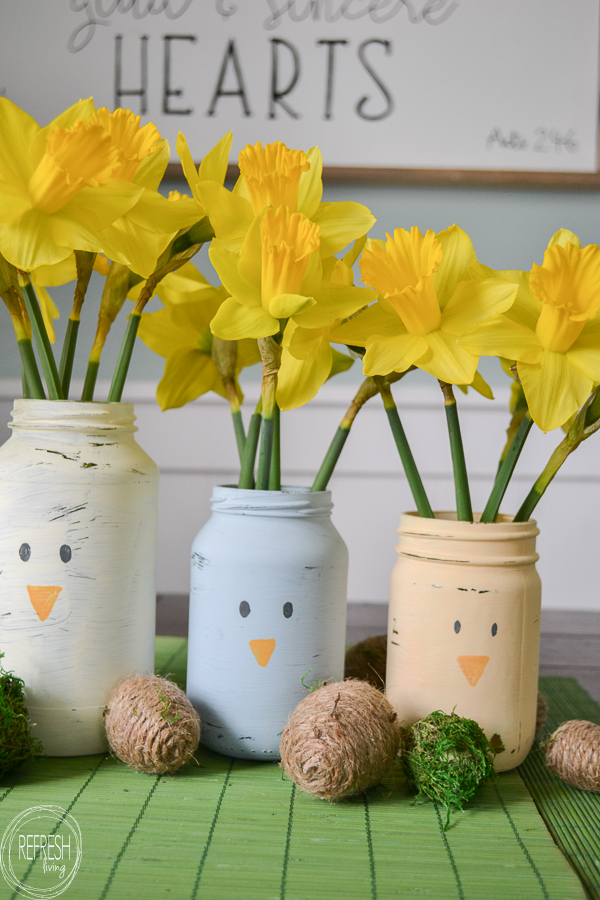 It's such an easy and fun project, and one that you could easily do with kids, too!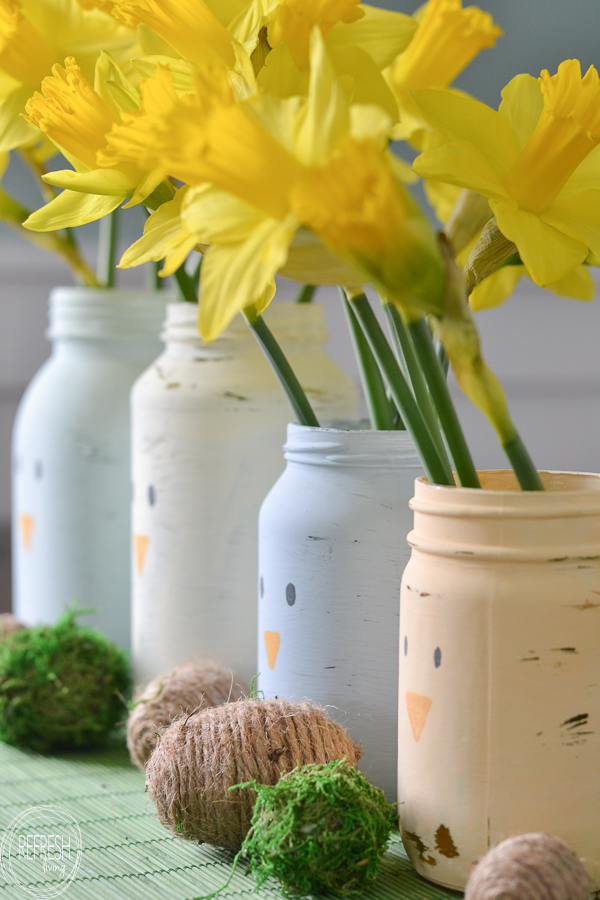 Little birdies are just the beginning! You could paint bunny faces, or go a whole other route for different seasons.  Hate cute little animals?  Ditch the faces all together!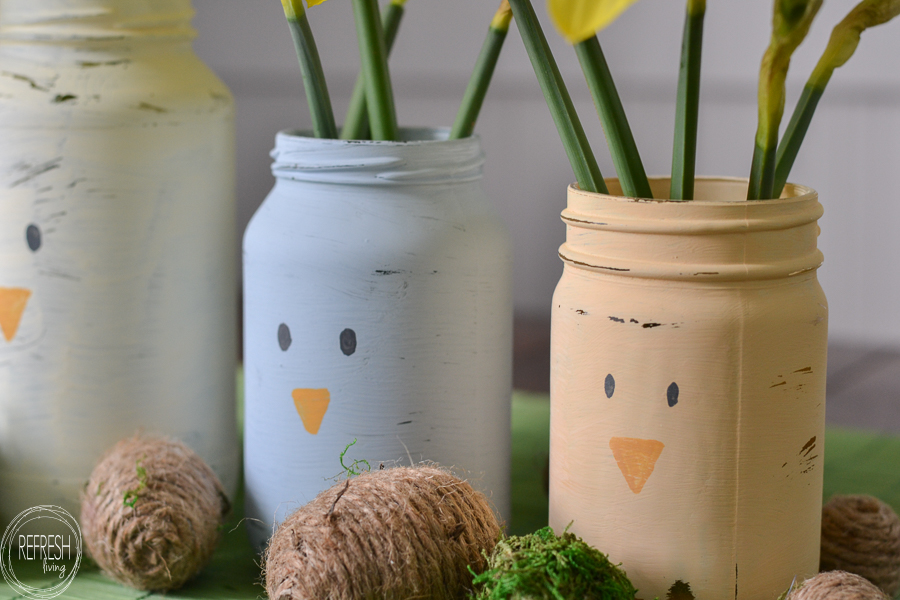 And just now, as I added this last picture, did I remember I wanted to wrap twine around the top of each vase!  Oops. Do you know how much cuter that would look?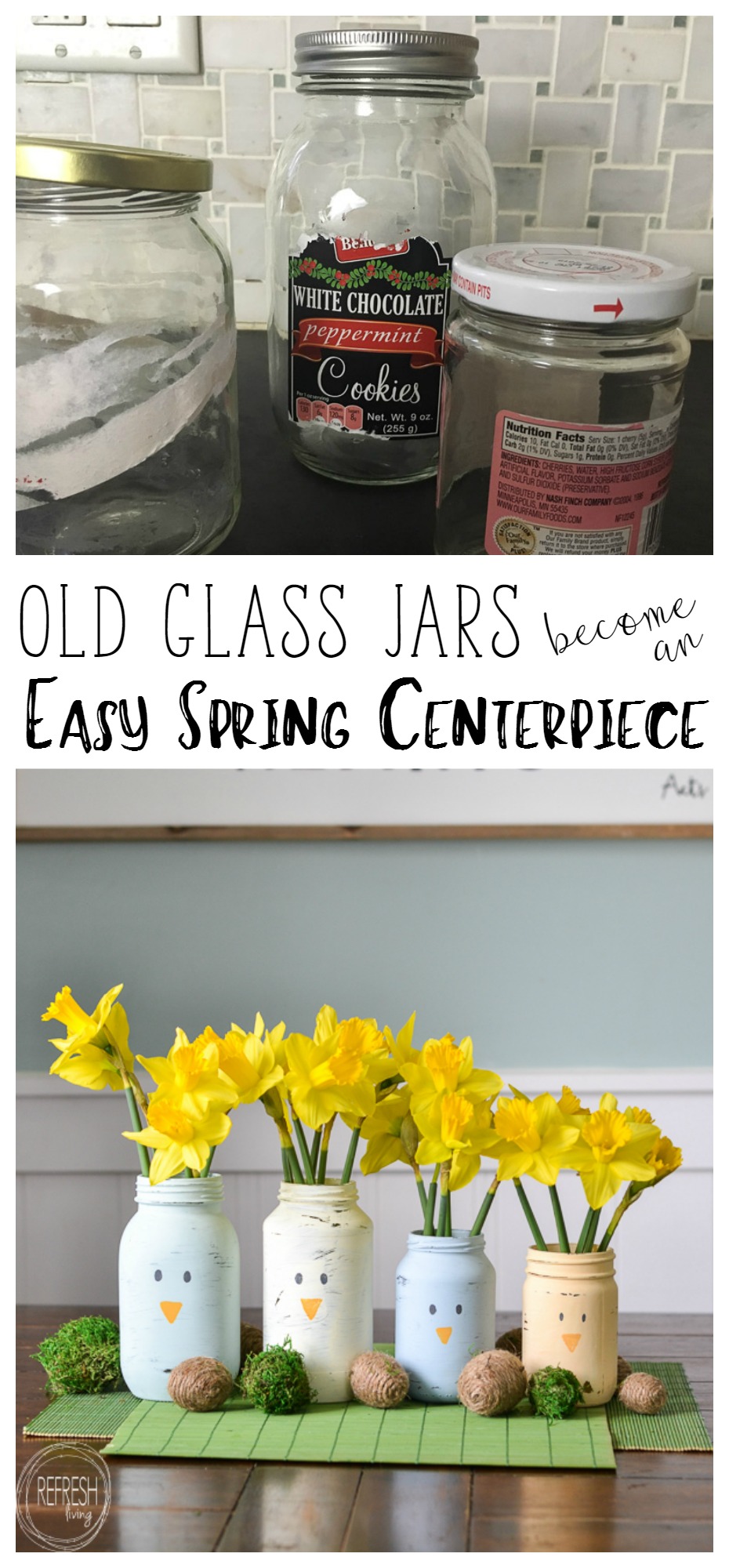 If you have a old glass jar stash in your basement like me, you'll want to check out these other posts using reused glass food jars!
Like what you see? I'd love for you to follow along!
The graphics library is free to all of my email subscribers; you can sign up by clicking the image below.

Join the Refresh Living DIY & Upcycling Community
Join the subscriber list to receive one to two emails per month with updates from the blog. PLUS, you'll gain access to my printables and graphics library. Every new design I create will be added here, and you'll have free access - forever!