This is an easy way to remove labels from glass food jars with supplies you already have around the house. These steps on how to take off labels from glass jars works every time!
I love reusing glass jars around the house and keep a stash of different sized jars in my basement to pull from when a project comes up. I've used them to make decorative storage for craft supplies and bathroom storage, to store smaller amounts of leftover paint, to make a ton of different seasonal crafts and to reorganize my entire pantry.
But, the hardest part to reusing glass jars always seems to be getting off the dang label. There's always a moment of anticipation right before trying to peel it off and the hope it will actually come off easily. Of course, it never happens that way. Thankfully, I've found an easy way to remove labels from glass jars that works every time!
This post was updated in 2021 with a video tutorial and new photos.
If you'd like to watch the video tutorial instead of reading, scroll down to the end of the post.
To start, I hand wash my jars to remove any stuck on food. Do not put the jars in the dishwasher with the labels on them. Many readers have commented that parts of the label can come off in the dishwasher and clog parts and cause damage. So, I always wait until the labels are completely removed at the end to put them through the dishwasher.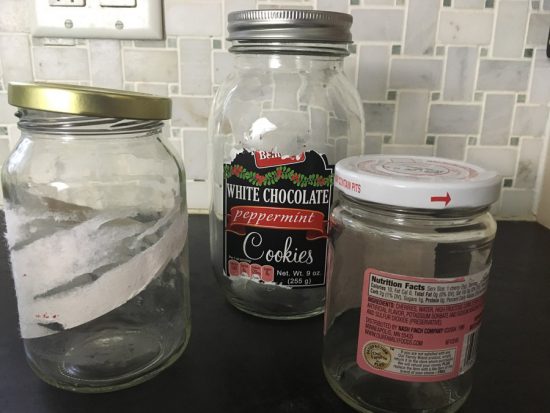 After handwashing, I try to peel off as much of the label as I can. The photo above shows the types of labels I started with after trying to peel them off by hand. As I'm sure you know, some labels come off easily, others in pieces, and others are so STUCK that it's hard to get anything off. Even if the label won't budge, this next step will still work!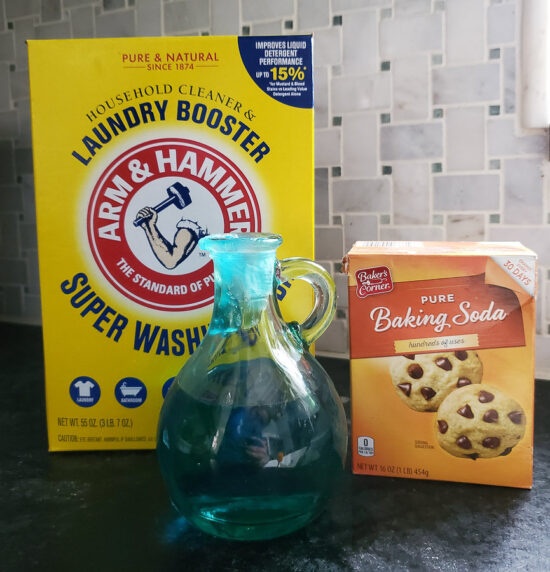 Hot Water Bath with…
This next step can be done in two different ways and usually removes most labels perfectly. I've found it works quicker if you start with hot, boiling water, but using hot tap water also works fine.
Washing Soda
Add about 1 tablespoon of washing soda to every cup of hot water.
Baking Soda and Dish Soap
Add 1 teaspoon dish soap and 2 teaspoons baking soda to every cup of hot water.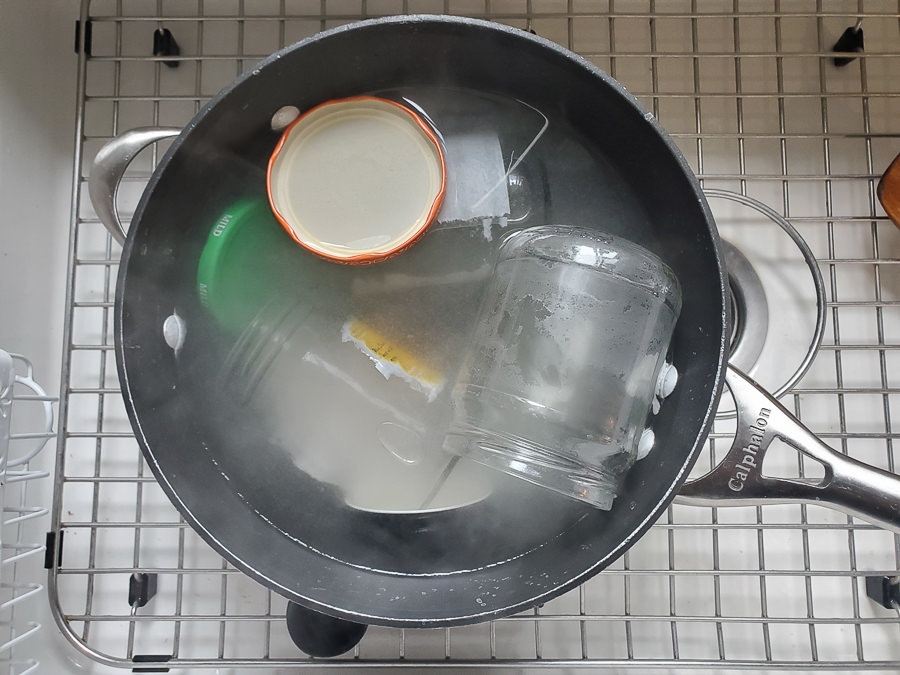 After mixing up the hot water bath, submerge the jars in the water and let them sit for a couple of hours. The longer they sit, the easier those labels will come off. Letting them sit overnight almost always works to remove even the most stubborn labels. (No need to keep replenishing with more hot water; it's okay when the water cools down to just leave it.)
When you take the jars out and start to peel off the labels, some of them will peel off right away. It's almost magical. For those that leave a little goop behind, take some of the label you've pulled off and dab at the glue that's still stuck to the jar. (It's the same technique you'd use to get Silly Putty off all the places it's stuck to and shouldn't be. I'm never buying that stuff again.)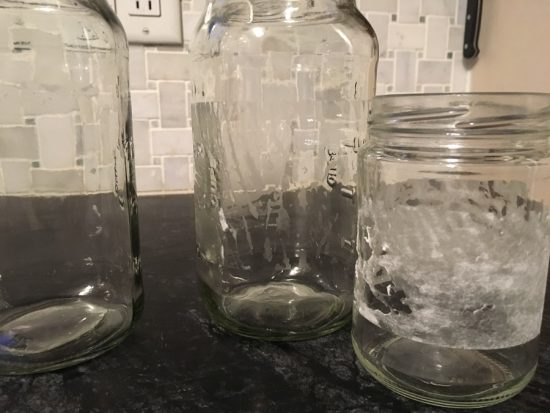 Sometimes, after this step, you'll be able to remove the entire label and residue. Sometimes, there will be a little glue left, and every once in awhile you'll have a lot (like my jar on the right).
Peanut Butter to Finish the Job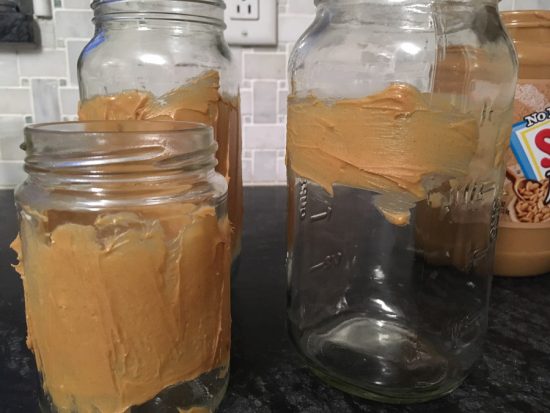 The next step is to grab that peanut butter jar! Just spread on a thin coat and let it sit for a couple of hours. Then use an old credit card to scrape off the peanut butter, and the glue along with it!
My husband saw the jars sitting on the counter and shared his two cents: "That's never going to work." I made sure to call him over when I was taking off the peanut butter. Needless to say, he was pretty impressed!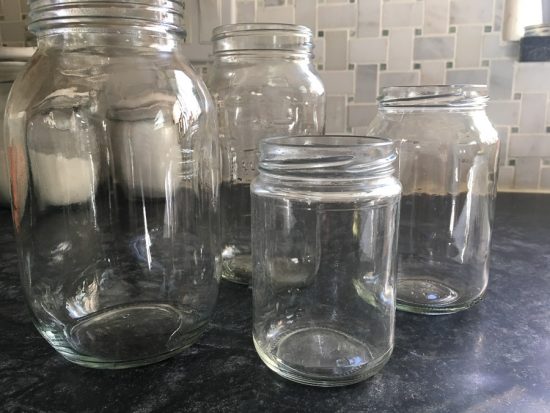 IT WORKS! No special effects or image editing here; those are the same jars I showed you in the first photo (plus one extra)!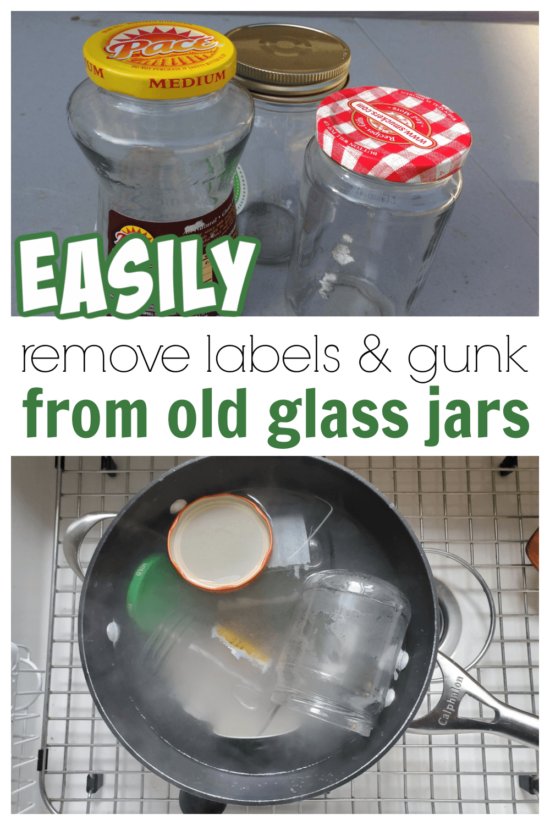 Video Tutorial
My all-time favorite way to reuse glass jars is by adding decorative knobs to the lid and using them for free organization around the house, especially for bathroom supplies, small craft materials, and office supplies.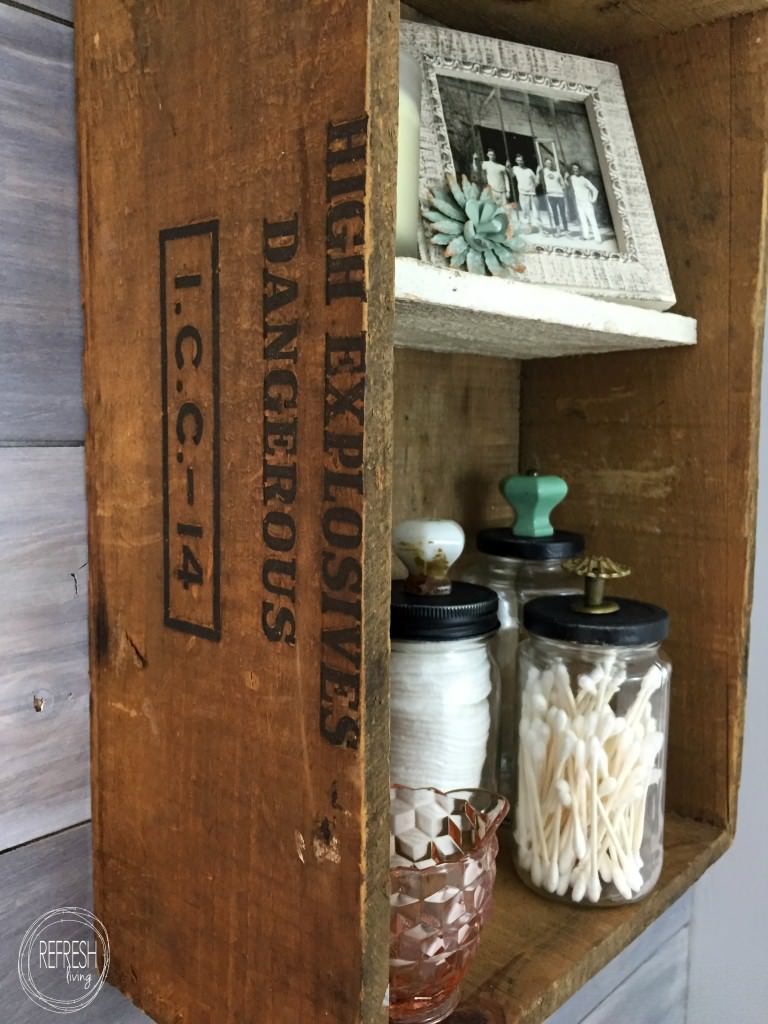 Wondering what else to do with those clean glass jars?

Join the Refresh Living DIY & Upcycling Community
Join the subscriber list to receive one to two emails per month with updates from the blog. PLUS, you'll gain access to my printables and graphics library. Every new design I create will be added here, and you'll have free access - forever!