It's no secret that I hate throwing things away around here, especially if I know I can use it in a functional way for something else.  I've admitted to having a glass jar box in my basement that makes me feel like a bit of a hoarder, but I promise I've been able to give those jars a second life. (And when the box becomes overflowing because I haven't been using them, I purge a few to the recycling bin.)
I think we all know that those labels on glass jars can be a pain to remove.  There's always a moment of anticipation right before you start to peel: "Is it going to peel off effortlessly in one piece or am I going to need to peel, pry, and pick at this puppy?"  All too often, those labels don't easily come off, and after trying a lot of different techniques, I've finally found a way to get off those labels, even the most stubborn ones.
To start, I always wash my jars in the dishwasher.  It obviously cleans the jars, and removes odors from the lids.  Sometimes, if I'm really lucky, it helps to loosen up the label, too, but let's be honest, that's not very common.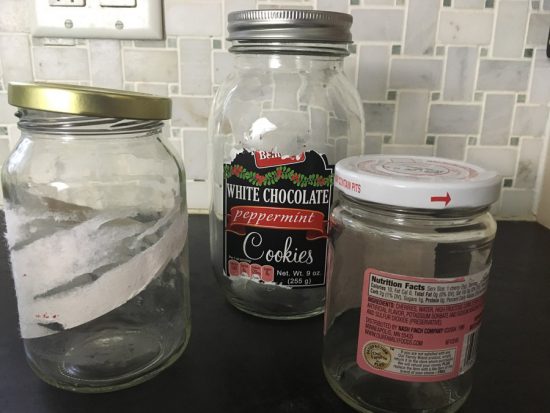 Here are the types of labels I started with after they were washed in the dishwasher, and I tried to peel them off with the hope they'd come off easily.  The one of the left is one of those where part of the label comes off easily, but leaves behind a lot of sticky glue and parts of the paper.  The middle jar's label is one that you can sort of scratch off with your fingernail, but it leaves behind all the glue, and, no one has time to pick the label apart piece by piece with their nail.  The one on the right is STUCK.  It's not going anywhere without some magic.
Click on the image below to read about my process for getting these jars label-free!