Stuck with icky, sticky labels on old glass food jars? This is the easiest way to remove labels stuck on glass jars and to get rid of the extra glue, too!
It's no secret that I hate throwing things away around here, especially if I know I can use it in a functional way for something else.  I've admitted to having a glass jar box in my basement that makes me feel like a bit of a hoarder, but I promise I've been able to give those jars a second life. (And when the box becomes overflowing because I haven't been using them, I purge a few to the recycling bin.)
I think we all know that those labels on glass jars can be a pain to remove.  There's always a moment of anticipation right before you start to peel: "Is it going to peel off effortlessly in one piece or am I going to need to peel, pry, and pick at this puppy?"  All too often, those labels don't easily come off, and after trying a lot of different techniques, I've finally found a way to get off those labels, even the most stubborn ones.
To start, I always wash my jars in the dishwasher.  *UPDATE* I no longer wash my jars in the dishwasher per some advice from readers. They commented that the paper can clog parts in the dishwasher and cause a lot of damage, so I stopped washing them in the dishwasher until I have all the labels removed.  Then, they go through a cycle to clean and sanitize before I use them for projects.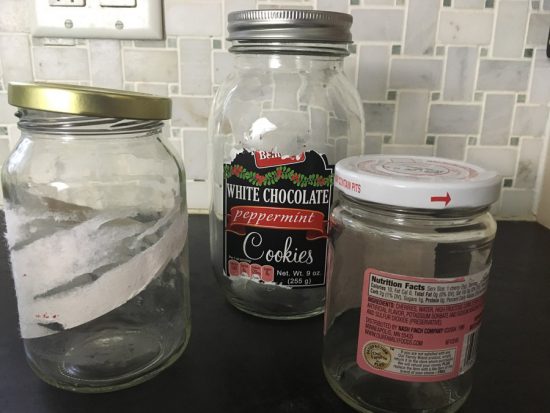 Now, I try to hand peel of the labels first.  Here are the types of labels I started with after trying to peel them off by hand.  The one of the left is one of those where part of the label comes off easily, but leaves behind a lot of sticky glue and parts of the paper.  The middle jar's label is one that you can sort of scratch off with your fingernail, but it leaves behind all the glue, and, no one has time to pick the label apart piece by piece with their nail.  The one on the right is STUCK.  It's not going anywhere without some magic.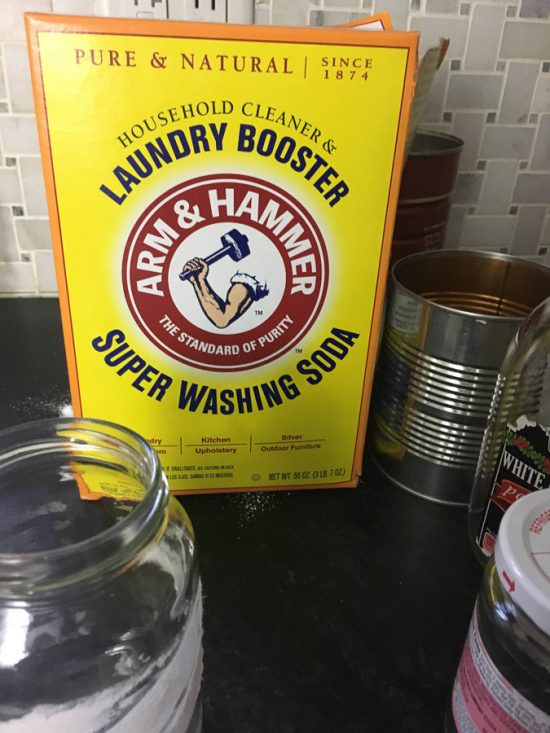 The first special ingredient is washing soda.  You can find it in the laundry aisle.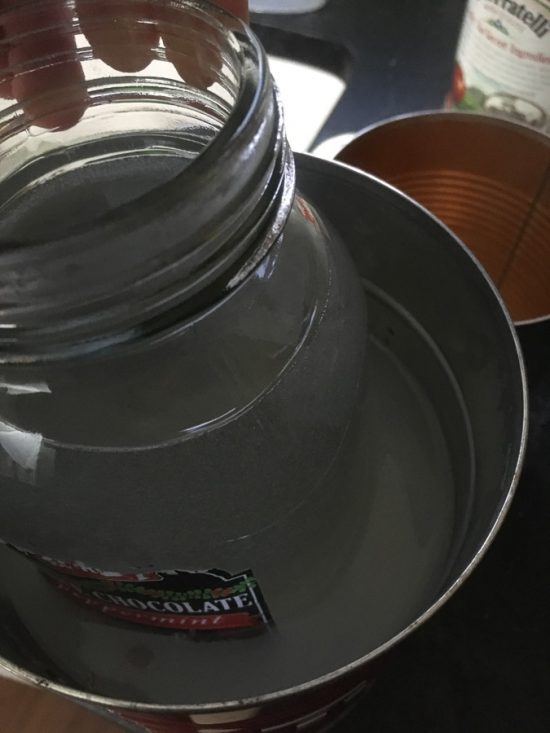 You'll need hot/boiling water and some sort of large container that the jar can fit into.  You can definitely use your sink, but that'll take a lot of water to fill up to cover the label of the jar.  Instead, I like to use a large coffee can.  Mix about a tablespoon of washing soda with about 6 cups of hot water and stir it a bit to dissolve.  (I definitely did not measure, as you can probably tell.)
I like to let the jars sit in that liquid for quite a bit of time, overnight if it's possible.  The longer they sit, the easier those labels will come off.  (No need to keep replenishing the can with hot water, it's okay when the water cools down to just leave it.)
When you take the jars out and start to peel off the labels, some of them will peel off right away.  It's almost magical.  For those that leave a little goop behind, take some of the label you've pulled off and dab at the glue that's still stuck to the jar.  (It's the same technique you'd use to get Silly Putty off all the places it's stuck to and shouldn't be.  I'm never buying that stuff again.)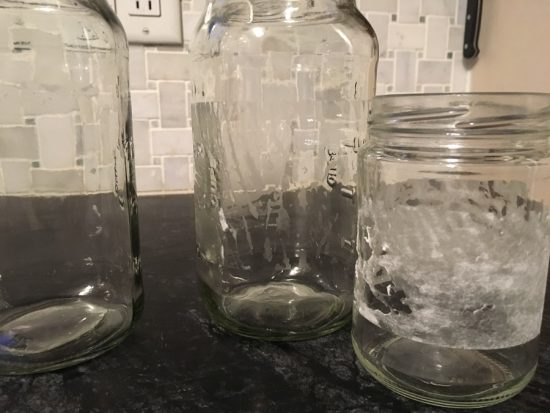 Sometimes, after this step, you'll be able to remove the entire label and residue.  Sometimes, there will be a little glue left, and sometimes you'll have a lot (like my jar on the right).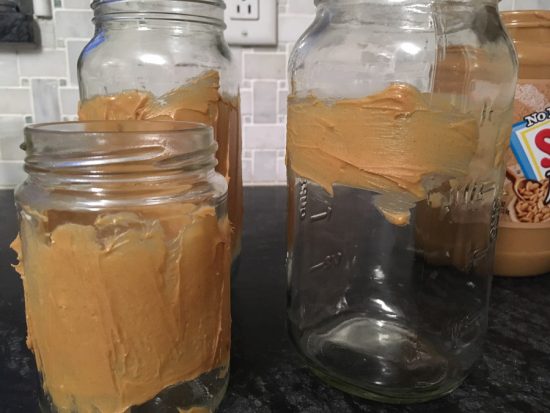 The next step is to grab that peanut butter jar!  Just spread on a thin coat and let it sit for a couple of hours.   Then use an old credit card to scrape off the peanut butter, and the glue along with it!
My husband saw the jars sitting on the counter and shared his two cents: "That's never going to work."  I made sure to call him over when I was taking off the peanut butter.  Needless to say, he was pretty impressed!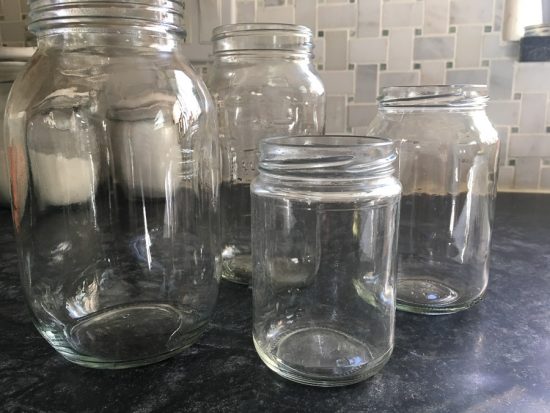 IT WORKS!  No special effects or image editing  here; those are the same jars I showed you in the first photo (plus one extra)!
Wondering what to do with those clean glass jars?

Join the Refresh Living DIY & Upcycling Community
Join the subscriber list to receive one to two emails per month with updates from the blog. PLUS, you'll gain access to my printables and graphics library. Every new design I create will be added here, and you'll have free access - forever!