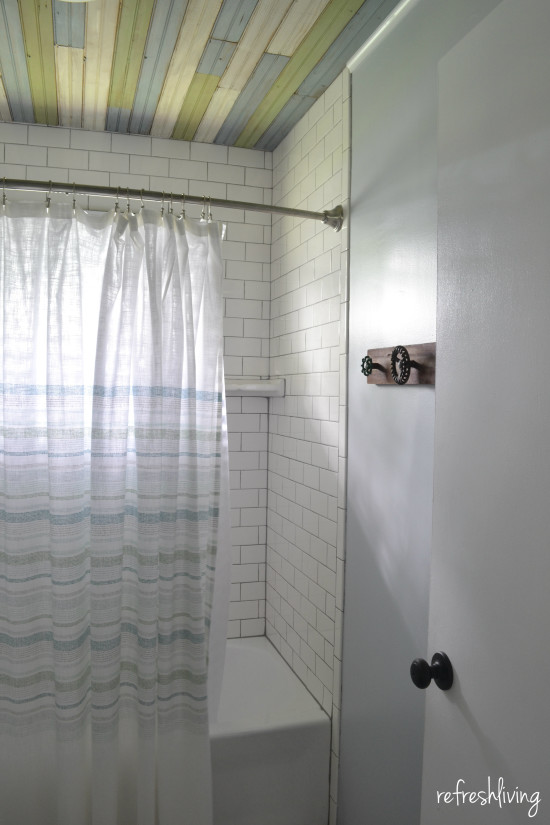 If you haven't seen our cottage bathroom remodel, you should probably head over and take a look at it right now.  Not only is the ceiling over 100 years old, but so is the vanity!
This bead board came from a milk barn in Wisconsin.  The "non beaded" side was actually painted white, and I debated just installing that side face out on the ceiling, but I had my heart set on a beadboard ceiling.  Then, I was left with the decision to leave the wood, or paint it.  I actually had fallen in love with a chippy green bead board at a little shop near our cottage, and the owner was all about selling it to me, but then when I came back the next day to buy it, he directed me to a salvage shop in the back and told me he didn't want to sell it.  I was not happy, but I wasn't going to offer to pay him any more than the original $2.00 per square foot that he offered, so I stomped back to the salvage wood shop.  It's a good thing I did, because this guy is now my "wood guy" and has sold me and given me some gorgeous pieces of wood – including this weathered dock wood I used to create my insulator centerpiece.
Anyway, I ended up deciding to paint it, in an attempt to mimic that green beadboard I had loved.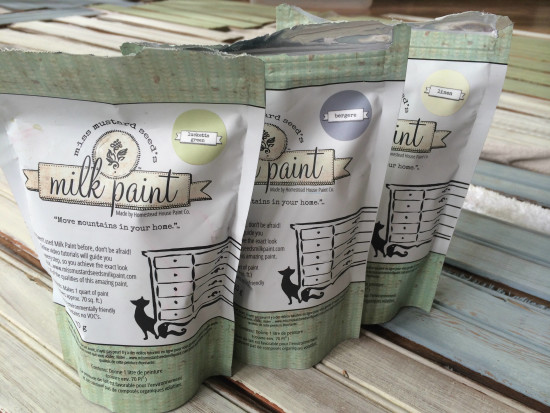 I used Miss Mustard Seed Milk Paint, because I love the way it creates a time-worn look naturally.  Plus, how could I not paint beadboard from a milk barn with milk paint?  I used Luckett's Green, Linen, and Bergere without any bonding agent.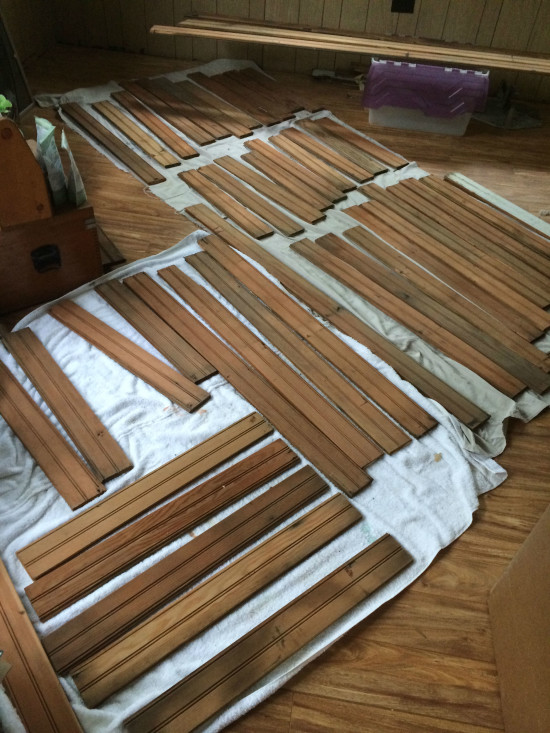 First, I laid out the boards somewhat according to size (they were all different lengths when I bought them).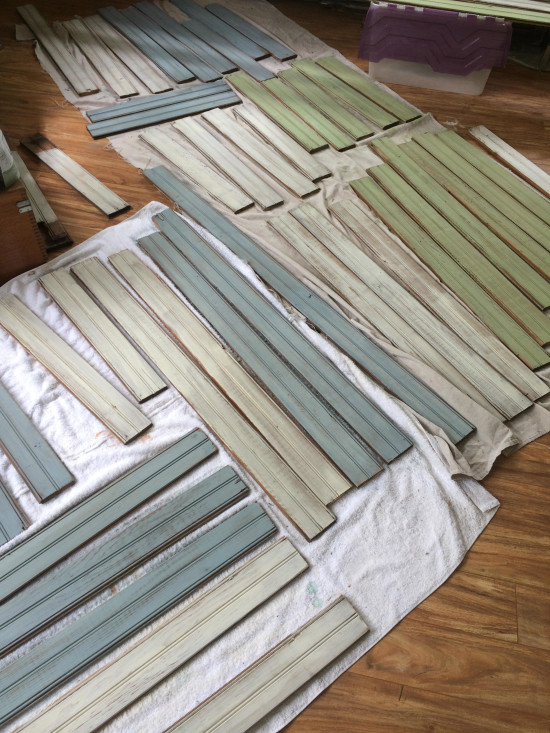 I painted most of the board, but if I missed some places, I was okay with the look it created.  Then, I sanded the pieces down to create a weathered look.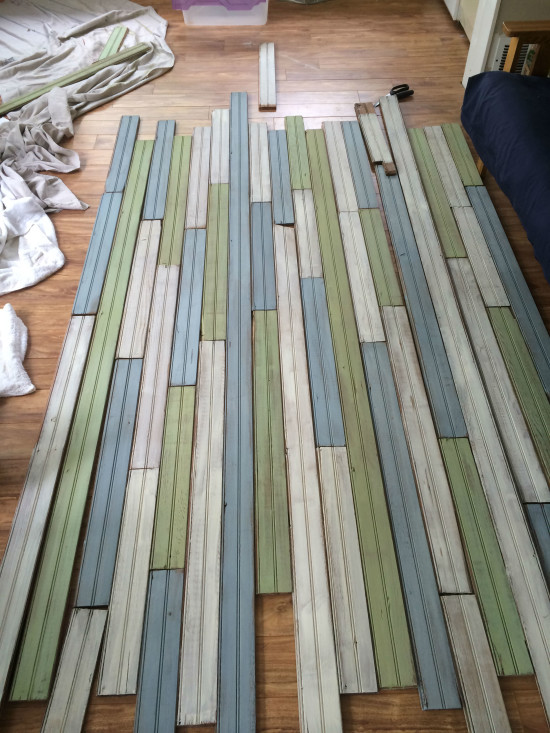 I measured the ceiling, and then created a template with painter's tape on the floor (you can't quite see it under the boards in this picture).  I tried to somewhat randomly lay out the pieces.  I don't do well with patterns.  Then, I measured out each line and cut down the pieces.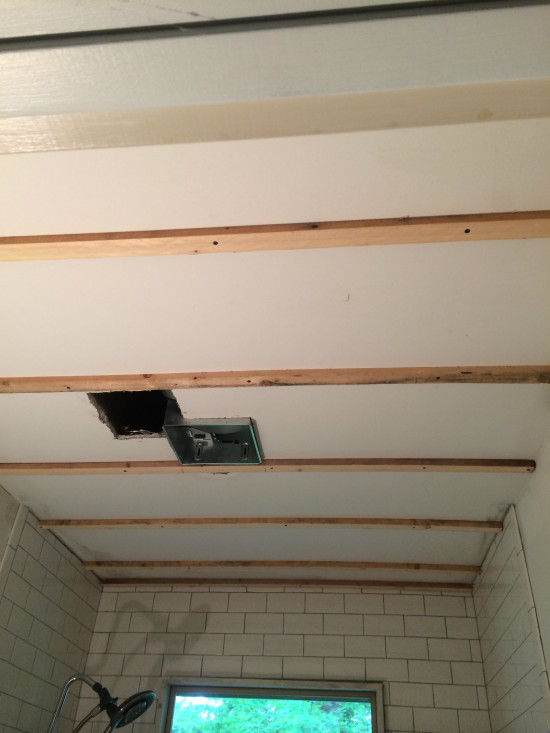 To prepare the ceiling, I installed furring strips (1 by 2s) to the ceiling joists with screws about one foot apart.  If you are installing your beadboard perpendicular to your ceiling joists, then you can skip this step!  My joists were running in the same direction that I wanted to install the beadboard panels, so I was creating something that the boards could be nailed into.  I wanted to be sure every board was nailed into at least one strip (but most boards are nailed into multiple boards, all depending on the length of the board).
Because this is beadboard, it uses a tongue and groove system, which helps it to stay stable and sturdy.  If you were installing barn wood or other wood pieces to the ceiling, you'd probably just want to be sure that the ends of the boards line up close to one of the furring strips (or maybe just install the strips closer together).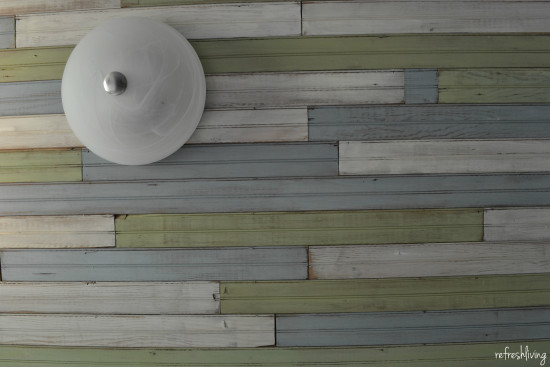 My dad and I each took an upside 5-gallon bucket, and we brought in the beadboard, row by row, nailed up the one side, passed the air-nailer off to the other person, and finished off the other half of the row.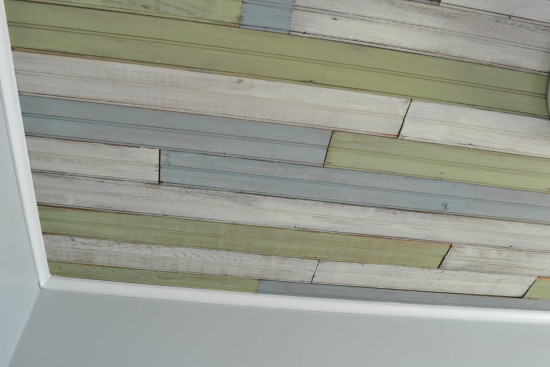 After everything was nailed up, I installed pine cove molding to finish it off.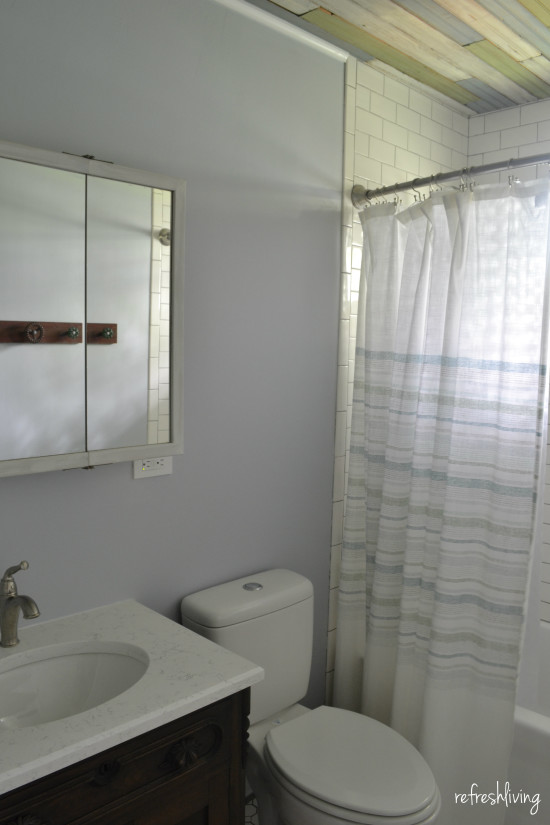 Okay, I can't help but show you another view of the bathroom.  Would you believe we remodeled everything for under $1,000??
Because we kept everything else simple, white, and clean, I'm so glad I ended up painting the ceiling.  Although everyone in my family was skeptical to begin with, they all love it now (or at least that's what they're telling me).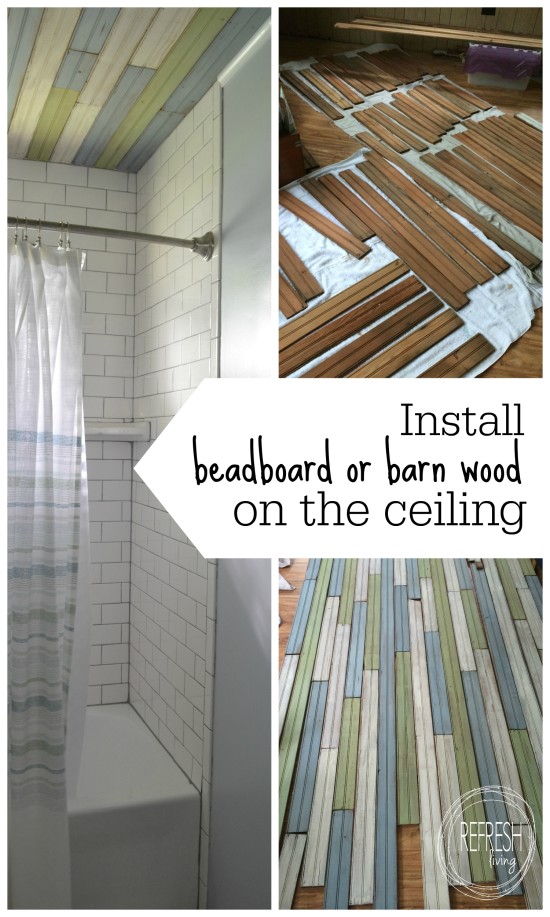 We're changing everything in our little lake house cottage.  Feel free to take a tour:
Like what you see? I'd love for you to follow along!

Join the Refresh Living DIY & Upcycling Community
Join the subscriber list to receive one to two emails per month with updates from the blog. PLUS, you'll gain access to my printables and graphics library. Every new design I create will be added here, and you'll have free access - forever!