It's One Room Challenge time, and I'm back and ready to overhaul our boring nursery.  We recently had our third daughter back in December, and our nursery has more or less been the same for all three of our girls.
Let me give you a fun little history lesson on this room.  For the first five years of living in our home this room was our bedroom.  It has a bathroom connected to it, so we made it our master bedroom (even though there are was bigger bedroom with a bigger closet).  After we found out we were pregnant with our first baby, I got the renovation bug and knocked down a wall of that aforementioned bathroom to make it a Jack-and-Jill-ish bathroom.  We moved into the other larger bedroom and made this room into a nursery.
That  was five years ago, and since we don't usually find out the gender of our babies, I tried to design a gender neutral room, but really just ended up with yellow walls and some frog accents here and there.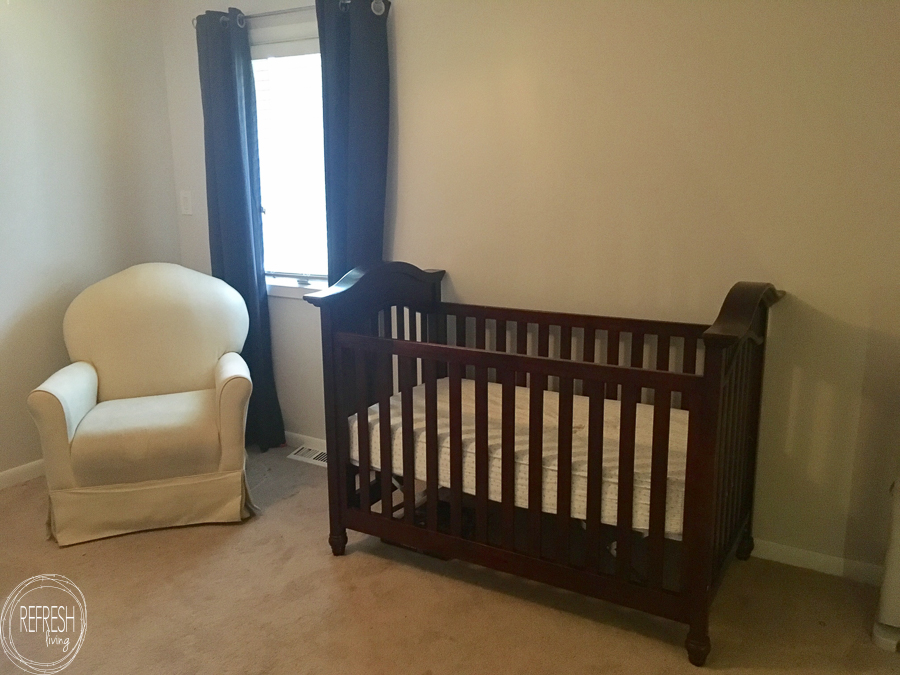 The room has since been painted, but everything else has basically stayed the same.  Dark furniture, dirty carpet, bare walls, and no real organization.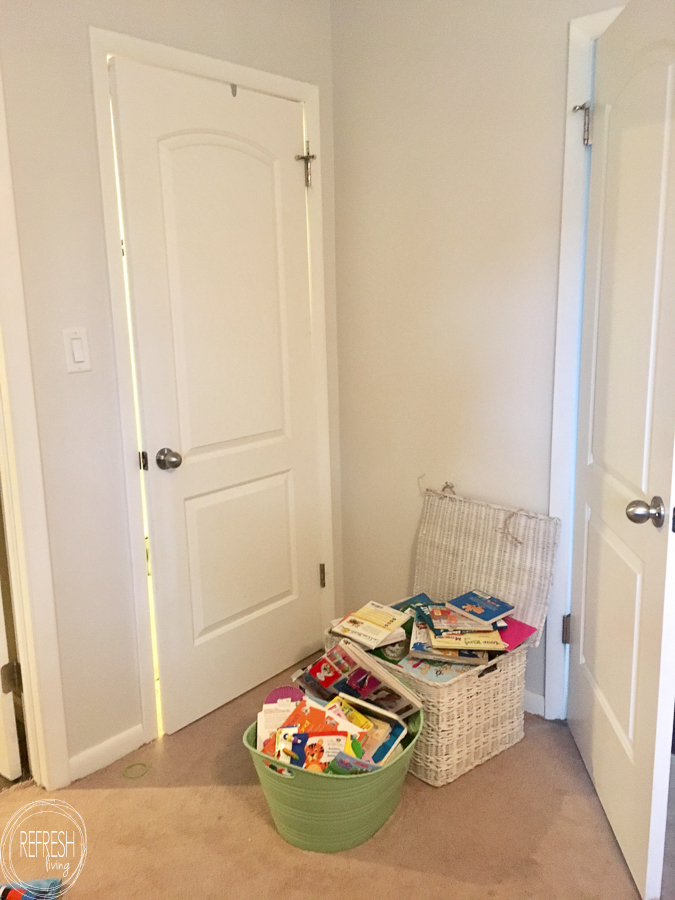 I thought this was the perfect chance to overhaul this room.  I redesigned my daughters' shared bedroom last Fall, and now that they have a new space, I thought it was only fair to give my new little girl a new space too (not that she really cares, but I do!)
Being an educator, and a lover of all things vintage, I thought I'd put those two passions together to create the design for this new, not so boring, nursery.  Take a look at a modern spin on a vintage classroom – nursery style!
I've been collecting ideas and vintage goodies for this space for the last few months (yep, I've been dreaming up this nursery for over a year – ever since I got pregnant).
Here's what I'm thinking for the space:
Refinish our old crib with a faux natural wood finish
Update white curtains with a black pom-pom trim
Build wall book ledges (image source is from Amanda's Etsy's shop – Old House to New Home)
TONS of vintage accessories
A bright rug (I'm thinking a Chindi style rug) and new laminate floors
Refinished vintage rocking chair with Branch Toss fabric from Minted
Vintage green chalkboard feature wall using Rust-oleum chalkboard paint
I can't wait to paint an entire wall with vintage green chalkboard paint! I've used it in my home for smaller projects, but I'm so excited for it to cover an entire wall!
I can't wait to use some awesome products from my sponsors for this room overhaul!
Six weeks always fly by during these challenges, so I'm really going to make it my goal to work on projects during the first couple of weeks rather than waiting until the end.  I hate to admit this, but I've never actually completely finished everything I wanted to in any of the rooms I've worked on for the ORC.  I'm planning for this one to be the exception!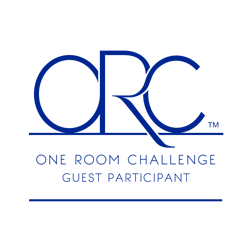 Be sure to head on over to Calling It Home to see all the other One Room Challenge participants!
Like what you see? I'd love for you to follow along!
The graphics library is free to all of my email subscribers; you can sign up by clicking the image below.

Join the Refresh Living DIY & Upcycling Community
Join the subscriber list to receive one to two emails per month with updates from the blog. PLUS, you'll gain access to my printables and graphics library. Every new design I create will be added here, and you'll have free access - forever!