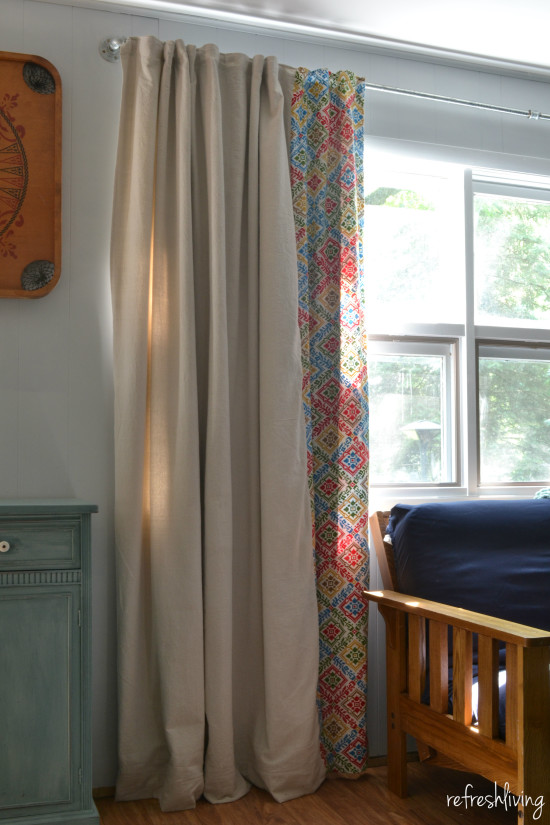 I'll start by being honest with you – I sort of figured this out as I went along.  I had all intentions of sharing a detailed tutorial, but then my phone went swimming in the kiddie pool, and I lost a lot of the step by step photos.  Besides the fact that it would be confusing for all of you, I wondered if I even remembered all the steps I took!  Although I used about three different tutorials as references for my curtains, here's the post from Two Twenty One that is the closest to the process I used.  She does a really nice job of giving all the step by step photos.  Then, I'll share the changes I made by using a drop cloth and how I made them big enough to span a large window.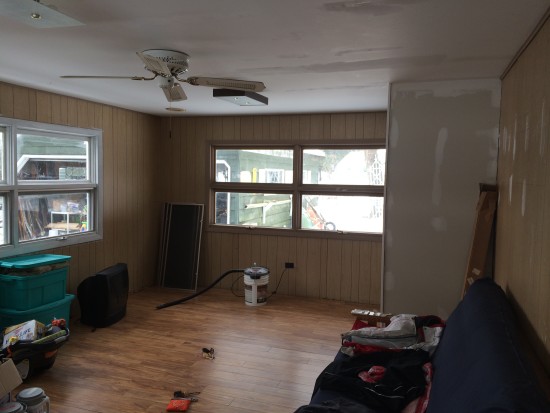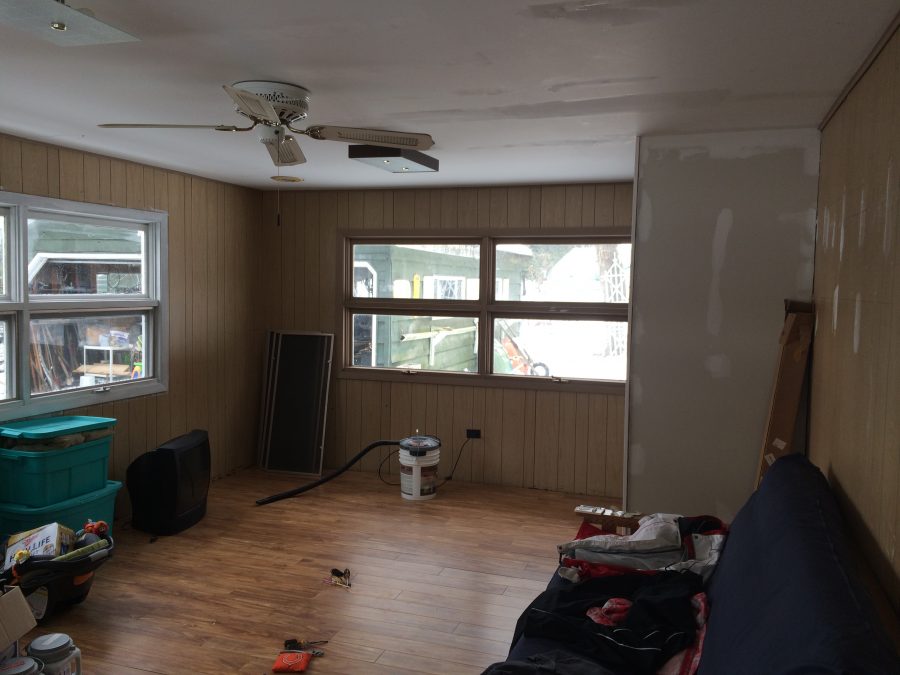 We have a massive window in one of the rooms of our cottage.  This room has never really served much of a living purpose – it was a toy room when we were kids, and then a storage/art room when my grandparents lived there, and now, we've moved some beds and a futon in there, so I supposed it's a living area/bedroom.  Up until now, it never mattered that the sun streamed in through all 3 walls of windows at 5 am, because no one ever slept there.  Now, when people sleep in that room, they'll never admit that they woke up early because I've been too lazy to put up window treatments, but I know it's the case.
The main purpose of these curtains is to block out the light, but they needed to be cheap, cheap, cheap, and maybe, if I could swing it, coordinate with our "vintage camp" room décor.  I set out to figure out my own way to make curtains to fit our needs.
I started with a large drop cloth, 9′ x 12′ and cut it in half, so I had two pieces, each 9′ x 6′.  The window is 13′ long, so I knew I needed two panels that were at least 6.5′ long.  At this point, my panels weren't wide enough, but I had fabric I found at a flea market that I thought would work for our theme.  I just cut two pieces of fabric, each 9′ long by 3′ wide, and then sewed each strip to the end of each drop cloth panel.  Now, each of my panels were 9′ by 9′, which at this point was too wide for the window, but I would need that extra fabric on each end later on.
I hadn't installed a curtain rod yet, so I had some flexibility on the height of the curtains, so the 9 foot height gave me plenty of wiggle room.  If you are a first timer at making curtains like me, I would highly recommend waiting until the curtains are made to install the curtain rod.  This allows you to make lots of mistakes in measuring, and not have it matter at all!  I just put the curtains on the rod, had two people hold it up, and I eyeballed it until it was the right height.  (Just how the professionals do it, right?!)
I had a piece of drapery lining (3 yards long), but it ended up not being even close to wide enough to span the width of my curtains.  Standard draping lining width is 54″, and my panels needed to be 78″, so I needed to get creative.  Rather than buying more drapery lining and spending more money, I just decided to make my fold over larger.  In the tutorial, you'll see that it shows to make your curtain fabric a couple of inches wider than your lining, and then just to iron the fold to create the edges of the curtain.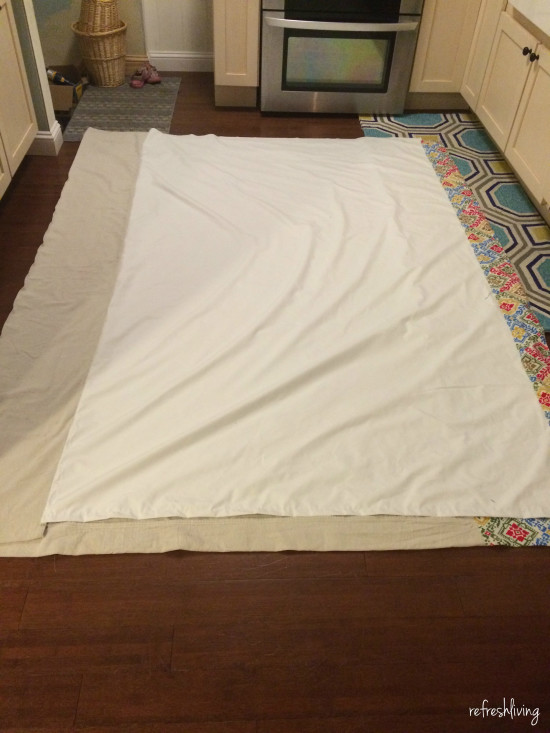 My curtain fabric ended up being much wider than the lining (remember, my lining was 24″ shorter), so I just made the folds much larger.
I ironed them in place, and then sewed a quick seam to keep the fold in place.
I learned the hard way by trying to iron with my ironing board standing on its legs. Trying to maneuver yards and yards and pounds and pounds of fabric hanging off the board is not easy.   I finally smartened up and ironed with it on the ground.  So much better!!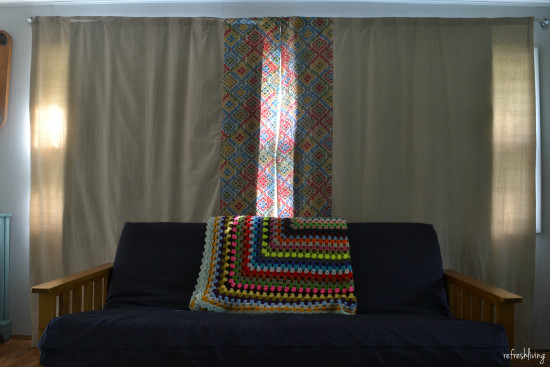 As you can see in this picture, the sides of the panels do not provide as much light blocking, because it's really just two layers of fabric.  However, because the drapery lining is blackout lining, these curtains make it plenty dark in that room!  (I know, curtains aren't supposed to look this stretched out when closed, but I only had so much fabric, and they are only like this at night when people are sleeping, anyway!  Otherwise, they are open with views of the lake!)
Another tip I had to look up – "which side of drapery lining is the "right" side?".  Of course, I know that all fabric has a right side and a wrong side, but on lining, I really couldn't figure out which was which.  The best way I found it explained was to put, "rough to the road".  Once I had that in my head, it was easy to figure out how to sew it all together.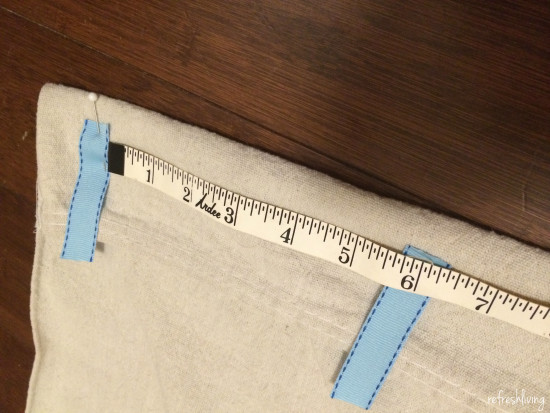 In the tutorial post, she just sews the ribbons in place.  I found that it was easier to  just sew a stitch all the way across the top of the panel (also hitting the top of each ribbon) and another stitch all the way across the bottom of each ribbon in a line across the whole panel.   I personally really liked the finished look it gave to the top of each panel.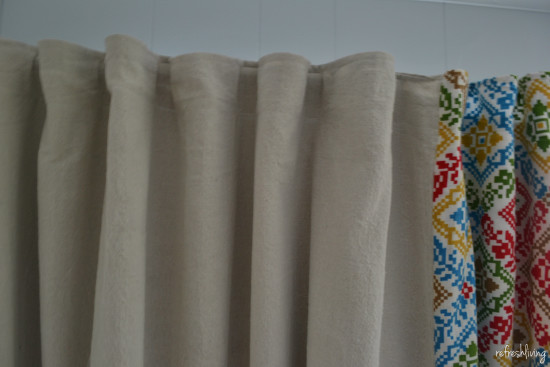 In the end, I think both of these curtains cost a total of $35 ($15 – drop cloth, $15 – drapery lining, $5 – vintage fabric).  I don't think I could have possibly found blackout(ish)curtains large enough to fit this window at that price!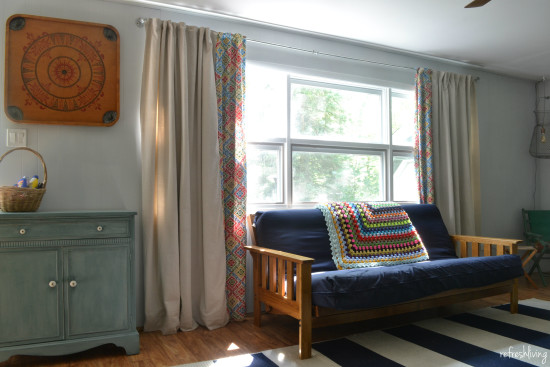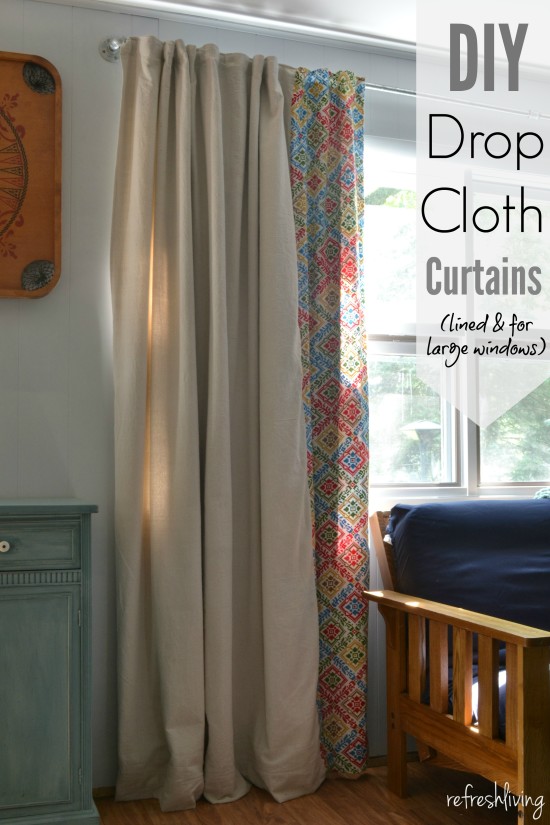 You might also want to check out:
Like what you see? I'd love for you to follow along!
Facebook || Pinterest || Instagram || Google + || Bloglovin'
Stay in touch with posts delivered to your inbox once a week
[mc4wp_form]
Linking up with these awesome parties!
Pink When | DIY Show Off | Making it in the Mountains | Refresh Restyle | Huckleberry Love | Finding Silver Pennies | Dwelling in Happiness | The Crowned Goat | 2 Bees in a Pod | Cedar Hill Farmhouse | My Uncommon Slice of Suburbia | Kammy's Korner | Home Stories A to Z | Just a Girl & Her Blog | The DIY Dreamer | Saavy Southern Style | Dandelion Patina | Gingersnap Crafts | Knick of Time | Posed Perfection | Live Laugh Rowe | Canary Street Crafts | Addison Meadows Lane | Blue i Style | Craftberry Bush | Miss Mustard Seed | The Girl Creative | Little Miss Celebration | Redoux Interiors | Sew a Fine Seam | Craftaholics Anonymous | Dagmar's Home | Tatertots & Jello | Funky Junk Interiors | House of Hipsters | Confessions of a Serial DIYer | Not Just a Housewife | Remodelaholic | Thrifty Decor Chick | C'mon Get Crafty | Oh My Creative | Our House Now a Home | Natasha in Oz
Join the Refresh Living DIY & Upcycling Community
Join the subscriber list to receive one to two emails per month with updates from the blog. PLUS, you'll gain access to my printables and graphics library. Every new design I create will be added here, and you'll have free access - forever!