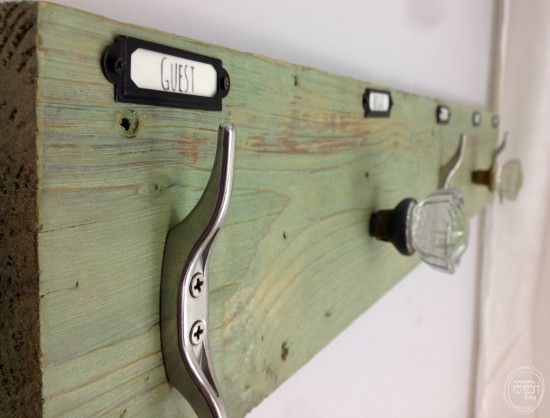 Last November, I updated our main bathroom on a major budget of $200.  I wanted to bring in rustic elements, but also incorporate a few industrial touches as well.  I've looked into how to make coat racks using old door knobs, and all the tutorials I've seen involve purchasing a dummy spindle that the door handle fits on.  However, these spindles are not cheap!  They cost about $5.00 each, which is more money than I ever spend on an old vintage door knob.  Clearly, I wasn't going to use this method to make my towel rack!
I have quite a few old knobs, some of them are ridged on the inside for screws, and others have square holes that a screw won't easily screw into.  To keep things simple, I picked out my glass knobs that had a circular inside – ready for a screw.  Honestly, I put that knob in my purse and brought it to the hardware store with me where I tested out different sizes of bolts until I found one that fit.  I also measured the thickness of the wood to be sure the screw wasn't too long or too short.
The wood is a piece of pine that was pulled out from the flooring of a house built in the mid 1800s.  I painted it with a wash of Miss Mustard Seed Milk Paint in Luckett's Green
 and finished it with finishing wax to keep it water resistant.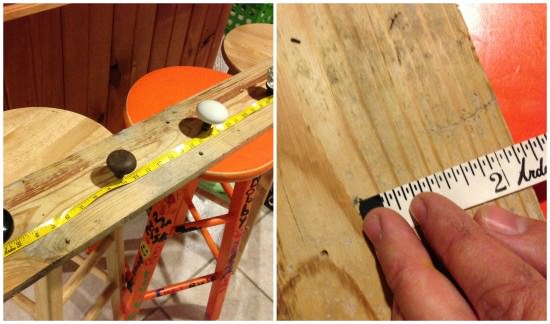 Of course, before drilling any holes I made sure the spacing between the knobs was equal.  I also measured to make sure each hole was the same distance from the edge as the other.  To drill the holes, you'll need three different sizes of drill and spade bits.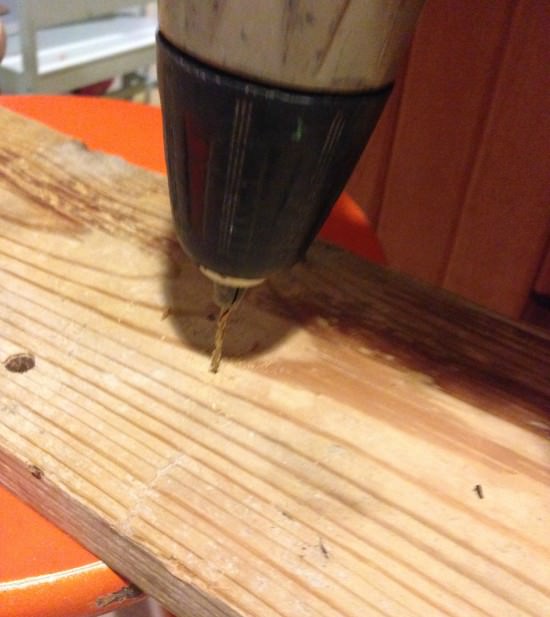 Use a small drill bit to drill a pilot hole.  This step is important because when you use a spade bit, your pilot hole can't be too large.  It if is, the spade bit will have too much space to spin around in and you'll have a mess of a hole.  
Find a spade bit that is larger than the head of the screw.  Drill into the back of the board just deep enough for the screw head to sink into the wood without sticking out.
Use a drill bit that is slightly larger than the shaft of the screw to drill a hole all the way through the wood.
Insert the screw and twist your glass knob until it's tight. 
Add hanging brackets to the back, in the same places where the studs are in your wall.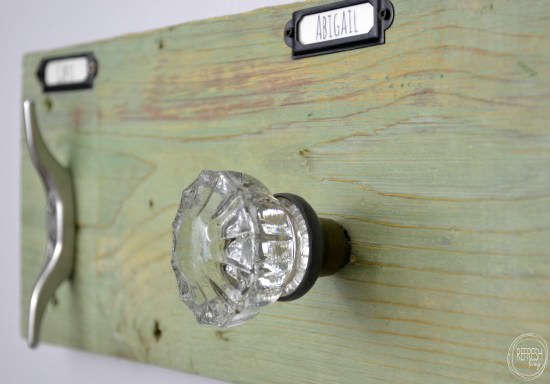 I love how the knobs sit flush against the wood, rather than with all the extra hardware of a dummy knob.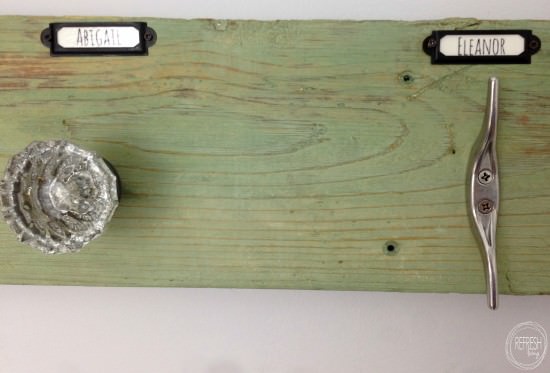 I used dock cleats
 to give the towel rack an industrial touch.  Those are simply screwed onto the front – no drilling required!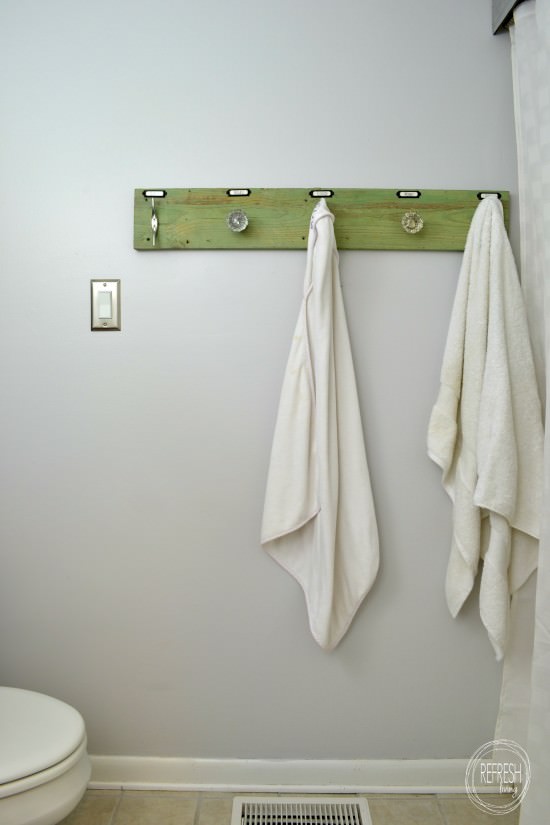 The label holders
 stick with the industrial theme, but also give each of the family members a place to hang their towel.  My 3 year old insisted that her towel hang on one of the glass knobs.  I can't blame her, because I took the other one!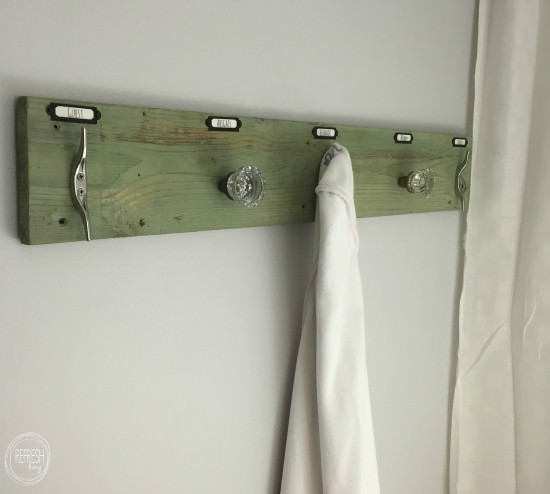 I still have a lot of other vintage knobs that I've collected over the past year or two.  I'm still experimenting with the best way to use those as towel or coat racks, but once I create it, I'll be sure to share!
If you haven't seen the whole bathroom yet, I'd love for you to check it out.  Here's how it looked before the update: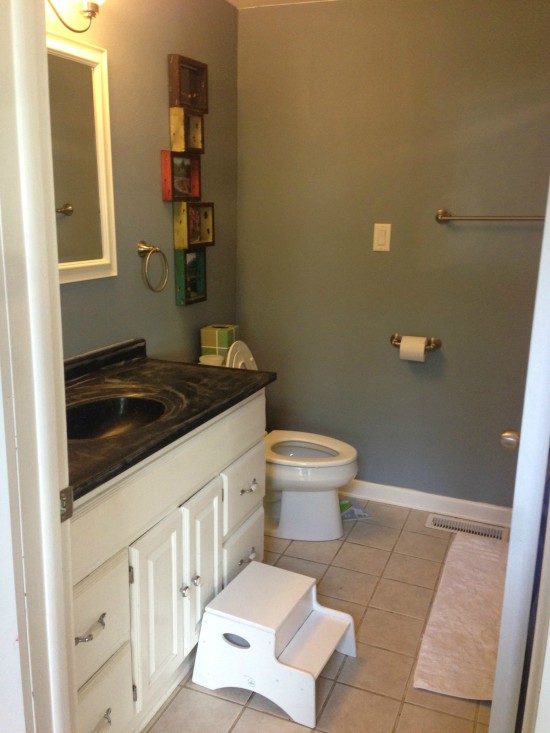 $200 is all I spent to make it look like this!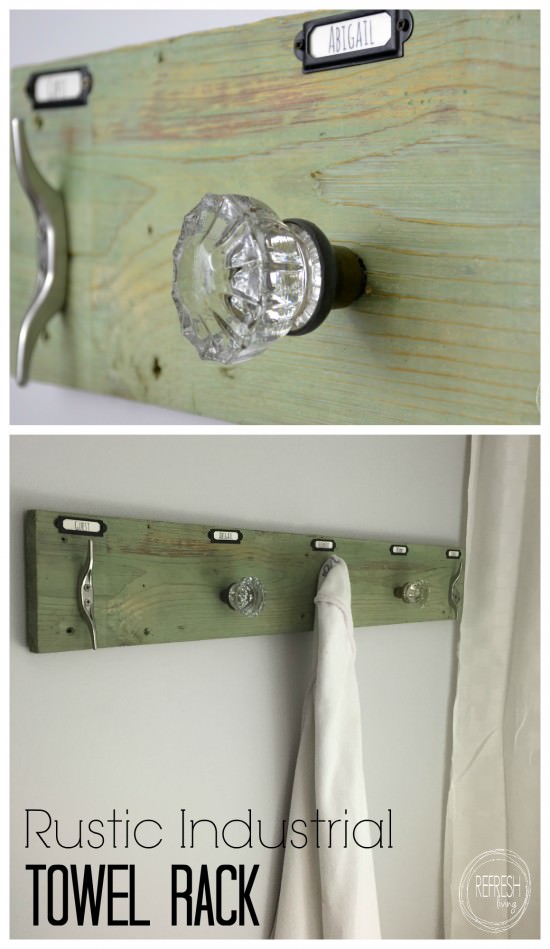 Like what you see? I'd love for you to follow along!
Facebook || Pinterest || Instagram || Google + || Bloglovin'
Join the Refresh Living DIY & Upcycling Community
Join the subscriber list to receive one to two emails per month with updates from the blog. PLUS, you'll gain access to my printables and graphics library. Every new design I create will be added here, and you'll have free access - forever!