This antique cabinet was in major need of repair with water damage, peeling veneer, and a funky smell. After repairing the veneer, painting the cabinet, and adding some decorative paper to the back, it has an updated, modern look. 
It's time for another round of The Furniture Flippers: the new monthly series where a talented group of bloggers share their furniture refinishing projects to hopefully inspire others to save tired and worn pieces from the dumpster!  Be sure to go visit the other projects at the end of this post.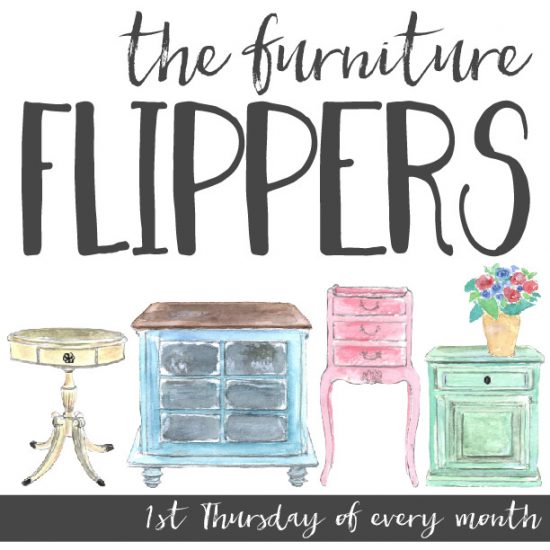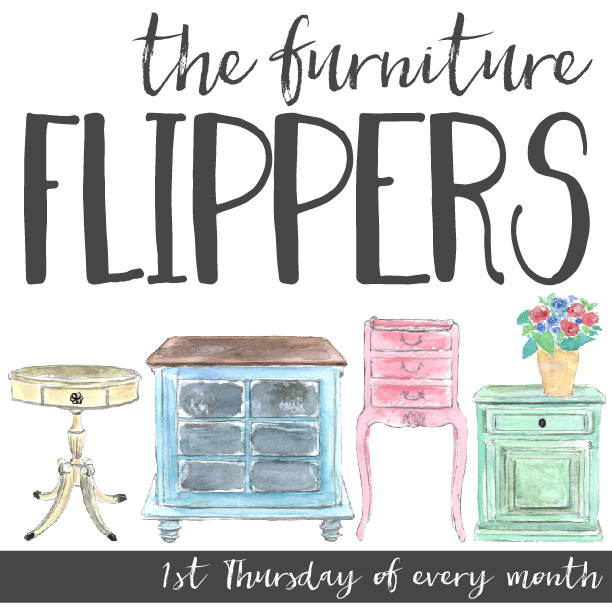 I found this old cabinet in the basement of an estate sale a couple of years ago and although it was in pretty bad shape, I had hopes that I could bring it back to life. It was the last day of the sale, which means this piece had been passed up by hundreds of people in the days prior, but those are my favorite types of pieces, because I can always negotiate to bring the price down.  At $15, it was a great deal, but it still had its fair share of issues.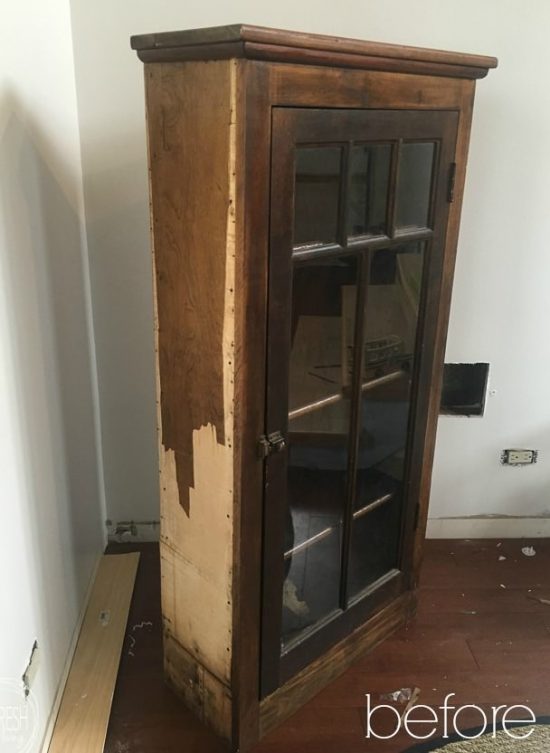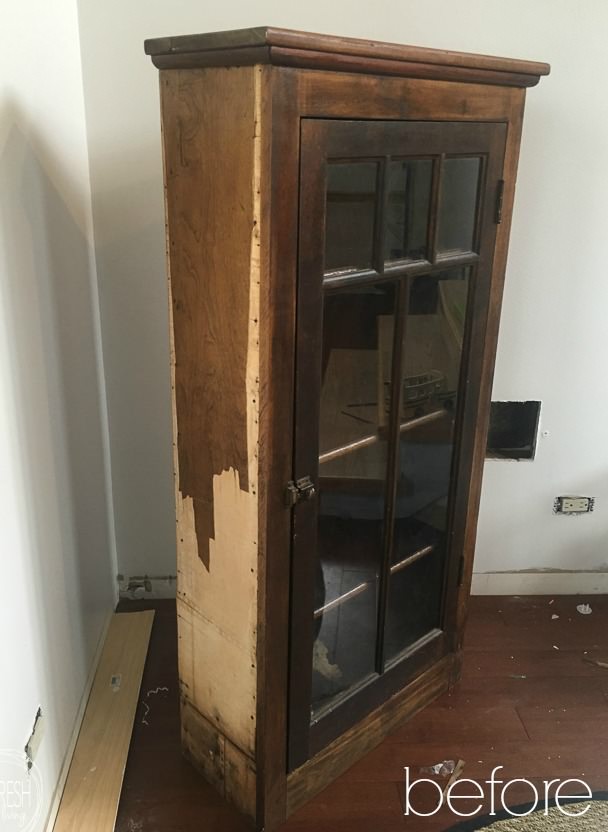 First, I needed to repair the peeling veneer. The veneer on the bottom of the left side was unsalvageable, so I remove all the loose pieces, and then decided to use wood filler to repair the damage.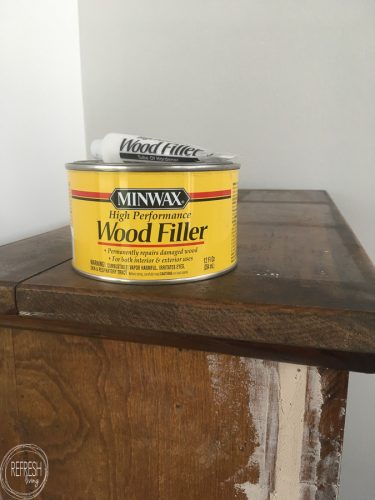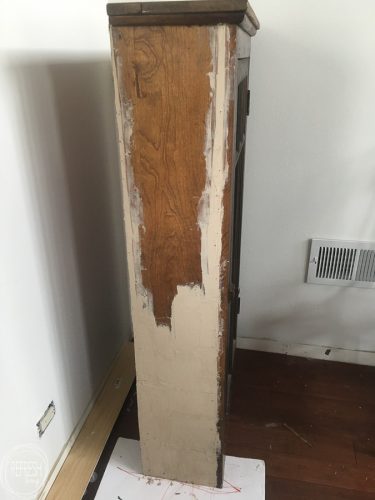 This Minwax Wood Filler is a two-part epoxy that creates a solid filler that can be stained or painted. It's easy to sand to a smooth finish and is a creative option when repairing pieces of veneer that are missing. I like to use it if I plan to paint the surface, because although it technically is stainable, it doesn't accept the color in the same way wood does, making it difficult to color match the two surfaces.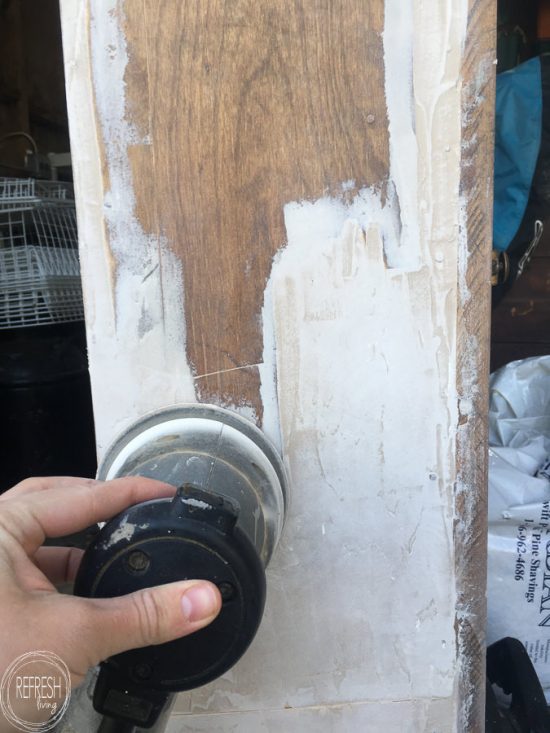 After the wood filler dried, I used my orbital sander and 220 grit sandpaper to smooth out the surface as best as possible.  I should have added one more thin coat of filler to smooth everything out perfectly, but because I knew I was going to paint it, and the side of the cabinet would be facing the wall, I took the easy route and just stopped with the first layer.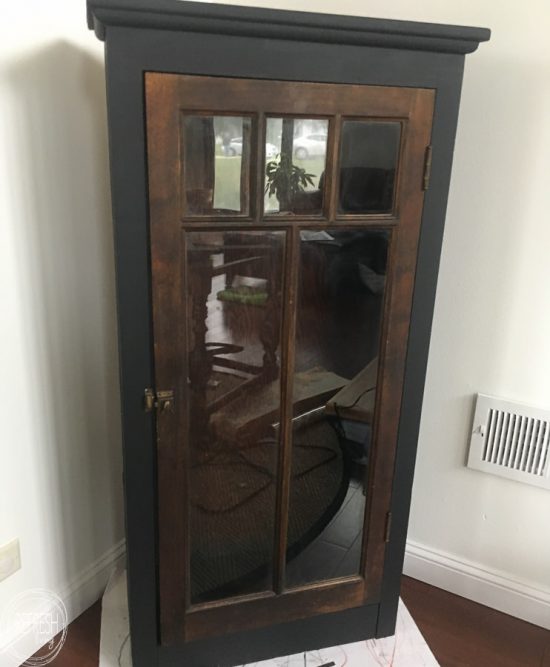 Before painting, I cleaned up the cabinet with TSP substitute cleaner and lightly sanded the surfaces I planned to paint.
I tried out a new product, Milk Paint by Rustoluem. Although it's not a true milk paint, it's created to give a similar finish. It creates a slight texture, and definitely needs a couple of coats to cover a piece completely. I really like the velvety smooth finish of the paint, but because it's a very matte finish, it also needed a topcoat.
I used Fusion Mineral Paint Tough Coat Wipe-On Poly to quickly wipe on a finish.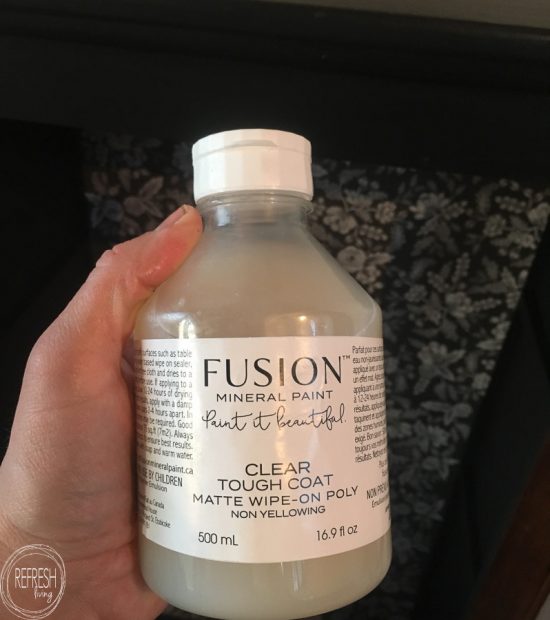 This graphic floral paper is from Rifle Paper Co. and I just used Mod Podge to adhere it to the back of the cabinet.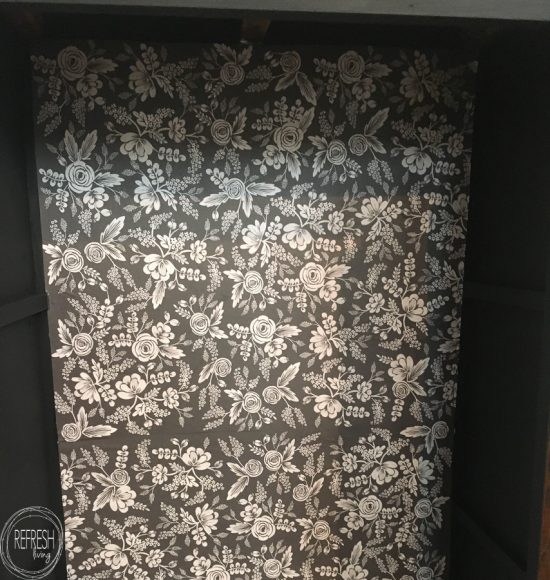 With a little bit of effort and elbow grease, it's amazing how even the most neglected furniture pieces can often be brought back to life.
I love that I was able to keep the wood finish in tact on the door, primarily because it made my refinishing job much easier, but also because I love keeping some of the original wood finish in tact if I'm able.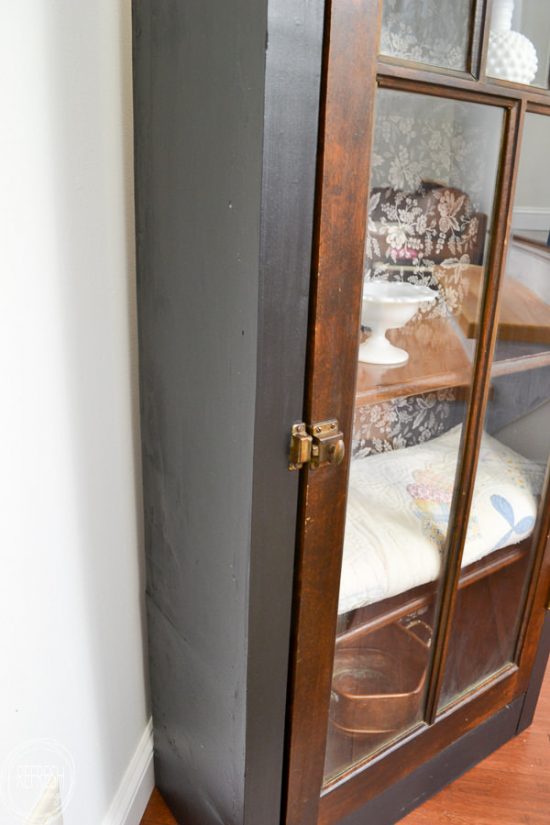 The finish on the side isn't as smooth as a baby's bottom, but you'd only know if you rubbed your hand against it.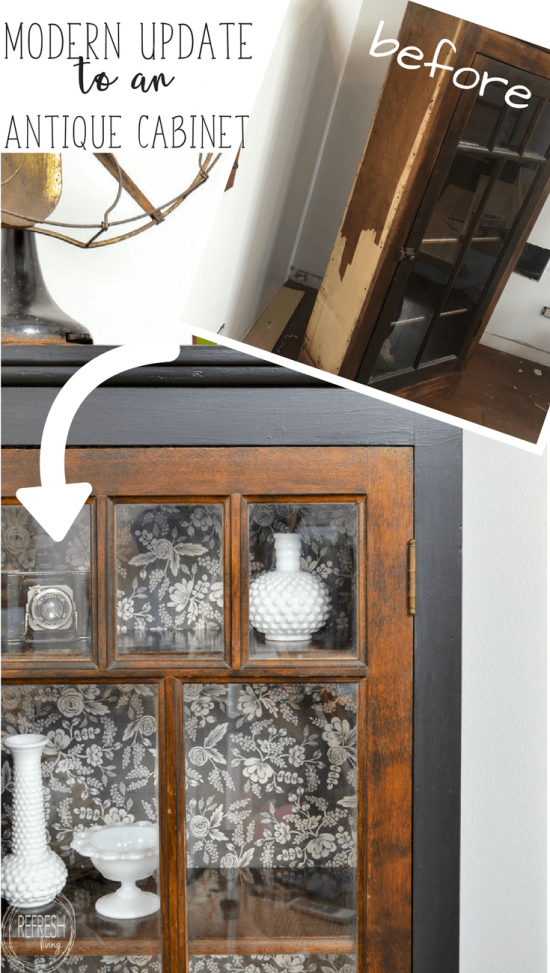 Inspiration from Other Furniture Flippers
You can read all about the ladies in our Furniture Flippers group here, and then take a look at how all of the projects turned out below. I gain inspiration every time I look at a refinished piece – so many ideas, so many discarded beauties, but so little time!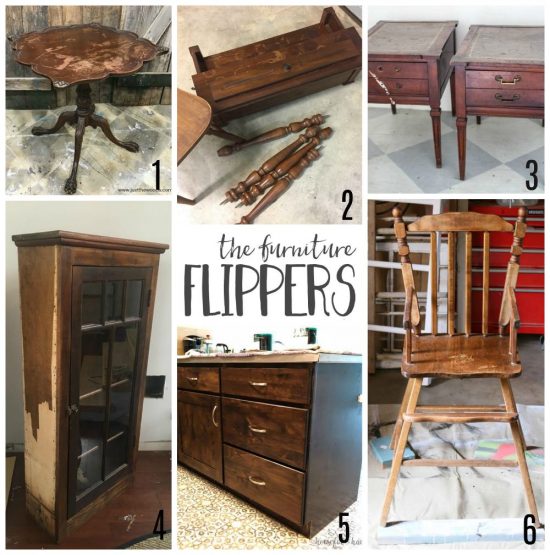 If you love flipping furniture, you might find this post on the best type of paint for furniture helpful!
Like what you see? I'd love for you to follow along!

Join the Refresh Living DIY & Upcycling Community
Join the subscriber list to receive one to two emails per month with updates from the blog. PLUS, you'll gain access to my printables and graphics library. Every new design I create will be added here, and you'll have free access - forever!