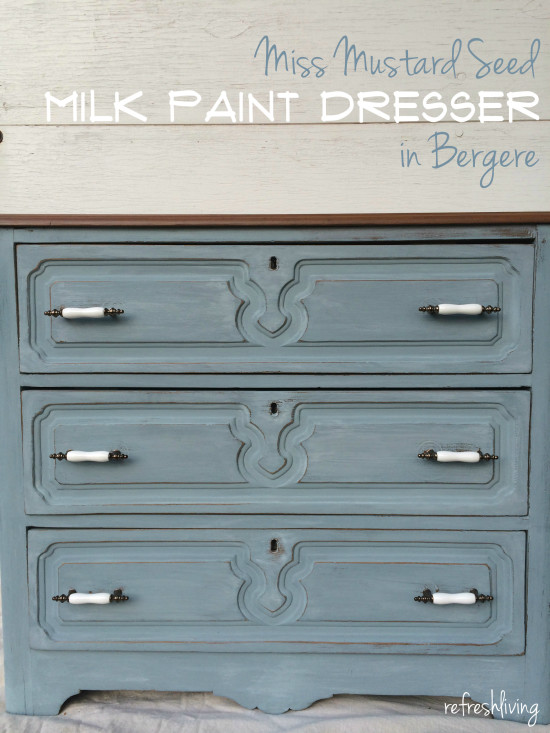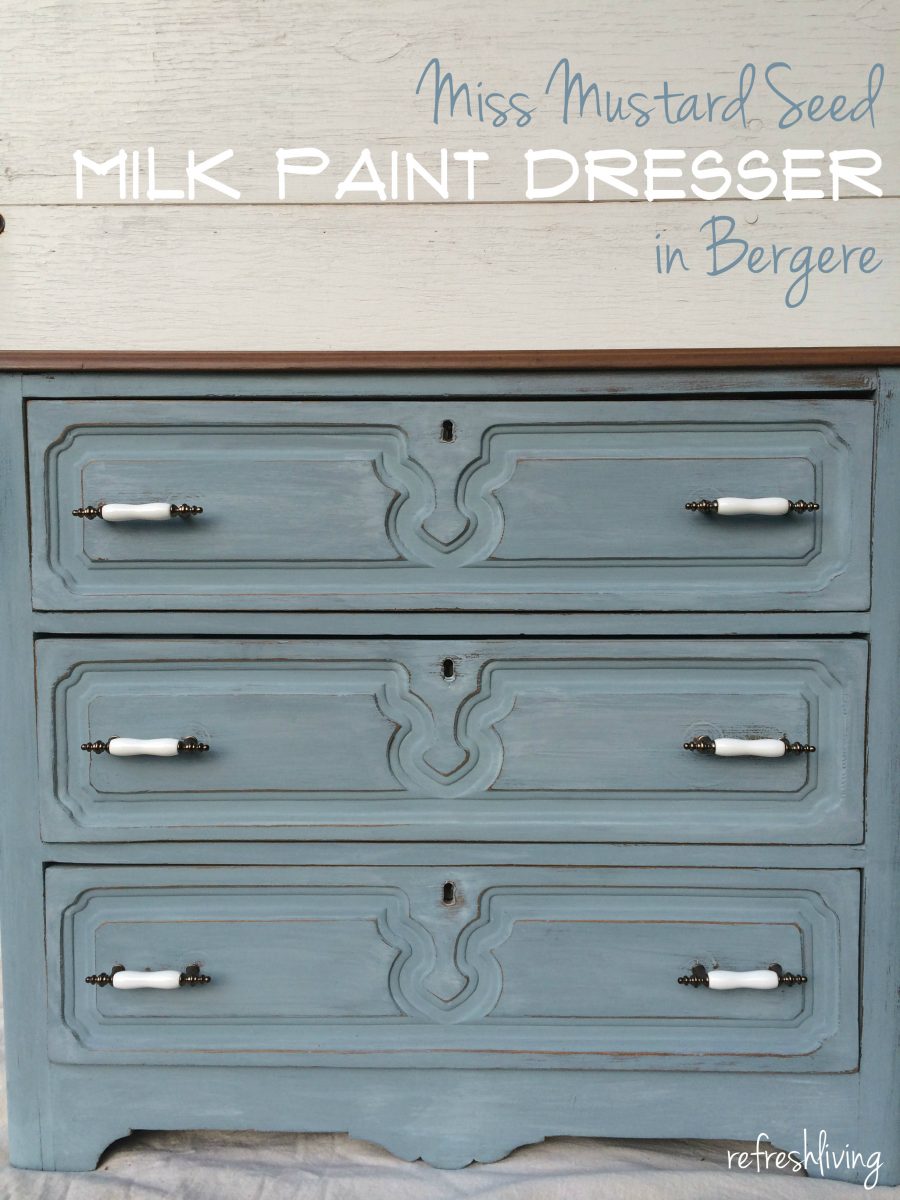 I found this beauty at a resale shop in my town, and it sat for a couple of weeks, until the 50% sale on pink tags rolled around.  I snagged it up on the first day of the 50% off sale for $30.  It actually had a slab of pinkish-brownish granite on top of it, but as soon as I saw how great of condition the wood on the top was in, I knew that I could easily restore it.  (Thank you, granite.  You kept the top of this baby looking gorgeous!)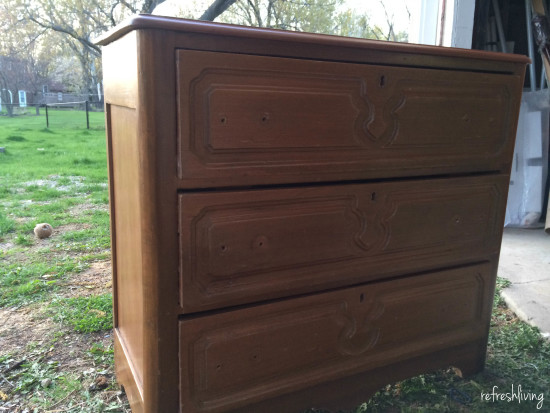 It was a fairly simple update.  I recently purchased some of the new European colors of Miss Mustard Seed Milk Paint from The Ironstone Nest, and I knew I wanted to try out Bergere for this piece.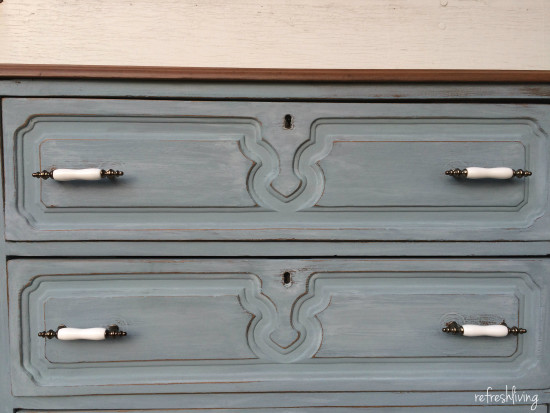 I LOVE this color.
I lightly sanded the piece down, and painted two coats of milk paint (no bonding agent added).  Then, I lighted it up by adding a little Ironstone to what was left of the Bergere and a little more water, creating a thick wash.  I brushed this over the entire piece, avoiding the crevices in the drawers as I wanted the carved areas to have a little contrast to the rest of the piece.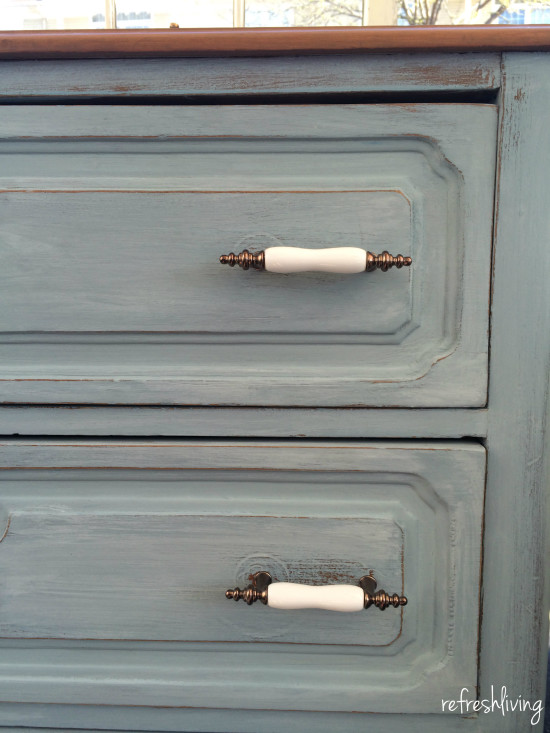 After a light sanding to distress the drawer edges and corners, I finished it off with MMS furniture wax.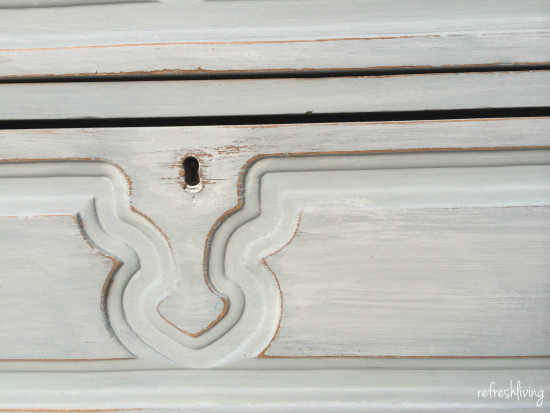 As for the top, I used 220 grit sandpaper to lightly sand the top, and then a coat of Minwax Polyshades
in Pecan, in a satin finish.  This stuff is pretty awesome.  It is stain and polyurethane together, and it lets you stain over previously stained and finished wood.  It allows you to change the color of the wood or keep it the same, depending on what color you started with and the stain you are using.  This guide helps me to select my colors before starting a project.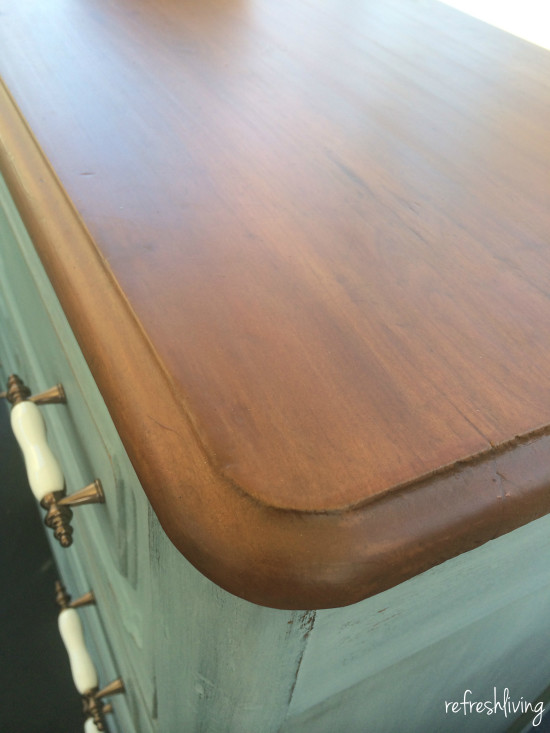 It gives dresser tops a nice durable finish, without all that heavy sanding or stripping.  I've found that if the previous finish is in decent shape, Polyshades stain works really well.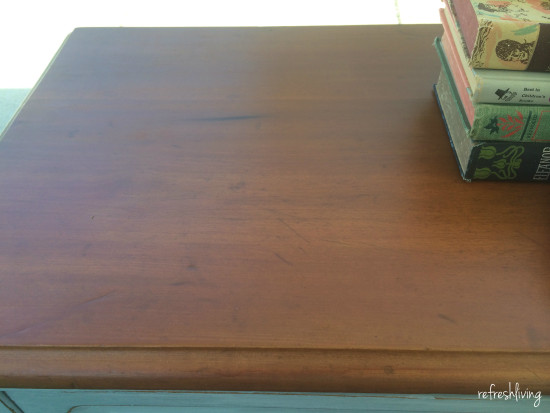 I love the new look of this piece.  It's coming with me to Urban Farmgirl's Main Street Market in June.  I hope it goes home with someone who loves it!!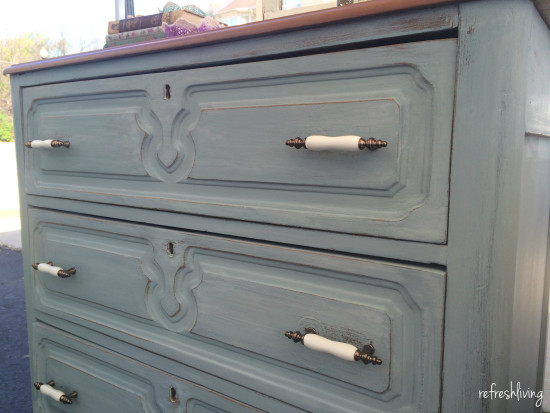 Like what you see?   I'd love for you to follow along!
Send us some love with a like on Facebook, check out inspiring projects on Pinterest, follow along on Bloglovin', or have posts delivered to your inbox once a week. [mc4wp_form]
(This post contains affiliate links.  Read about our disclosure policy here.)
Linking up with Saavy Southern Style and these awesome parties!
Join the Refresh Living DIY & Upcycling Community
Join the subscriber list to receive one to two emails per month with updates from the blog. PLUS, you'll gain access to my printables and graphics library. Every new design I create will be added here, and you'll have free access - forever!