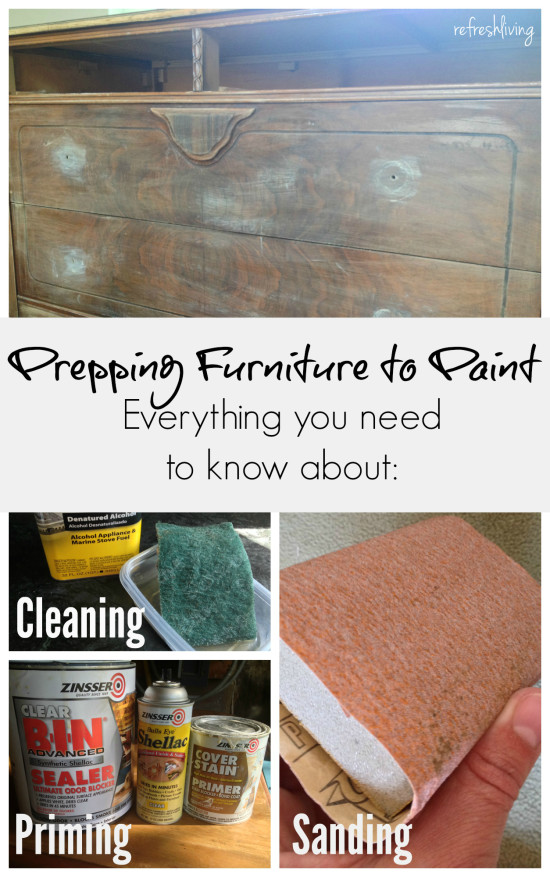 I've been trying my hand at using different types of paints and techniques, and although I've had a lot of successes, I've also had my fair share of mess-ups.  A lot of those lessons learned have been from not prepping the furniture correctly.  I've learned these tricks along the way, and they now help me to create long-lasting finishes on everything I paint!
Cleaning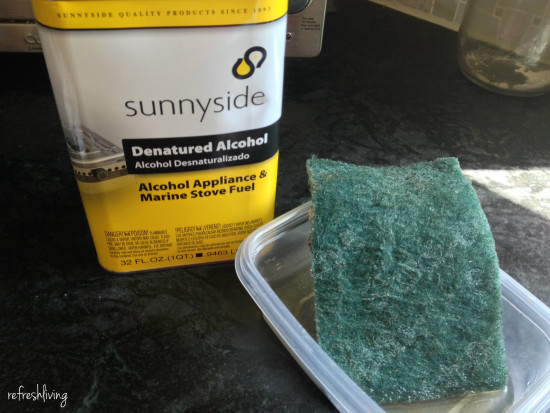 Paint just won't stick to dirt, grease, dust or anything else that lurks on vintage and antique furniture.  I've found the best way to clean pieces is to use Denatured Alcohol
mixed with water (50/50 ratio).  A scotch bright pad works great to clean off all that gunk. Denatured alcohol works great as a cleaning agent when you're planning to use water based paint (chalk paint, milk paint, latex paint, and acrylic paint are all water based).  If I am using an oil-based paint (often spray paint is oil based), I use mineral spirits (but don't mix with water!) to clean up the piece.
Fill in Holes, Cracks, Chips in Veneer etc.
It's very rare that I don't need to do this on a piece of furniture.  Usually, there is something wrong with it in some way.  Usually, it's scratches, gouges, unwanted hardware holes and most commonly, peeling veneer.
To fix veneer, I use wood glue and clamps to glue stay pieces back in place.  If there is a hunk missing, I usually just wood filler to fill it in.  If the veneer is in horrible shape, I remove it completely (I'll save that post for later).
For now, what you need to know is Elmer's Wood Filler
is awesome.  I use it to fix all of these problems.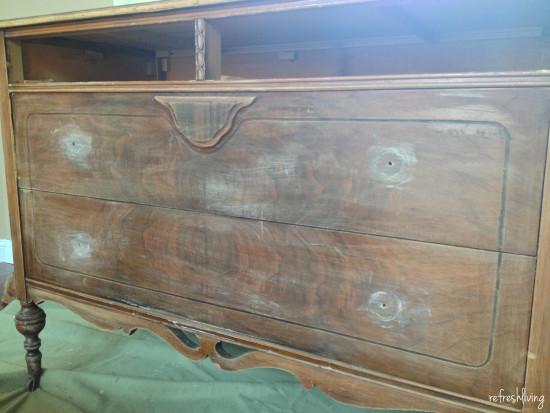 On this dresser, I used it to fill in some gouges that the old hardware had created.  After filling in the problem areas (sometimes it takes 2 -3 applications), sand it down to a smooth finish.  You can stain or paint over this stuff (although I feel that when I do stain it, it doesn't quite match the wood, so be careful).
Sanding
This step is intended to scuff up the surface, which helps the paint adhere to it.  I know, I know, you don't need to sand when using chalk paint, but I lightly sand every piece I paint.  I find that it gives me control of the paint.  I can still easily distress later, but when I sand, I know that the places I put paint on will stay painted.  (Which is the whole purpose of this painting thing, right?)
The only time I don't sand a piece is if I am trying to create a very chipping look with milk paint.  I've found that if I sand a piece down and use milk paint (even without the bonding agent), it often doesn't chip at all.  Which again just proves my theory that sanding a piece really helps the paint stick!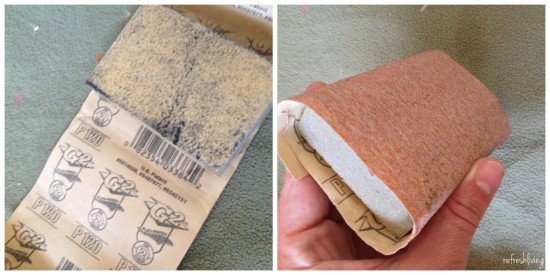 I usually use 150 grit sandpaper to prep a piece, and just lightly go over all the flat surfaces with a sanding sponge.  Since sanding sponges are expensive (except when you find two at the resale shop today for $0.50 each.  YES!), I just wrap a piece of sandpaper around an old block and it works just as well.  Using a sanding block allows you to evenly apply pressure when you are sanding, which is just a lot harder to do if you are just using your hands.
Primer
This step is sometimes optional, other times it is completely essential.
Prime it First:  If a piece is mahogany, it needs primer, because if not there will be major bleed through.  I've also found that red stains tend to bleed through paint as well – use primer.  Any dark stains or water marks need to be primed.  If not, those annoying marks will eventually bleed through.  Finally, I always prime if I am using a latex paint (which is not often) because it really just doesn't adhere to previously finished wood very well.  Oh yeah, and if it smells, use primer!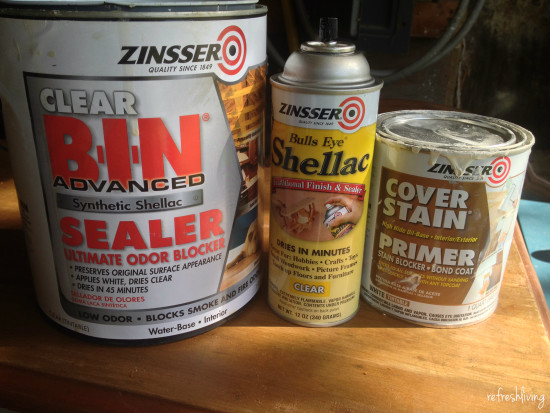 Here are my two favorite types of primer for most pieces:
Clear Shellac – in spray or quart

I seriously need to write a full post on this stuff, because it's amazing, but for now, if you want to distress to show the natural wood underneath, use this.

Cover All Stain – in spray or quart

This primer is white, which works if your top coat will also be white, or if you are not distressing (or I suppose if you want to distress to show white underneath, and wood).
FYI – this primer is oil-based, but it works fine as a primer under water-based paints (this isn't the case for most).  Just be sure you clean up your brush with paint thinner or mineral spirits.

Both of these primers have super-power strength at covering up all those annoying stains and smells that normal primers just don't stand a chance hiding.
Skip that Primer:  Pieces of furniture that have a top coat in tact and are generally in good condition usually don't need to be primed, if you are using milk paint, chalk paint, acrylic paint, or oil-based spray paint.
Those are all the basics!  It's amazing how much better the finish on my pieces turn out when I take the time to prep it correctly.
Getting ready to paint a piece of furniture?  Check out this post where I compare the best types of paint for furniture:
Check out all of the furniture projects I've completed!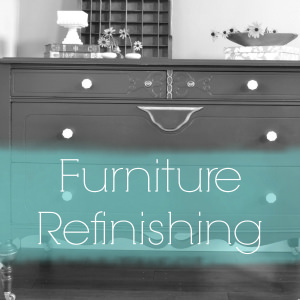 Join the Refresh Living DIY & Upcycling Community
Join the subscriber list to receive one to two emails per month with updates from the blog. PLUS, you'll gain access to my printables and graphics library. Every new design I create will be added here, and you'll have free access - forever!