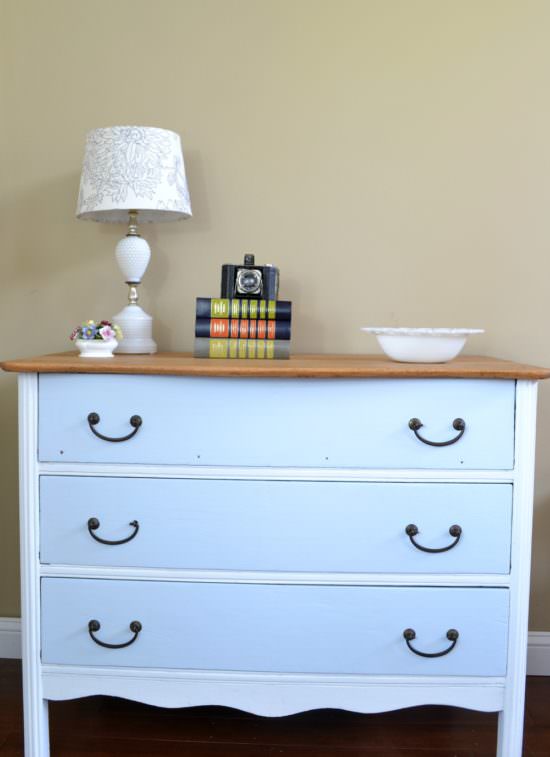 I have another fabulous furniture makeover with an incredible line of paint as part of the Fab Furniture Flippin' Contest! The theme this month is "Pure Colors, Original Elegance" to highlight our sponsor,
Pure and Original paints
.
Pure and Original make a Classico Paint, which is a water-based chalk and mineral paint. It brushes on beautifully with extremely rich color and durability. They also make a lime paint called Fresco Lime and a mineral-based paint that creates a concrete-like finish. I've yet to try these two types of paints, but I'm certainly intrigued after using their Classico Paint!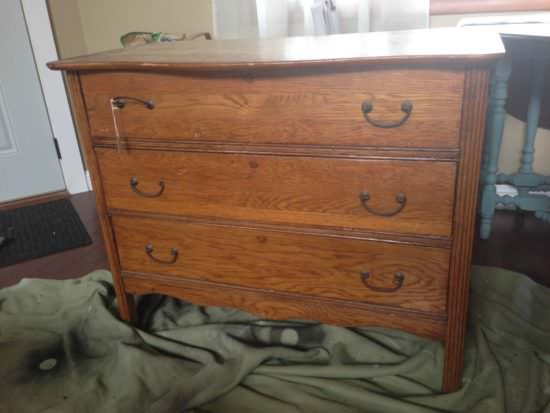 Whenever I am refinishing a piece of furniture, I always consider its positive characteristics. Even if a piece is in a sad state, there are always features that can be highlighted to help bring it back to life. In this dresser, the rustic, hand-made qualities really stood out to me, as well as the beautiful wood.
It's clear that at one point in time, someone gave this dresser some extra TLC. The antique keyholes were removed and plugged with dowels, and some of the drawer bottoms have been replaced. Otherwise, the structure is original, solid, and gorgeous!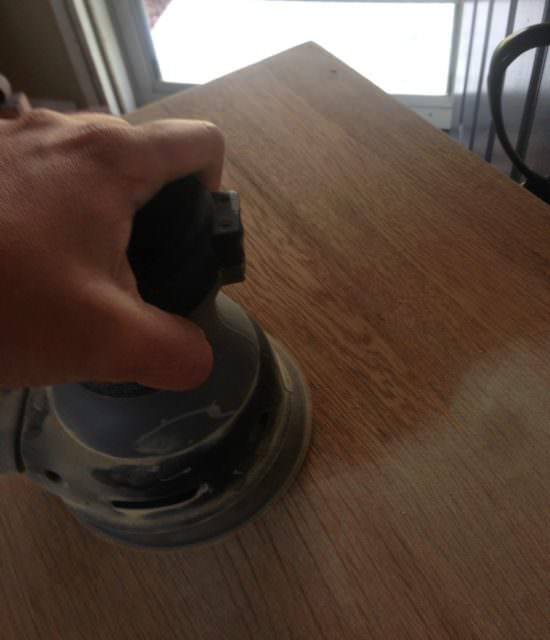 To highlight the natural aspects of this dresser, I decided to strip, and then sand down the finish on the top and reveal the original wood. I'm in the process of writing a post on the best way to strip furniture, so stay tuned for all the details.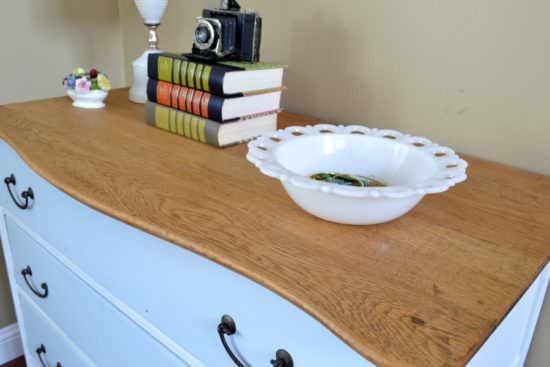 After stripping it down, I knew that the wood was in beautiful condition, and I could bring this dresser back to its original elegance. I simply added a clear coat polyurethane to the top to enhance and seal the wood.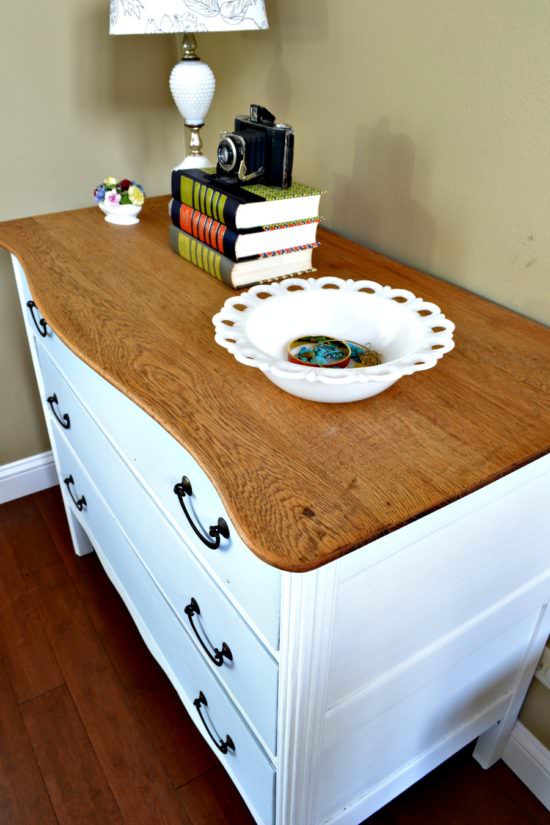 Adding Pure and Original paint only enhanced the beauty of this piece. I used two colors: Lagoon Water for the drawers and Silk White for the frame.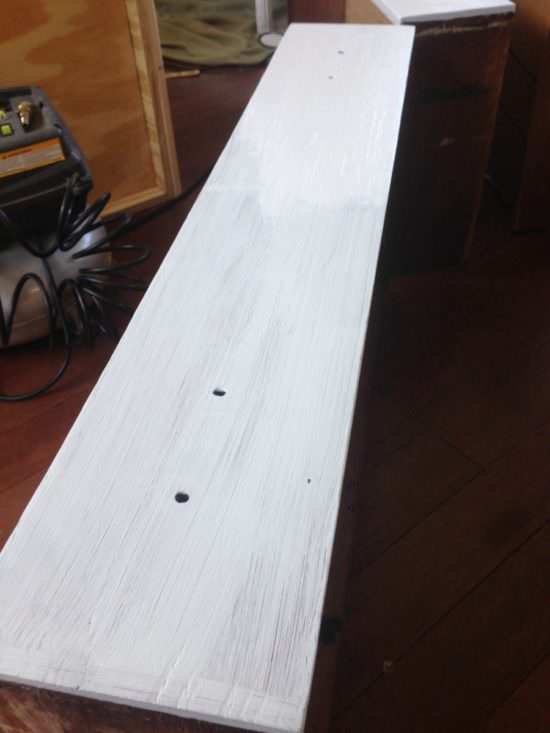 I used three coats and it covered perfectly. If I had chosen darker colors, I definitely could have used only two coats and I know it would have covered. Actually, the fact that I only needed three coats with such a pure white it rare. I've never met a white paint that needed less than three coats on furniture, so I was very pleased with the coverage with this paint.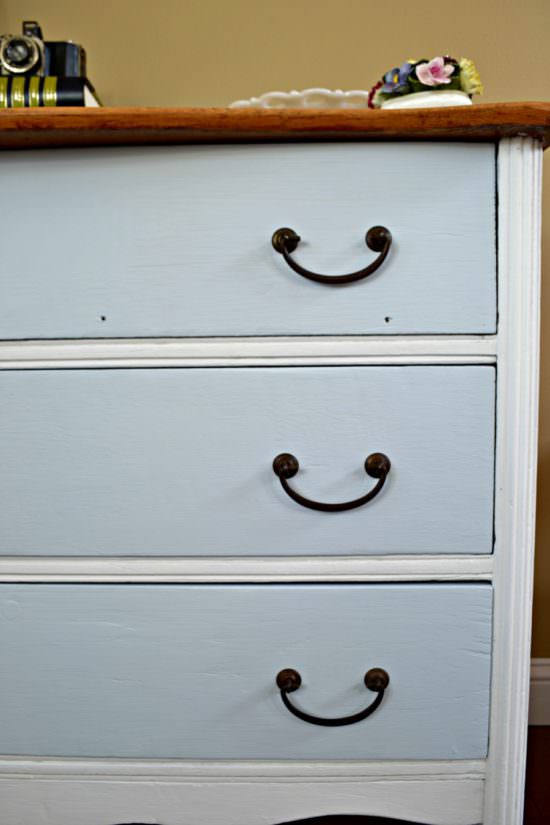 I knew as soon as I saw this piece that the handles would stay in their original state. If you look closely, you'll notice that one of the middle handles is missing the little plate. Rather than trying to find a replacement, I kept it just the way it was. I love that it's a tribute to it's history.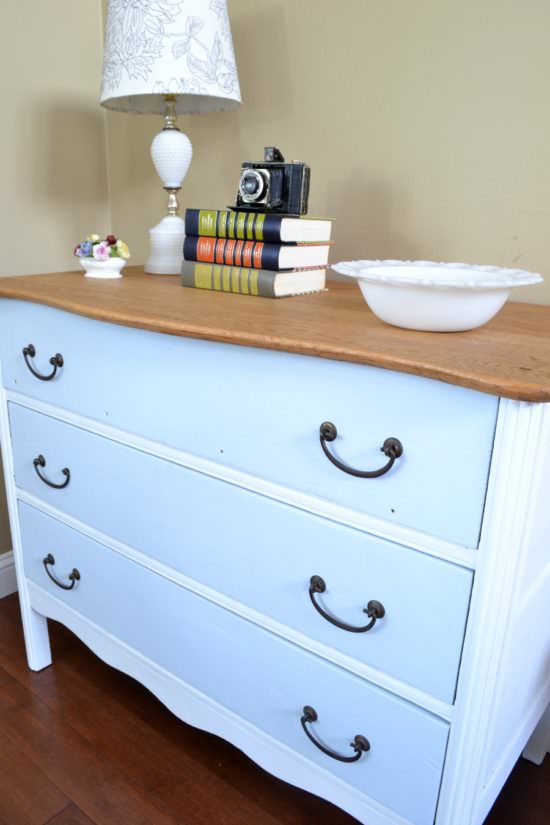 I love the slight contrast between the drawers and the body of the dresser; it's subtle but also adds an extra element of interest.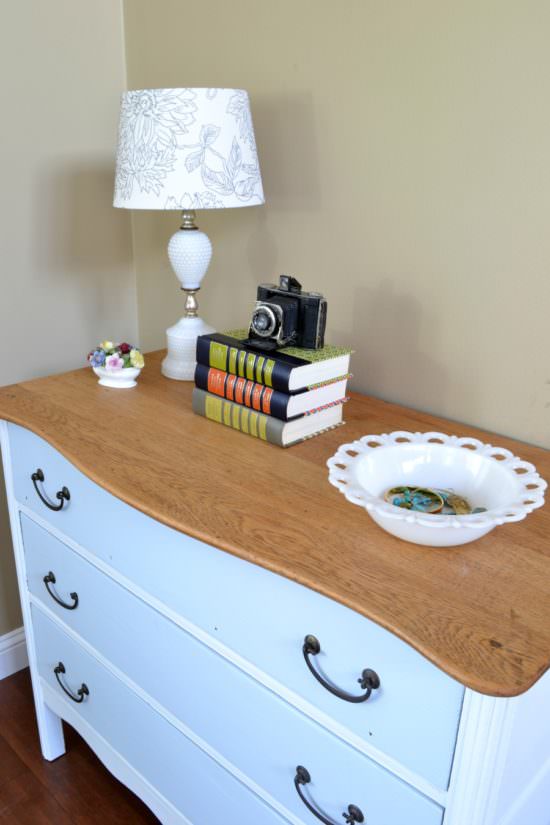 I only used about 1/3 of my paint on this dresser, so you better believe you'll be seeing more pieces with these beautiful colors soon!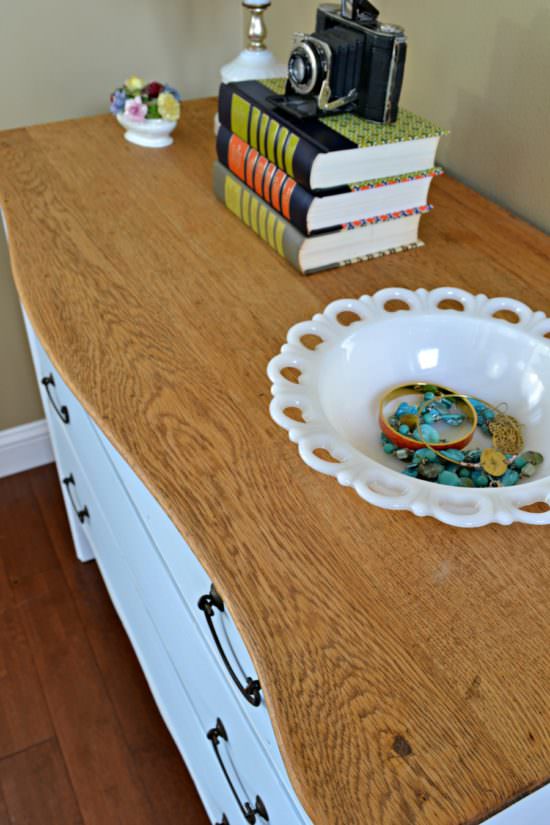 A bunch of other amazingly talented bloggers have participated in the Fab Furniture Flippin' Contest, too. Head on over to see their projects by visiting our hosts for the month: Carrie at 38th Street and Stacy at Anastasia Vintage.
If you're interested in participating in the Fab Furniture Flippin' Contest in the future, please email [email protected]
I LOVE refinishing furniture! You can see all of my refreshed pieces here, or check out a few of my other Fab Furniture transformations below.
Like what you see? I'd love for you to follow along!
Facebook || Pinterest || Instagram || Google + || Bloglovin'

Join the Refresh Living DIY & Upcycling Community
Join the subscriber list to receive one to two emails per month with updates from the blog. PLUS, you'll gain access to my printables and graphics library. Every new design I create will be added here, and you'll have free access - forever!