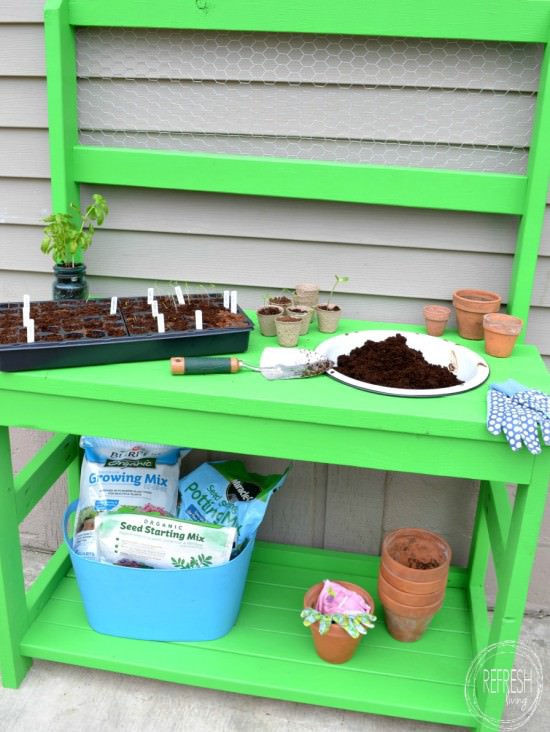 Although I love a good DIY project that uses power tools, I must admit, I really wouldn't consider myself much of a builder. I can repair broken furniture or screw together a couple of pieces of wood for a tabletop or a sign, but build something from scratch? The thought of it made me a little nervous.
Now that I'm comfortable using my Kreg Jig K4 Pocket Hole System
, I started noticing that a lot of building projects require primary cuts, and something like a Kreg Jig that can easily join together pieces of wood, and that's it! I can cut down boards and use a drill, so I set out to try my hand at this DIY carpentry thing with a DIY potting bench, made entirely of 2 x 4s.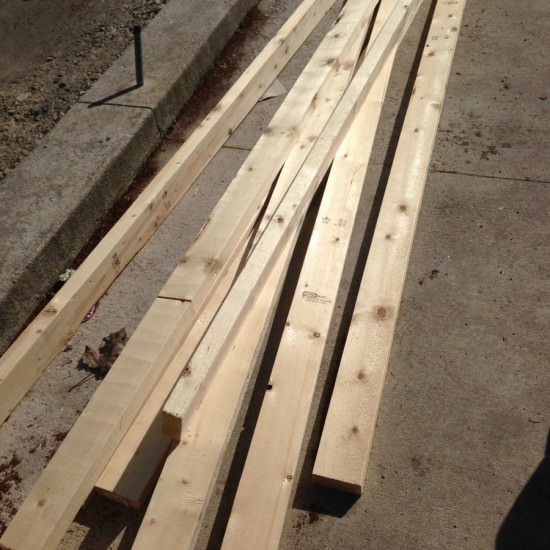 To keep things easy, the only size of wood I used was 2 x 4s. The great thing about it was it kept the project super easy for a beginning, and super low cost. I got my 2 x 4s on sale for $1.98 each!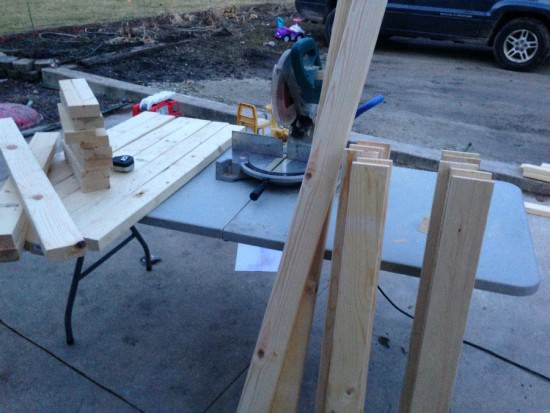 Here are the cuts I made. If you're new to building thing like me, skip over this cut list for now. Check out how it's made, and then come back to it. All of these cuts are from 2 x 4s. I ended up needing 11 – 8 foot boards, but I bet if I figured out a better way to have less excess on my cuts, I probably could have ended up only needing 10.
5 – 48″ boards (top)
2 – 32″ boards (front legs)
2 – 64″ boards (back legs)
6 – 13.5″ boards (side supports)
5 – 43″ boards (bottom shelf)
5 – 43″ boards (back and front supports, and last board on the top)
Kreg Jig
Kreg 2-1/2-Inch #8 Coarse Pocket Screws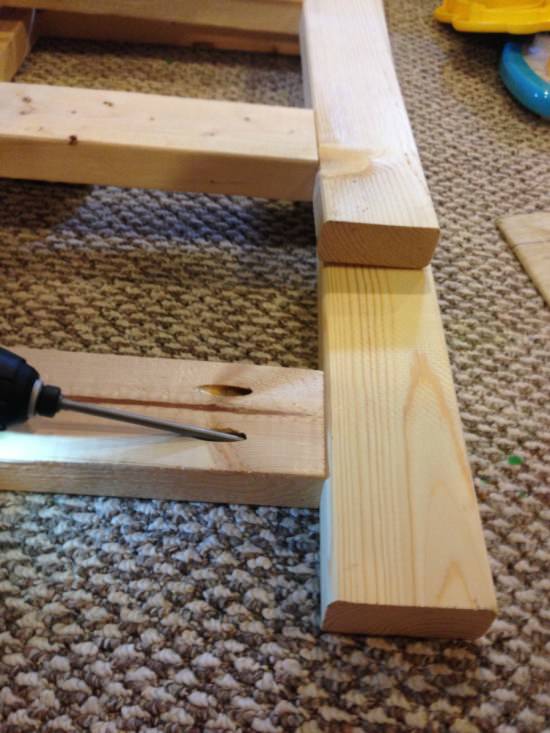 You'll start by assembling one of the sides. I drilled two holes into each side of the 13.5″ boards, and then screwed those into the front and back legs. After I made the first side, I used it as a guide to be sure the side supports were at the same place on the second side.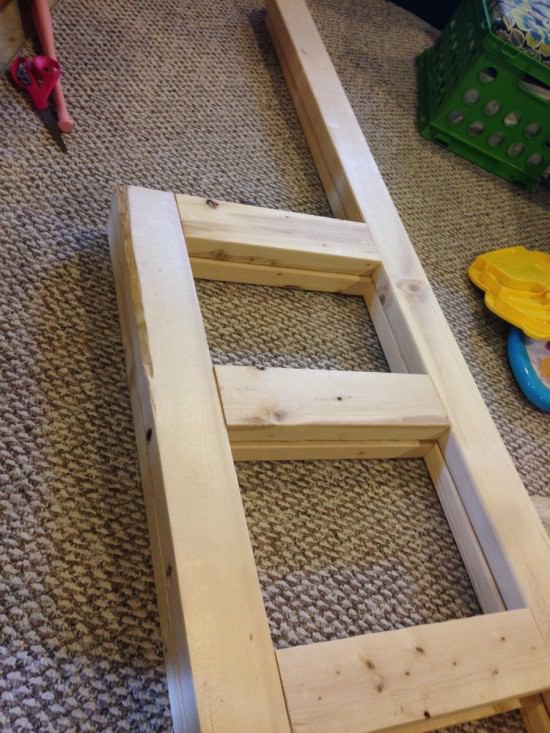 After the sides were assembled, I attached the back support on the bottom. I lined it up with the two side supports on the bottom, and screwed it into place. From here on out, when I mention that I screwed it together, please know that I first drilled my holes into the board with the Kreg Jig, and then screwed the boards together using those pilot holes. If you don't have a Kreg Jig, you could also just screw into the face of one of the pieces of wood, straight through it, and then into the adjoining board. It just means you'd be able to see the screws on the faces of the boards.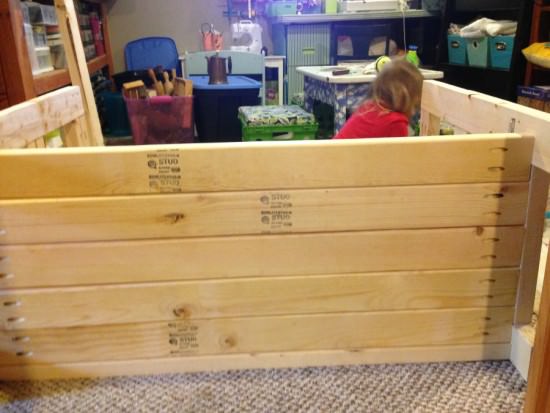 After that back support piece was attached, I screwed each of the bottom shelf boards to the sides. I found that it actually helped to only screw one side of each board in place, and then move onto the next board. Then, after all of the boards were screwed in on one side, I screwed in the other side of each board. I found that when I screwed the whole bottom board in place, the sides were attached too tightly for the other boards to fit in. This could be a total amateur building move, but it worked for me, and the boards are pretty darn straight and close together!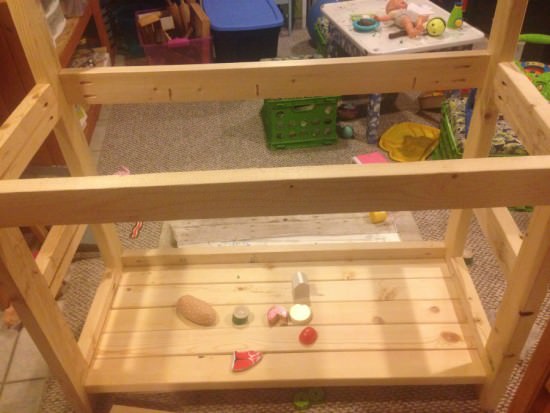 After the bottom was installed, I attached the front and back supports and at this point, my girls said I had made them the perfect house! Well, I can't take all the credit. My little two year old loves to help me build.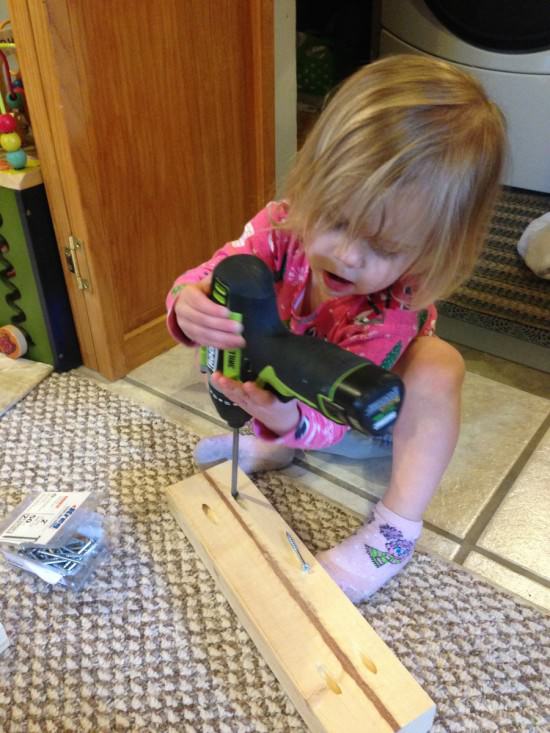 I walked away for a second to grab something, and she was already hard at work! Bad mom? Maybe, but something tells me she's going to love power tools just like her mama, and I'm quite alright with fostering girl power!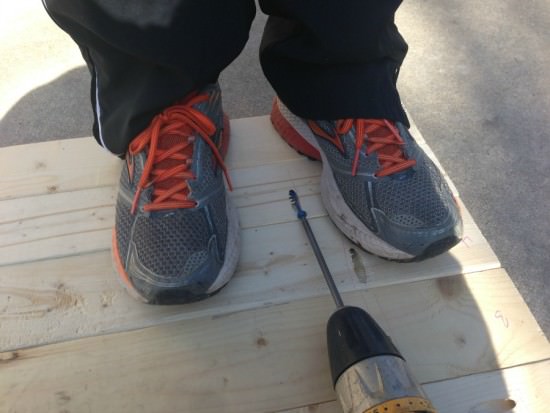 Here's where I needed the help of my handy husband. Whenever you're screwing pieces together, it's important to keep them flush together. I really should invest in some clamps to help with this, but for all the other joints, I just held the pieces in place and it worked fine. Screwing boards together on a flat plane is a little harder, and I've found it needs extra resistance for the boards to attach together perfectly flat. I would actually recommend using a Face Clamp
, but since I don't have one, I needed the help of my husband. I always have him stand on the joint I'm screwing together, and it works out pretty well.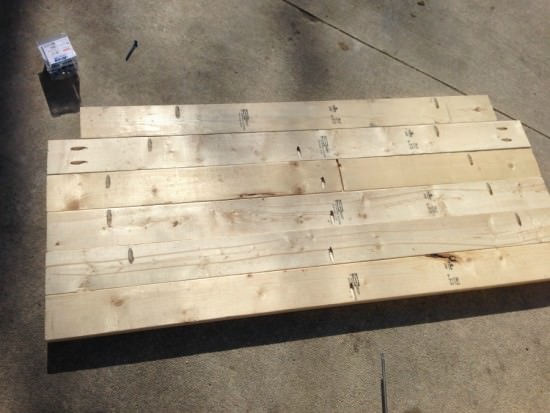 This is the top of the potting bench. You can see the pocket holes where I screwed together the boards.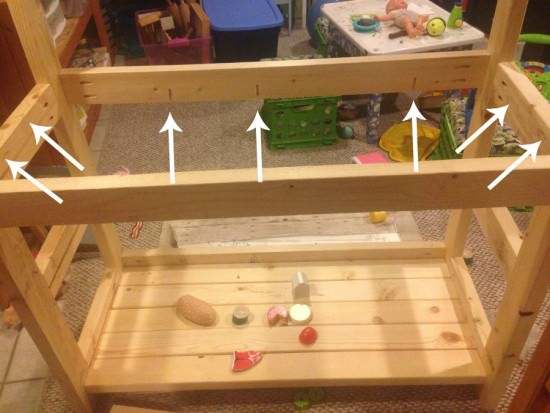 Then, I placed it on top of the bench, and screwed it in place. (Quick note – be sure to drill some pocket holes in the back, front, and side supports on the top that will go up into the top when it's in place. I almost forgot to do this! The arrows in the image show where to have some pocket holes pre-drilled. You'd also add a few on the inside of the front board as well.)
After everything was put together, I got a little too excited and completely forgot to take the rest of the process pictures! Basically, I used a jigsaw to drill a hole in the top of the bench (completely optional) to fit a vintage enamel bowl I found at a flea market last summer.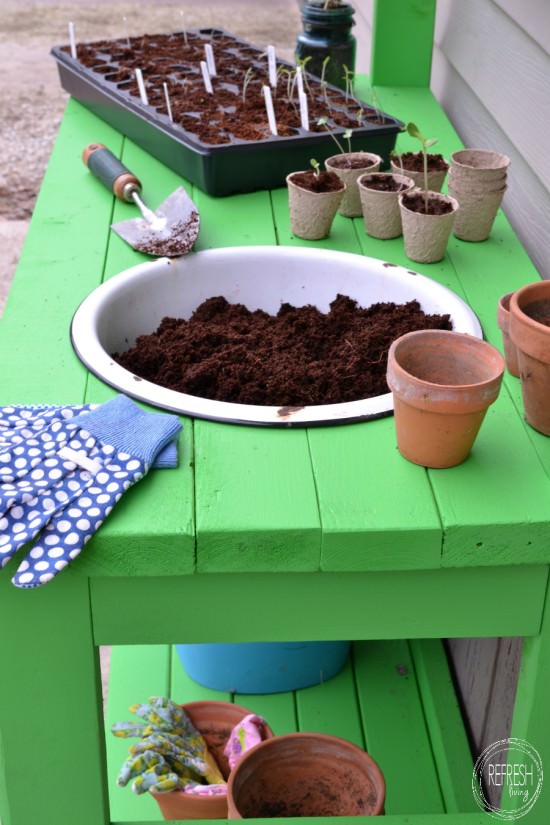 Then, I used my HomeRight Sprayer
to spray on two coats of outdoor paint in a satin finish. This potting bench will be in a semi-enclosed area, so it's not completely sheltered from the elements, and I wanted to give it the best chance at survival.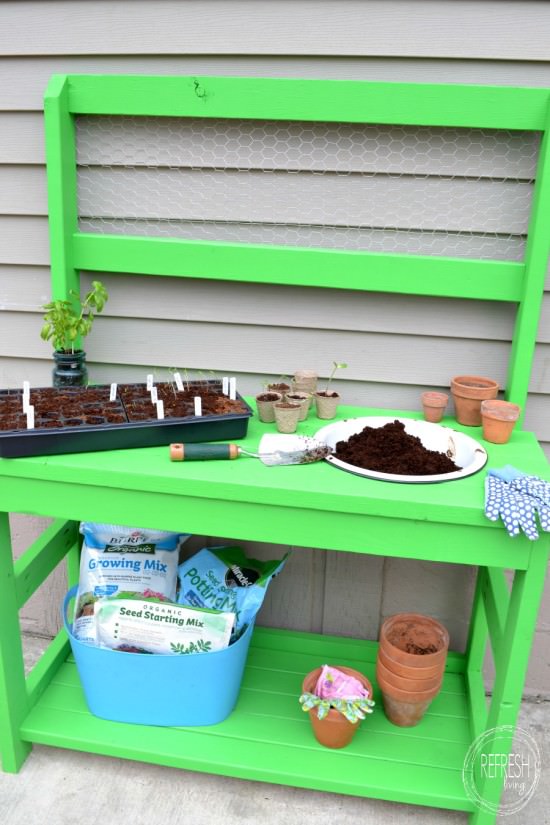 The bright green color just makes me crave spring, and to be able to plant all my little seedlings outside!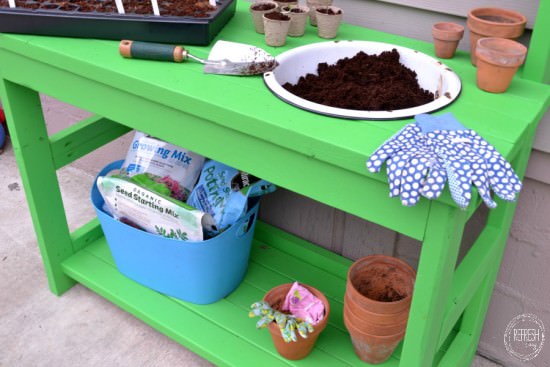 I can't tell you how fun it was to complete this project, and how proud I felt when it was completed. To be unsure if I could accomplish something I've never tried before, and then to feel pretty successful at it, just feels great.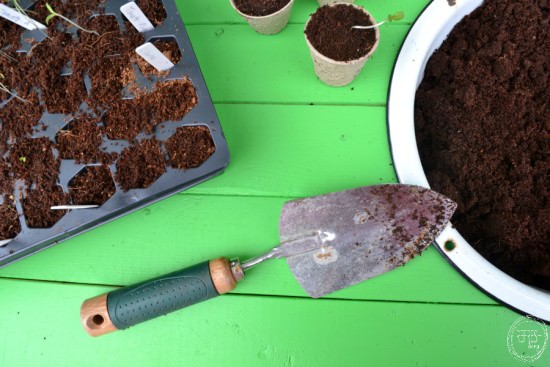 Plus, it only cost me a total of $40 to make it – including all the boards, screws, and paint.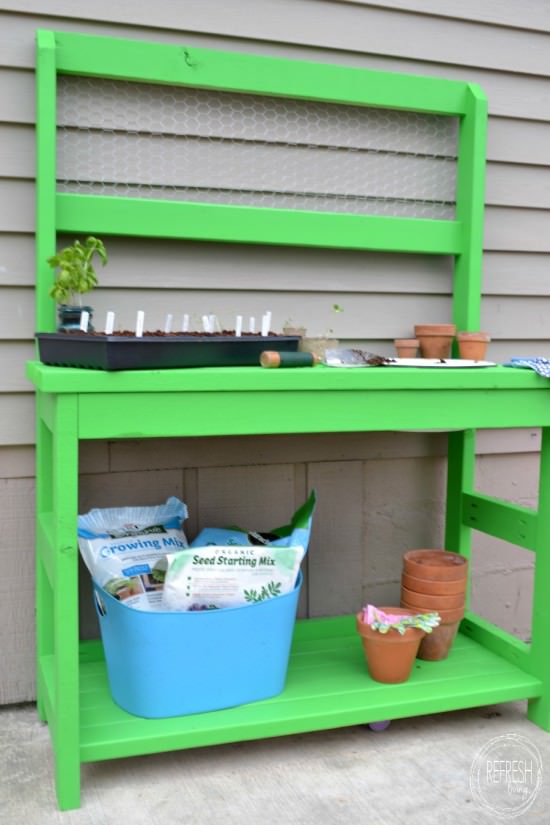 I attached some chicken wire I had laying around to the back of the boards. I'm thinking I'll hang some S hooks and use it to store gardening equipment.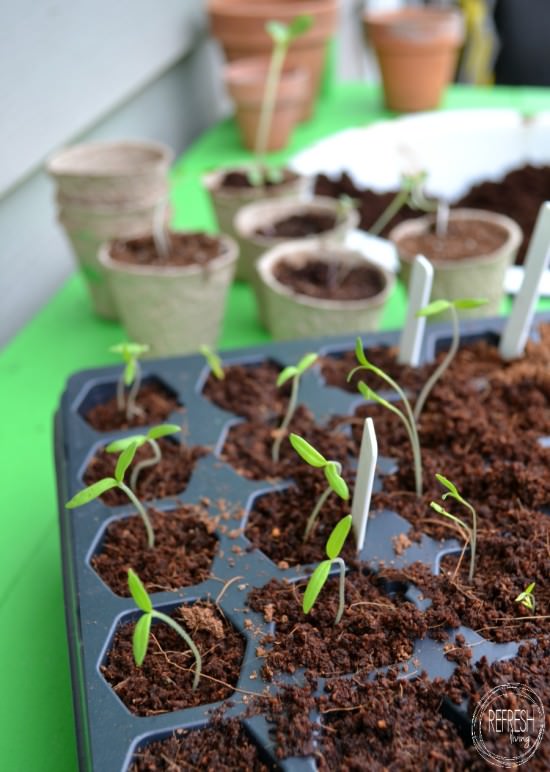 Anyone else out there that can't wait to get gardening?!
I adapted my plans from this 2 x 4 vanity. This site actually has complete building plans, so you might find it helpful. Or, you might find a different project you want to complete!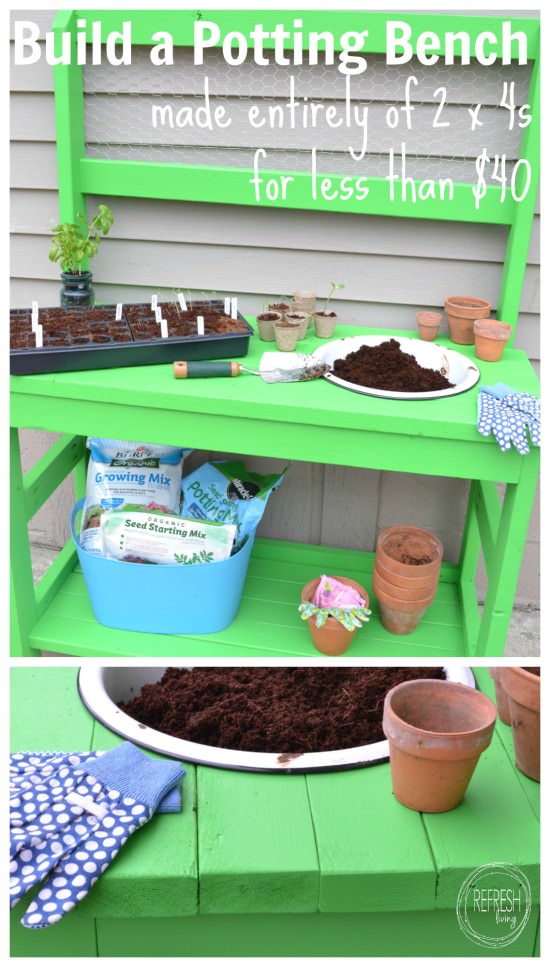 Like what you see? I'd love for you to follow along!
Facebook || Pinterest || Instagram || Google + || Bloglovin'
Feel inspired to get building? GREAT! Here's 50 other ideas of projects you can make entirely out of 2 x 4s!

A special thanks to Gina from The Shabby Creek Cottage for putting this 2 x 4 challenge together!
Linking up with these awesome parties!
Pink When | DIY Show Off | Making it in the Mountains | Refresh Restyle | Huckleberry Love | Finding Silver Pennies | Dwelling in Happiness | The Crowned Goat | 2 Bees in a Pod | Cedar Hill Farmhouse | My Uncommon Slice of Suburbia | Kammy's Korner | Home Stories A to Z | The DIY Dreamer | Saavy Southern Style | Dandelion Patina | Gingersnap Crafts | Knick of Time | Posed Perfection | Live Laugh Rowe | Canary Street Crafts | Addison Meadows Lane | Blue i Style | Craftberry Bush | The Girl Creative | Little Miss Celebration | Redoux Interiors | Sew a Fine Seam | Craftaholics Anonymous | Dagmar's Home | Tatertots & Jello | Funky Junk Interiors | House of Hipsters | Confessions of a Serial DIYer | Not Just a Housewife | Remodelaholic | Thrifty Decor Chick | C'mon Get Crafty | Oh My Creative | Our House Now a Home | Natasha in Oz
Join the Refresh Living DIY & Upcycling Community
Join the subscriber list to receive one to two emails per month with updates from the blog. PLUS, you'll gain access to my printables and graphics library. Every new design I create will be added here, and you'll have free access - forever!