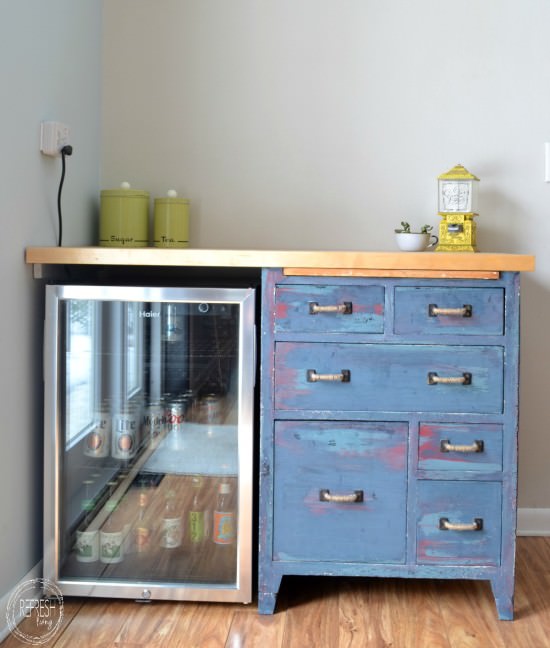 We've slowly been bringing our 1970s lake house cottage back to life.  It's slow moving because we're doing all the work ourselves, and there's a lot of it!  Plus, we're working on a major budget and getting creative on how to update every room in the house with a minimal amount of money.
After adding a 3 panel window/door (that my dad had taken out of someone else's house and decided to keep = FREE!) to our kitchen, we were left with a little corner that was big enough to fit cabinets or some sort of storage area.  I went back and forth between repurposing old cabinet bases and adding a countertop, putting an antique Hoosier cabinet in the space, but I finally decided to add a beverage fridge and repurpose an old baker's cabinet as a base, with lots of storage.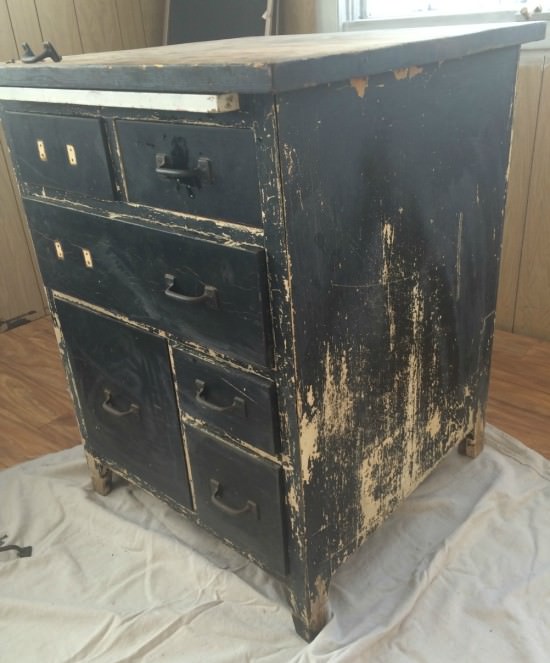 This cabinet was actually sitting in the garage for well over 10 years.  My grandpa had bought it at a garage sale and used it for tool storage.  I'll admit, I walked by this thing hundreds of time, not seeing it's potential.  Once I finally decided to pull it out of the corner and take a look, I knew I could bring it back to life.
It's solid wood, and looks to be handmade.  It's had quite a few layers of paint on it, but otherwise it was in pretty decent condition.
Because there was no telling how long ago this cabinet was painted, I test it with Lead Paint Instant Check
 swaps.  Thankfully, it was not lead paint so I sanded it with my orbital sander and 120 grit paper to get off any loose pieces, and to give the new paint something to stick to.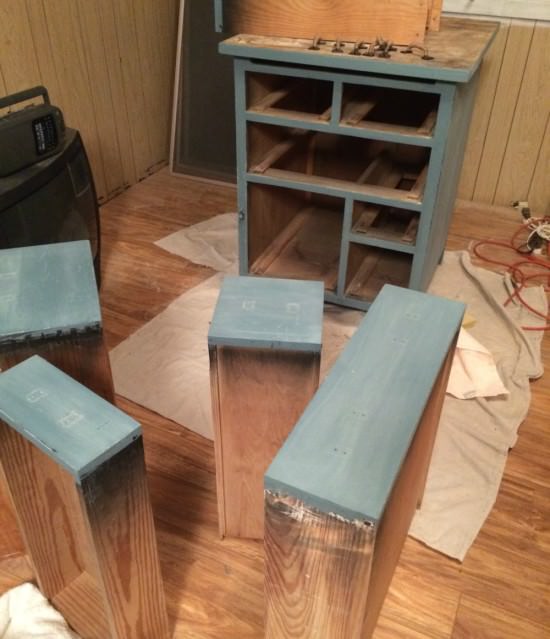 I started by applying some Hemp Oil
in a few places on the black cabinet, especially on the edges of the drawers, near the handles, and in some of the places that were already chipping.  Hemp oil acts as a resist for the next layer, so any color that is added on top of it can be sanded away to reveal the other color underneath.
I painted the first layer in Miss Mustard Seed Milk Paint in French Enamel
 with the Bonding Agent
 mixed in.  I knew I wanted a chippy finish, but I've found that if I apply milk paint over something that's already painted, it chips a lot, and then every layer on top chips off in the same places.  Because I wanted to show multiple layers of paint, I wanted this first coat to stick well.
After it dried, I sanded away some of the blue paint in the places where I applied the hemp oil.  I find that if I paint on all the layers and then try to sand, the paint doesn't come off as well.  By sanding before the next step, I am making sure that the black color shows through, even after more layers of paint.  (You can see some of the black peeking through on the image below.)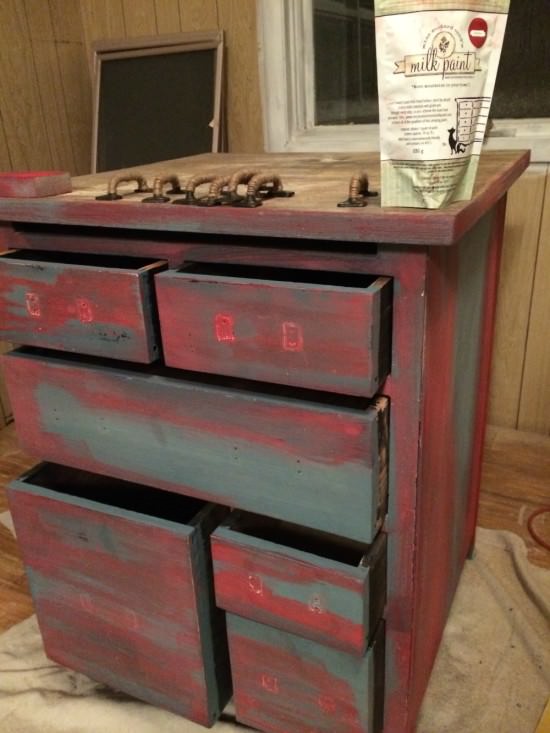 For the next step, I painted Miss Mustard Seed Milk Paint in Tricycle
 on some parts of the cabinet.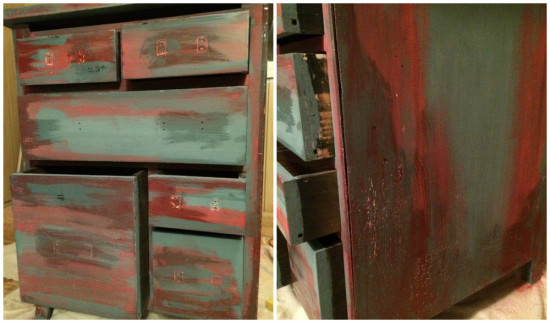 Before painting on the next layer, I applied more hemp oil over some of the red and blue paint.  Again, I applied it in the places where I wanted that red, blue, or black to show through the last layer of paint.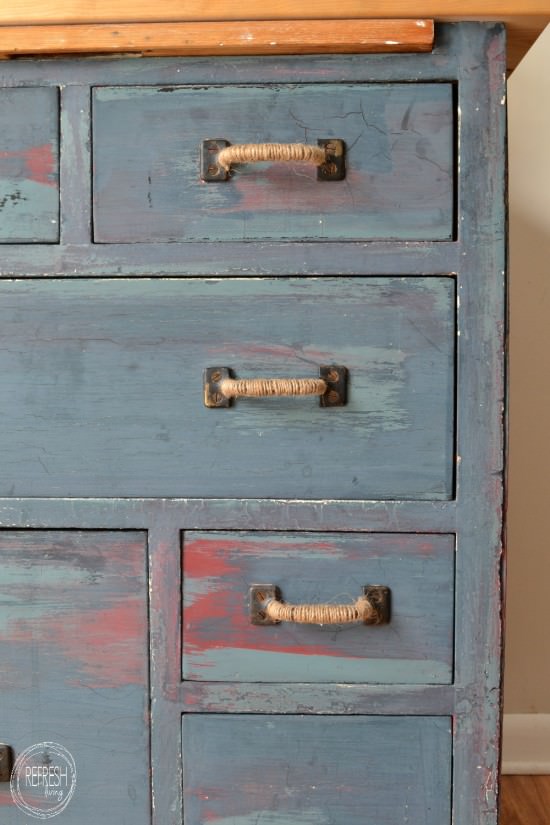 I painted on the final layer which was a custom mix of French Enamel and Artissimo
, and then sanded away the places with the hemp oil.  I gave it a coat of Finishing Wax
 and then put the handles back on.  Here's how I updated the handles to mimic the look of some Anthropologie knobs.
The fridge is clearly stocked… We host guests a lot up at our cottage, so we usually keep it pretty full with a variety of beverages.  After taking the pictures, I wondered it I should have taken all of that out for the picture, but this is what its used for – no sense in staging it differently.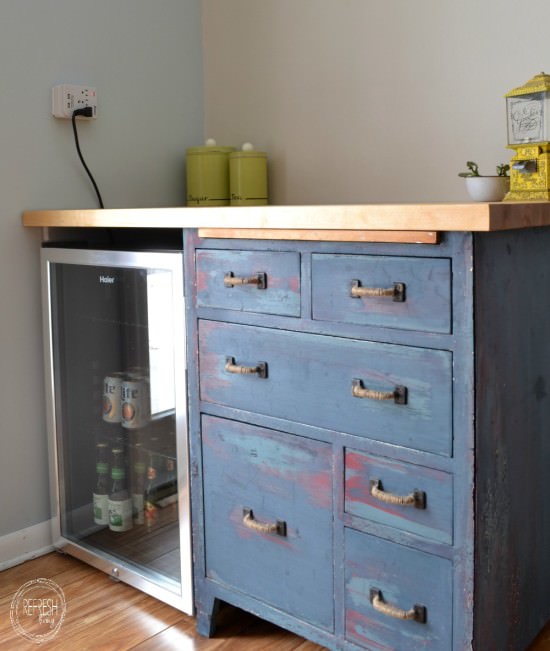 To install the butcher block countertop, I removed the top of the cabinet, and then installed a wood cleat on the side of the wall.  We screwed into the countertop from the bottom side of the counter, at an angle so the screw went into part of the cabinet and into the top.  It's attached to the top of the cabinet, but it just rests on the wood cleat.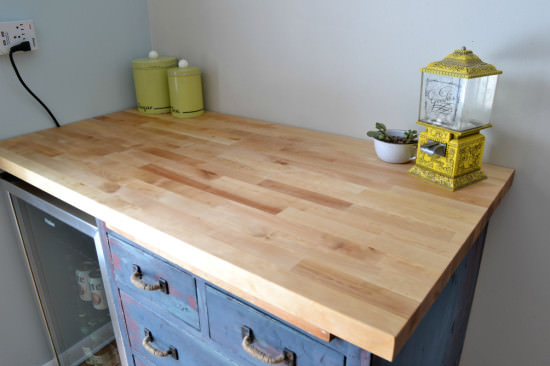 You can see that we didn't bother to move the electrical box on this one, so we had to drill a little hole in the wood cleat and countertop to allow the cord to come up to the outlet.  Not the perfect situation, but it works.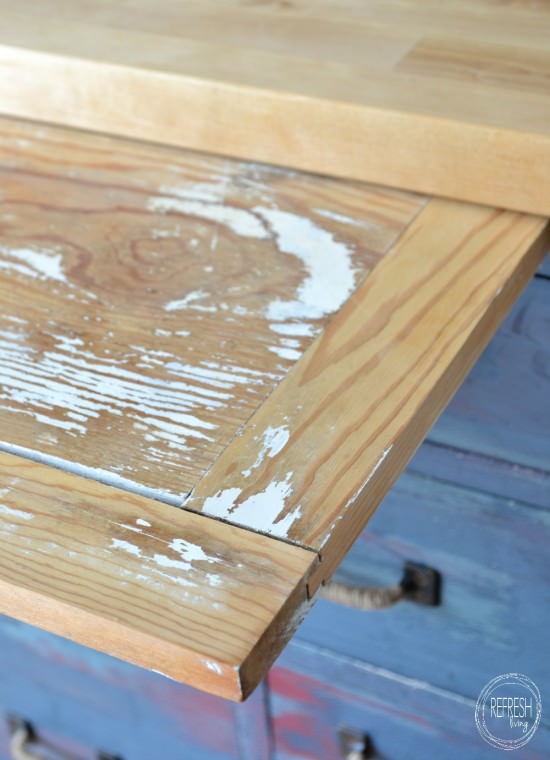 I don't really know if this was a baker's cabinet, but because of the large drawer on the bottom, which I'm guessing is the flour drawer, and the pull out wood tray, my best guess is that was its original purpose.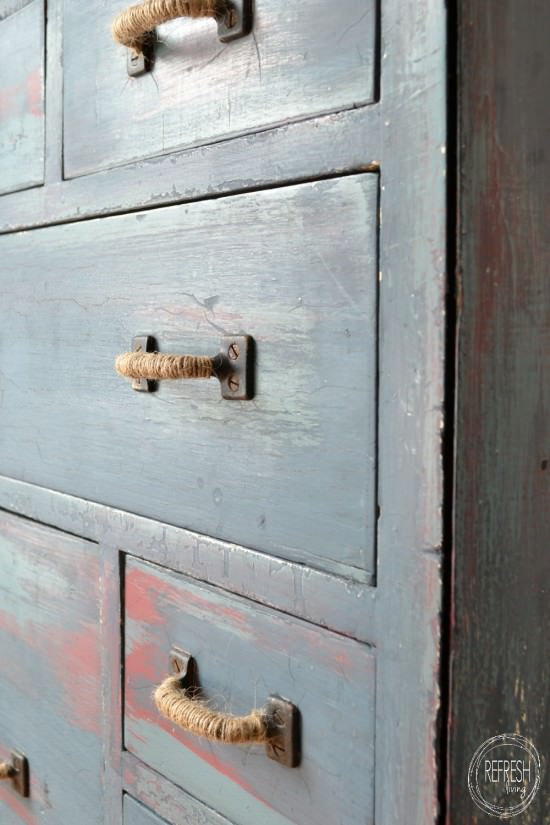 You can see how the hemp oil allows you to see all the different layers of paint.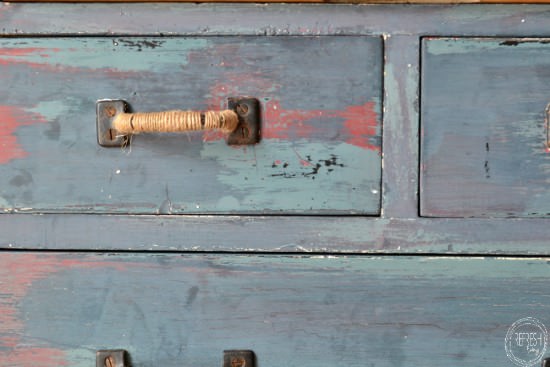 I know this finish isn't for everyone, but considering the piece I started with, with some of its uneven parts and chipping areas, I though this type of layered finish would be the best for this piece.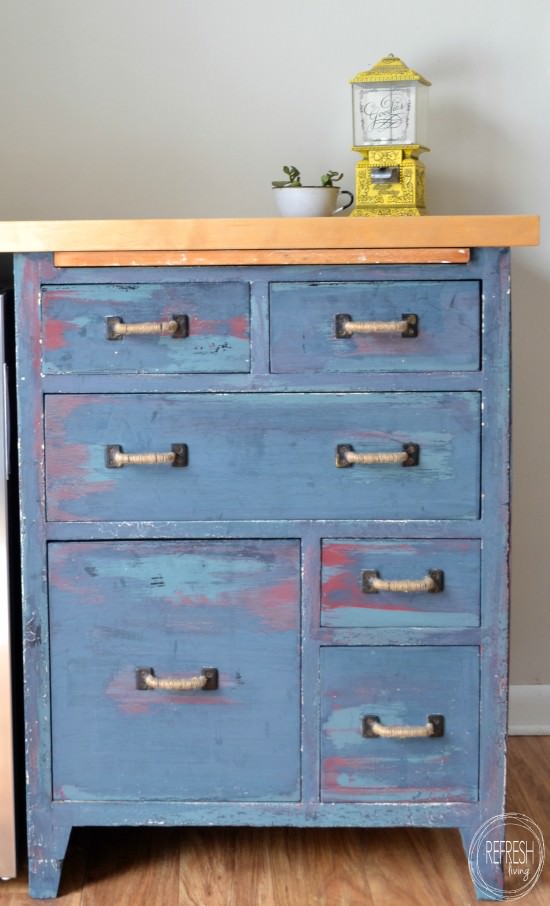 Interested in seeing more of our cottage?  Head on over to check it out!
Join the Refresh Living DIY & Upcycling Community
Join the subscriber list to receive one to two emails per month with updates from the blog. PLUS, you'll gain access to my printables and graphics library. Every new design I create will be added here, and you'll have free access - forever!