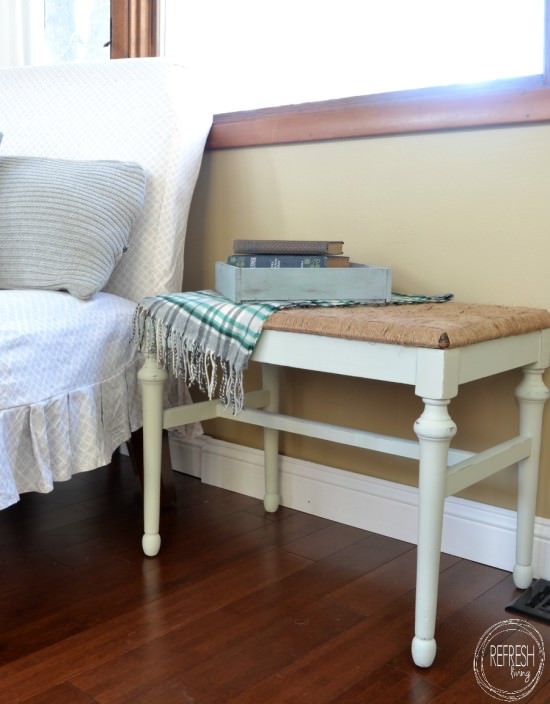 I found this bench at an estate sale for $5.  The problem with it was clear – the cane seat was completely destroyed and it no longer was a functional bench.  I saw this rustic woven foot stool at Anderson and Grant a few months back and absolutely loved it.  I knew as soon as I saw it that I needed to find a piece to makeover with this technique.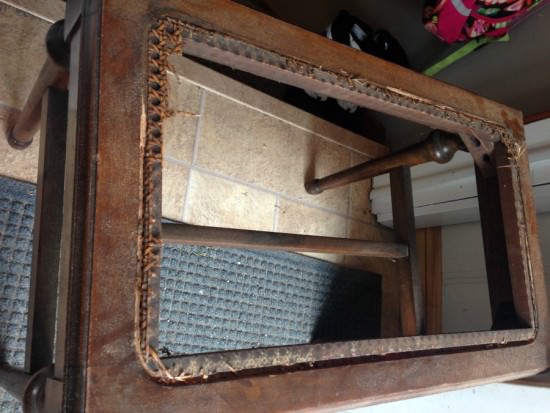 This month for the Create and Share Challenge hosted by Stephanie from Casa Watkins we were supplied with paint, wax, and brushes from Wise Owl Chalk Style Paint to complete our projects.  My nonfunctional bench seemed to be the perfect candidate for the woven seat and I knew chalk paint would give it the perfect rustic look I was going for.
This bench top was just screwed on with ten screws, so I was able to easily unscrew the top.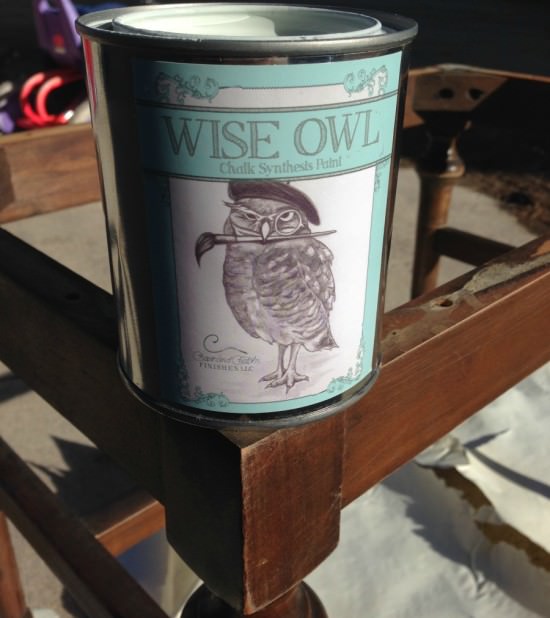 I started by prepping the frame of the bench.  Although I used chalk paint for this piece, I always do a couple of things before painting anything, with any type of paint.  Here are all my tricks for prepping furniture.  After prepping, I painted the frame in Sea Salt.  It's a light color, so I needed to paint three coats.  Overall, I really enjoyed using this paint.  It's comparable to the other types of chalk paint I've used, and gives a nice, matte finish.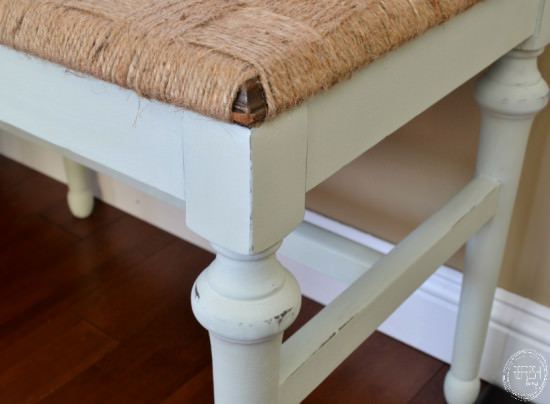 Before applying the wax, I lightly sanded the piece with 220 grit sandpaper, applying extra pressure to corners and edges to reveal some of the wood.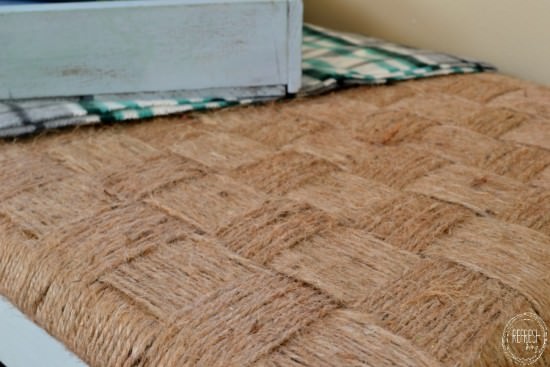 To create the weave on the top of the bench, I used jute twine.  I found this at Hobby Lobby and ended up needing almost 4 rolls of it.  Halfway through the weaving, I did figure out a trick that could have saved me a lot of twine, which I'll share with you in a bit.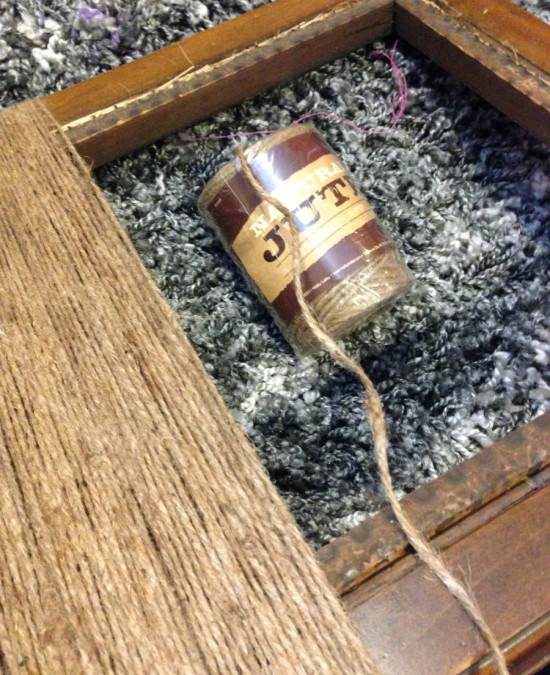 I tightly wrapped the twine around the bench top across the whole bench.  I debated whether I should just staple every two ends of twine, but I thought this was would be a lot sturdier.  In the end, I'm glad I used the extra twine to wrap all the way around the frame.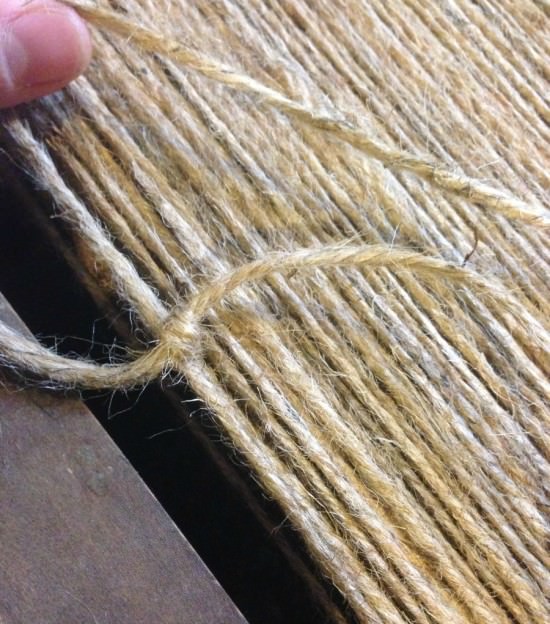 Whenever I ran out of one roll of twine, I simply tied a knot to the next piece and kept wrapping.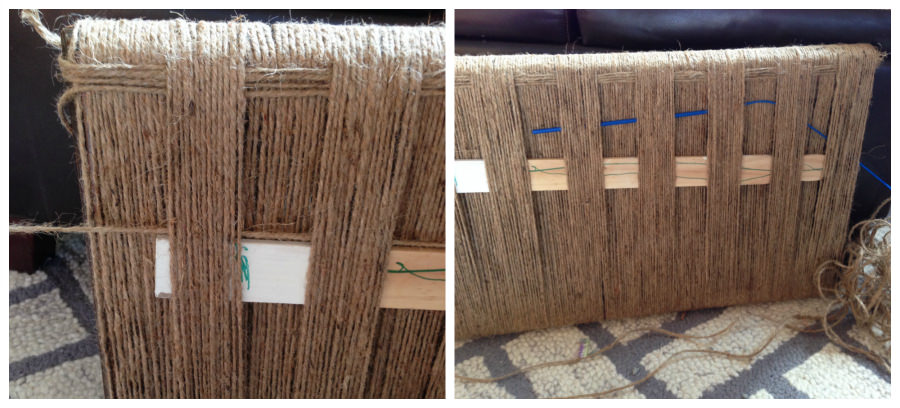 To achieve the weave, I used a paint stick to get the pattern started.  Because I was weaving across a fairly long surface, I used a drawstring threader as my extra long needle.  Both of these ended up being huge time savers.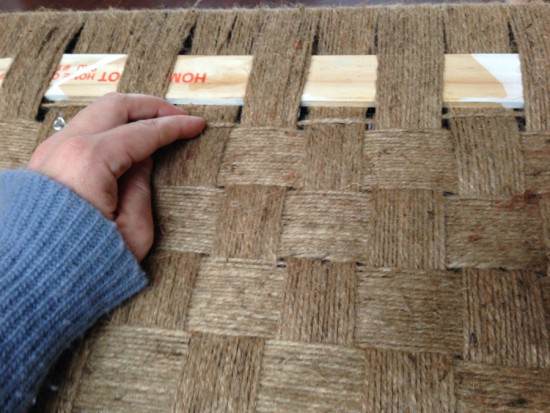 After finishing a band of weave, I removed the paint stick, threaded it through the opposite way, and then continued weaving each thread one by one.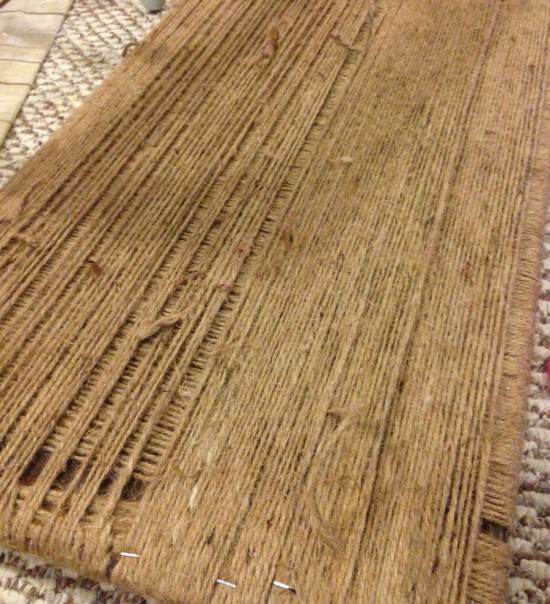 At first, I just wrapped the twine all the way along the back to then start the next row.  Halfway through, I realized that the first wrapping I did was sturdy, and I could use those strings as a way to reverse the twine.  So, instead of going all the way across the bottom, I looped the twine around one of the bottom pieces, and then was ready to start the next row.  I did this for a couple of rows, and then would wrap one all the way around just to keep it sturdy.
I debated stapling all of the pieces on the back, but because this is a bench, I worried that the staples might give out, or just not give as secure of a seat.  I know that this method is extremely sturdy, but it did use a lot of twine!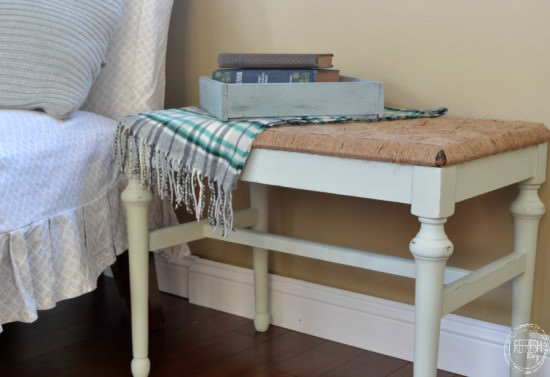 I will admit, the weaving portion of this rustic DIY woven bench transformation was pretty time consuming.  Luckily, Wise Owl Chalk Paint is easy to use and dries quickly, so the painting portion was a breeze!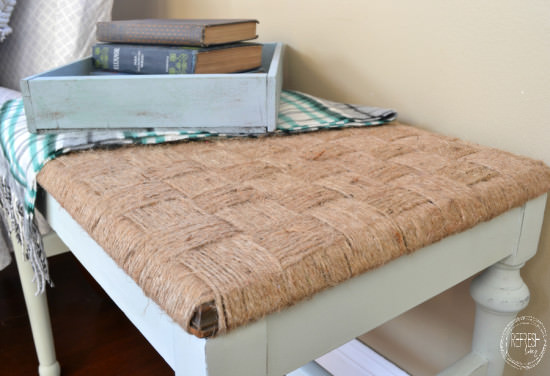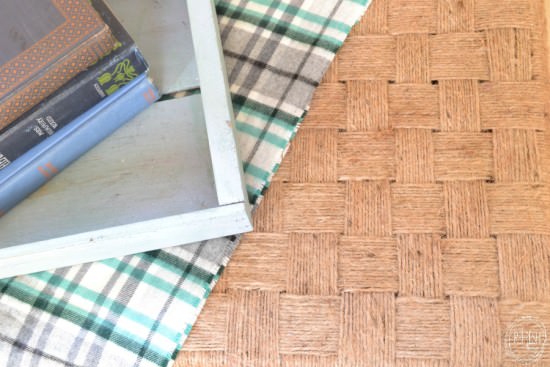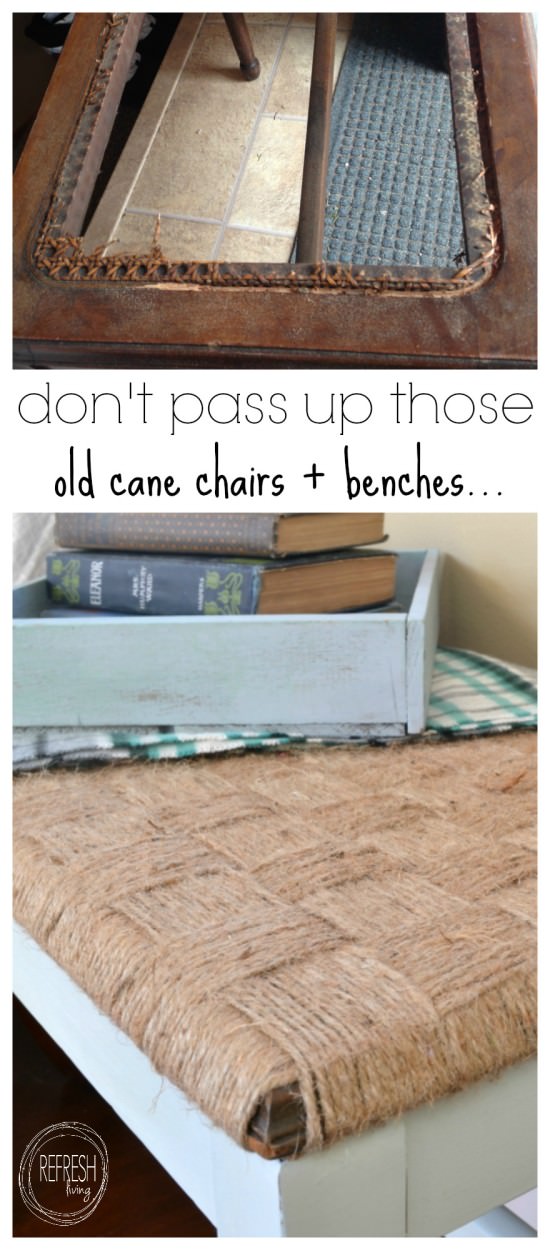 Check out all of the other amazing projects completed with Wise Owl Paint!
Pocketful of Posies ~ Old Door Dining Table
Domicile 37 ~ Faux Marble Top
Refashionably Late ~ Dining Room Re Do
Knock It Off Kim ~ Aging Furniture With Chalk Paint
Refresh Living ~ Rustic DIY Woven Bench Transformation
The Twin Cedars ~ Chalk Paint Furniture Flip
Our House Now A Home ~ Wall Paper Organizer
Lehman Lane ~ Cedar Chest Makeover
Green With Decor ~ Old Cabinet Drawer Makeover
One Mile Home Style ~ Drab to Fab Table Makeover
The Weathered Fox ~ Charging Station
Join the Refresh Living DIY & Upcycling Community
Join the subscriber list to receive one to two emails per month with updates from the blog. PLUS, you'll gain access to my printables and graphics library. Every new design I create will be added here, and you'll have free access - forever!