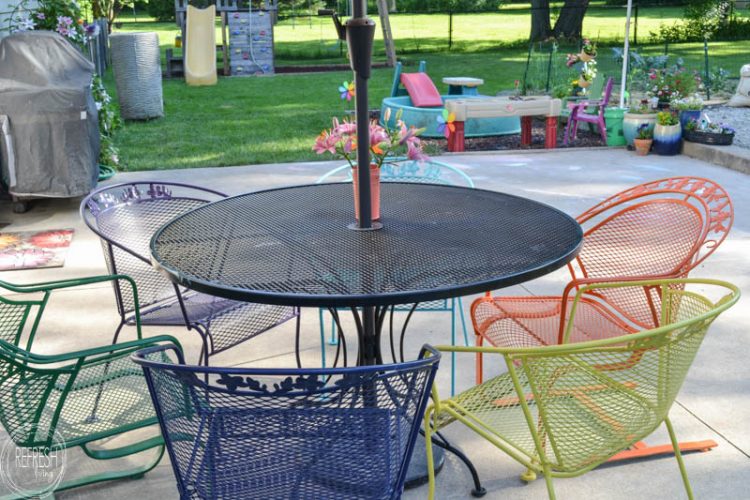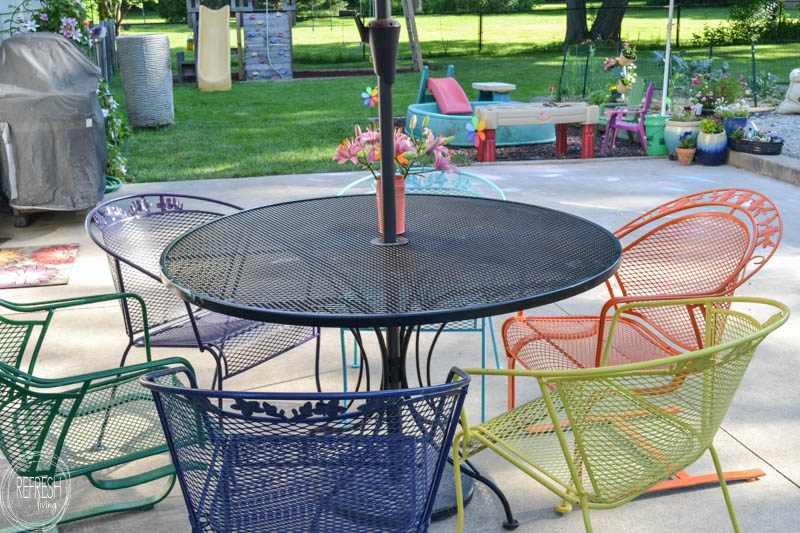 When my brother-in-law offered us his old patio set 10 years ago, I took it right away, planning that we'd use it for a few years, and then eventually "upgrade" to something new. Well, this set has stayed in great shape, I've found a chair that I love, and now I'm extra thrifty and see no sense in getting rid of something that has treated us so well.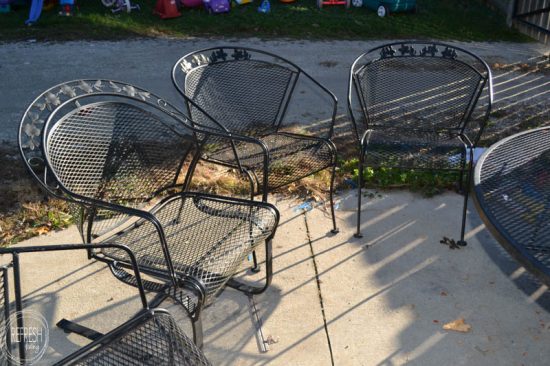 When we received it it was dark green, so 10 years ago I gave the whole set a coat of black paint.  Over the years, I've painted it black one other time just to keep it fresh, but this year I decided to mix things up a little.
I've come to terms with the fact that our backyard will never look like the beautiful backyard oasis creations on T.V. and in reality it will be destroyed by kids.  To go along with our "kid-friendly" themed backyard, I decided on a multi-colored face lift for our chairs.
Supplies Needed to Paint Metal Patio Furniture
All-Purpose cleaner and sponge
Gloss spray paint
Before painting, I first cleaned them with all-purposed cleaner and a scotch pad sponge.  I also went over the rusty spots with a metal wire brush to remove any loose pieces of paint or rust.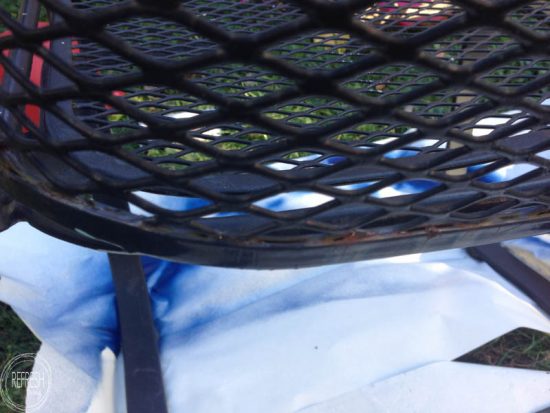 It's important to prime those places where rust is forming because if they aren't primed, the rust will come right through the new coat of paint.  For those rusty spots, I used rusty metal primer.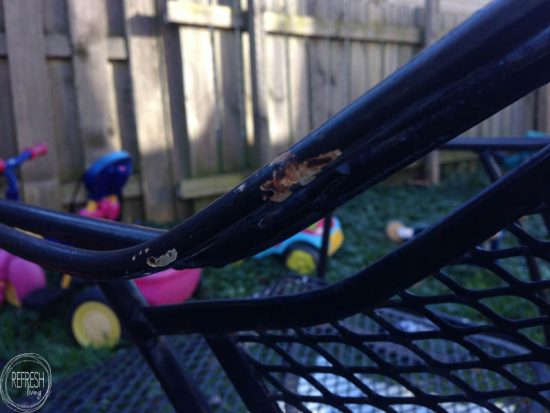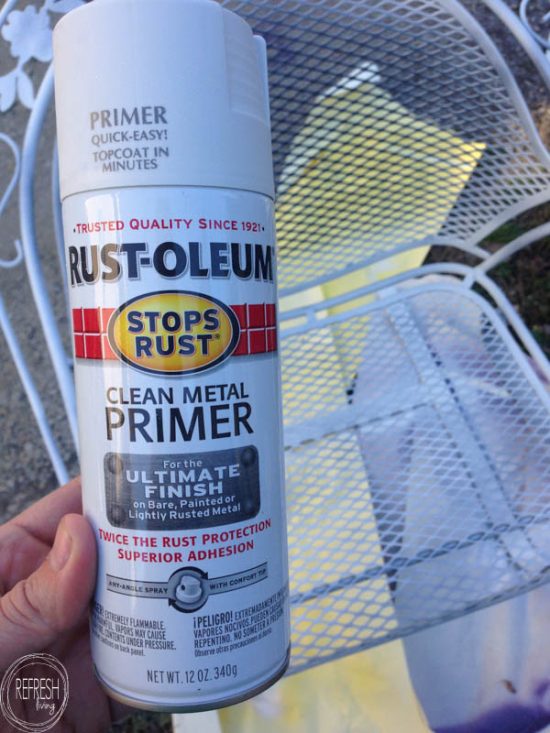 Then, I gave each chair a quick coat with clean metal primer to ensure the new paint would adhere beautifully to the chairs.
I used a gloss spray paint in six bright colors to change things up for this little patio set.
Each chair needed two coats of spray paint, which ended up being one full can of paint per chair.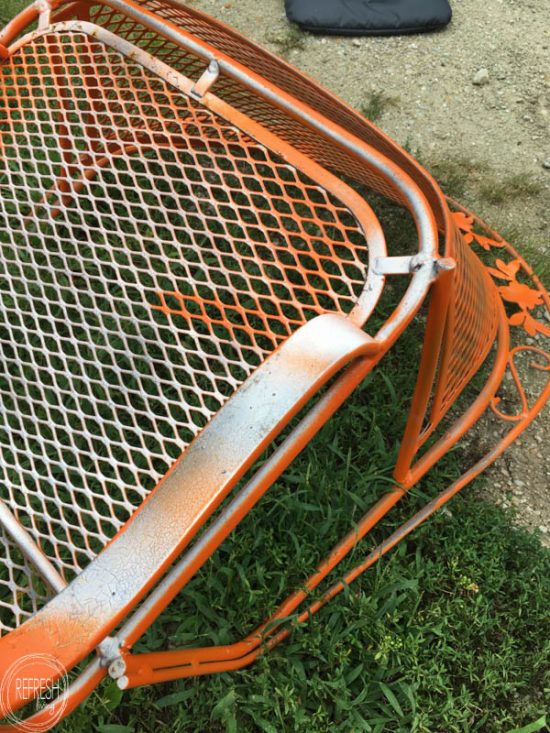 When spraying chairs, the trick is to give two coats of paint with the chairs upside down, let them dry completely, and then flip them over and give two coats of paint to the front sides that weren't hit when the chairs were upside down.  (In this photo I actually sprayed the top first, and then the bottom, which works too, I just find I cover more areas when the chairs are flipped to start.)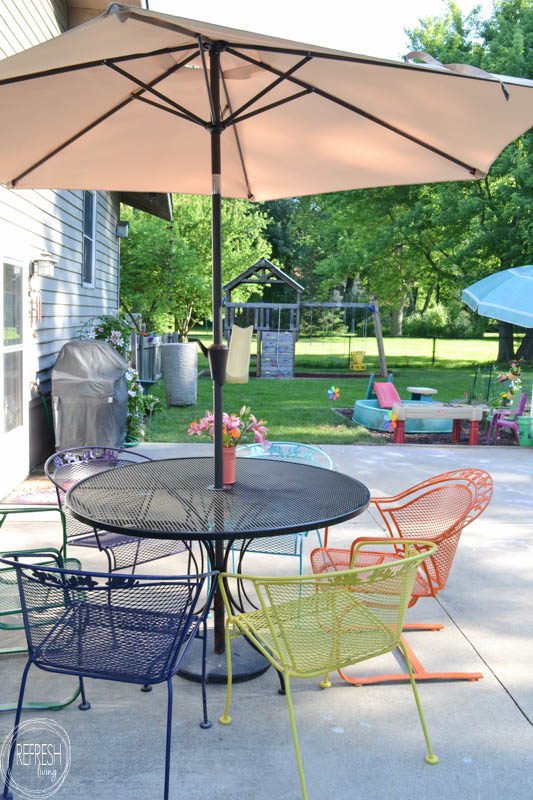 My girls each have their favorite colored chair to sit in, and Mommy gets the green chair that rocks.  My four-year-old daughter commented that she didn't like that I chose my favorite colors for the rocking chairs instead of her favorite color, purple.  I told her that when she starts painting furniture she can decide the color she wants to paint it.  I may regret that statement in a couple of years…
Feel free to pin this post to your outdoor board on Pinterest. (Thank you!)