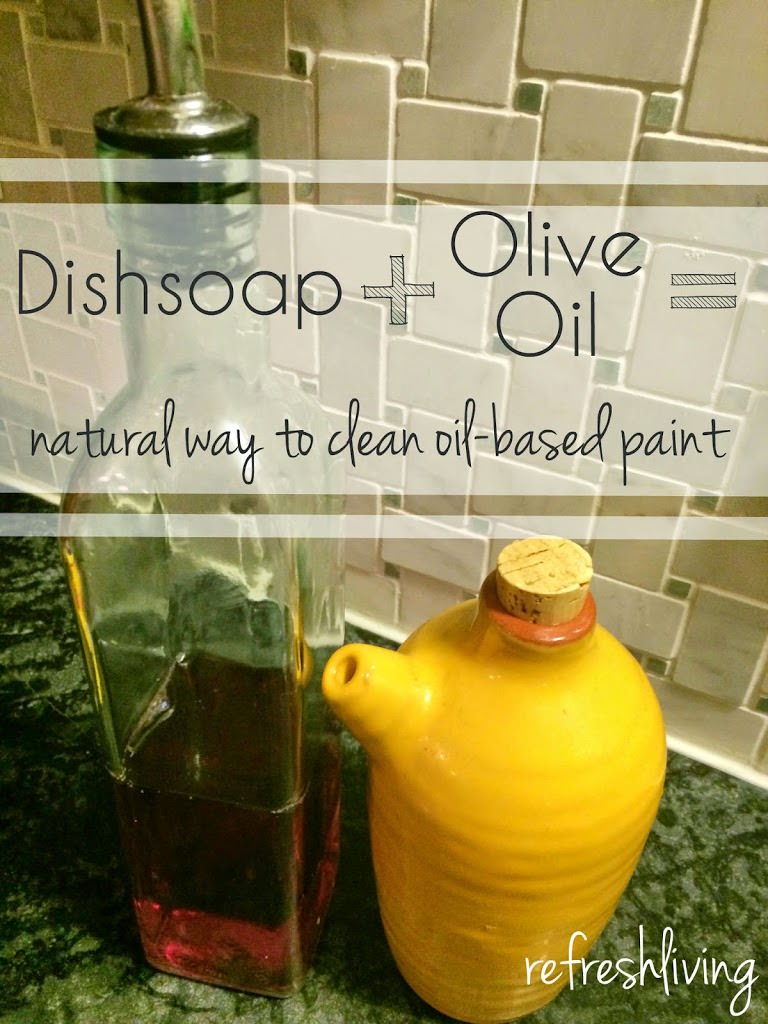 I always cringe a little inside when I read that people throw away their paint brushes when they use oil-based paint.  Yes, it is not as easy to clean up as water-based paints like latex, but the clean up process really isn't that difficult (and it's worth the money it would cost to buy and toss a cheap brush).
Oil-based paint on your hands is the worst.  You go to wash it off, and the water just glides right on over that spot of paint on your finger.  A couple months ago, I was painting with chalkboard paint.  I went to wash it off, and out of habit, brought it to the sink, put it under the running water, and wrapped my hand around the brush to squeeze it.  Right away, I knew I had messed up – caught black handed.
I sure hoped that the trick that I use for smaller paint marks on my hand was going to work for this one.
Yep, that's right.  All you need to clean up oil-based paint from your skin is two items that you probably already have sitting in your kitchen: dish soap and olive oil.  Pour a little olive oil and dish soap into your hands, and lather them up.  Rub the painted skin and it should start to wash off.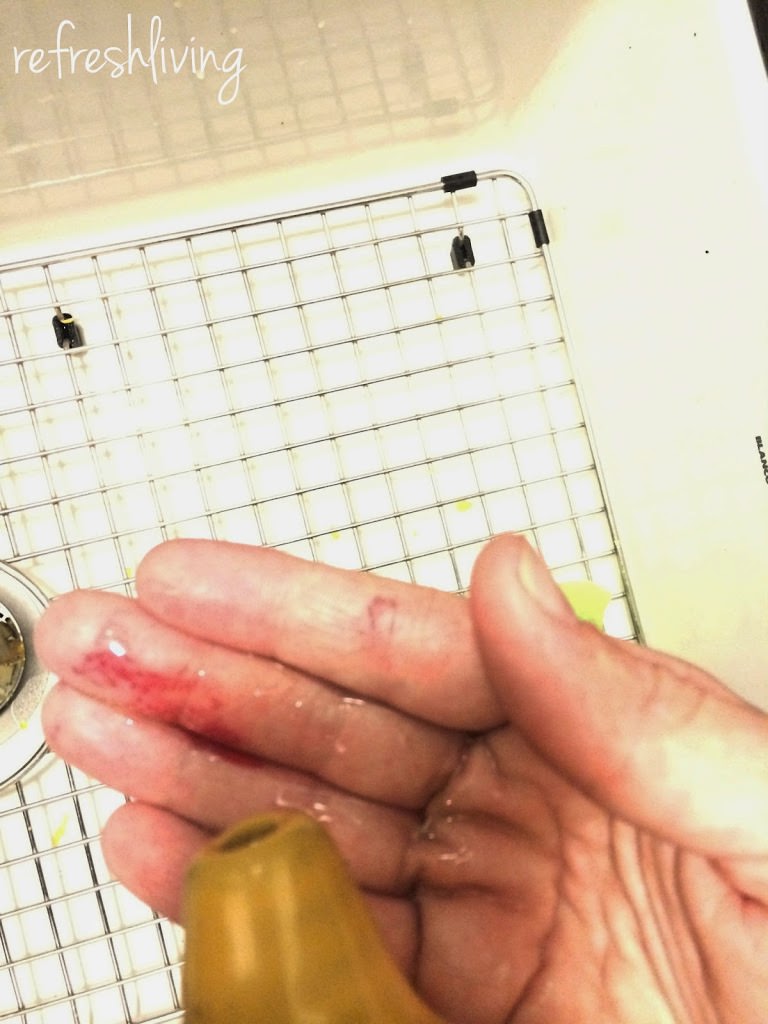 Did the trick work for my entire hand covered in black paint?  It sure did!
As for cleaning oil-based paint from brushes, I set aside one old glass jar (pickles, applesauce – one with a wide mouth) for cleaning my brushes.  I pour about two inches of mineral spirits or paint thinner into the jar (enough to cover the paint on the brush), and set my brush inside.  I'm never very eager to clean up my paint messes, so I usually just leave it in there until I get around to it – later that night, the next day, or often it waits until the weekend.
You simply swish the brush around, and then wipe the brush with a towel.  Often, I will cap off the jar and use it again for my next oil-based project.  I usually use the same stuff 3-4 times, and then I dispose of it.
I actually collect my used mineral spirits/paint thinner in a larger jug in the garage, and then when we go to the hazardous waste facility once a year to dispose of our other household products that should never go into landfills, I bring that jug with me.  Auto repair shops and even some hardware stores will also take your used paint thinner, sometimes for a small fee.
You can find all of my furniture refinishing projects here, along with all my tips and tricks for painting furniture.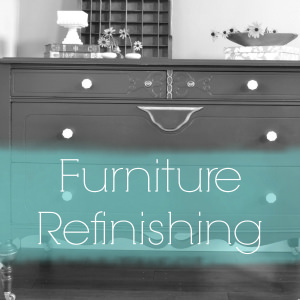 Join the Refresh Living DIY & Upcycling Community
Join the subscriber list to receive one to two emails per month with updates from the blog. PLUS, you'll gain access to my printables and graphics library. Every new design I create will be added here, and you'll have free access - forever!