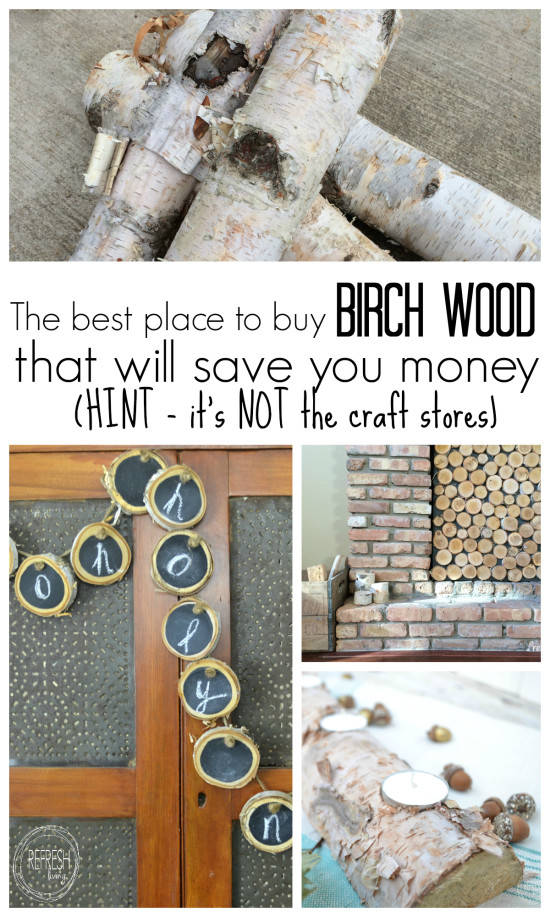 Lately, I've been loving rustic, natural decor in my home, and swooning over the pictures I see of this style in other people's homes.  I've used birch wood in quite a few of my holiday projects recently, and I got to thinking that I should probably share my secrets for snagging up cheap birch logs.
I gasped the first time I saw birch discs and pillars at JoAnn' Fabrics – not because I wanted to buy them, but because I couldn't believe the price.  $2.99 for a 1/2″ thick disc??  Are you kidding me?  Now, I rarely buy anything for full price at a store like this, as they often have sales, and if not, there are always coupons for 40% off of one item.  However, if you planned to do any sort of project with these discs, chances are you're going to need more than a couple of discs, and I certainly don't have that many coupons.
I just cringe thinking about how expensive this chalkboard banner would have been if I bought them at a store.  Over $40, which is clearly ridiculous.
I should start by saying that if you don't care about the look of the bark or the inner color of the wood, you can seriously find any log outside and cut it down.  I'm a sucker for the look of birch, so I set out to find a cheaper alternative, especially because I needed over 100 of them for my fireplace screen.
After some online searching and calling around, I found my answer – a semi-local nursery!  I will admit that I called four other nurseries before finding one that carried birch logs, so you'll want to be sure to do your research before heading out.  This nursery that I found has birch wood all year long as firewood.  You can buy a bundle of 5-6 logs for $6.95.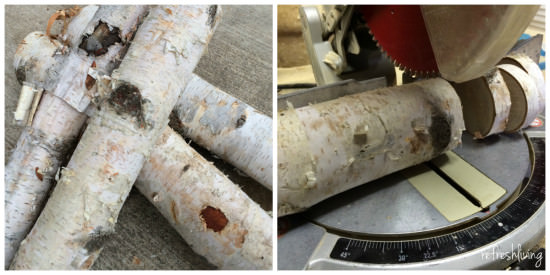 Let's do just a little bit of math for a second.  That averages out to $1.40 (at most) per log.  Yes, you can buy one birch disc for double the price of one full log.
When I went to the nursery, I grabbed my firewood and went inside to pay (and to look around at all the Christmas decorations, of course).  Once inside, I found a stack of birch logs, and they looked perfect – the bark was in tact and clean and white.  They were labeled as birch yule logs.  I'm not a wood expert, but my eyes told me these would look even better than the birch firewood in my hand, so I splurged a bit.  I paid $2.99 for each log.
Again, a little math.  $2.99 for one disc or $2.99 for a full log.
Of course, if you buy a full log, it is going to require some work.  You will need to cut the logs down into the size you need, and you may need to dry them out, depending on the type of project you plan to use them for.  If you need to glue or paint them, you'll definitely want to dry them out.
Last time, I tried to do this, I grew far too impatient, and decided to just use a nail gun to attach them to my fireplace screen panel.  I'd say you will want to cook those discs at low heat overnight.  Or, you can also leave them out for awhile and they will dry out naturally.  I had mine out for 6 months or so and they are now dry and can be painted and glued without any trouble.
Do you want one last bargain tip?  If you happen to find yule logs at your nursery, you might want to head back in after Christmas.  At my nursery, they include the yule logs in their Christmas decor, so in the days after Christmas, they run sales on everything.  I bought 6 more logs at 75% off.  Yep, each log was $0.75.  This is probably why I've gone a little birch log project crazy lately.
You'll probably be seeing a few more DIY projects with birch in the upcoming weeks.  I'm thinking about using the discs as gift tags, creating a rustic wreath for the front door, and maybe some birch pillar decorations.
If you're thinking about using birch wood for your next holiday project, try calling around or doing a quick online search at your local nurseries.  It'll be well worth your time!
Join the Refresh Living DIY & Upcycling Community
Join the subscriber list to receive one to two emails per month with updates from the blog. PLUS, you'll gain access to my printables and graphics library. Every new design I create will be added here, and you'll have free access - forever!