Like what you see? I'd love for you to follow along!
The graphics library is free to all of my email subscribers; you can sign up by clicking the image below.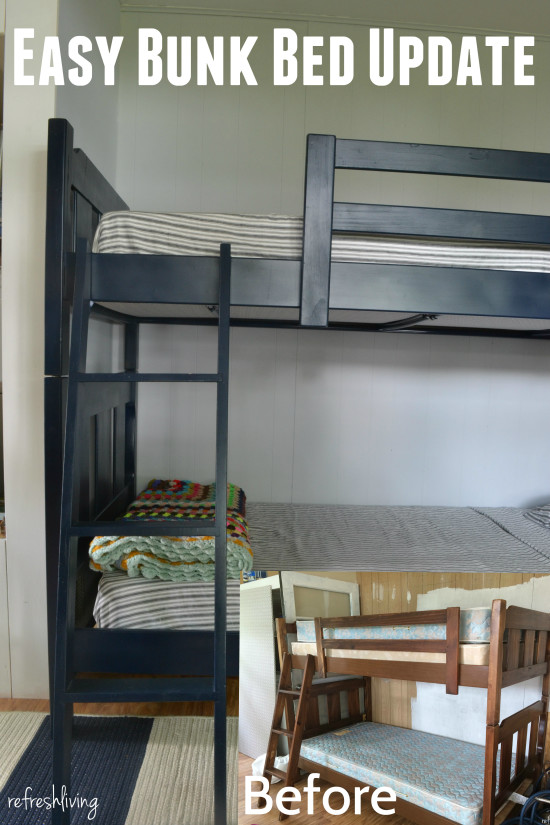 For those of you who have visited before, you know most of my DIY time and efforts this summer have been devoted to our little lake house cottage in Wisconsin.  We are updating the 1970s ranch on a major budget, which fits perfectly with how I do things anyway.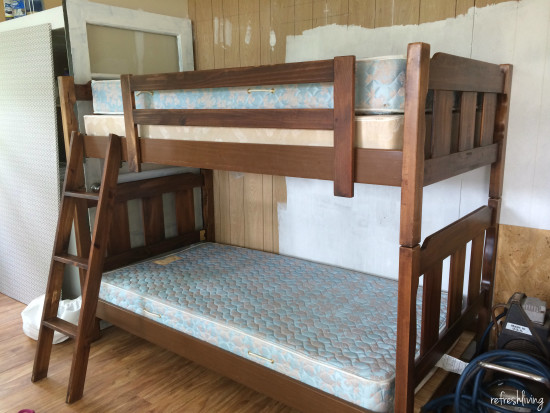 We found this wooden bunk bed set on Craigslist for $100, which, in our area, is pretty much a steal for any sort of bunk beds.  I thought they were all wood until we started putting it together.  These were definitely made in the 70s or 80s (fits the house perfectly, right?) because the rails that span the length of the bed, and the rails that support the mattresses, were both made of metal.  In fact, the rails that ran the length of the beds were a faux wood painted metal.  Gorgeous.
Out came the spray paint cans.  I used a Rustoleum paint with a satin finish in navy blue, and fittingly brought the beds out in the driveway and spray painted them on the day before the 4th of July.  I'm sure as everyone walked by they wondered what type of crazy lady paints her furniture to match the holiday.  Hmm, it wasn't the case this time, but don't put it past me!
It took three (or was it four?) cans (good thing I stocked up when they were $1.98 each!) I should mention that I lightly sanded the whole piece down before painting.  Although spray paint now has primer in it, I still find it adheres better when I scuff the surface up, especially metal.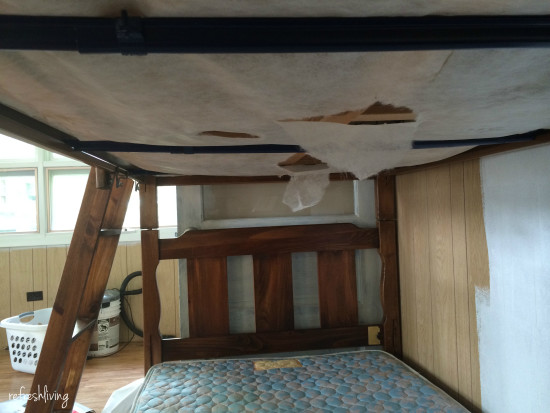 The bottom of the box springs were in pretty gross shape.  Normally, no one cares what the bottom of your box spring looks like, except maybe the spiders that live under your bed.  But in this case, once we set it up, I was not going to let that dangling meshed fabric stay.  I originally planned to just staple fabric to the underside of the box spring, but once we put the mattress on top of it, any kid that was supposed to be contained by that bed rail was going to topple right over it.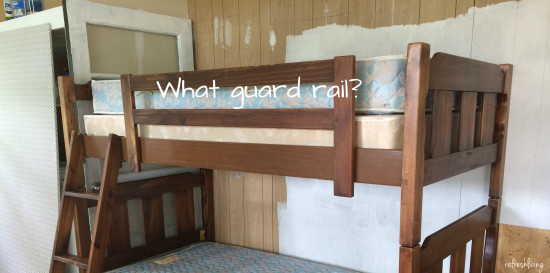 Maybe we did something wrong when setting it up?  Maybe they didn't care about toppling kids in the 70s? (Just kidding, I know that's not true!)  Maybe the box springs are only for when it's converted into two twin beds.  In any case, we tried just putting the mattress on the three brace bars, and that wasn't working, so we opted for plywood.
We bought 1/2″ plywood and had the guys at the home improvement store cut it down to our measurements (because why not?).  Although we must not have measured well, because we ended up needing to rip down one of the sides to make it fit.  I wrapped fabric on one side of the plywood, and then stapled it in place (just like reupholstering a chair seat or ottoman, but without the foam).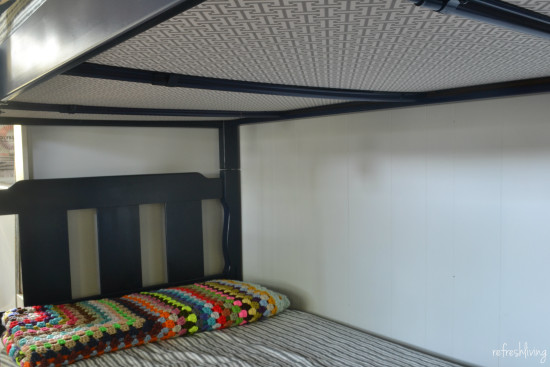 Now, the fabric-wrapped plywood sits on top of the three braces, as well as the lip that runs along the edges of the cross bars.  It's super sturdy, and looks far better than the box spring.  Oh, and since it's not all about looks, my kids are safe now, too!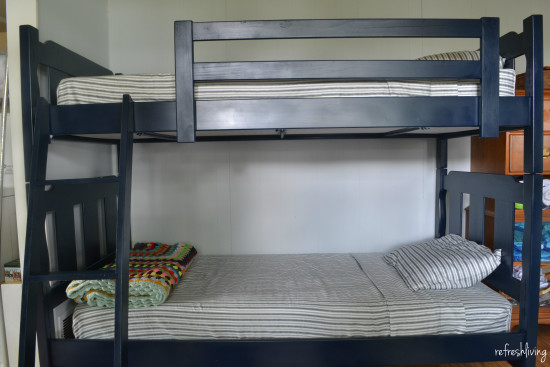 These bunk beds now fit perfectly in our "side room".  Some might call it a massive bedroom, others a living area, my dad calls it the Florida room, and my husband refers to it as the camp room.  I'm decking it out with"vintage camp" goodies, and I think it's coming along quite nicely.  No pictures yet, you'll just need to wait (or follow me on Facebook, sometimes I just can't help myself)!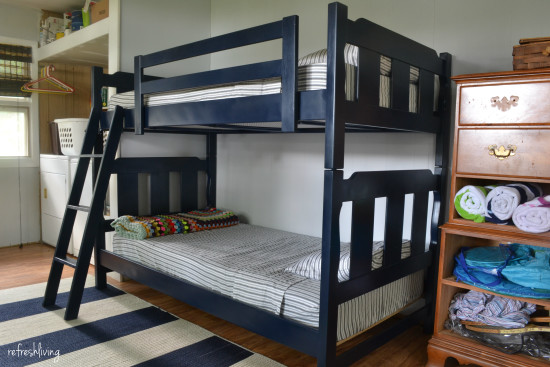 Check out my other cottage projects:
Like what you see? I'd love for you to follow along!
The graphics library is free to all of my email subscribers; you can sign up by clicking the image below.

Join the Refresh Living DIY & Upcycling Community
Join the subscriber list to receive one to two emails per month with updates from the blog. PLUS, you'll gain access to my printables and graphics library. Every new design I create will be added here, and you'll have free access - forever!