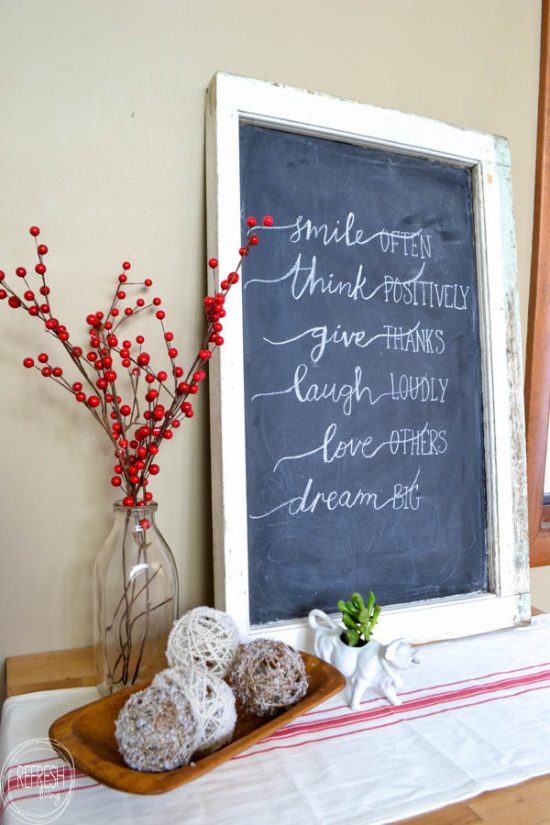 I love the look of old windows, especially those with the original paint color. They give little peeks into the past, a window into someone's home, the place where they raised their family.
Of course, their lack of energy efficiency causes many people to replace their old windows, or in so many unfortunate cases, historic homes are being torn down, windows and all. Why not reuse these beauties in our homes today?
With Fixer Upper being so popular these days, I'm sure you've seen windows being used in home decor. One of my favorite ways to use them is to make chalkboards, because they can be changed up and used throughout the year, but with different designs.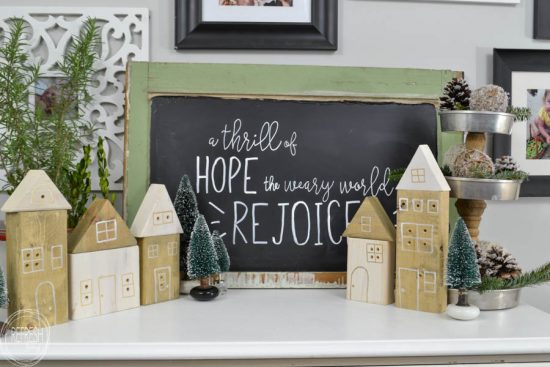 I've tried out a few different types of paint when painting chalkboard finishes on windows, and painted quite a few different windows to use in my home and to sell at markets. I can safely say I've figured out the best paint to use to paint a chalkboard window, as well as the best steps to get a smooth, lasting finish.
Supplies You'll Need:
rubbing alcohol
paintbrushes (one fine point and one angled brush)
fine grit (220) sandpaper
piece of chalk
chalk, chalk pencil, or chalk marker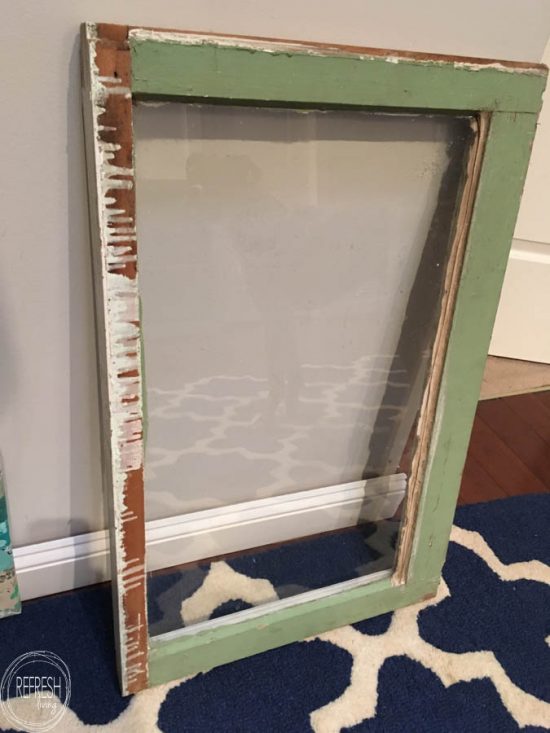 To start, you'll need a window. I pick up most of mine at flea markets (I rarely pay more than $5 for a single pane window like this one), but I also find them at the ReStore (a building supplies resale shop run by Habitat for Humanity). I've also found windows from people who were replacing their windows. If I see a window company installing windows and the house looks older than 50 years, I always stop and ask if the home owners are getting rid of the old windows. Most of the time, the window company is responsible for disposing of the old windows, so they are happy if you take them off their hands. It saves them time and money because they don't have to dispose of them!
I clean the window with dish soap and water, and then use rubbing alcohol to clean off the glass right before painting.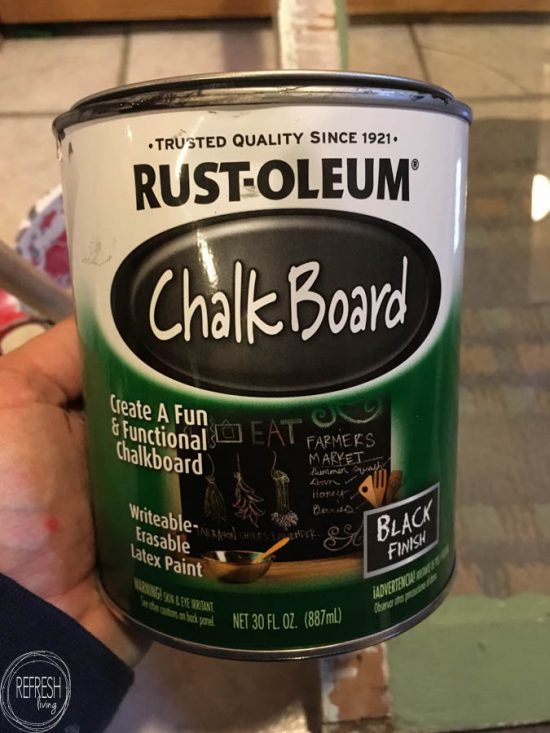 I honestly wouldn't recommend using any other paint besides Rustoleum Chalkboard Paint. I've tried using spray paint on glass and it turned out horribly. (You can read all about that here.) Homemade chalkboard paint doesn't work quite as well on windows (although I do use homemade chalkboard paint on wood and wall surfaces and it works great). You can buy this paint at most home improvement stores, so I'd recommend just using it. I can't guarantee this process will work as well with other types of paint.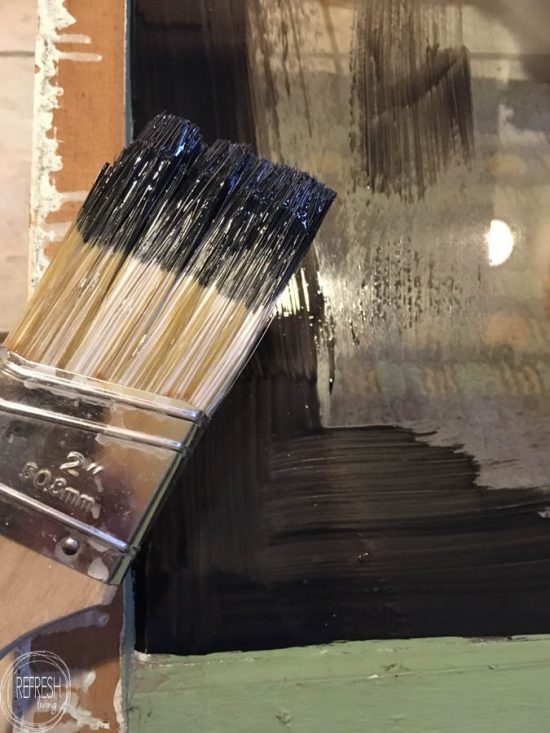 To paint the window, I always start by using my angled brush to paint the outer edge of the glass. I've found that using a brush to cut in is better than using painter's tape, because old windows usually do not have a smooth edge, and it's difficult to get the tape to stick in all the little grooves, thus leaving gaps for the paint to seep under. I cut in with my brush, and then use my fine point brush to add paint to the corners and any edges I missed.
Although it will seem like you should add more paint here, don't do it. Less paint is more here, because your main goal should be to get a smooth finish. It will still be semi-transparent at this point, and that's okay!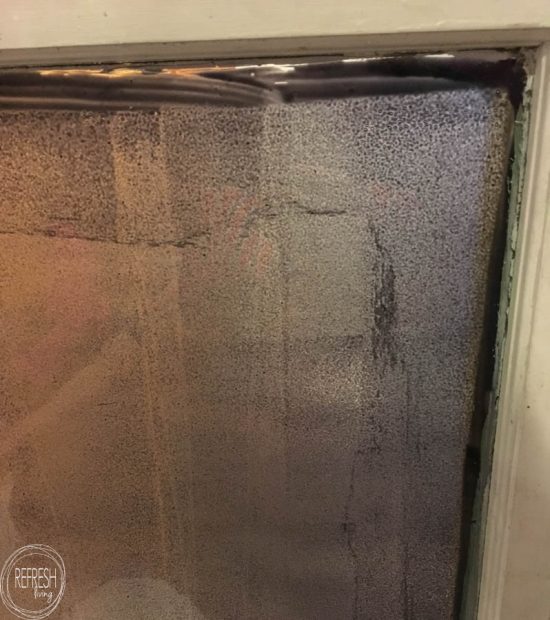 Then, right after cutting in the edges (you don't want the paint to dry yet), I use my foam roller to roll the paint on the middle of the window, getting as close to the edges as possible. This will spread the paint you just brushed on a little bit, and give the window a cleaner finish later one. Again, less is more here; just brush a fine coat on during this step.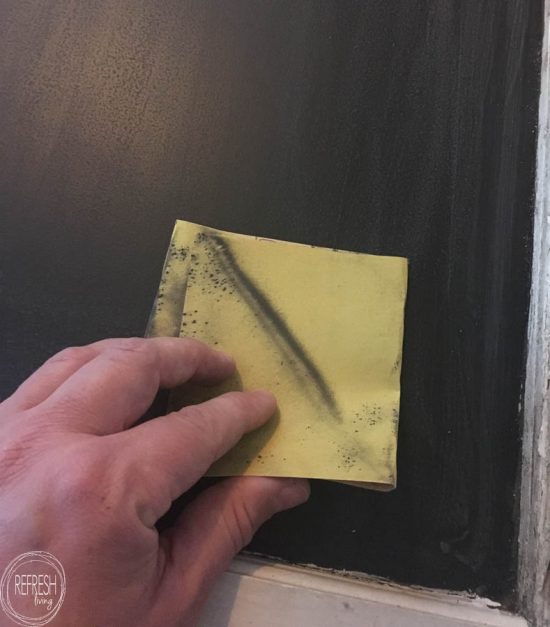 After the coat of paint has dried completely, use the fine grit sandpaper to lightly sand the finish. You won't be able to sand down any large bumps, ridges, or brush strokes here, but you really should have any if you did a fine coat. If you do have places you need to sand down, just use a sandpaper with a lower grit count (maybe a 120 or 80).
Don't fret, at this point, your paint will still look semi-transparent and have a shine to it. It will look like a complete failure, but I promise it will work out in the end. Just stick to the process and trust me.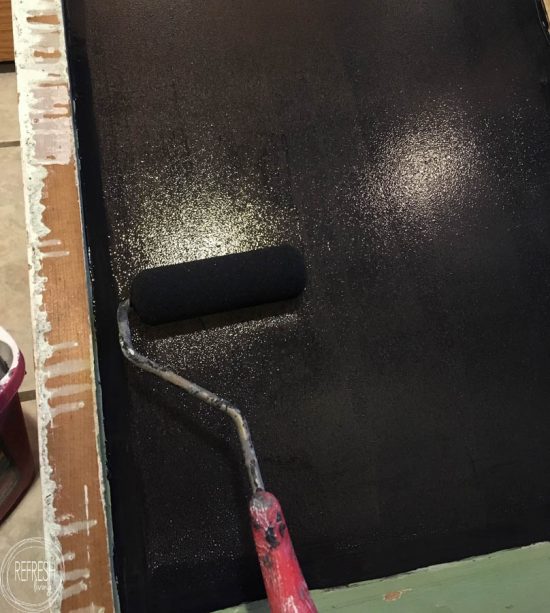 You'll repeat this same process two more times: brush in edges, roll on paint, let dry, lightly sand. In the end, you'll have three coats of paint. By the third coat, you'll have that super matte look of a chalkboard.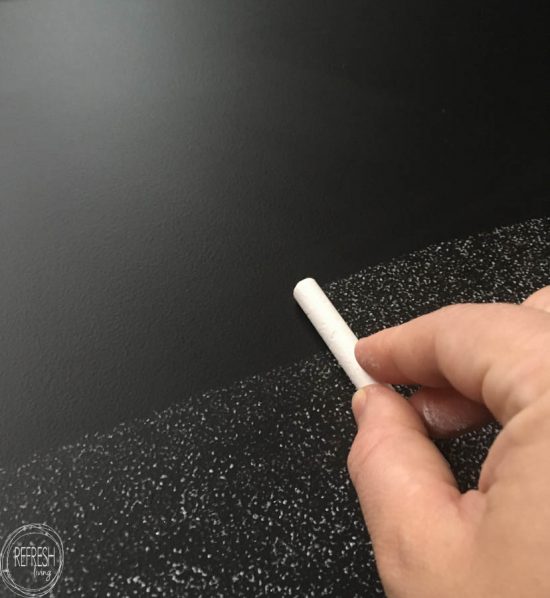 Instead of sanding down the last coat, you'll use a piece of chalk turned on its side and run it along the entire chalkboard. This is called "seasoning" the board and it allows for the chalk to glide more smoothly, and also erase better when in use.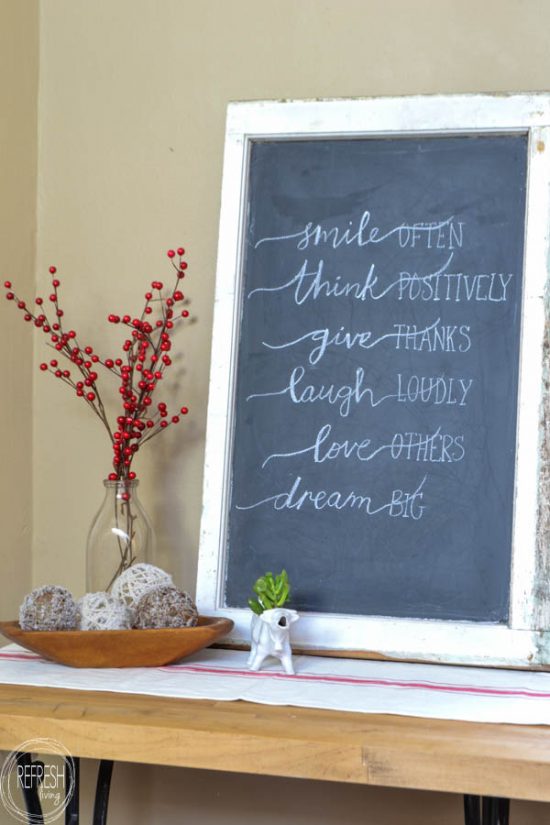 I generally like to paint single pane windows because they give a large surface area to write on, but you could also use this process to paint multi-paneled windows, or even to paint the glass in a picture frame.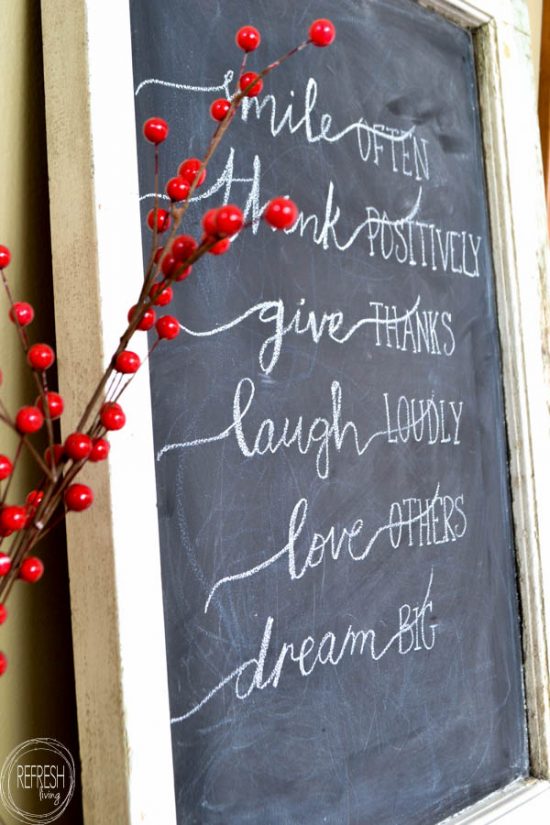 If you're like me, you hate writing on chalkboards because your handwriting never looks as good you envision it in your head. Don't worry, I've figured out a foolproof way to write perfect letters on chalkboards (or any hand made signs).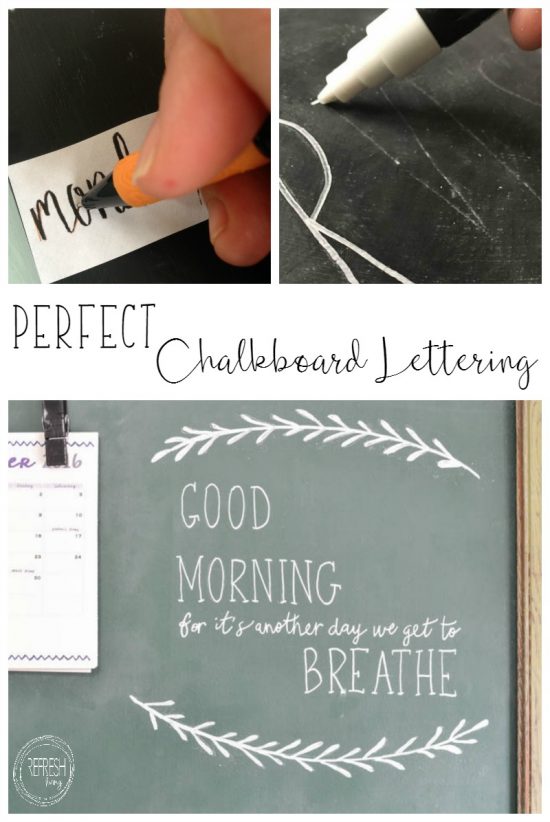 I love changing up chalkboards to match the seasons, or to hold a quote or verse that I love. It's a cheap home decor item that can stay up in your home for the entire year!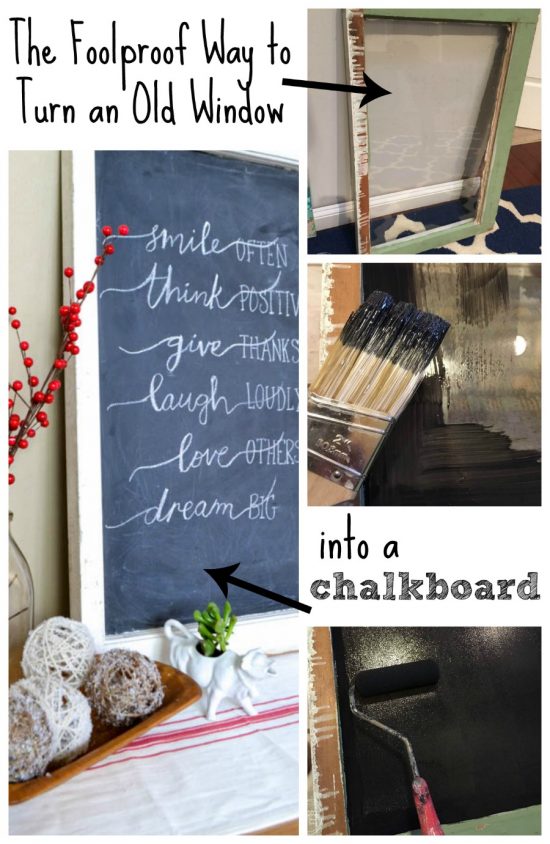 If you like the quote I used on this chalkboard, I have it available in my graphics library! You can print it off as a template for your chalkboard lettering, or print the PDF in color and display the graphic.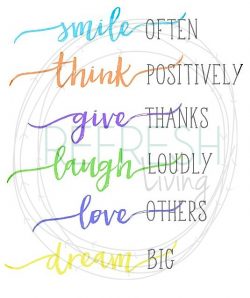 The graphics library is free to all of my email subscribers; you can sign up by clicking the image below.
Like what you see? I'd love for you to follow along!
Facebook || Pinterest || Instagram || Google + || Bloglovin'

Join the Refresh Living DIY & Upcycling Community
Join the subscriber list to receive one to two emails per month with updates from the blog. PLUS, you'll gain access to my printables and graphics library. Every new design I create will be added here, and you'll have free access - forever!