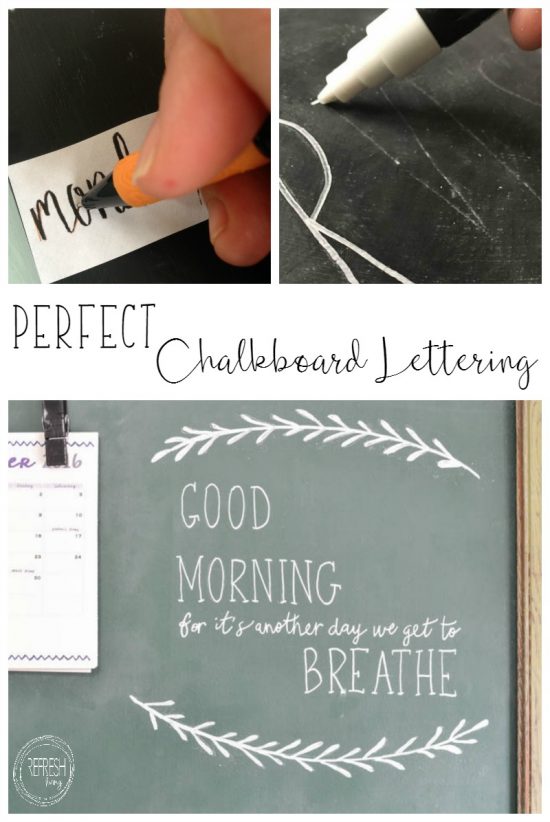 I've always felt a tad bit jealous when I see those gorgeously lettered chalkboards on Pinterest.  Why does my lettering never look that nice?  Seriously, it's not even close to looking that neat and beautiful.  Now, I know there are some chalkboard artists out there who don't need to use this trick.  They can just naturally make art with their handwriting.  For all the rest of us out there, here's an easy way I've started using to make those perfect letters on a chalkboard just like the pros.
Supplies Needed to Write Perfect Letters on a Chalkboard
computer and printer
fonts that you love (I purchased a set of fonts from The Hungry Jpeg and use them for almost all of my work.  They save into all of your programs, so you can access them from Microsoft Word, Silhouette/Cricut, or online.  PicMonkey is also a good option for fonts that you can use on your personal projects.)
piece of regular chalk
pencil
The first thing you'll need to do is design your lettering on your computer.  Or, if you have an image of a saying already saved, you can just print a copy of the entire word/phrase and use that as well.
If you are designing your own saying, I often use an online photo editing software, like PicMonkey, to design the words.  Many of the fonts are free, or all of the fonts you have are your computer are accessible too, and it allows you to move and stretch the letters a bit more than you could do when using a program like Microsoft Word.  Although, if you are comfortable with this programs and have fonts that you love to use on it, it will work perfectly fine as well!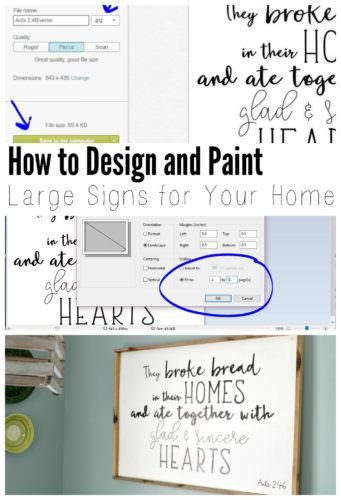 If you are unsure of how to design a phrase/quote in PicMonkey, you can check out this post where I walk through the process.  I promise it is very easy, even if you've never used a program like it before!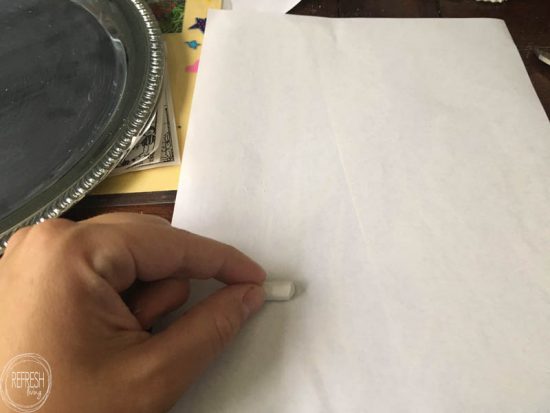 Once you have the letters or design printed, it's time to transfer it to the chalkboard.  First, you'll want to rub a piece a chalk along the back of the paper, making sure to cover the backs of all of the letters.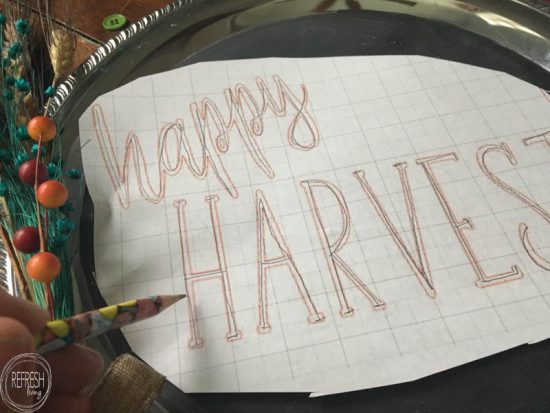 Then, you'll flip the paper over and place it on your chalkboard.  Using a pencil, trace over the design and as you do, the chalk will transfer to the chalkboard surface.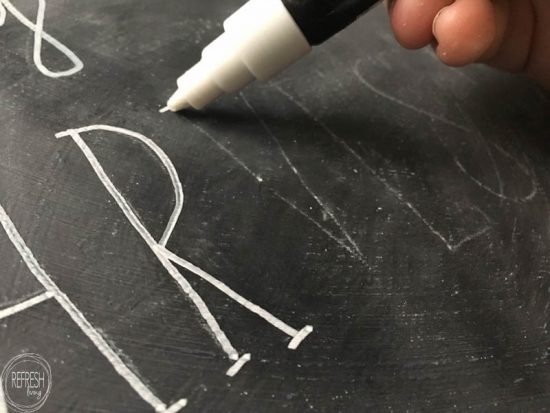 This gives you the perfect outline of letters!  Then, use chalk markers or regular chalk to trace over the transferred image.  Once I found and started using chalk markers, I realized that this was one of the tricks to perfect letters I had been missing out on all of this time!  They are so easy to use and make your letters look perfect.  Then, when it's time to erase them, all you need is a damp rag and they wipe right off.
I know the process might seem a bit much for just writing a simple note on a chalkboard, but if I am using my chalkboard as something in my decor for a holiday or season, I take the extra 15 minutes to walk through this process.  I still put up this silver platter upcycled into a fall wreath every year!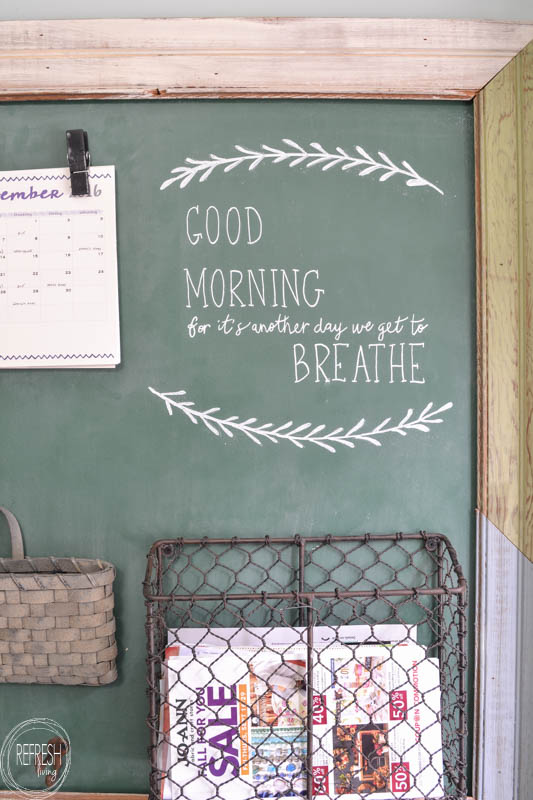 It actually looks decent, doesn't it?!  I can't help but smile when I see this before leaving out the backdoor, not only for the quote, but also because I love that I actually wrote those letters!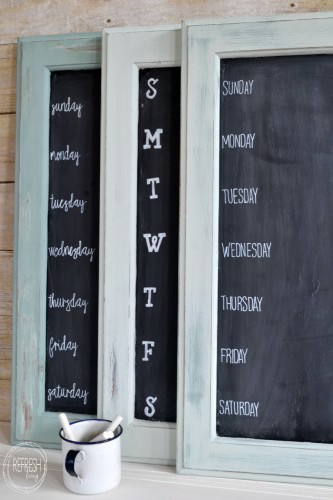 I used this same process to make my menu boards from old cabinet doors.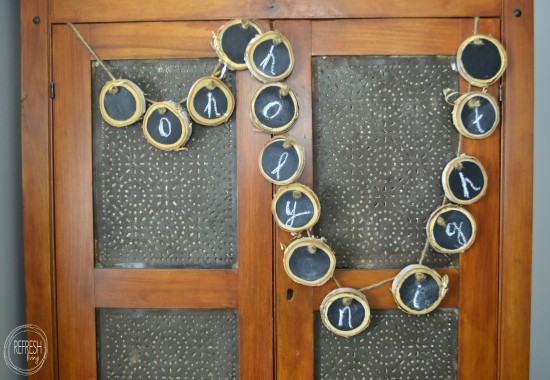 And looking back, maybe I should have used it for my wood slice chalkboard banner.  That's okay though, because there is only so much time in a day!
If you're thinking about turning an old window into a chalkboard, you should definitely read this post. There are definitely some tricks to painting on glass that are important to know.
After testing out quite a few different types and brands, here's the only chalkboard paint I ever buy now. It works on glass windows, which are the hardest to paint, and it still hasn't let me down on any other projects.
Like what you see? I'd love for you to follow along!

Join the Refresh Living DIY & Upcycling Community
Join the subscriber list to receive one to two emails per month with updates from the blog. PLUS, you'll gain access to my printables and graphics library. Every new design I create will be added here, and you'll have free access - forever!