Easy to make DIY Valentine's decoration using yarn. This heart garland is made from cardboard and yarn and is a quick decorating project. Easily change the colors with different colors of yarn!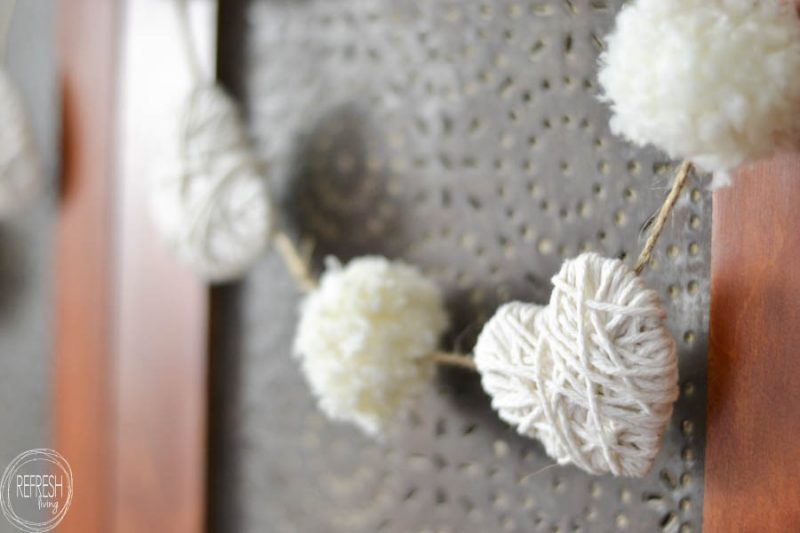 This post was originally published in January 2017 and has been updated in January 2021 with additional photographs and an updated version of the project.
Lately I've been really into decorating for the changing holidays. Admittedly, I used to keep Christmas decorations up well into January, skip over Valentine's and St. Patrick's Day completely, and not really add anything in the way of Easter and spring decorations, or any other holiday, for that matter, until Christmas came around again.
Having young kids has inspired me to change up our seasonal decor more often aligned with the holidays, even those Hallmark inspired ones like Valentine's Day. My oldest loves seeing the different decorations go up, and that makes it worth it!
Of course, my philosophy on how much decorations should cost hasn't changed; I can't spend much money on seasonal decorations, or any decorations really, in our home. This farmhouse-inspired neutral Valentine's garland only cost the amount for two skeins of yarn and was super easy to make!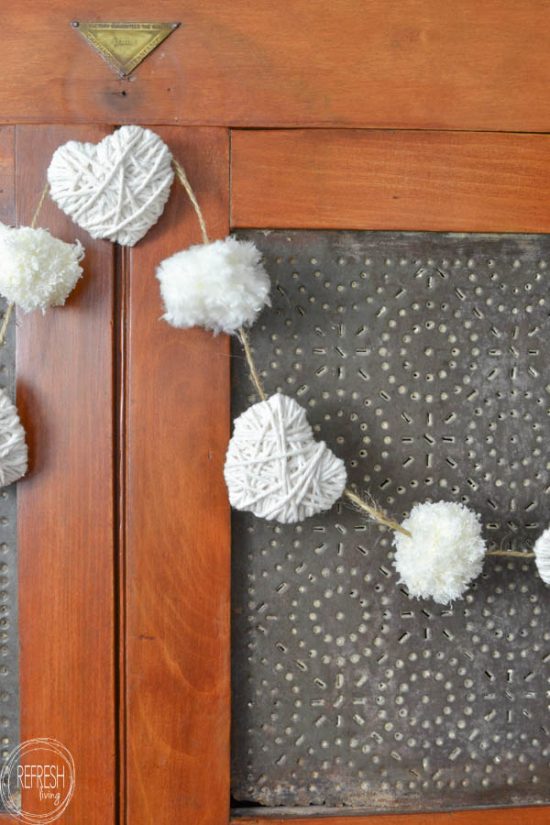 I've made another version of this DIY Valentine's decoration using the same technique, but with wood beads on the garland instead.
Supplies Needed
(This supply list seems so silly to even list out, as there are so few materials and they are so simple!)
Below, you will find the written tutorial with pictures, or you can scroll down to find the video tutorial as well.
How to Make Yarn Wrapped Hearts
The first step is to cut out a bunch of cardboard hearts. I doodled different sizes and shapes before I found one that I liked. I cut it out, and then used it as my template so all of the hearts were the same shape.
Then, attach the end of the yarn with a small piece of tape to the back of the heart. Wrap the yarn around the heart, trying to cross the heart (so the yarn doesn't slip) and to cover blank spots.
After the heart is fully covered in yarn and is as fat as you'd like it, slip the end under a piece of yarn in the back and tie a knot.
How to Make Yarm Pom-Poms
To make the pom-poms, you can definitely use a pom-pom maker, but I have had just as much luck with a fork to create this size of pom-pom.
Thread a piece of yarn (about 6 inches long) through the middle tines of the fork and just let it hang. Then, take the end of the yarn (that is still attached to the skein of yarn) and wrap that yarn around the fork, over and over and over again. The more times you go around the fork, the fluffier your pom-pom will be.
After wrapping, cut the yarn so it is detached from the skein and take the short piece of yarn that is hanging to tie a tight knot around the wrapped yarn.
Use sharp scissors to cut the yarn at both sides of the fork. Now, it should look like a pom-pom! Just round out the pom-pom by trimming away stray strands. You can also make your pom-pom smaller by giving it a haircut all the way around.
Assemble the Garland
To put everything together, I'd recommend a large yarn needle. Just thread a piece of yarn, string, or twine through the back of the hearts and/or through the center of the pom-poms.
I've found that the closer I can thread the twine through the top of the heart, but still spanning the width of most of the heart, the better. If you thread the twine too low or not enough across the whole heart, it tends to flip around and not hang correctly.
Video Tutorial
I'm trying out my hand at video tutorials, so you can watch along to see how I created my yarn heart and pom-pom garland.
If you enjoy DIY projects, please feel free to follow along with my You Tube channel here.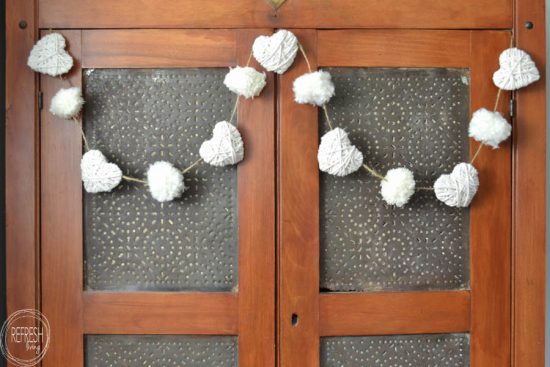 This antique pie safe is one of my all-time favorite pieces in my home. I wish I could say it is a family heirloom, but it's not. I found it at an estate sale and instantly fell in love. We have quite a small home, so it's sort of shoved in a small nook in our hallway/kitchen and not as prominent as I'd like, but it's still awesome.
Which version do you like better? I actually only have the wood bead version now because my cat destroyed the pom-poms on the original version, so I guess I have to like that one better since it's all I've got!
Like It? Pin It. (Thank You!)
Here are a few more easy DIY projects for Valentine's Day:

Join the Refresh Living DIY & Upcycling Community
Join the subscriber list to receive one to two emails per month with updates from the blog. PLUS, you'll gain access to my printables and graphics library. Every new design I create will be added here, and you'll have free access - forever!