This shop has been compensated by Collective Bias, Inc. and its advertiser. All opinions are mine alone. #roofeditmyself #CollectiveBias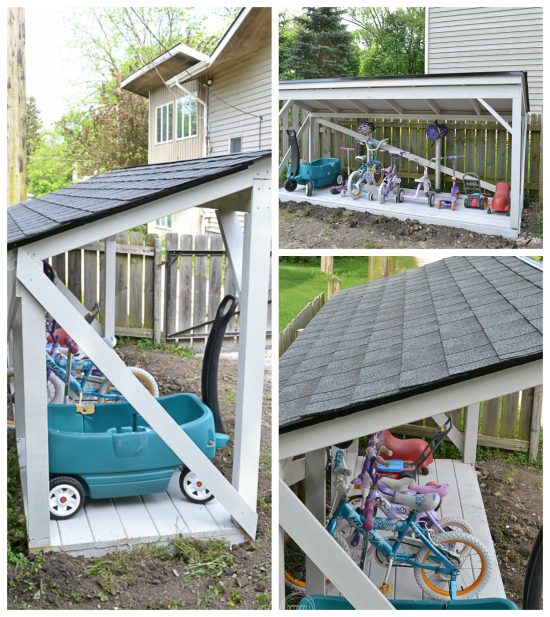 I've been dreaming up this project for a couple of years and am so glad to have finally finished it!  Considering I have never actually participated in a roofing project and only watched my dad and husband work on roofs, I was very surprised by how easy it was to complete.  Roofing a small structure in your backyard is totally a doable DIY!
We had a problem in our backyard.  Truthfully, we have a whole bunch of problems, but I need to keep focused on one project at a time or nothing will ever get done back there.
The trouble with our backyard set up is that we have a detached garage, and it's quite a bit set back from the house, making it not the most ideal place to store backyard toys.  We have a ground level concrete patio at the back of our house, which connects to our driveway.  The kids love riding their bikes and scooters in this area, but we ended up just parking the toys in the grassy area on the other side of the driveway.  They were out of the way here, but not covered in any way.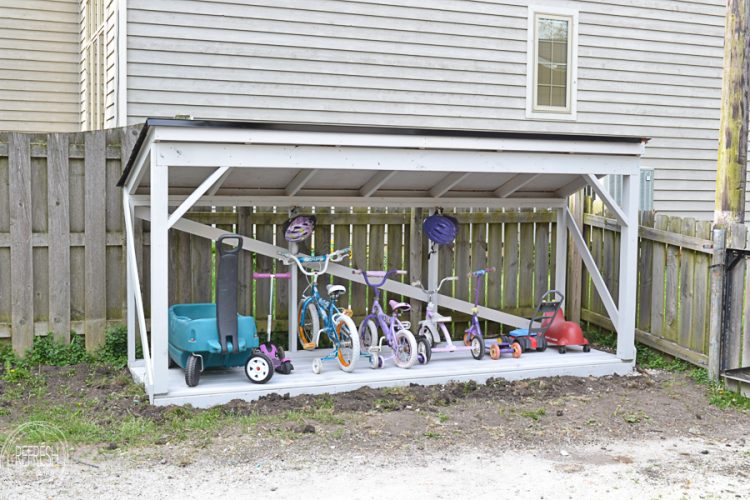 I enlisted the help of my dad to build the structure, and to teach me a thing or two about roofing in the process.
When I told my dad I was using GAF products for this project, he commented how nice they were and that the little roof on my toy and bike shed was going to look nicer than the roof on my house.  He's right, because these singles are durable!  They are often used by contractors for professional jobs, but they are still easily installed by an average DIYer like myself.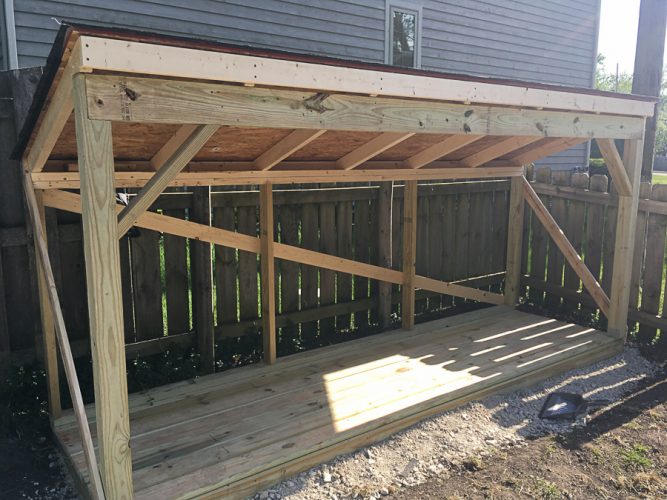 My dad actually built this structure, but I will share that tutorial in another post.  For now, I want to show you how I added a beautiful roof to my structure to help keep those toys dry!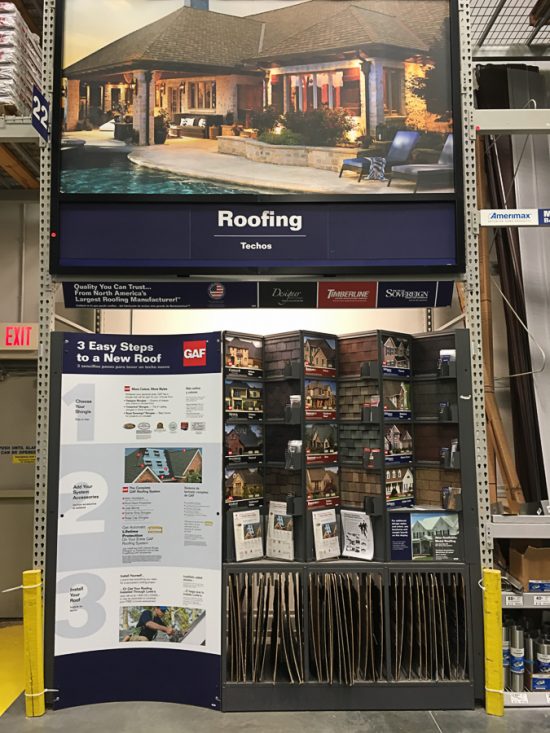 I shopped for the roofing materials by myself (at 9:00 once the kids and baby were all asleep – thank goodness Lowe's is open until 10:00 pm!), and was so thankful they were organized so well at Lowe's; it made it so much easier for a novice roofer to find the materials I needed.  The roofing area starts with this display, which shows the different shingles and even has sample boards, and then right next to it down the aisle are all the roofing materials for purchase.
We obviously started with a clean and dry surface since we built a new structure.  If you were roofing an existing structure, you would want to remove the old shingles and make sure your roof deck is clean, dry, and free from any nails or staples.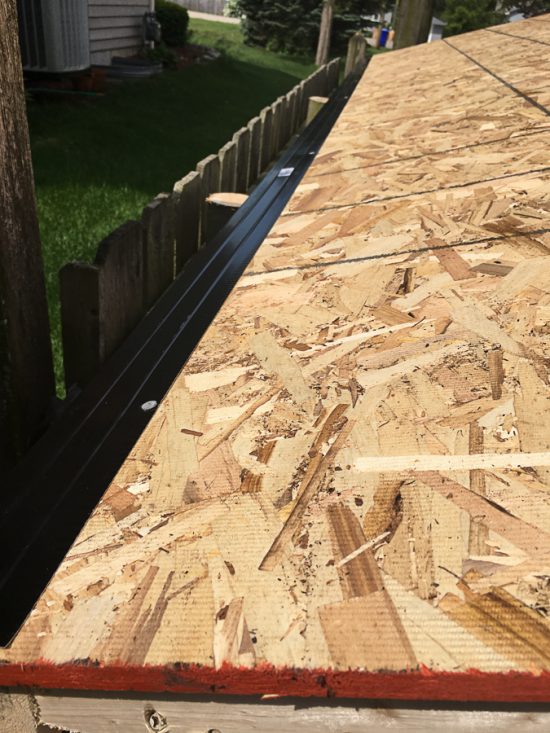 On the eave of the roof, we installed an aluminum drip edge.  You'll want to install a drip edge on the places where the water will run down and off the side of the roof.  Simply nail it in place with roofing nails.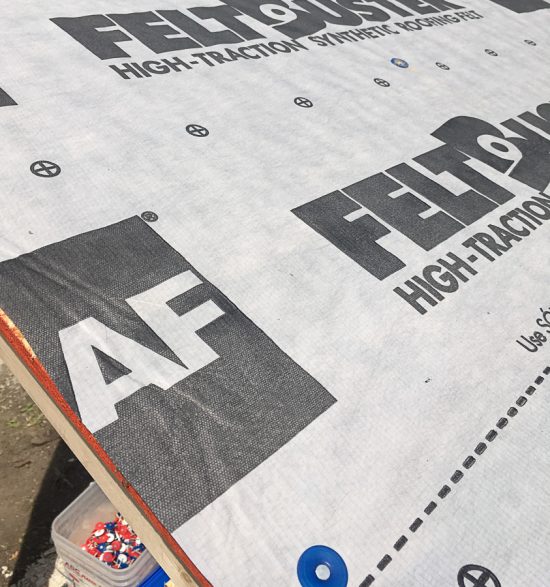 To install the FeltBuster® High Traction Synthetic Roofing Felt, we just rolled it out, and used plastic cap nails to secure it to the deck.  It's very important to use plastic cap nails or staples in this step!  The felt should lay over the top of the drip edge.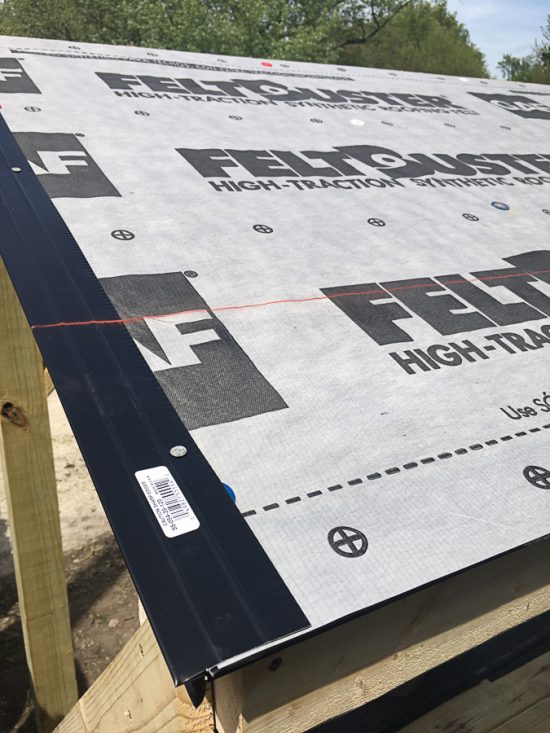 After the felt was attached, we attached drip edge to the rakes (sides of the roof) by setting it on top of the felt and nailing it in place.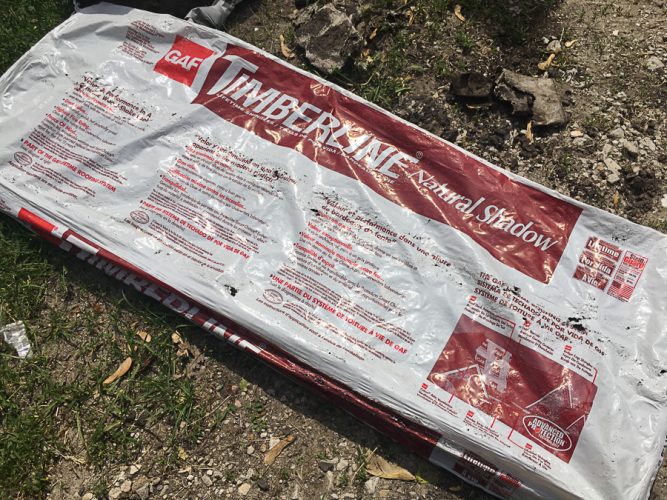 Time for the shingles!  I chose Timberline® Natural Shadow® shingles in charcoal for this project.  Since my roof only measured 4′ x 12′ (48 square feet), I needed two bundles of shingles.  (Each bundle covers 33.33 square feet.)
To start installing the shingles, it's best to use a row of starter shingles.  These shingles won't actually be seen, they just cover the deck to allow for proper run off.  If you didn't use a starter row, the bottom row of shingles would allow water to leak right through the grooves.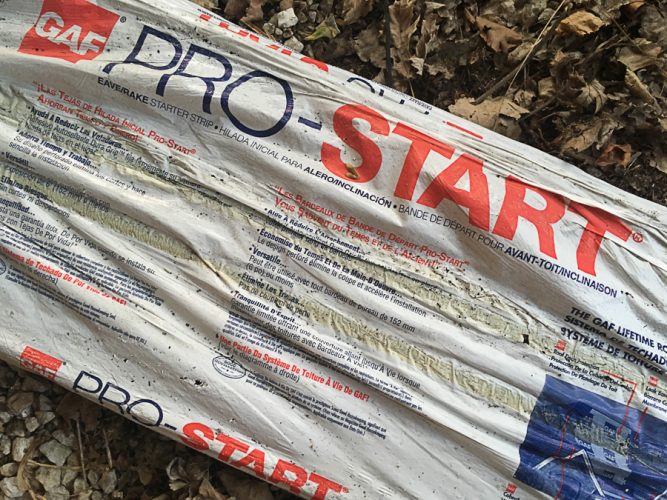 GAF makes a bundle of starter shingles called Pro-Start™ Starter Strip Shingles.  They are perfect for this job and all the specific directions you need to start your roof off right are printed on the package.
Basically, you line the starter strip up slightly over the drip edge, and nail it in place along the whole run of the eaves and rake.  This video from GAF shows the process very clearly.  (In our process photos you'll notice we didn't install starter strip along the eaves, but it's best to do so for wind resistance.)
The first row of shingles is placed directly on top of the starter shingles.  You just want to make sure that the seams are not at the same place.  There should be at least a 4″ difference between the seams for proper run off.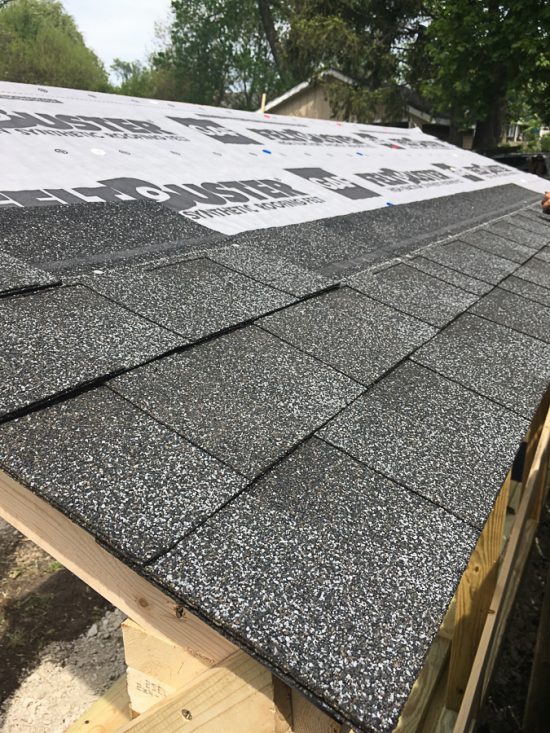 Continue installing shingles in each row, and cutting off the excess with a knife.  Each row should start with a shingle that offsets the previous row by at least four inches.
GAF shingles give a marked line on each shingle where you should drive your nails.  This is a helpful feature to ensure you are installing the nails in the correct place.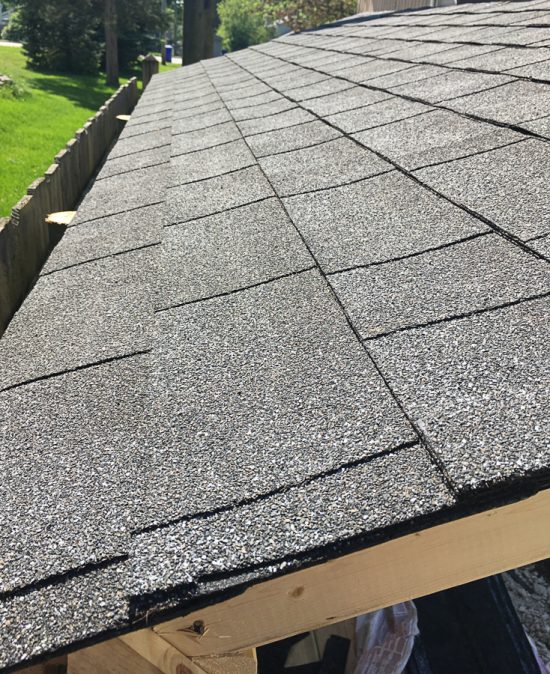 On a traditional roof, you would then install a ridge cap to seal the shingles that meet at the peak.  Because our structure does not have a ridge, we added a drip edge that is attached on top of the shingles and wraps around the front of the structure slightly.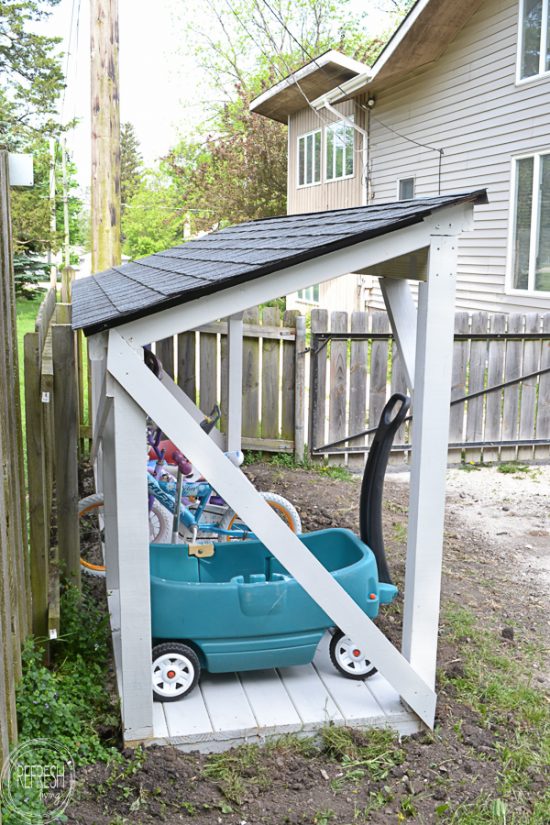 I can totally see why Timberline® Shingles are the best selling shingles in America!  They are easy to install, but are also very durable, which is exactly what I want in a product that is intended to keep stuff dry, right?  You can visit the GAF Facebook page to learn about all of the products and to follow along.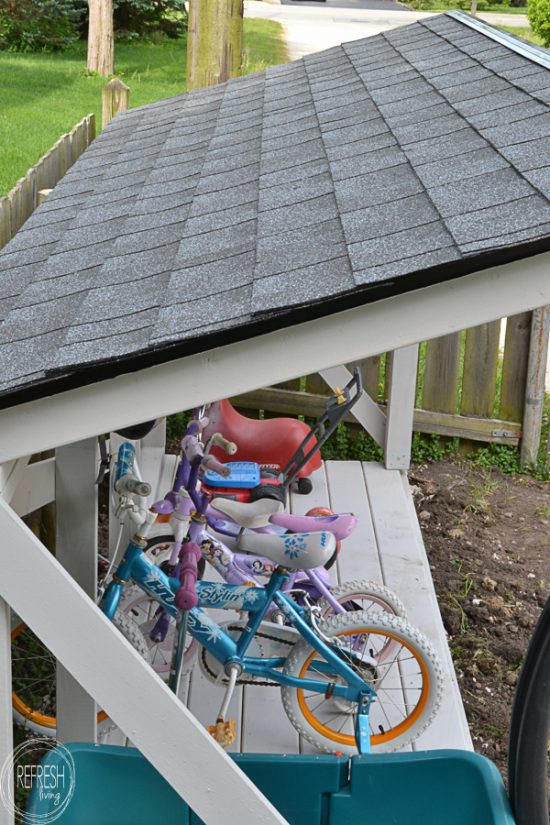 Although I don't think I could have built this entire structure without my dad's help, I could have easily roofed this all by myself.  In fact, I'm feeling so confident that I'm already looking around the yard for another project I can add a roof to!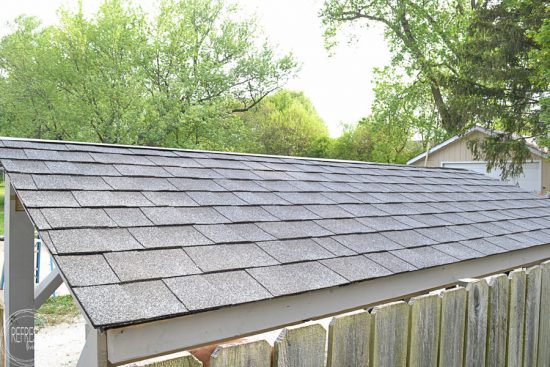 If you're feeling up to roofing a structure in your backyard, too, you should check out GAF's You Tube channel.  I learn best by watching, and they have tutorials for every step of the roofing process!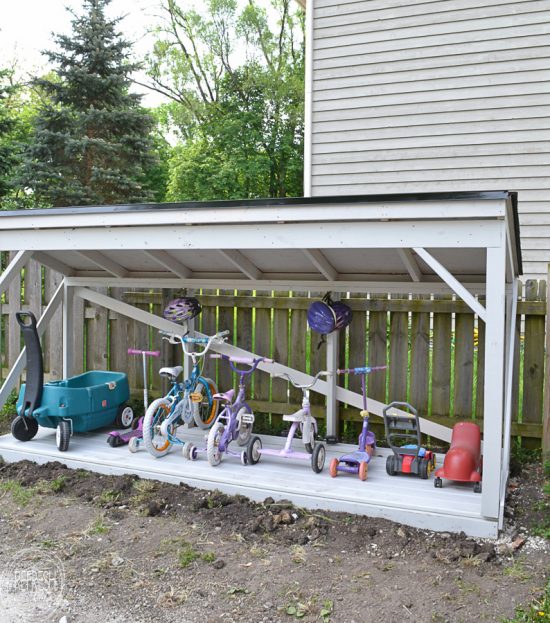 There are a bunch of other backyard roofing projects that average DIYers, just like myself, are completing around the country to spruce up their backyards!  Check them out, and join in on the fun with the #roofeditmyself hastag.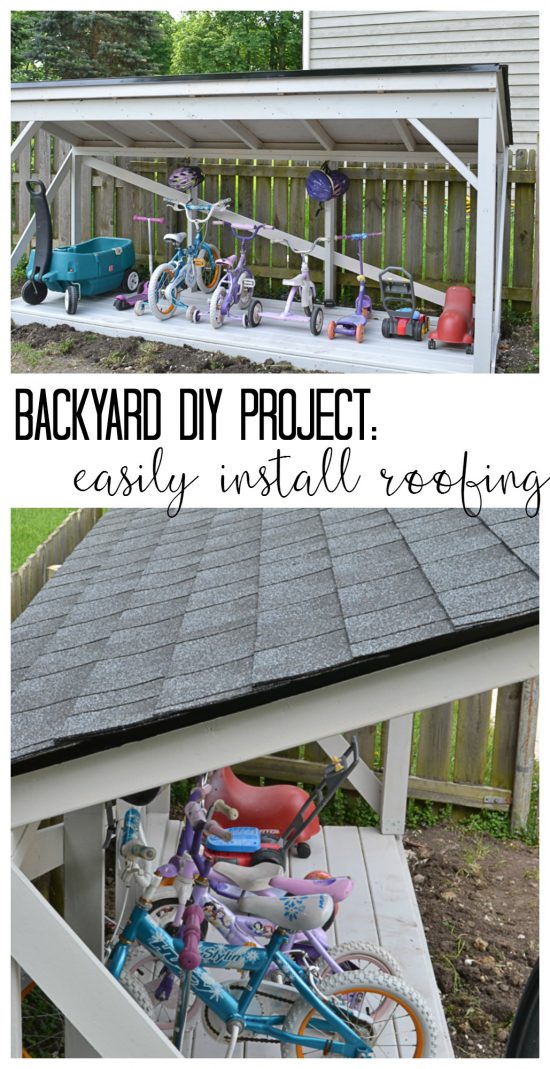 Like what you see? I'd love for you to follow along!
The graphics library is free to all of my email subscribers; you can sign up by clicking the image below.

Join the Refresh Living DIY & Upcycling Community
Join the subscriber list to receive one to two emails per month with updates from the blog. PLUS, you'll gain access to my printables and graphics library. Every new design I create will be added here, and you'll have free access - forever!