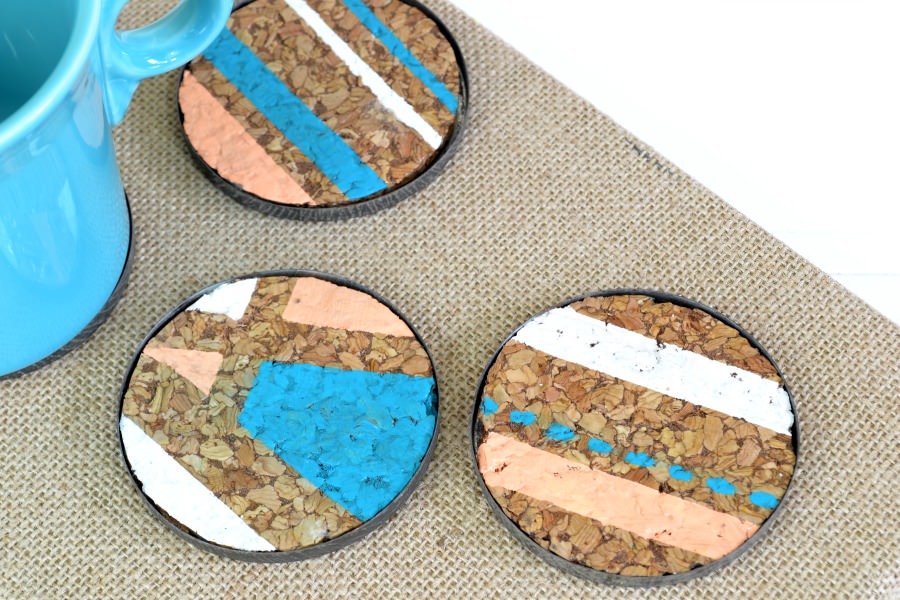 I love shopping in my parent's garage.  It's absolutely amazing how much stuff they have and I always seem to leave with something I "need".  My last trip resulted in a enamelware canning pot, which is actually something I did, but as an added bonus, inside of the pot was a stash of glass canning jars and a few older lids.  As soon as I saw the lids I knew they would make the perfect base to some sort of coaster.
I started by tracing the lids onto the pieces in this Cork Coaster Set
.
Then, I cut out the circles and made sure they fit inside the lids.
I taped off some geometric patterns with FrogTape
, making sure to press firmly along the edges to prevent bleed through.
I brushed on three different colors of acrylic paint, brushing over the edge of the tape into the center.  This also helps to prevent paint from getting under the tape.
I used Semi Gloss Polycrylic
 to brush three coats on the front and two coats on the backs and sides.  I wanted to be sure to give it a waterproof finish, since they will be exposed to condensation and spills.
A couple dabs of E6000® Craft Adhesive
 holds the cork in place, but any type of glue would probably work just fine.
It was fun to try to come up with different designs.  This isn't something that I'm really good at, but I think I actually like how they turned out!
I just love the look of the aged metal on the sides.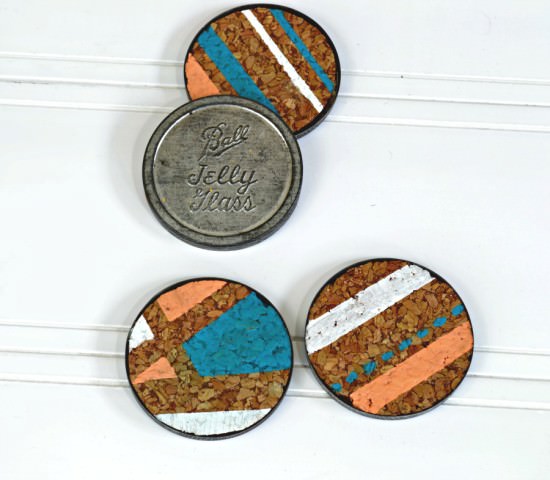 Vintage meets modern – I'm loving the mix.
Our coffee cups just barely fit on the ring.  Thankfully our glasses have smaller bases and fit perfectly, allowing a little of the pattern to show.
Like this idea?  I'd love for you to pin it!
Looking for more upcycled creations?  I have a whole page of ideas HERE.
Like what you see? I'd love for you to follow along!
Facebook || Pinterest || Instagram || Google + || Bloglovin'