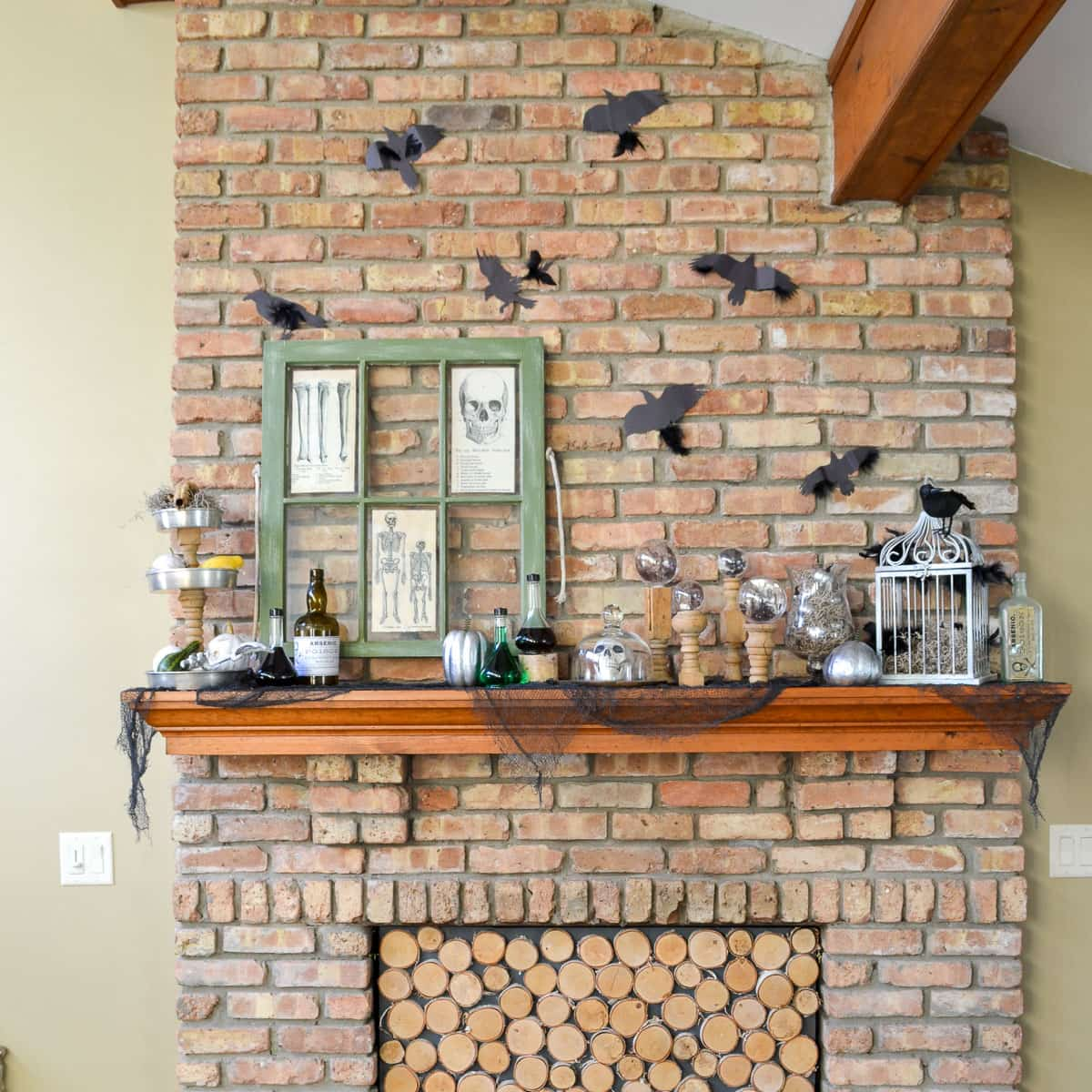 You may have heard me say in the past that I'm not a big fan of decorating our mantel. Some seasons I get into the mood and throw some stuff up there, but often it looks the same as it did the year before, or it just sits as a collection zone for items that need to be out of the kids' reach in our living room.
I will admit, I still don't love decorating this space, but this Halloween mantel was SO MUCH FUN to decorate! Seriously, it made me love Halloween again, just as much as I did when I was a kid.
Actually, this is the first time I've really even decorated for Halloween. I find most of the decor (that is anywhere close to within my budget) to be cheap-looking and I'd much rather prefer to just keep up the pretty autumn decor all season long. (Mainly because I am lazy, but also because I love pumpkins and harvest corn!)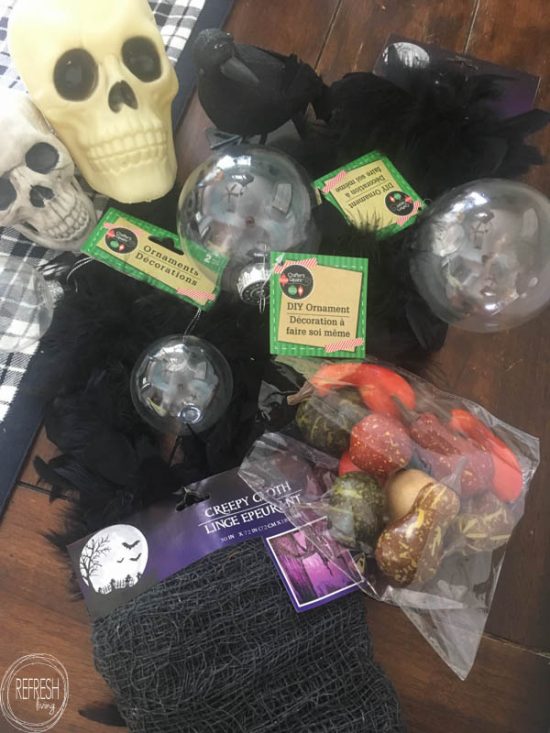 If you know anything about me, you know I will not, and can not, spend much money on decorating our home for the holidays. This entire mantel is a collection of items I already had around my home, thrift store and estate sale finds, and items from the dollar store. After stepping back to look at everything I included, I spent less than $15 to put this creepy mantel together.
Here's how it all took shape.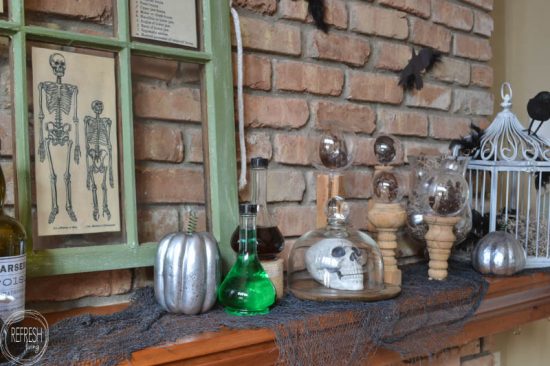 I collected a bunch of items from other rooms in our house to add to the mantel, including the 6-pane window and bird cage (the same one we used to hold cards at our wedding years ago).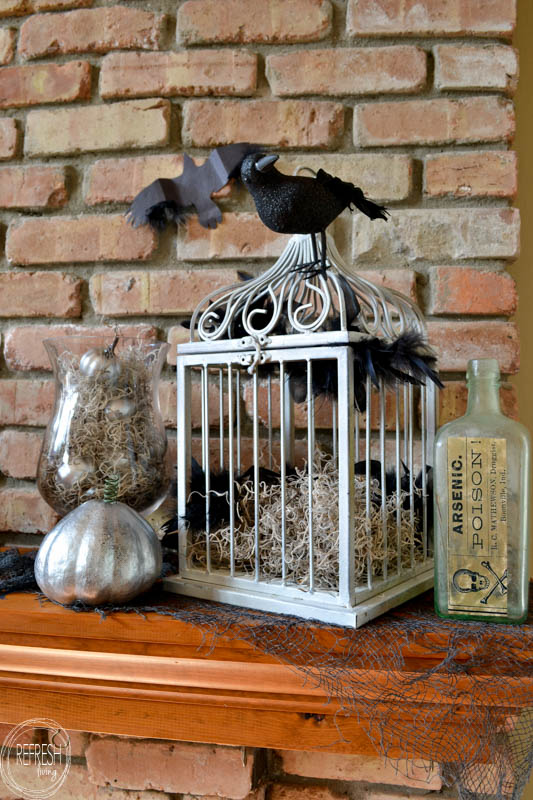 Of course, there is nothing creepier than black birds. Bats and spiders don't creep me out, but big black birds do. I found the bird on top at the dollar store, and added feathers from a black boa from the dollar store to the inside of the cage and onto the wings of the flying birds.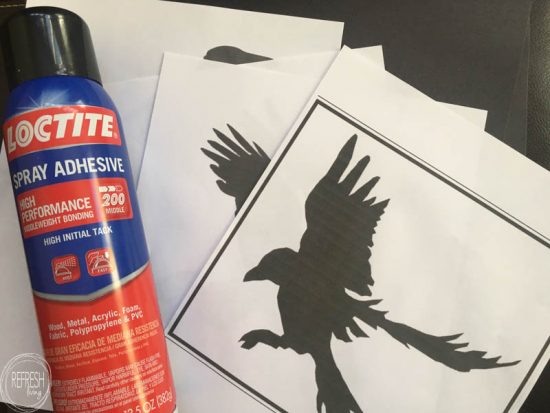 Those flying birds are just printed from images I found using an internet search. I copied them into Microsoft Word, expanded them to the size I wanted, and printed them off.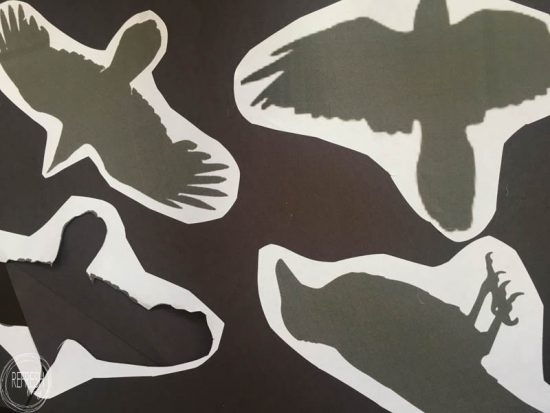 Then, I glued them to a couple of pieces of construction paper and cut them out. Easy and virtually free.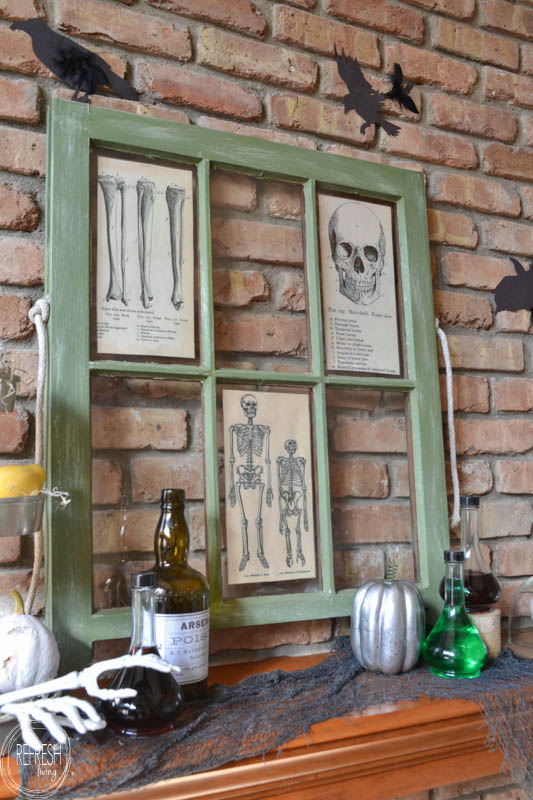 I also printed up a few vintage images from The Graphics Fairy. She has an amazing page of a ton of creepy vintage Halloween images that are perfect for decorating on a budget, because they are all free!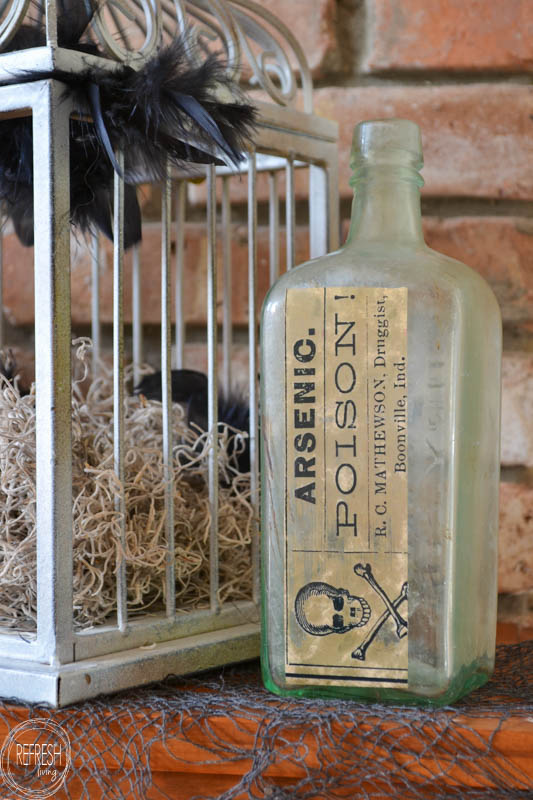 You can see those images in my window, as well as on the vintage bottles as labels. I am in love with this arsenic label. Super creepy that it was actually a legit label used many years ago!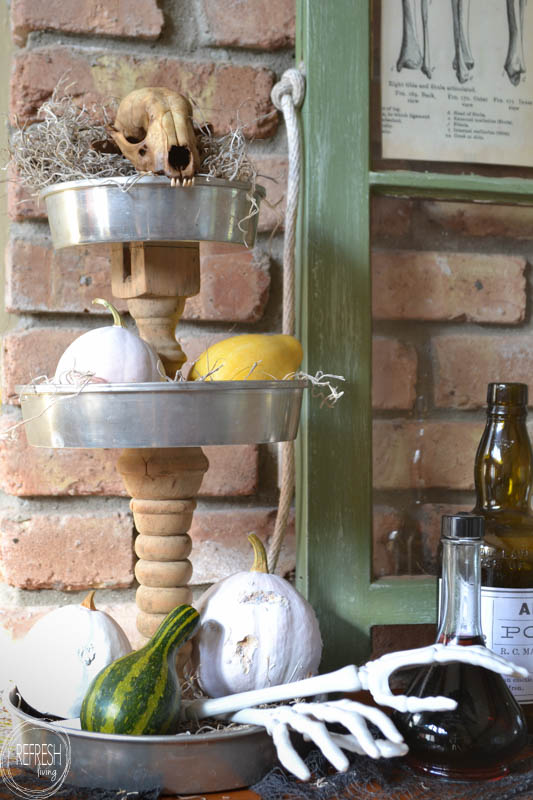 I put some old furniture legs I found in the basement of an estate sale to use in this mantel as well. I cut one up and made this stacked display from old pie tins from the thrift store. More details on this project soon!
I added in a dollar store skull and hand skeletons to the set up, and spray painted some foam pumpkins with metallic silver paint. Two of those pumpkins I had left over from last year, and the other pack of small foam pumpkins I purchased at the dollar store. The rest of the pumpkins were from our little pumpkin patch in the backyard, and I just spray painted a couple of those too.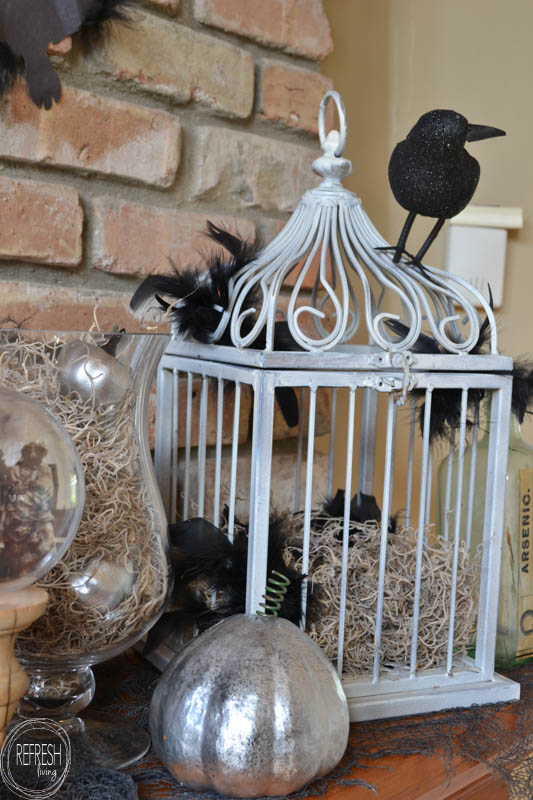 Spanish moss adds a natural and rustic look and works perfectly to fill in empty spaces.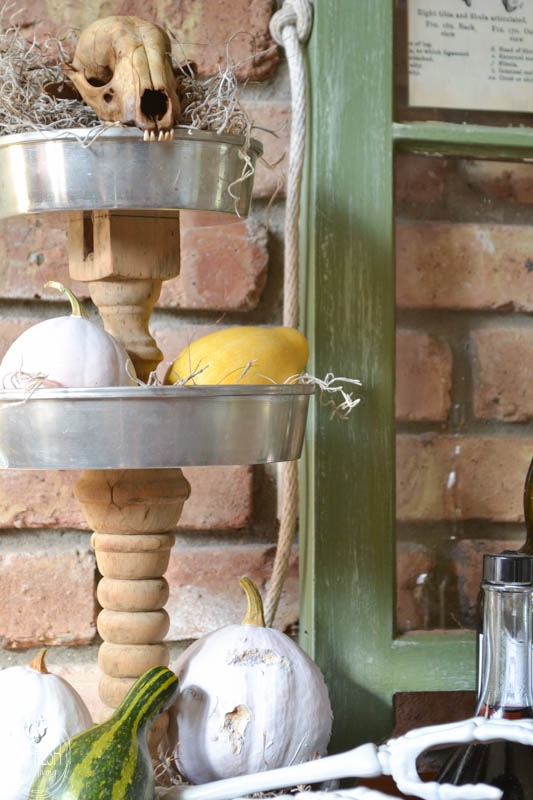 That skull on the top was free. We found it in the soffits of our garage when we finally started to repair the decrepit structure this summer. Yep, I put some sort of raccoon/massive rat (please don't be a massive rat….) skull in my home decor. I know some might cringe at this, but I sort of love it, in a creepy sort of way. So does my "scientist" four-year-old daughter.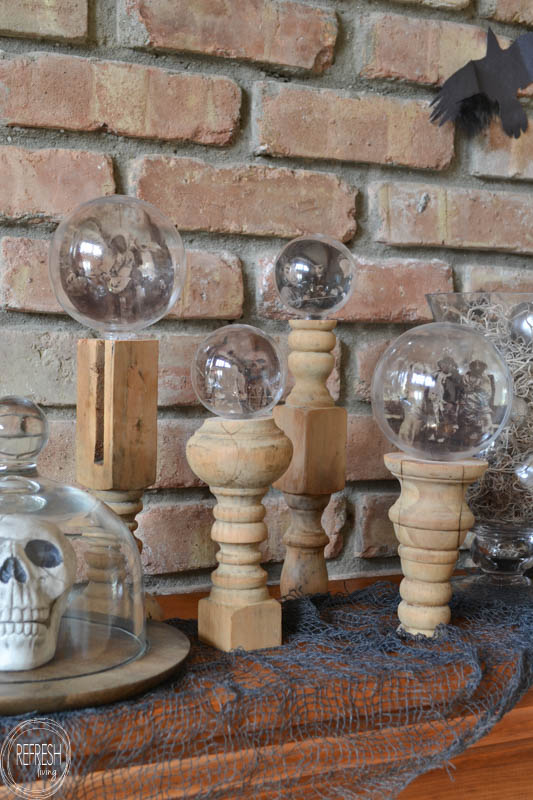 I used another one of those legs to create these Halloween crystal balls. I saw a similar concept at a store this year, and I knew I could make my own. When I searched online, I found this awesome tutorial at Flamingo Toes using candlesticks and transparency film to create these. Unfortunately, after 10 years of teaching, and 8 years of not using the stack of transparency film, I finally donated it, less than a year ago!! I don't know why I didn't keep a few pages for "who-knows-what-type-of-DIY-project" like this one, but I didn't, and didn't want to spend any money to buy more.
Instead, I used a packing tape transfer method to create my spooky gazing balls. Plus, instead of graphics, I found some creepily awesome vintage photos of kids in their Halloween costumes. I know it shouldn't be spooky, but the resourceful nature of cutting holes in bags and pumpkins and putting them on the kids' heads just is a bit eerie when combined with black and white photos.
Basically, I printed the images with a laser printer (places of employment are a great resource for the occasional page of printing 😉 or Kinkos or office stores also print in laser color, too).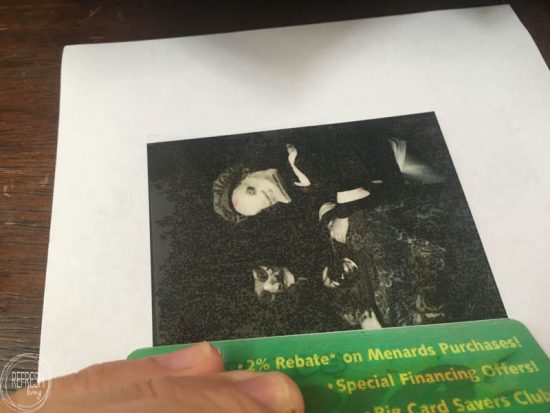 Then, simply place a piece of packing tape over the image and use a credit card to rub the air bubbles out of the tape and to burnish the image onto the tape. Use a bit of pressure here, it helps to transfer the entire image.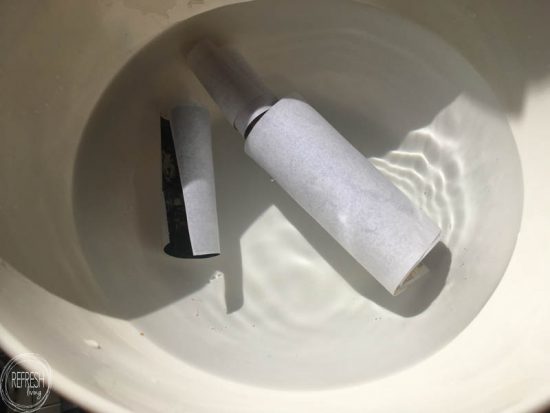 Place the pieces of tape with the paper attached into a bowl of hot water and wait a couple of minutes until the paper starts to soften. You'll use your thumb to roll the paper off the tape, and the image is left on the tape. Eerie factor amped up once again!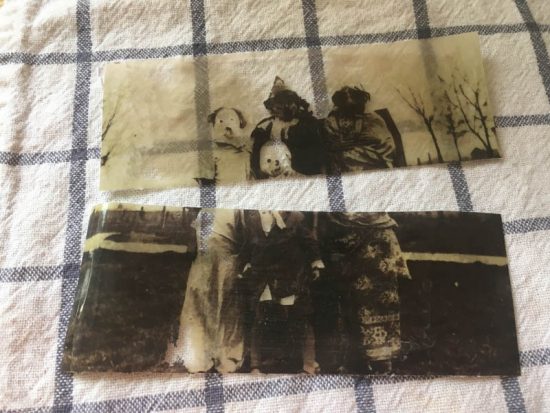 Because my images were bigger than one piece of tape, I simply used two pieces of tape and lined them up perfectly on the image.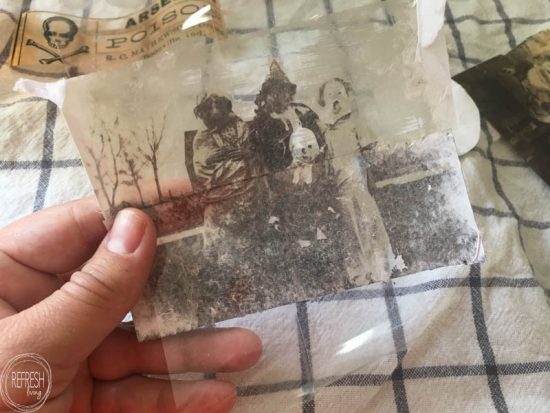 Then, after putting them in water, removing the paper, and letting them dry, I put a piece of tape across the back of the image in the opposite direction. It also made them more rigid, which allows them to stand up well in the crystal balls.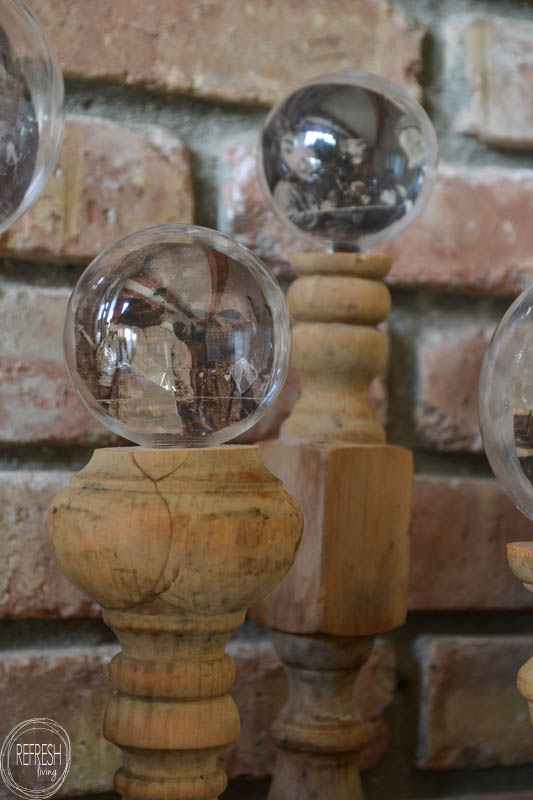 I cut out the images into circles to fit the inside of the ball, and left a small tab that I taped to the opening in the ornament. I drilled holes into the top of the spindles using a spade bit, and them glued the ornaments crystal balls into the holes in the spindles.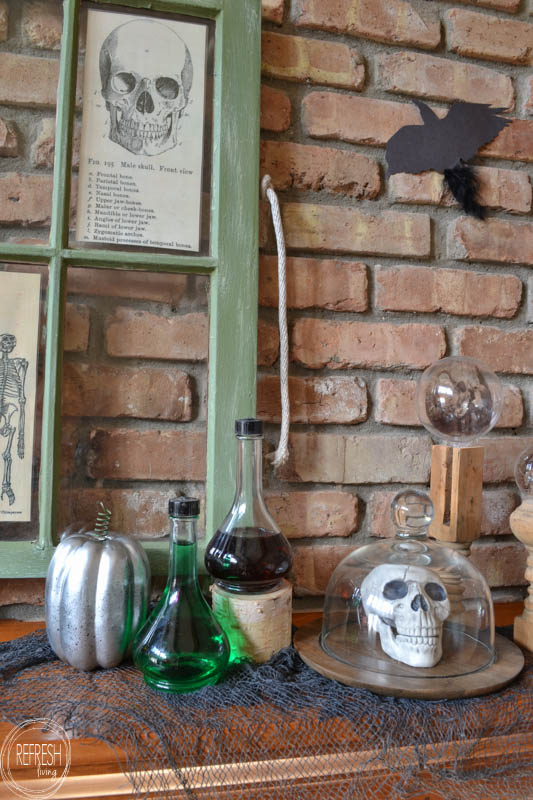 Some vintage barber shop bottles that I bought at an estate sale finish out the mantel. Of course, I had to fill them with colored water.
For all of you vintage-loving and thrifty folks out there, can you see why this spooky DIY mantel was so much fun!?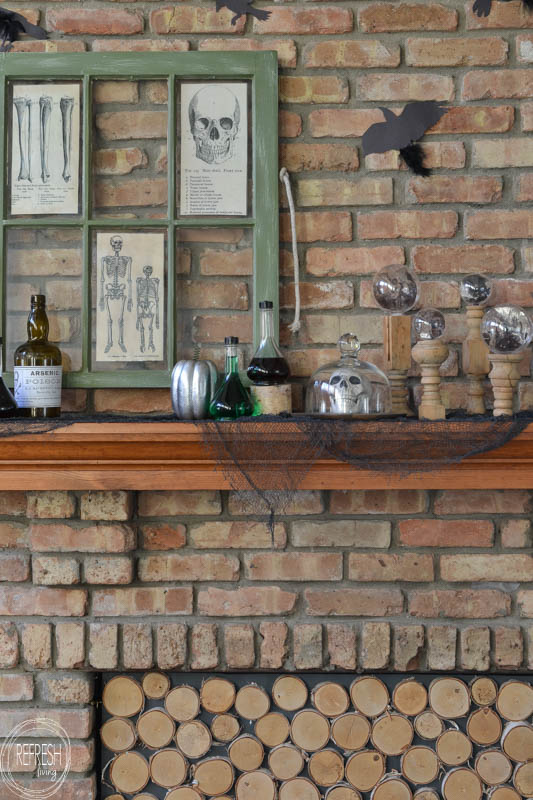 Like what you see? I'd love for you to follow along!
Facebook || Pinterest || Instagram || Google + || Bloglovin'

Join the Refresh Living DIY & Upcycling Community
Join the subscriber list to receive one to two emails per month with updates from the blog. PLUS, you'll gain access to my printables and graphics library. Every new design I create will be added here, and you'll have free access - forever!