I love taking items that have been looked over by others, and creating something new and useful with them.  I upcycled these vintage doilies into small ombre bowls, and I think I've given them a new lease on life!
I recently found a pile of handmade doilies at an estate sale.  It was the last day of the sale (50%+ off day, which is my kind of day to shop at estate sales) so I paid $3.00 for a large bag of doilies – all in different sizes and patterns.
This was actually my first time using RIT dye in my adult life.  I tie-dyed my fair share of t-shirts as a kid, and I remember watching my mom use this stuff to set up the dye.  I used Rit Powdered Fabric Dye, but they also make premixed Rit Liquid Dye.  It's the same stuff, just a little more expensive because they do the mixing for you.
Anyway, I combined one teaspoon and about a cup of hot water in a glass jar.  After stirring until it had dissolved, I ran the doily under hot water, bunched it together at the bottom and dipped it quickly in the jar, almost all the way to the top.  I removed it right away, and then held the bottom tip of it in the jar for 10 minutes.  (This was probably the worst part of the process.  Holding still, with both hands occupied, for any amount of time, is challenging enough.)  You can see why I didn't extend it to the longer time recommended on the box (10 – 30 minutes).  30 minutes of sitting still  – yeah right!  I'm sure you could fashion a contraption, maybe a string tied around a skewer that also ties to the doily, and let it be, if you wanted darker colors.  I just stood and waited.
After removing them, I washed them using the directions on the dye box.
Now, it was time to give these little guys a second life!  I used Fabric Stiffener and Draping Liquid to firm up the doilies, but I bet you could use ModPodge as well, as I've seen that used to make lace pendants – same idea, right?
I found the best way to get the thick, glue-like mixture onto the doily without making a massive mess was to first squirt a little of it onto a piece of saran wrap.  Then, I placed the doily on top of the glue, added another piece of saran wrap, and squished it all around.  This allowed me to make sure I was getting the glue to cover the doily.
Then, it's important to remove the excess, otherwise you'll have a clumpy, flaky doily – which is not the look I was going for.  I moved the doily onto a clean section of the saran wrap, and dabbed another clean piece on top of it.  I did this twice, and it seemed to remove the excess.
I found some bowls and jars that seemed to be a bit smaller than the doilies, covered the bottom in saran wrap, and draped the doilies over them.
After waiting overnight (remember, I'm impatient), I peeled them off the jars and had unique new bowls.  It's amazing just how much they firmed up.  These little guys are solid!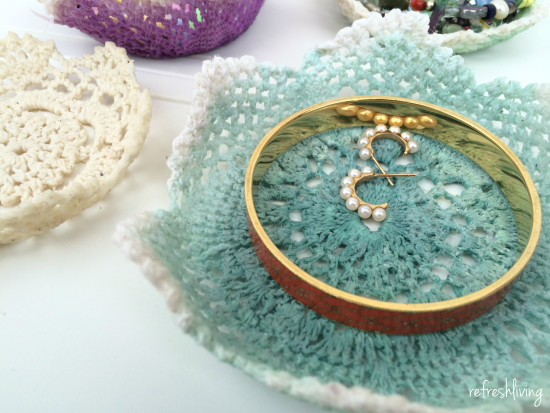 I think these would be perfect for storing rings or small pieces of jewelry, or even candy!
I even think these vintage doily bowls would be a cute little DIY Mother's Day gift.  Kids can totally make this with their daddies (just keep that RIT dye away from counter tops, clothes, couches).  Hmm, maybe dads can do this outside with the kids…
Can't get your hands on vintage doilies?  I know they sell new doilies at Joann's, Micheal's, and Hobby Lobby!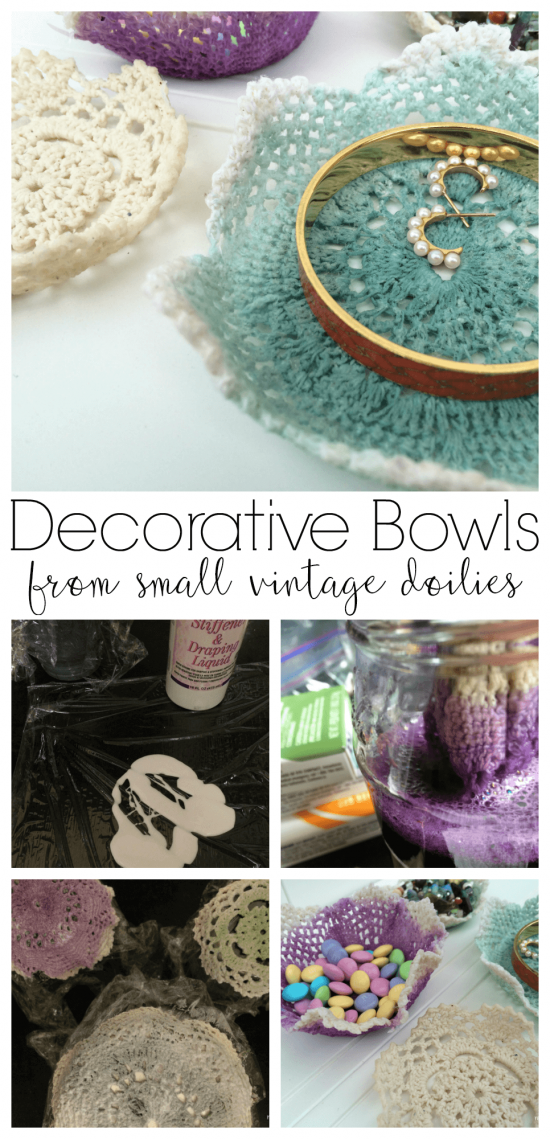 Like what you see? I'd love for you to follow along!

Join the Refresh Living DIY & Upcycling Community
Join the subscriber list to receive one to two emails per month with updates from the blog. PLUS, you'll gain access to my printables and graphics library. Every new design I create will be added here, and you'll have free access - forever!