Welcome, and Merry Christmas! It's that magical time of the year, and this year, I am more excited about the Christmas season than ever. I think a good part of it is because both of my girls are old enough to truly enjoy the season. But, there is also the fact that I'm nine months pregnant and expecting another baby just days after Christmas. Whatever the reason, we've been listening to Christmas songs since the first day of November, and I've been working on little DIY projects to help deck our halls with the Christmas spirit. I've combined quite a few vintage and farmhouse finds with homemade decorations to create what is by far my favorite decorations for Christmas yet.
Before we start this tour, I need to be honest with you. I've actually never participated in a home tour before, primarily because our house has been a constant project for the past 7 years or so. And unfortunately, my DIY home renovation and decorating projects tend to last months, and even years in some cases. Because our home is in this project phase so often, I never have multiple areas decorated for a season at once.
This year, however, is different, and there are actually three different areas in my home that are ready for Christmas! When Kati from Houseful of Handmade asked if anyone wanted to join her in a home tour, I knew this was my chance. Come on in!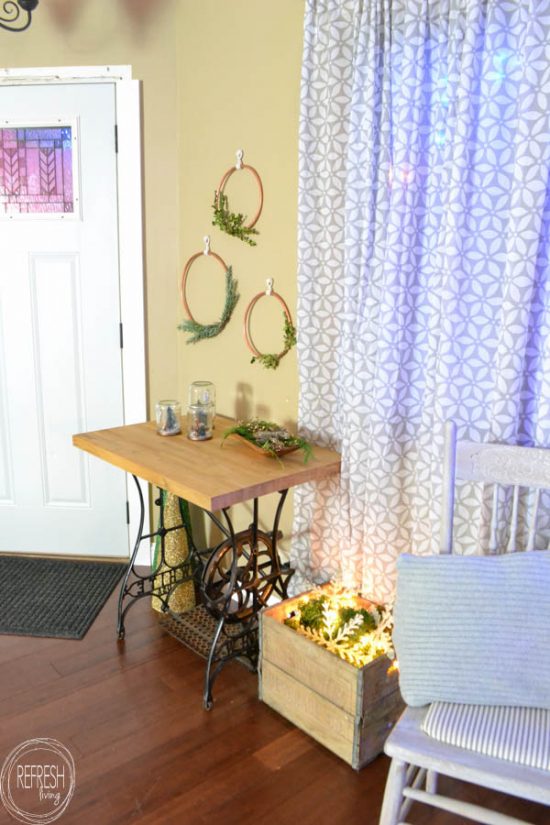 The front door of our home opens up to a large living area. Unfortunately, the actual entryway is extremely small and quite inconvenient when we have guests over, but I still have a couple of plans to help make this area a bit more functional as small entryway space.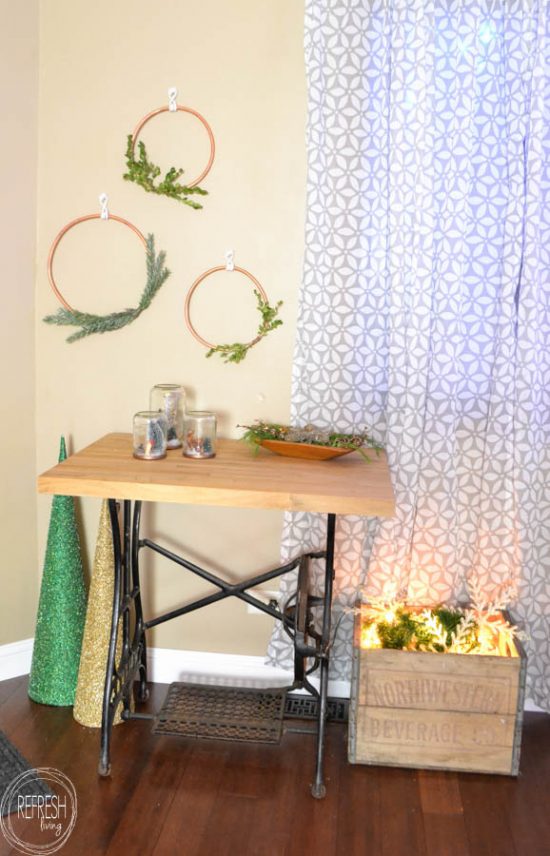 I made this antique sewing table a couple of months ago, but it didn't sell at my last market, so I decided to use it in my own decor until it does sell! Here are the DIY projects you'll find in this space: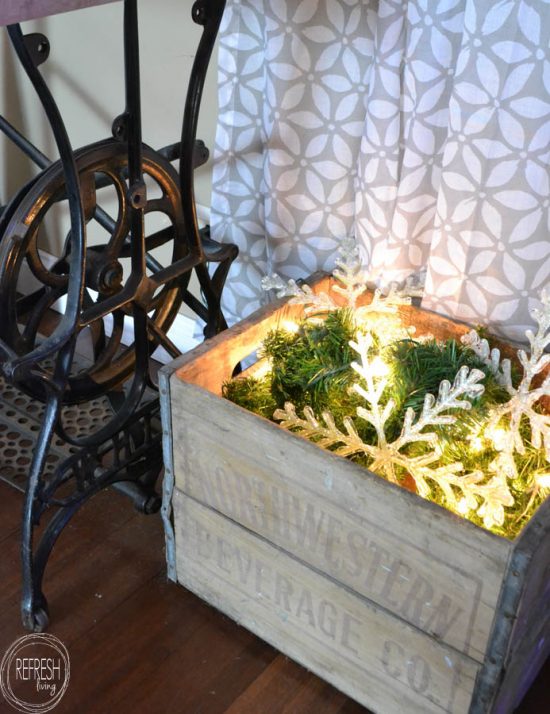 I had a pre-lit faux garland that I used to put on our mantel, but this year I decided to stuff it in this crate and add a couple of resin snowflakes I bought on clearance at the end of last year's Christmas season.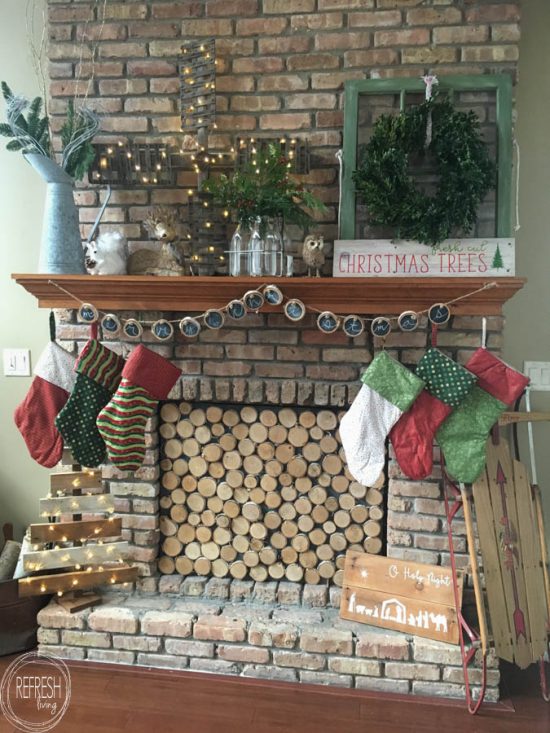 On the other side of the front door (literally, the door is just to the right of this picture) is our fireplace.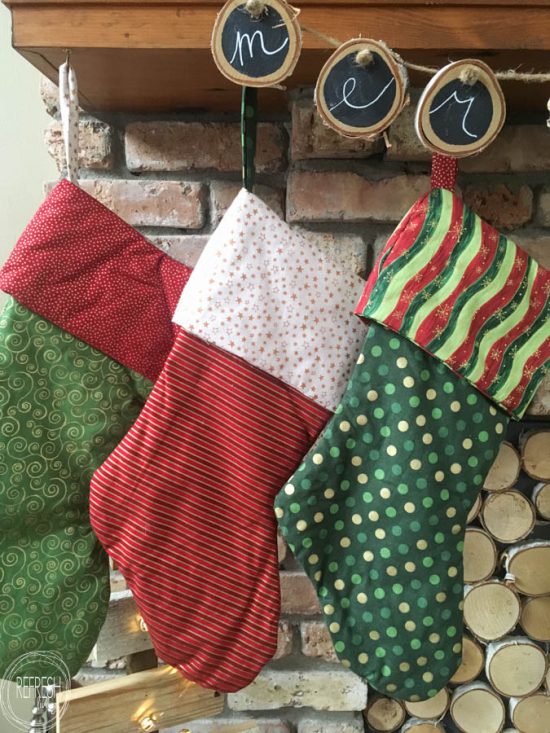 I made these stockings a few years ago and used six different fabrics and just mixed and matched them on each one. Each one is unique, but they also somewhat coordinate with one another. I still need to make name or initial tags for the stockings but I can't decide how I want to make them, Any suggestions?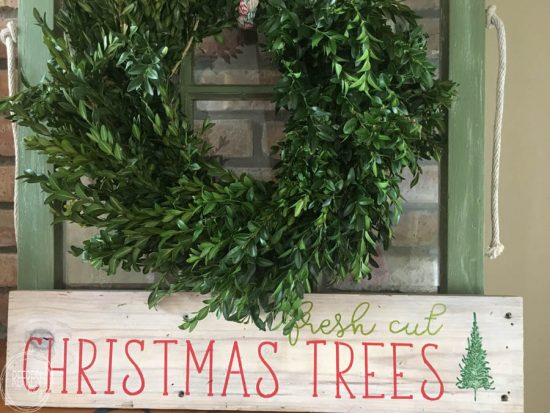 I had to find a place for my fresh cut Christmas trees sign I made from reclaimed pine flooring from an old farmhouse. I made a few of these, and there are a couple still left for sale in my Etsy shop!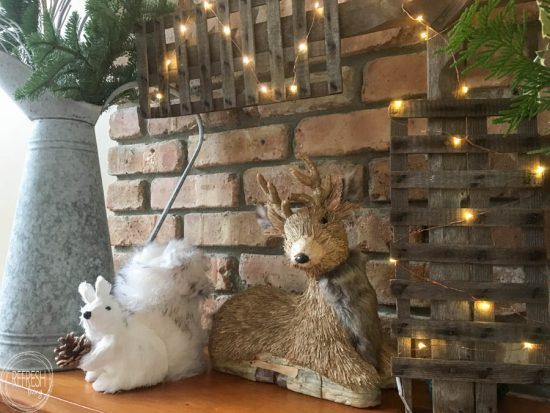 I added rustic elements to the mantel with some finds I scored at a barn sale this summer.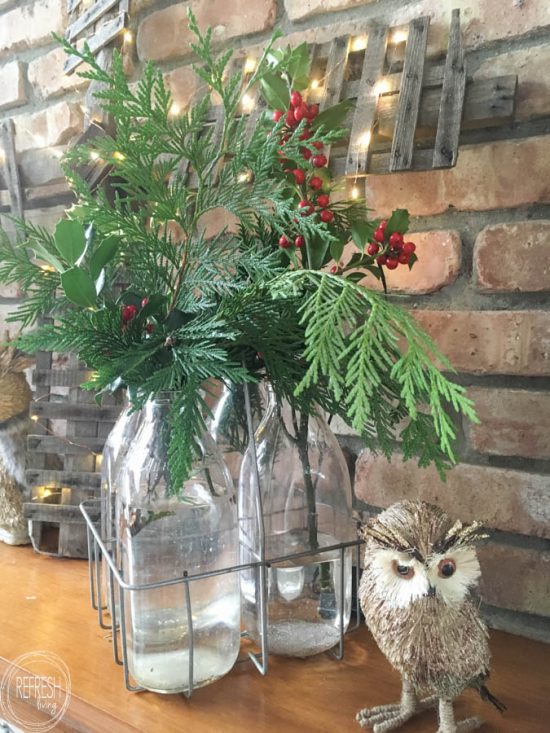 I am in love with the old wood fan mill. You'll definitely be seeing more of this baby!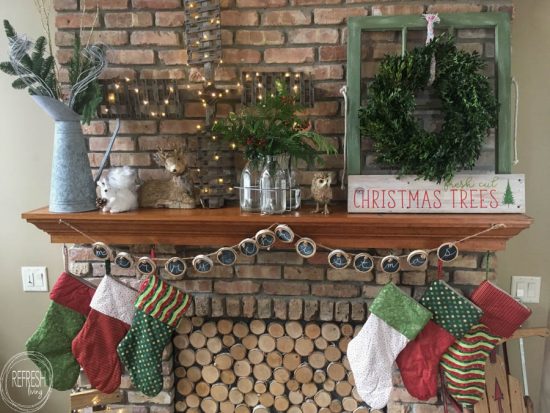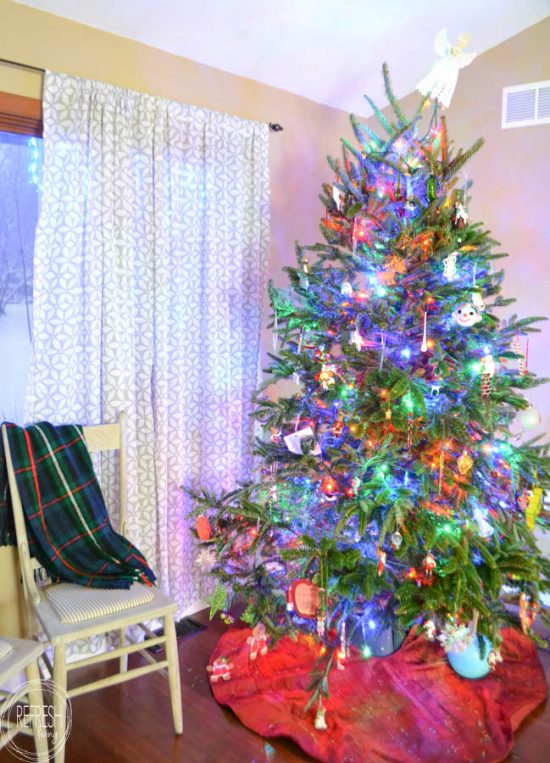 Also in this room is our Christmas tree. This tree is definitely for our kids – they choose to have colored lights, and I let them put most of the ornaments on the tree. You can see the bottom branches sagging under the weight of some of those really low ones. Honestly, my four year old "redecorates" the tree every day and chooses new ones to move to new places, so rather than trying to make it look the way I want it to look, I let her take control of this one (and she couldn't be happier).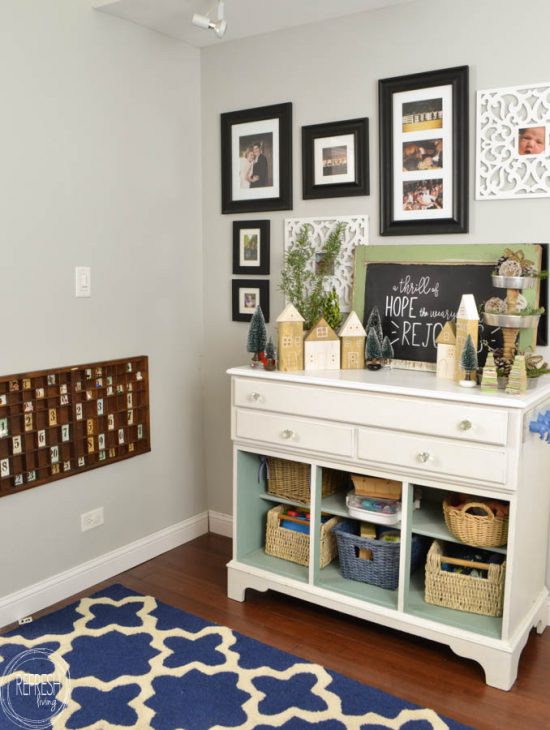 This room is really just a large hallyway; a pass through of sorts. I painted an old buffet a few years ago and transformed it into toy storage for this room, but it also give me a place to decorate!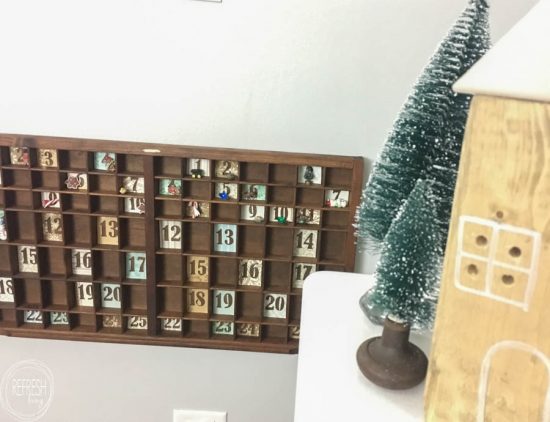 I made this advent calendar last year from a vintage printer's tray. It has two sides, one for each of my girls, and each day they add a little toy figurine to the opening.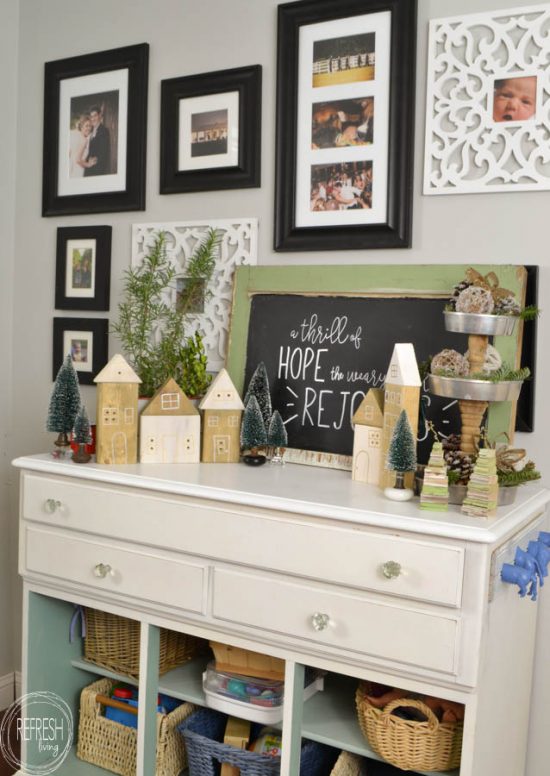 This little Christmas village was made with scrap 2x4s I had leftover in my garage. They were super easy to make and I love how they turned out.
Finally, here is our eat-in kitchen/"dining room". Nothing too fancy here, just ready for the holidays in a way that works for our family!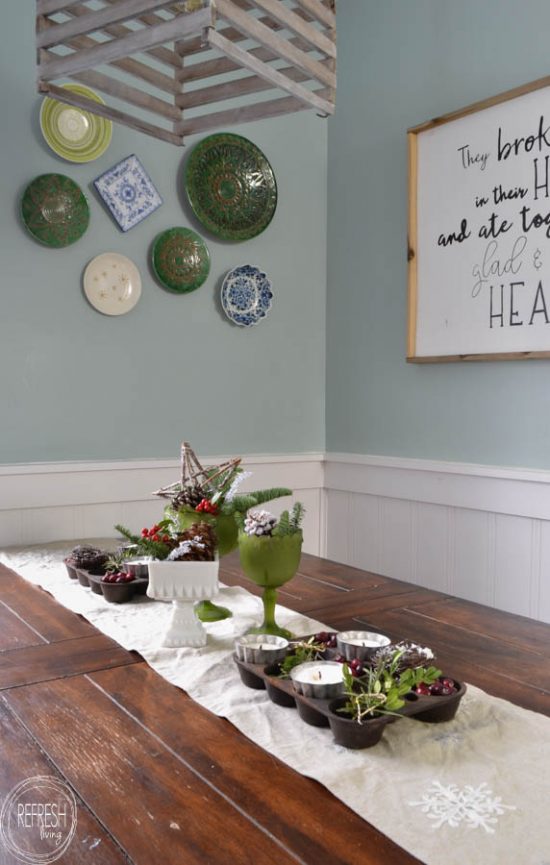 I never go all out and create a set table for the holidays. I don't really enjoy it, I'm not very good at it, and our kitchen table is also our dining table, so I couldn't leave it set for longer than a couple of hours between meals. I have heard that if you have a designated dining space that you don't use every day, one of the best ways to keep it clutter-free is to keep the table set and decorated for a formal meal.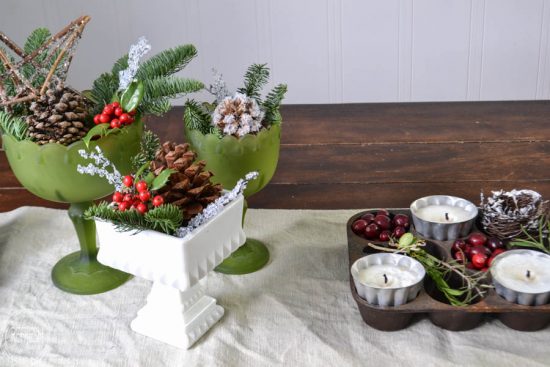 This centerpiece is truly a collection of estate sale finds. I found the vases, cast iron muffin tins, and vintage jello molds in the last year or two at different sales. I filled them with pine springs, berries, rosemary and boxwood, and cranberries.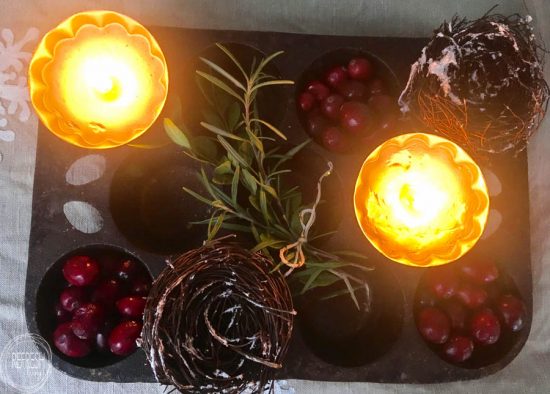 I need to keep our centerpieces simple since this is the place where we eat all of our meals.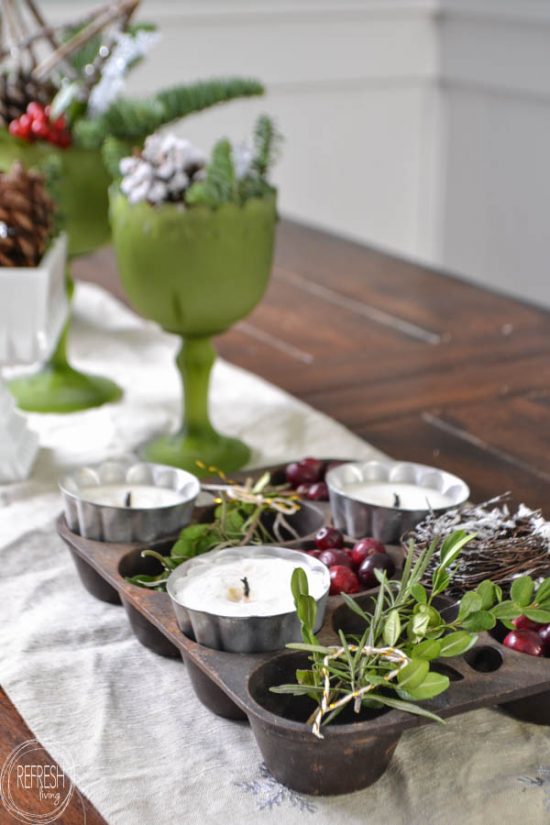 That's it for now. I still have a few more DIY Christmas projects to share with you this week and next, but you'll have to wait a few more days to see those. For now, tour through these other homes and gain inspiration for your own Christmas decorations!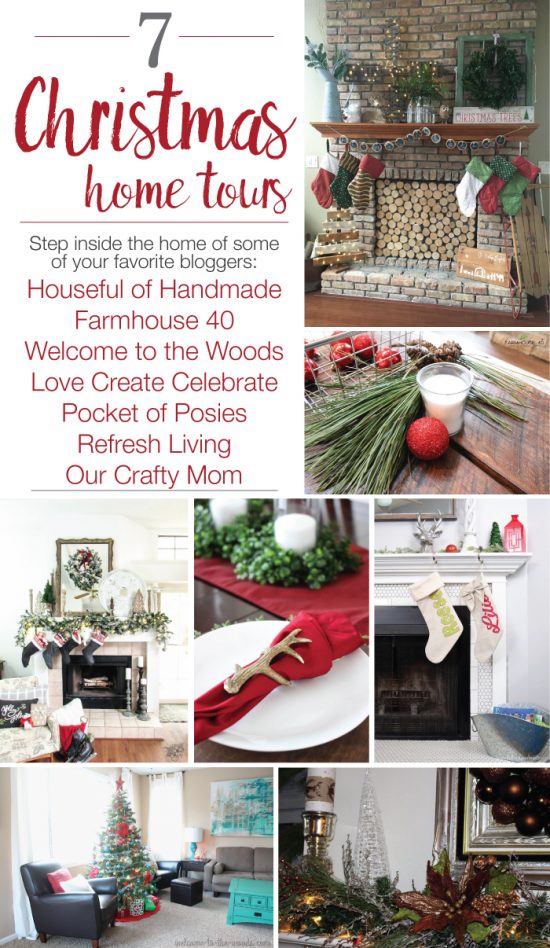 Houseful of Handmade | Farmhouse 40 | Welcome to the Woods | Love Create Celebrate | Pocket of Posies | Refresh Living | Our Crafty Mom

Join the Refresh Living DIY & Upcycling Community
Join the subscriber list to receive one to two emails per month with updates from the blog. PLUS, you'll gain access to my printables and graphics library. Every new design I create will be added here, and you'll have free access - forever!