Come see my home decorated for Christmas using DIY, vintage, and budget-friendly decor ideas!
Around here, I'm all about creating a home we love, but yet also can live in with 4 young kids, without spending a lot of money. I rarely purchase anything new for holiday seasons, and instead use second-hand finds, vintage pieces, and tons of DIY projects to create decors pieces I love.
I've joined up with a few other creative bloggers for a Very Merry Christmas Home Tour hosted by the fabulous Carrie from Lovely, Etc. Their homes are filled with inspiring ideas, many of which I plan to borrow to use next year! Be sure to check them out at the end of the post.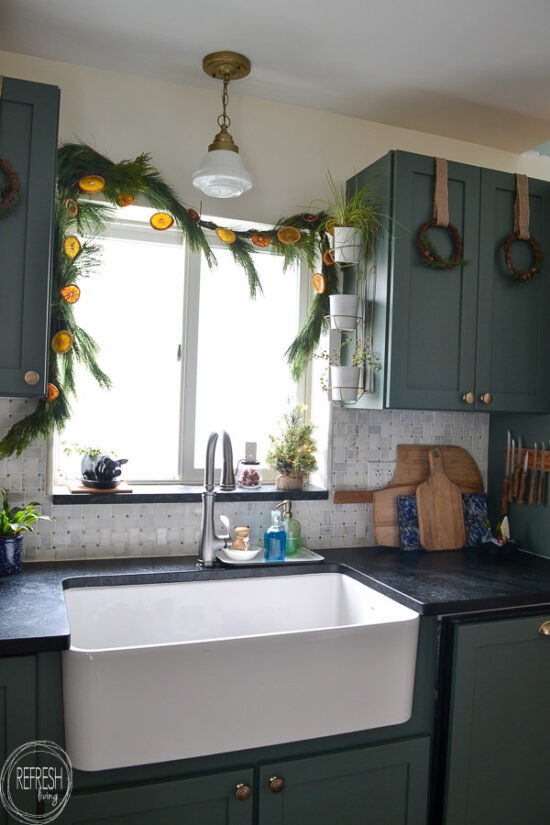 We're most definitely starting in the kitchen, as this is the second year of decorating my newly painted green cabinets that I still love.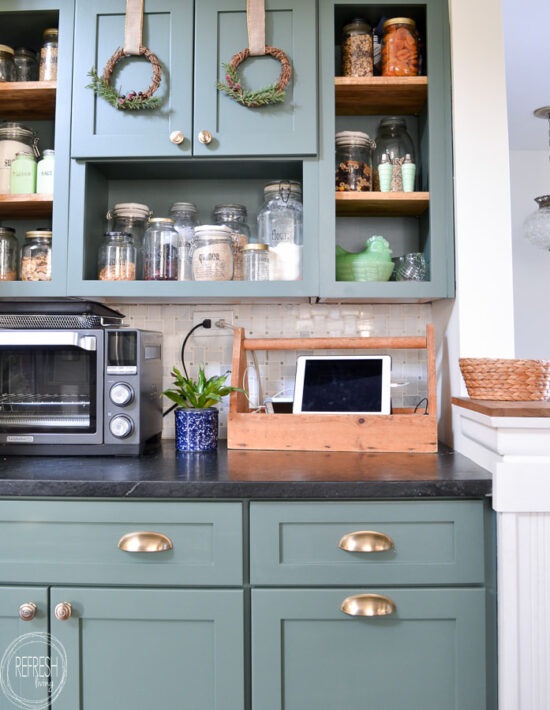 Last year, I held up a little green wreath next to these cabinets and realized there was no way that was going to work. So I made these natural ones with a few sprigs and ribbon from Hobby Lobby.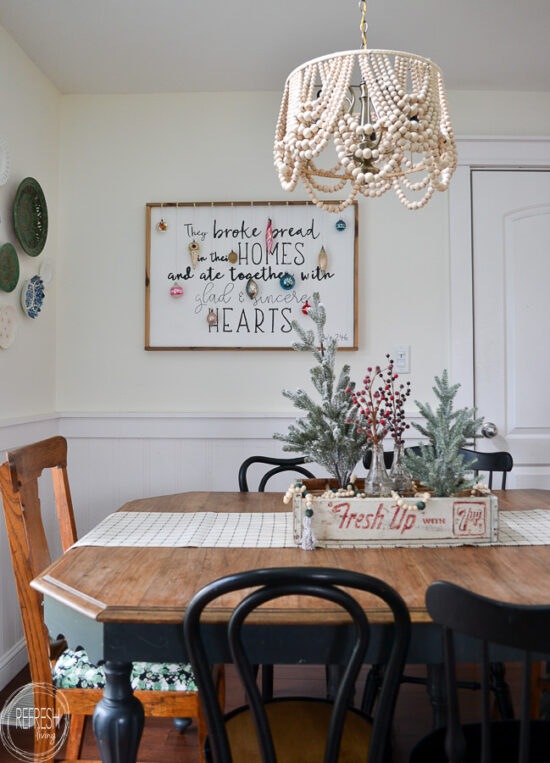 In the "dining room" (which is actually just part of our kitchen), I added some vintage shiny brights, which are one of my favorite things to pick up at estate sales throughout the year.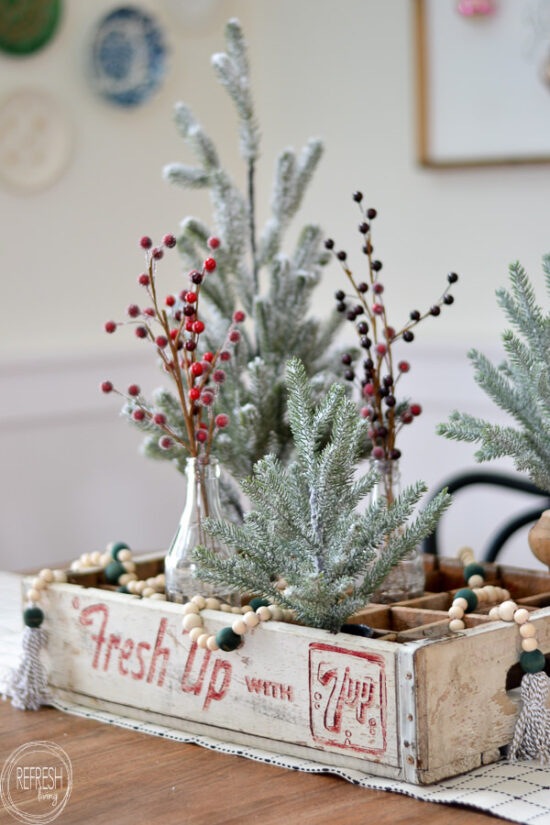 Remember I mentioned that whole "budget-friendly" decorating? I may have gone a bit too far with this one. I found this pop crate (yep, it's "pop" here in Chicago) deep in someone's garage at an estate sale. And there was most definitely mouse poop inside. But, at $5 I couldn't pass it up, and just made sure to get the bleach cleaner out when I got home.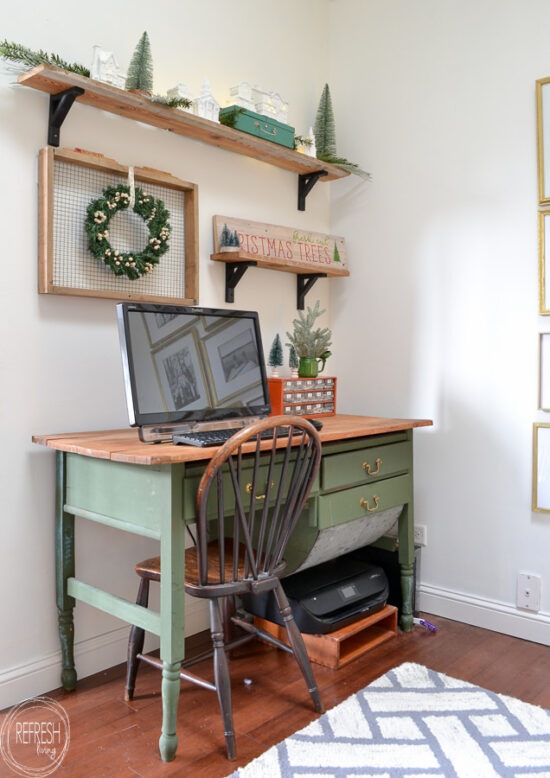 In our office, I spray painted some ceramic houses from thrift stores all in white and added some small lights throughout.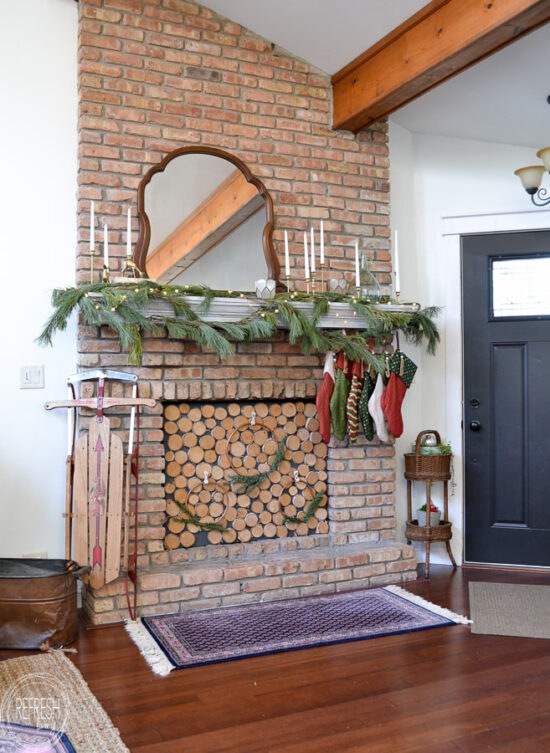 Finally, our living room fireplace is one of my favorite places to decorate for Christmas. I used some live garland, brass candlesticks, and a vintage mirror to keep it simple this year.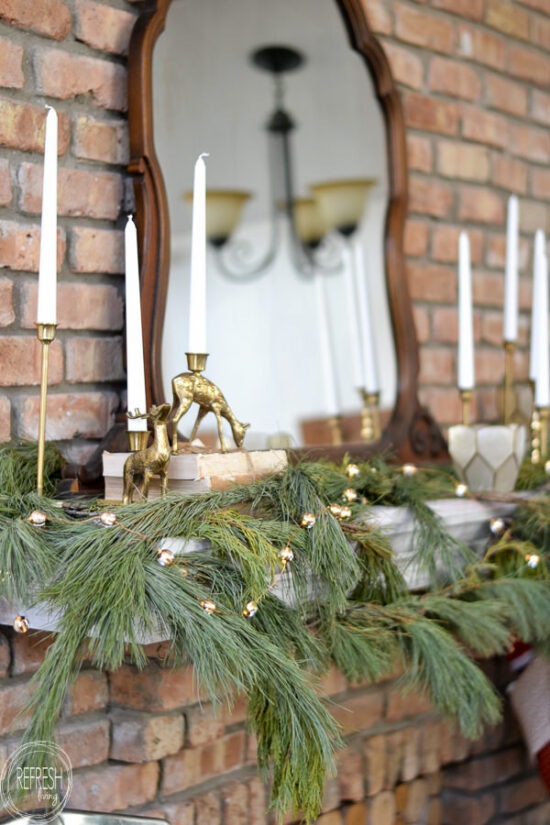 I have this problem- when I see vintage brass deer throughout the year when second-hand shopping, I can not pass them up when they're priced right. They just make me smile.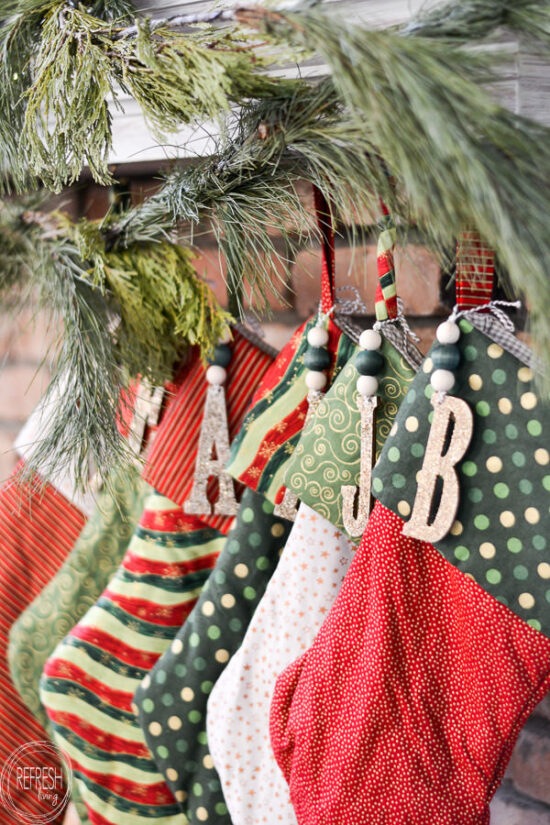 To end out the tour, a simple DIY stocking marker project I made with wooden letters, gold glitter, and wood beads. Thankfully, my girls always remember which color stocking is theirs, because I never seem to remember!
Inspiring Ideas for Christmas Decor

Lovely Etc * DIY Beautify * Up to Date Interiors * What Meegan Makes * Sunny Side Design

Chatfield Court * Sweet Pea * Repurpose and Upcycle * Hey There Home

At Lane and High * Postcards from the Ridge * Making it in the Mountains * Lehman Lane

Newly Woodwards * Thrifty and Chic * Bright Green Door * Refresh Living
Join the Refresh Living DIY & Upcycling Community
Join the subscriber list to receive one to two emails per month with updates from the blog. PLUS, you'll gain access to my printables and graphics library. Every new design I create will be added here, and you'll have free access - forever!