My dad is the king of flannels.  I don't think there has been a fall, winter, or spring day that my dad hasn't worn one of his flannel shirts, for at least a portion of the day, and most of the time it's from sun up until sun down.
Now that flannels seem to be a trend (don't actually take my word on that one – I know nothing about style), I still can't bring myself to wear them, because I know I'd look in the mirror and think I look like my dad.  But, I can definitely cut apart his torn, shrunken, ratty old ones and use them in my home decor!  In fact, I love that when I look at my little dining room table I think of my dad…I just don't want to look like him.
I started with a few of his old flannel shirts and didn't fit anymore, or had holes in the armpits that you could fit, well, your arm into.  I also had a couple of sweaters that I had shrunk down to smaller than I could have even fit into in college.
I cut up the old shirts into strips that were 15″ in length and varying widths.  I wanted the length of each strip to be the same, because this would form the edges of the table runner. Then, I simple sewed the strips together, with the right sides facing together, and then flipped them over for a clean seam.
The bottom is unfinished, but to give it a finished edge, I just ironed and sewed a hem along each edge.  (I made sure the finished edges of the shirt (the button side) started and ended the runner, so I didn't need to finish those edges at all.)
UPDATE:  If I were to do this project all over again, I would have done two things differently.  First, I would have sewed all the flannel pieces together first.  Then, I would have topstitched the sweater strips on top of the flannel runner.  Sweaters just stretch much differently than the flannels, and it made the edges sort of wonky when I sewed them together as I did.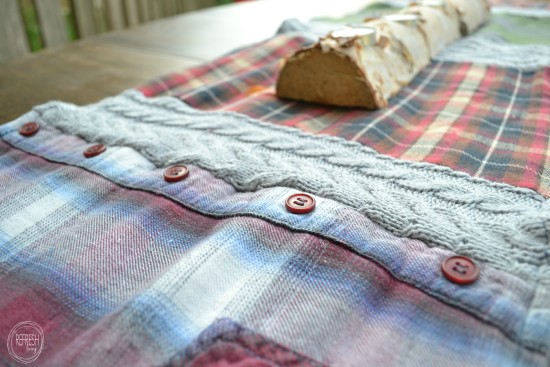 I also would have given a back to this runner, to help it lay flatter and look cleaner.  I should have taken the long flannel panel (with the sweaters sewn on top) and placed it wrong side together with another piece of fabric.  Then, I could have just stitched almost all the way around, leaving a small opening, turned it right side out, and then sewed up the opening.
You live and you learn.
I purposely kept some of the pieces with pockets or buttons, because I think it adds to the upcycled charm.
Love reusing what you've got to decorate for the holidays?  Check out all of these upcycled projects!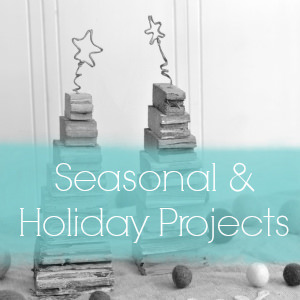 Like what you see? I'd love for you to follow along!

Join the Refresh Living DIY & Upcycling Community
Join the subscriber list to receive one to two emails per month with updates from the blog. PLUS, you'll gain access to my printables and graphics library. Every new design I create will be added here, and you'll have free access - forever!