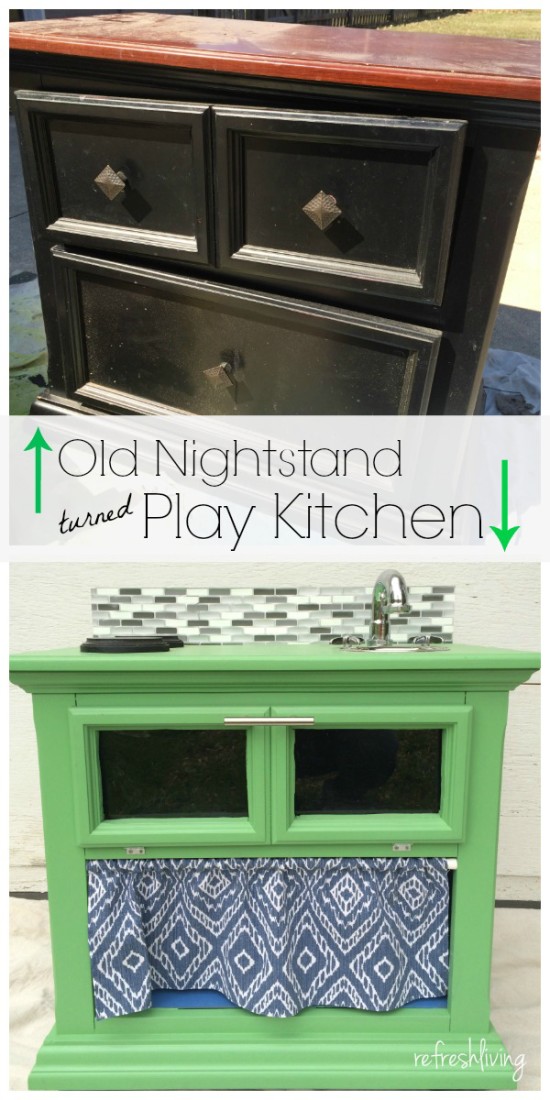 These two black nightstands have been sitting in my garage for two years.  When I took them out of our bedroom, I had all intentions of selling them on Craigslist for $20, but never got around to listing them.  Then, I started thinking that I could actually do something with these puppies.  Although the top has a faux wood finish, they are solid, and the perfect candidates for a coat of paint…and a metal dog bowl…and some faucet handles…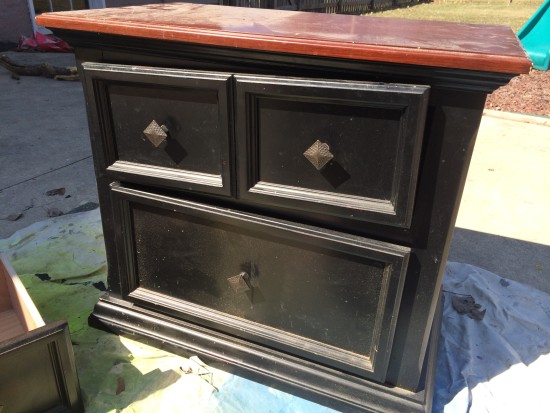 This old nightstand is now a play kitchen, put together for way less than one of those plastic ones you can buy at the store!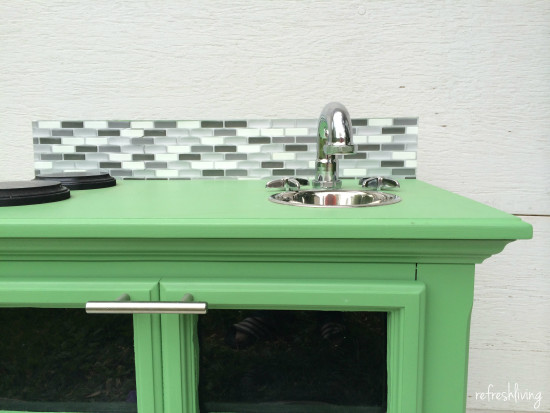 I gave the dresser two coats of DIY chalk paint.  Check out the best recipe I've found for mixing up my own chalk paint.  Of course, I chose a gender neutral color pallet.  Let's break those gender stereotypes that little boys can't have their own kitchen!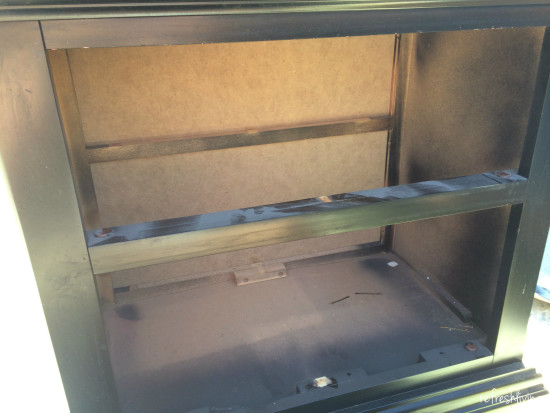 Then, I cut pieces of plywood to fit inside the frame.  The ledges inside the nightstand helped it to stay in place, and then a couple of air nails secured the shelves in place.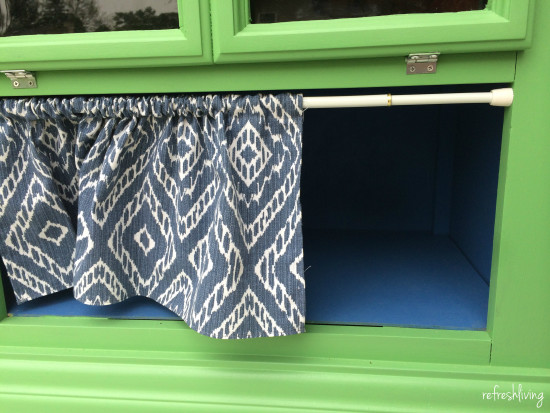 The top got a coat of black spray paint, and the bottom a cornflower blue spray paint.  The bottom shelf is perfect for baskets to hold play food and toys, but can be hidden by the curtain, held up by a little tension rod.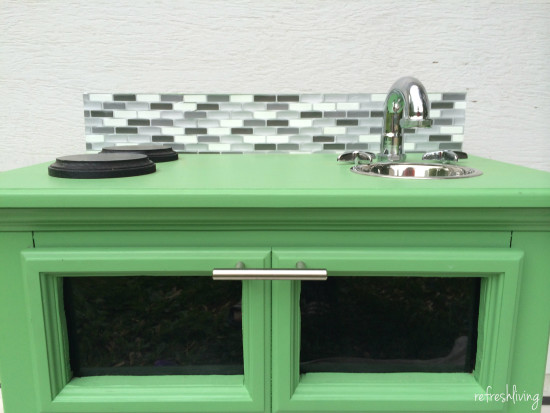 I used a jigsaw to cut out panels from one of the drawer fronts and a circle in the top for the sink.  To prevent the piece of acrylic plexiglass from splitting, I pre-drilled holes in the corners, and then screwed it to the back of the drawer front.  Hardware stores will cut down pieces of plexiglass to whatever dimensions you'd like, and they'll also re-cut the piece when you realize you gave them the wrong dimensions the first time…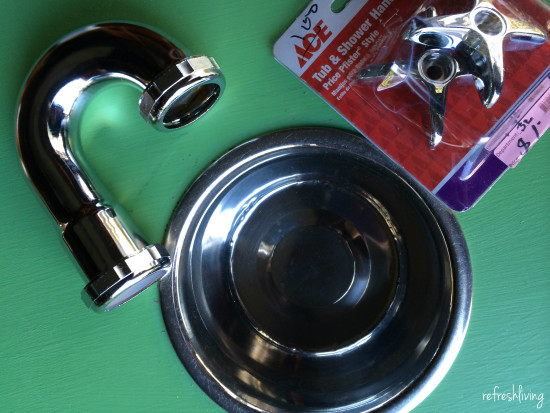 It's fun to get creative on the finishing touches.  I spray painted circular wooden discs from the craft store in black for the oven burners, used a dog bowl for the sink, and then found some sort of pipe thing at the ReStore for the faucet.  The faucet handles are actual replacement handles.  A hole drilled through the top, a bolt screw, and a nut keep the handles in place and allow them to spin.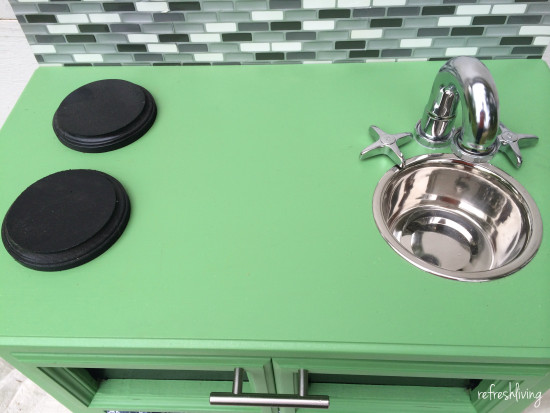 And I just realized, as I'm writing this post, that I forgot to add the oven knobs!!  I have two little decorative knobs that I planned to use as handles.  Hmmm, I guess I still have one more thing to do on this one.
The back panel is a piece of plywood that I nailed to the back, and then tiled with this sticker mosaic tile I found on clearance at Home Depot.  I love a good tile project, but let me tell you, this was much easier!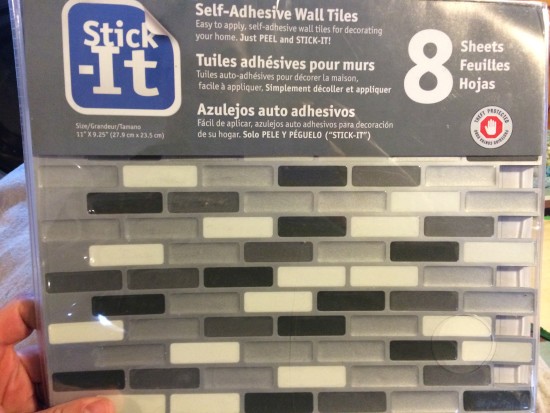 Total cost for this DIY nightstand?  $20!  It's sturdier and prettier than anything I could buy at the store, especially for $20.  Start searching those garage sales for cheap nightstands, folks!  Your kids want their own play kitchen!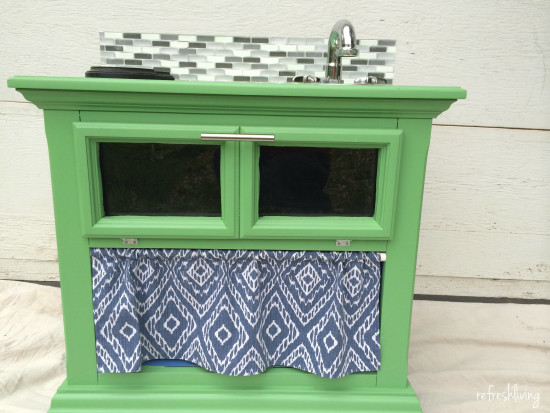 Like what you see?   I'd love for you to follow along!
Send us some love with a like on Facebook, check out inspiring projects on Pinterest, follow along on Bloglovin', or have posts delivered to your inbox once a week. [mc4wp_form]
Linking up with Saavy Southern Style and these awesome parties!
Join the Refresh Living DIY & Upcycling Community
Join the subscriber list to receive one to two emails per month with updates from the blog. PLUS, you'll gain access to my printables and graphics library. Every new design I create will be added here, and you'll have free access - forever!