With the goal of staying organized on a budget, I spent $2.00 to create this thread organizer for my craft table.  I know, I know, I can easily buy thread organizers for a few bucks more, but I'm all about using something I already have to create something new.  That's exactly why this old knife block is no longer holding knives, but thread!
I also had these wooden skewers that I bought on clearance a few months back.  They are a little thicker than BBQ skewers, I think they might actually be for caramel apples.  I reason I'm devoting so much time to explaining the thickness of these silly skewers is because I ended up needing to drill holes into the block to fit the skewers.  If you used thinner ones, which you can find at any grocery store or the dollar store, you probably wouldn't need to drill anything.
Anyway, I filled the slots with wood filler, and then drilled holes into the block.  A couple of drops of wood glue into the holes, and the skewers are tight and snug in those holes – they aren't going anywhere.
I gave the block a coat of spray paint and tested it out as soon as it dried.
In hindsight, I would have made the skewers stick out a little more, so then they could easily hold the thread and the coordinating bobbins.  They fit right now, but some just barely fit.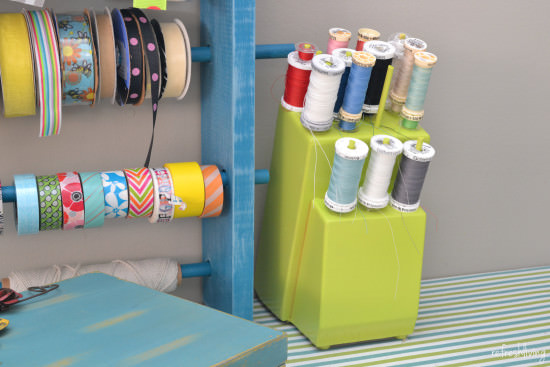 *Update – a reader suggested I put the bobbins on the bottom of the spools – why didn't I think of that??  It was a great idea, and now I've organized my thread using this tip.*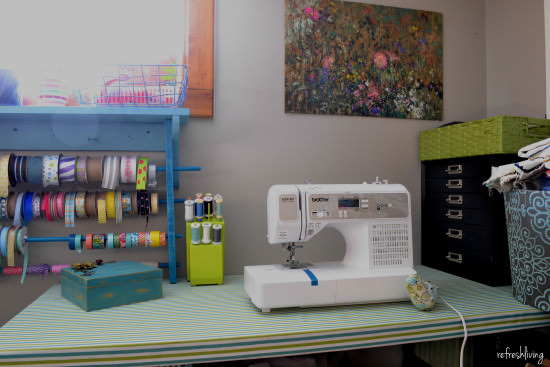 And just because I love my little sewing area, here's a shot of my corner of the basement.  I used fabric to cover an old door (yes, it's an obnoxious pattern, but the rest of this little basement is a playroom, so I picked colors to match).  My favorite part is the painting (painted on a piece of plywood) by my grandpa.  He was an artist, and I love sitting down to create and thinking about where all that creativity likely came from.  Thanks, Grandpa!!
Here are a few other upcycled creations you might enjoy:
Like what you see? I'd love for you to follow along!
Facebook || Pinterest || Instagram || Google + || Bloglovin'
Join the Refresh Living DIY & Upcycling Community
Join the subscriber list to receive one to two emails per month with updates from the blog. PLUS, you'll gain access to my printables and graphics library. Every new design I create will be added here, and you'll have free access - forever!