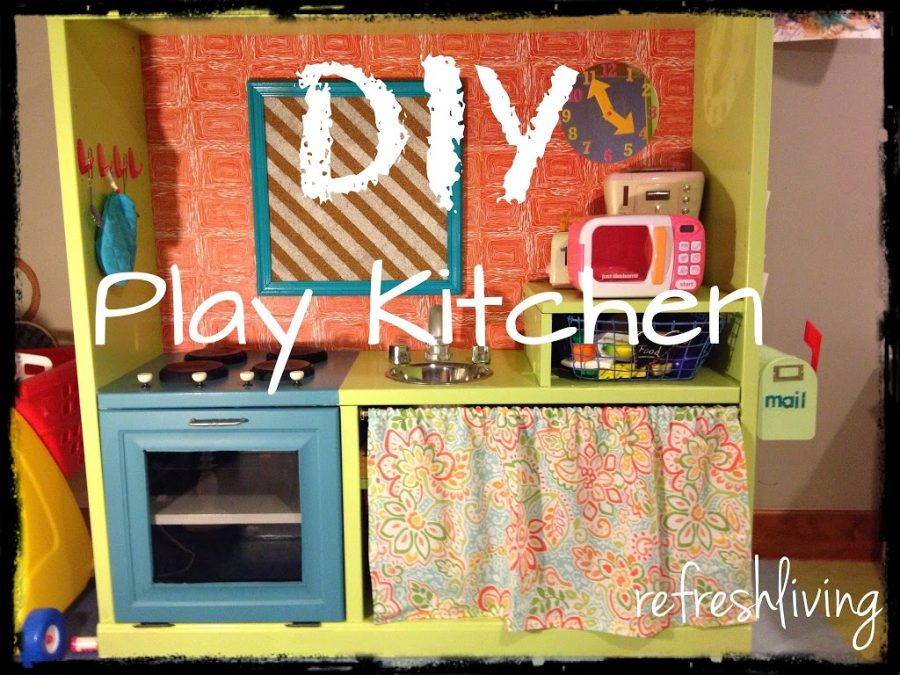 My daughter's 2nd birthday was approaching, and I'd been scoping out different play kitchen sets.  I had one that was on clearance in my cart, and something told me to put it back.  Boy, am I glad that I did!!  (I'm still a little ashamed I was going to buy one in the first place, now that I know what I am capable of making!)  Check out this beauty!
I stumbled upon a picture on Pinterest of a handmade play kitchen.  It was linked to an Etsy account, but the couple wasn't making them anymore.  I started searching a little more for DIY play kitchens, and found that people make them from old nightstands and media centers.  I knew I could do the same, I just needed to find the perfect piece of furniture for the job.
I set out to my local ReStore and found this media center.  It was a little more than I would have liked to pay ($30), but since it was freezing and snowing here in Chicagoland at the time, I knew I didn't stand much of a chance of finding anything better at a garage sale anytime soon.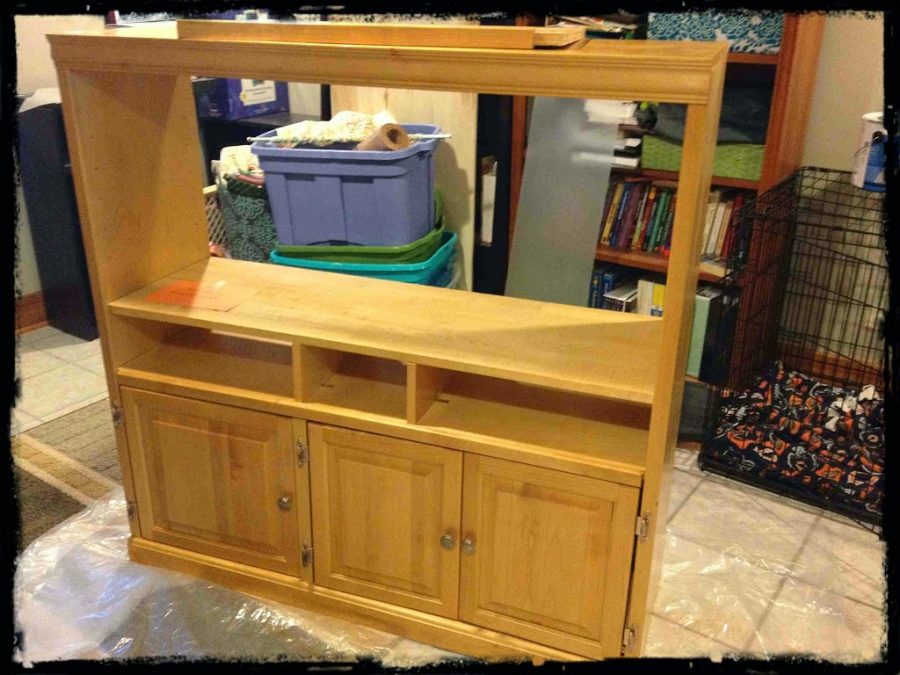 I didn't take many pictures during my deconstruction and reconstruction of the media center, but I figured all the adjustments I needed to make were specific to this piece of furniture.  Here's a rundown of how I transformed it into "kitchen-ready" shape.
I took off all the doors and used wood filler to fill in the holes

I removed the top shelf (which it looked like someone had made to add extra storage), cut a small part of it off, and reattached it to the right side.

The color scheme is based off of a piece of leftover fabric I had laying around. I used the fabric to make a curtain to cover the bottom, right side of the kitchen.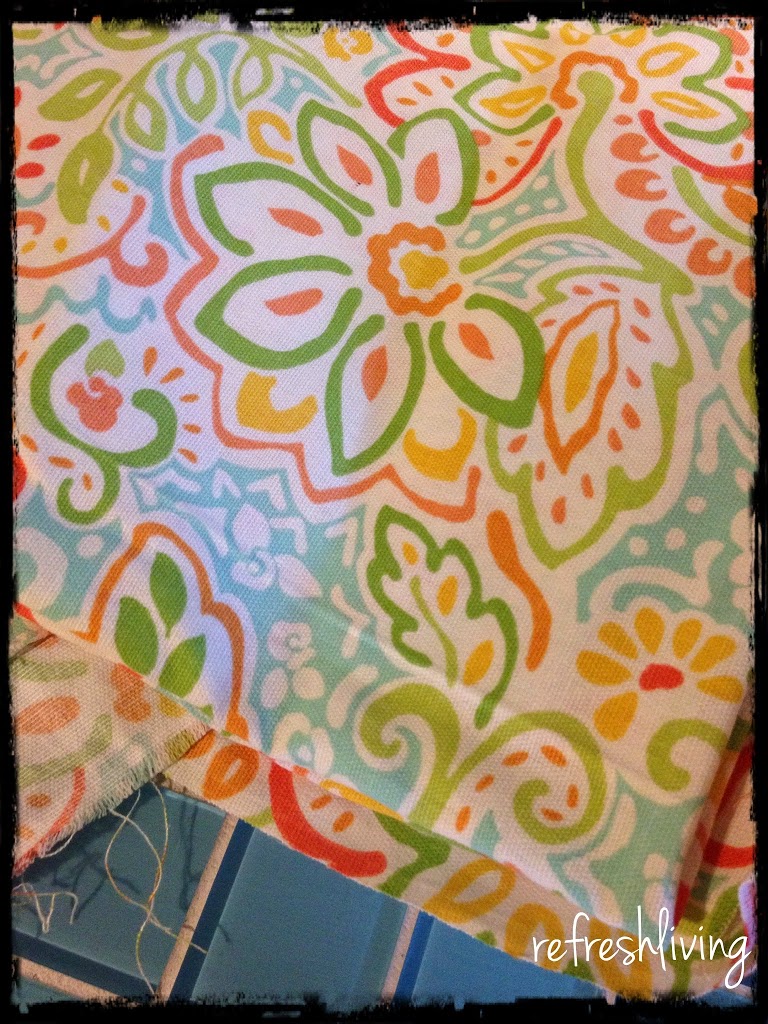 I painted the different parts in semi-gloss paint, all colors left over from other projects except the green.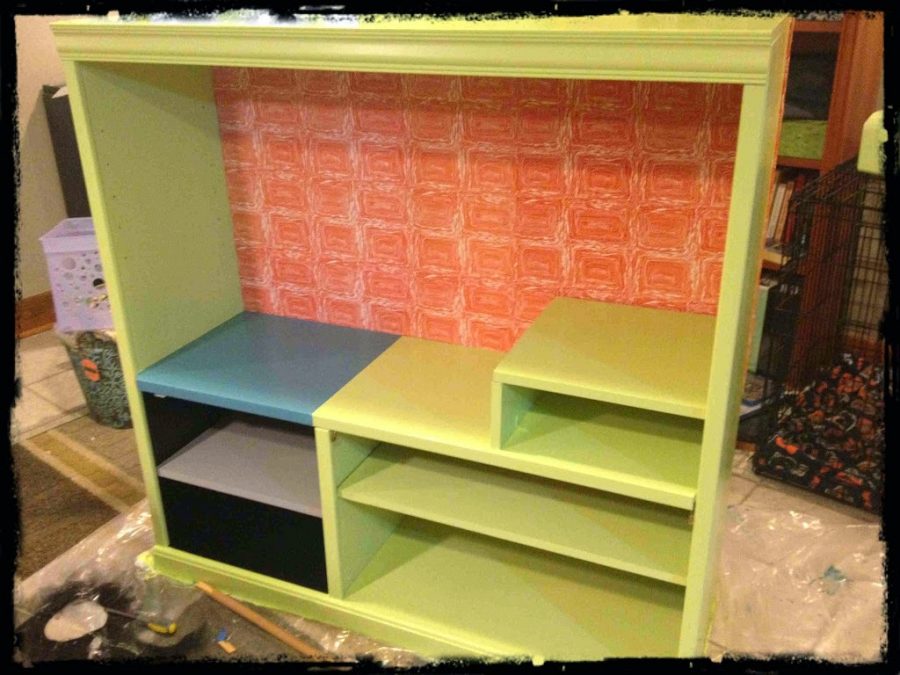 I used a jigsaw to cut a hole for the "sink" and an opening in the oven door.

For the back, I used 1/4″ plywood and cut it down to fit the back.

I used large paper from Payprus and Mod-Podged it to the back.  (Paper Source is also an awesome store for specialty paper.)

I added hinges to the bottom of the cabinet door (so it would open like an oven) and reattached it.

I also added a little touch puck light inside the oven.  (She needs to see what's cookin', right?)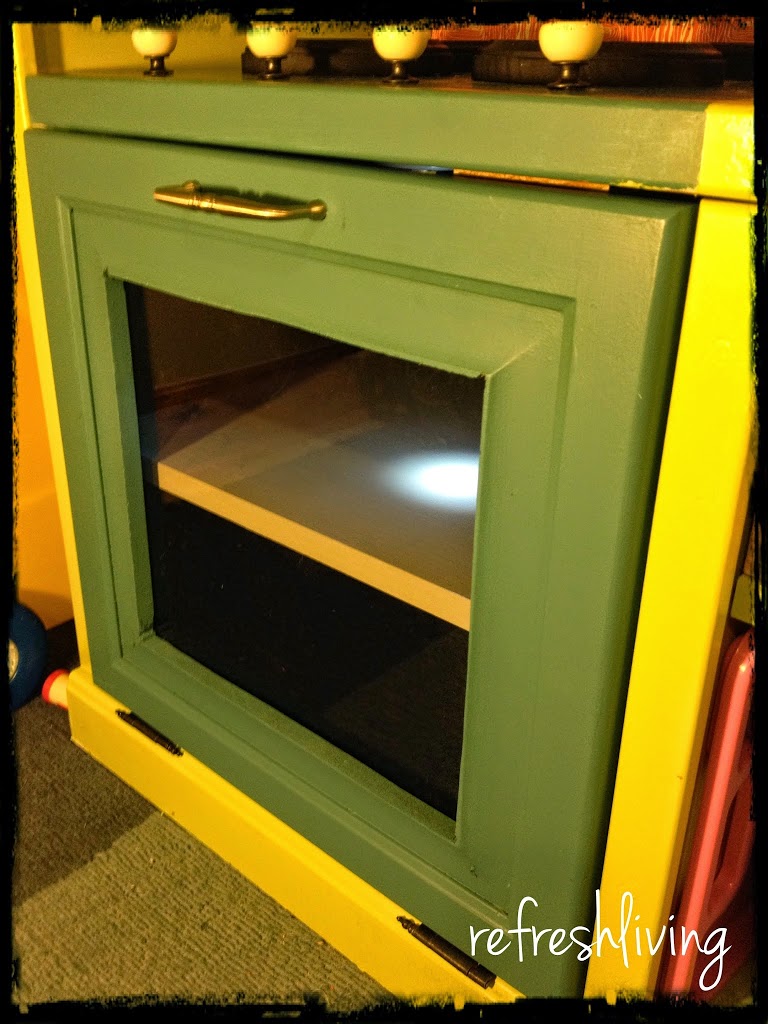 For the finishing touches, I got a little bit creative (I'm not going to buy a real faucet!):
The stove burners are made from wooden discs from the craft store (I've seen them at Hobby Lobby, Michaels, and JoAnn's).

The stove knobs were a set of drawer pulls on clearance at Target ($4!)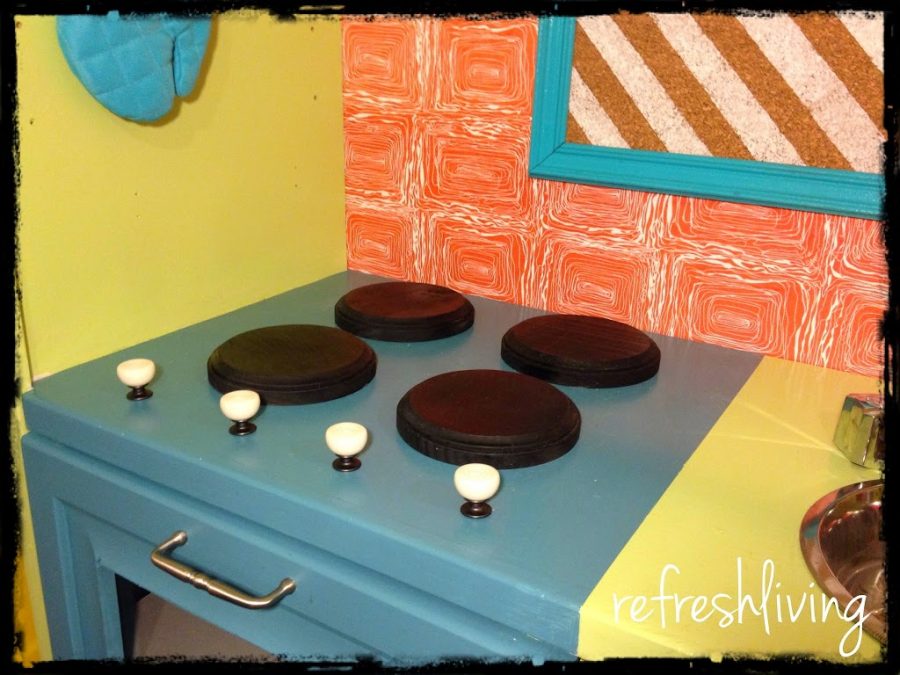 The sink is a dog bowl.

The faucet knobs are actual faucet knobs, but I found them at ReStore for only $1 for both.

The faucet is a spray painted PVC pipe kit (what the kit is actually for, I have no idea, but it was $3).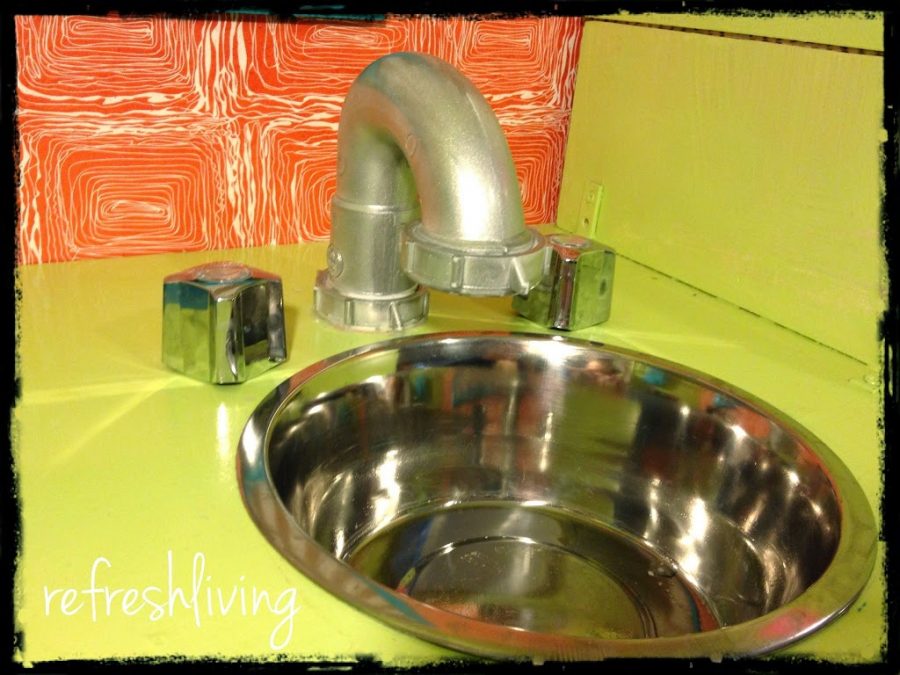 The "window" is really a DIY bulletin board.  I thought that it would be neat for my little girl to draw her own outdoor scenes, and change them up as often as she wanted!
Total cost for the whole project – about $70.  I know I could have bought a cheap plastic one for less, but it wouldn't have been as cool (and pretty) as this one, right?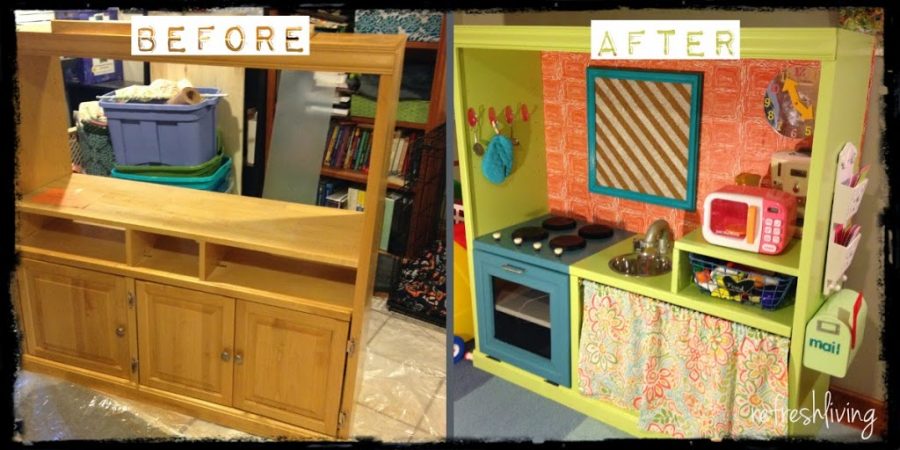 Join the Refresh Living DIY & Upcycling Community
Join the subscriber list to receive one to two emails per month with updates from the blog. PLUS, you'll gain access to my printables and graphics library. Every new design I create will be added here, and you'll have free access - forever!