Almost a year ago, I removed this boring light fixture from above our kitchen table and installed my antique egg crate light.  As soon as I took it down, I knew exactly what I planned to do with it, and although that plan didn't change over the course of this past year, it took me 6 months to actually get around to making it, and then another 5 months to actually post it.  (This post contains affiliate links, marked with an asterisk.  Read about our disclosure policy here.)
I've seen some phenomenal examples of these rope-wrapped light fixtures popping up.  Lauren from Bless'er House made a beautiful rope wrapped chandelier, and as soon as I saw it, I knew the vision I had in my head for mine wasn't even half as good as what hers looked like.  Now that mine is finally done, I'd agree it's not the fanciest one around, but I still love the nautical touch it adds to our little lake house cottage.
A new light fixture that cost nothing – that's the best part about it all.
First, I sanded the finish down with fine grit sandpaper.  It's always good to give a little something for spray paint to stick to, especially on metal, and since this fixture is up high, free from the grabbing hands of kids or the scratching claws of dogs, I really wasn't worried about it being beat up.  When I need to spray paint metal that is within reach of those two sets of terrors I just described (like doorknobs, heating grates, hardware) I usually use my palm sander to really scuff it up, without gouging it up.
Two coats of white spray paint quickly changed the finish and then it was time to wrap.  I actually found a huge roll of this type of Sisal Twine* left in my grandpa's extremely large stash of stuff at the cottage.  It can be used for a whole host of things, but I'm sure he used it for gardening and tying back plants and such.
I added a dab of hot glue to the bottom base of one of the arms, and then tightly wrapped, and wrapped, and wrapped, adding hot glue every inch or so.  I tied each string off at the top, and then hung her up!
Because I used sisal twine (remember, it was free), you can see the hairs coming off of it.  If you like a less-scraggly look, opt for Jute Twine
* instead.  I think I would have preferred the look of jute for this, but free is free.
Just so you can see how things are coming along for us, here's what this room looked like before: (Yes, this picture was taken 20+ years ago, but I promise it looked the exact same 5 years ago.  I, on the other hand, look slightly different.)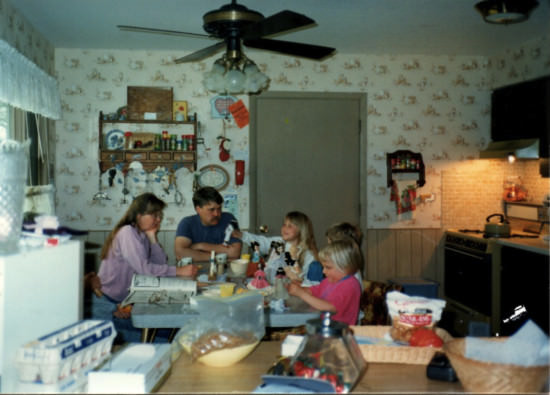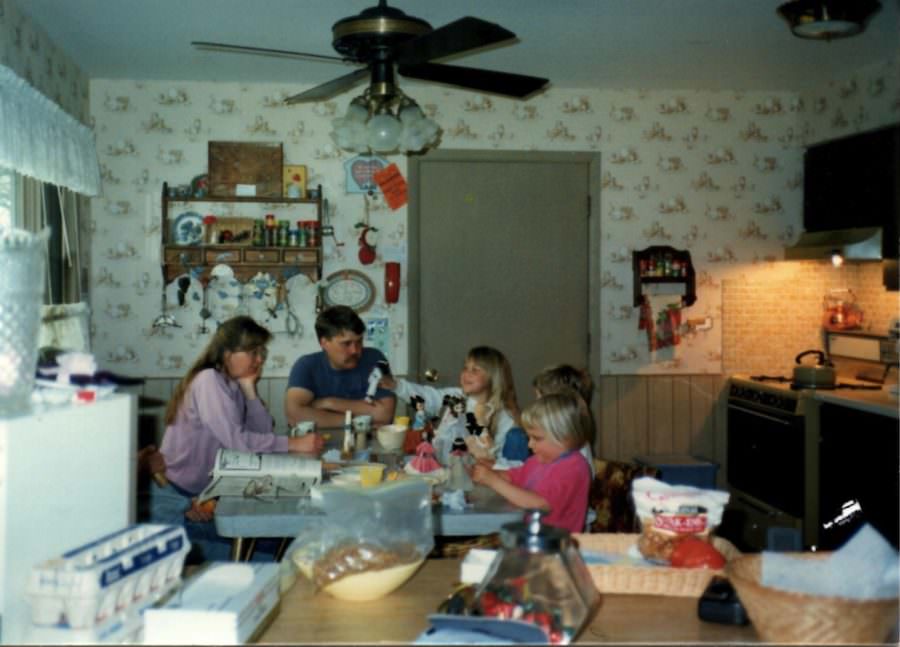 Here's the "we've made a little bit of progress":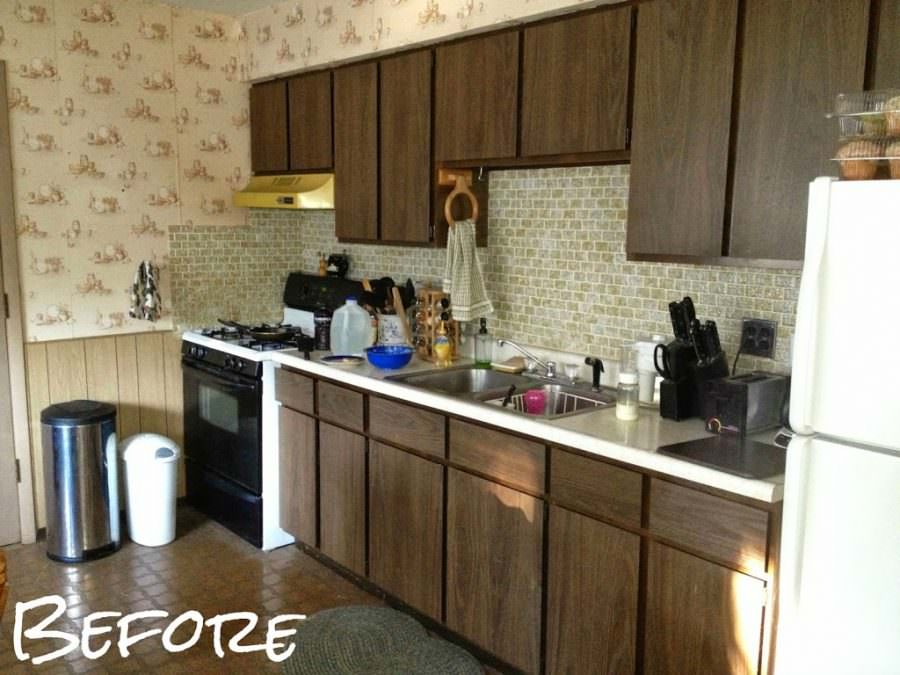 And here's where we stand right now:
Ignore the dog in the window and the disgusting hand and nose smudge marks, please.
I have plans to create a custom counter top on the far wall with rustic open shelving above it.  After that's done, I'm going to call the kitchen DONE!! (At least for the foreseeable future…until I dream up another crazy project.  Oh wait, that temporary boob light needs to go, too.)
Head on over to check out all my other cottage projects here – with a whole lot more currently in the works.  We are nearing the final leg of this race…I think!
Join the Refresh Living DIY & Upcycling Community
Join the subscriber list to receive one to two emails per month with updates from the blog. PLUS, you'll gain access to my printables and graphics library. Every new design I create will be added here, and you'll have free access - forever!