Week one of an 8 week room makeover for a young girl. Dark, modern wainscoting, a lofted bed, and colorful floral stencil will be brought into this space.
Welcome to my oldest daughter's (soon to be) bedroom. Right now, it's a shared space with two of her sisters, and things are cramped, to say the least. We're converting our attic into a bedroom, where the younger two sisters will be moving, and our oldest will have this room to herself. She enjoys sleeping in, and the other two certainly don't, so this switch seemed the most logical.
For the next 8 weeks, I'll be updating this room as part of the One Room Challenge. Each week, I'll post an update on the progress or a DIY tutorial on a project in the room.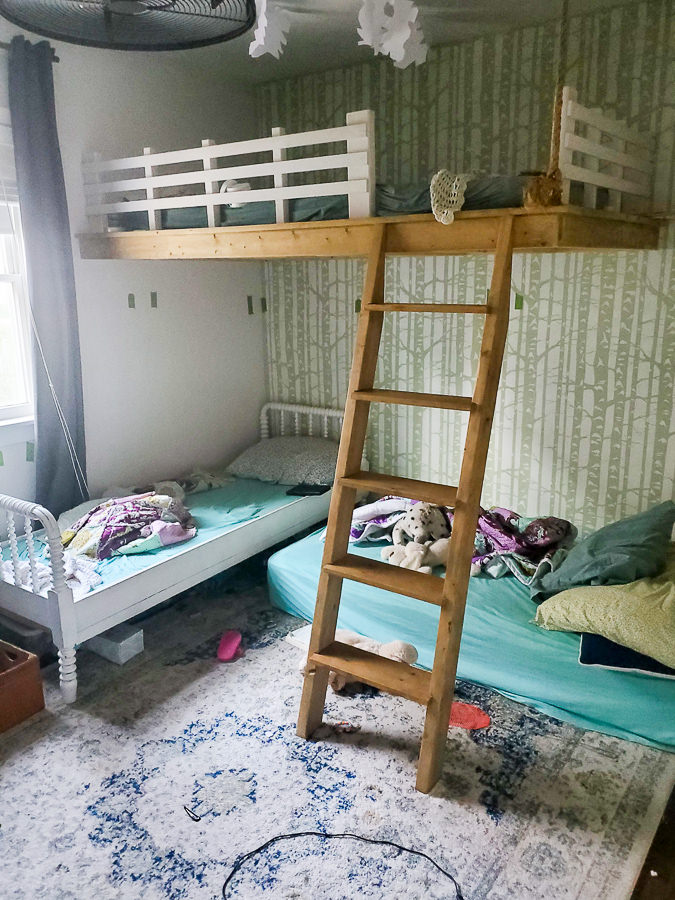 Here's how the space looks right now. Three beds in a 11′ x 10′ room is cozy. One dresser for three girls' clothes is tight. One small closet for everything else is overflowing. This room feels like it's busting at the seems, and I can't wait to give it a little makeover and free up some space!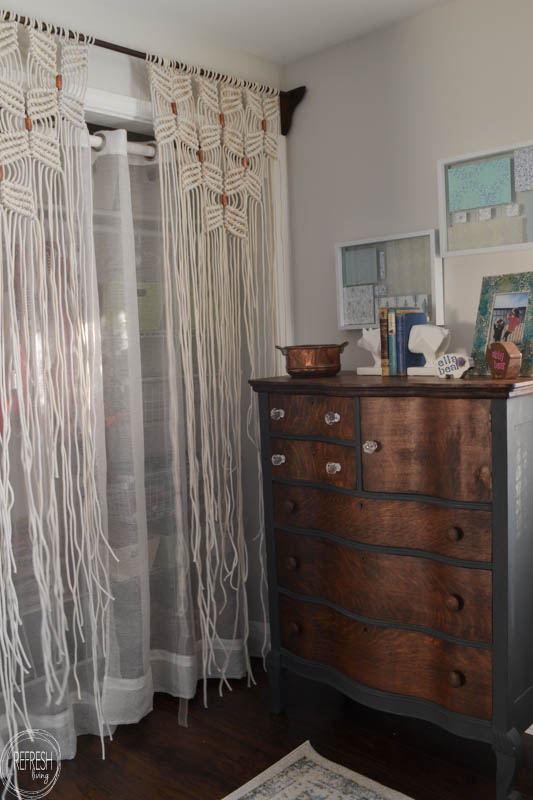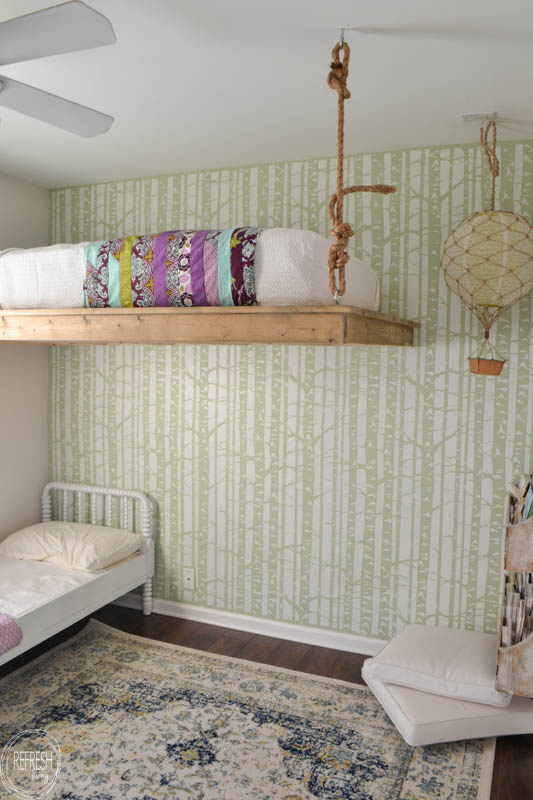 I actually gave this room a makeover several years ago during the One Room Challenge (you can see the room here) when my oldest two moved into the room together. You can see that I didn't quite finish the room (how are they supposed to get up to that bed?!), but have since built the ladder and rails.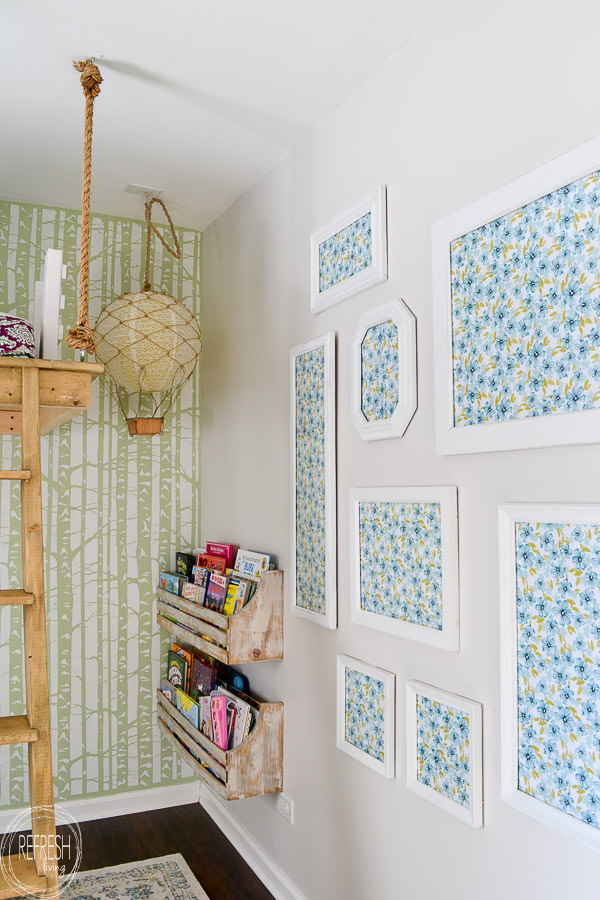 The lofted bed is definitely staying. It frees up so much space in this small room, and I put a little too much DIY power into building it that I'm not ready to part with it any time soon! Other than that, most of the other parts of the room will be going.
Plan for the Space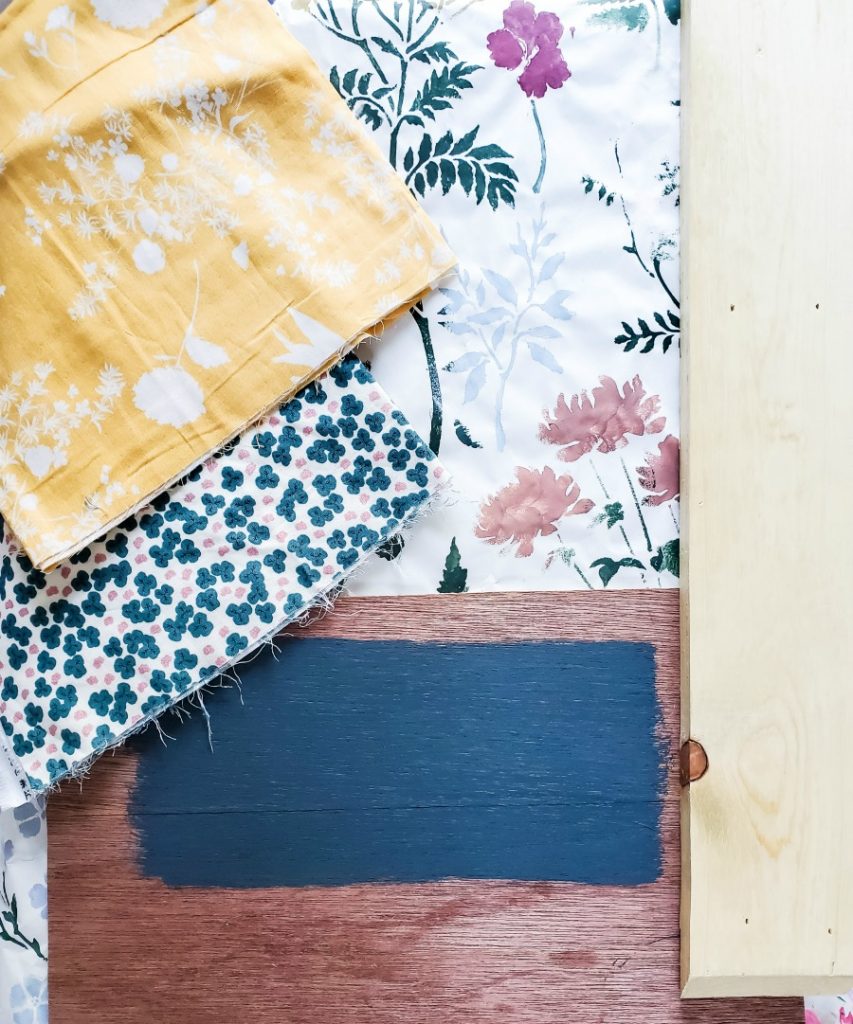 Walls
The walls will be getting a modern (faux) wainscotting in a dark green, blue color. The top rail will be wood rather than painted, to tie the lofted bed into the space.
Above the wainscoting, we'll be stenciling a colorful floral pattern. I have a feeling this might take me the entire 8 weeks! The picture frames with decorative paper will be leaving the room, but of course, I plan to keep most of the frames to use on future projects.
Furniture
The antique serpentine dresser is staying, but I'm painting over the gray blue with a totally different color!
I also found a vintage desk on Facebook Marketplace that I'll be making over to bring into the room. I'll probably bring one of the original bookshelves I built back into the room, because my daughter LOVES to read.
Those are the big plans for the space! I'm also working on the attic space so we can actually have a place for my other two daughters to sleep once this room is finished. Depending on how that goes, I may be posting about that along the way too.
For now, head on over to One Room Challenge to see the other rooms that the guest participants will be making over.
Join the Refresh Living DIY & Upcycling Community
Join the subscriber list to receive one to two emails per month with updates from the blog. PLUS, you'll gain access to my printables and graphics library. Every new design I create will be added here, and you'll have free access - forever!