With two little girls and a house that's on the small side, I need to be creative with my organization and storage.  I've found that making kids' toys look nice is tough to do, so I created this toy storage area for my girls from a cheap, old buffet that I also don't mind looking at every time I walk by.
I picked up this buffet from our local furniture resale store, Jubilee Furniture.  I love, love, love this place, mainly because all the proceeds go to Christian ministries in our community.  Not only do I get to pick up furniture for a bargain, but I know that the money is going to help God's kingdom.  Love it!  If you live in the Chicagoland area, you should most definitely check it out.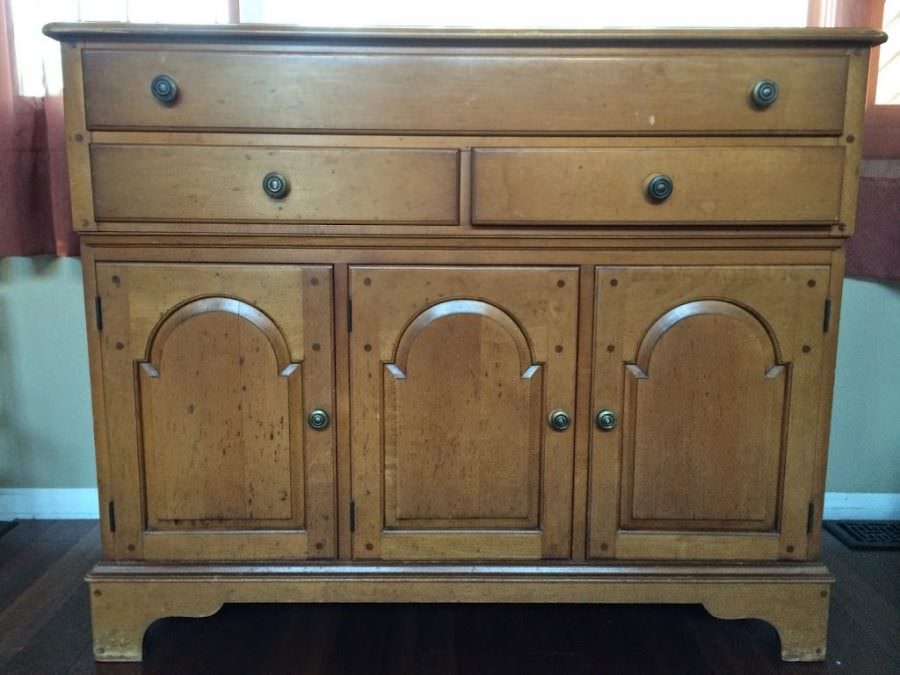 Anyway, back to business.  This was a buffet, and now it's a place to store all of our toys, hats, gloves, library books – pretty much a catch-all for all the stuff we don't currently have a place for.
The doors just weren't working for me, so I removed then, filled in the holes with wood filler, and sanded her down.  I could tell that with the stains on this piece, there was going to be bleed through, so I used my favorite type of primer, clear shellac
, before using any paint.  Here's everything you might want to know about prepping furniture before painting.
I knew I wanted to use Miss Mustard Seed milk paint for this one, but because I was using Ironstone, the whitest and lightest paint in the line, I knew using a slightly darker color as a base would help alleviate the need for 7 (and I'm only exaggerating a little) coats of paint.  I mixed up a batch of homemade chalk paint made from leftover paint samples (mainly because I can't stand to use the amazing MMS milk paint as a base coat that no one will ever see – oh, and a DIY mix is a lot cheaper, too!) and applied one coat to the buffet, both inside and outside.
After it dried (and about 6 days later, because, sadly, there's no time for painting during the week), I used three coats of Miss Mustard Seed Milk Paint in Ironstone
for the outside.  Then, the inside got a coat of a custom color made from MMS Milk Paint in 3 parts Eulalie's Sky
and 1 part Kitchen Scale
.  I LOVE this color!!  I'll be mixing up some more of it in the future, that's for sure.
I lightly distressed the edges and finished her off with a coat of Finishing Wax
.  Although I have some antique glass knobs, I'm holding onto those for an actual antique piece of furniture.  (Ok, let me digress quickly.  I picked up an antique washstand from the same store about a month ago.  I had been eyeing it for the past 2 months.  After it went on sale for 25% off, I couldn't resist.  It's gorgeous, but it has already been painted.  So, I'm left with the dilemma, do I strip the paint and restore it, or refresh it with a nice coat of paint?  In any case, I'm saving my antique glass knobs for that piece.)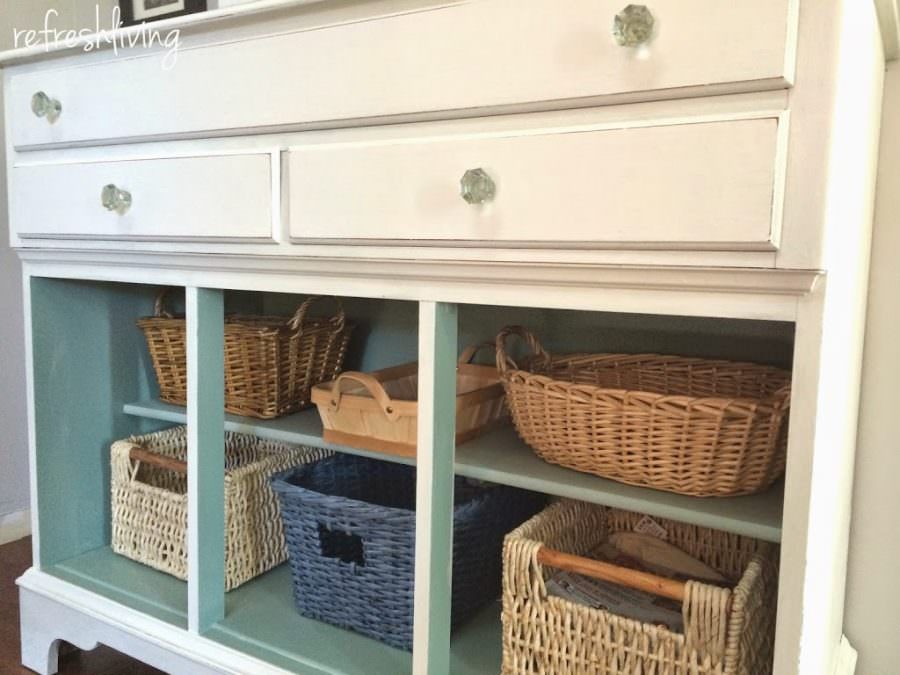 I picked up these glass knobs from Hobby Lobby.  The baskets on the bottom are from Hobby Lobby as well, and the uppers are just random finds from different thrift stores.  I used to get nervous if everything didn't match, but these days, I've starting to like the eclectic feel.  Plus, we all know that with storing toys, this piece isn't going to stay tidy for long…
Someone already seems pretty happy that there will soon be toys filling these baskets!
I added some fun hooks to the side of this piece.  What a view, huh?  Check it out
here
.
You can find all of my furniture refinishing projects here, along with all my tips and tricks for painting furniture.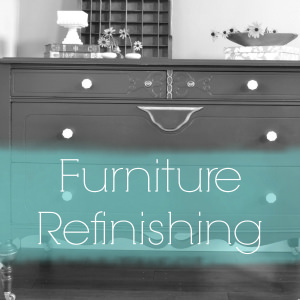 Join the Refresh Living DIY & Upcycling Community
Join the subscriber list to receive one to two emails per month with updates from the blog. PLUS, you'll gain access to my printables and graphics library. Every new design I create will be added here, and you'll have free access - forever!