Welcome to our dining room.  Actually, it's really just an eat-in kitchen area that just barely fits a table and six chairs.  It's where we eat together as a family, because there isn't another spot in the house where we could fit a table and chairs, and therefore, I call it our dining room.
I feel as if the $100 Room Challenge was practically designed for me; it gives me the kick in the pants I need to actually finish a space AND it only allows me to spend $100 to makeover the space.  Perfect.  Thanks so much to Erin from Lemons, Lavender, and Laundry for hosting this challenge!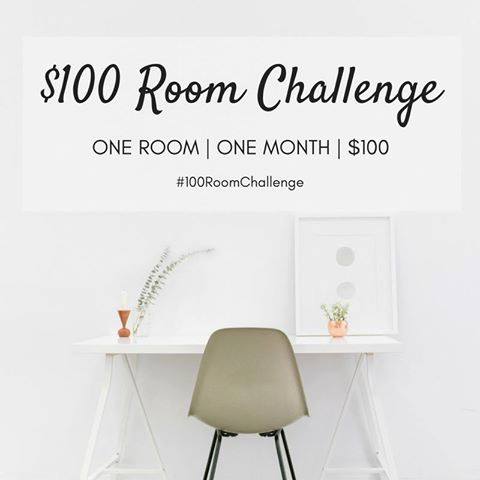 Alright, let's take a look around.
Before: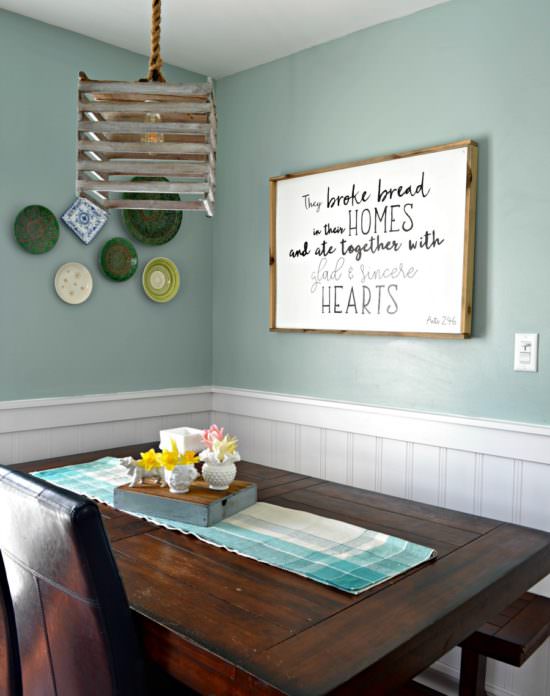 Let me remind you where this room started.  I had already made a large sign for the space, and started hanging plates on the wall.  I made a light fixture from an old egg crate and installed wainscotting and all the trim. But then I stopped, and the room sat unfinished for years.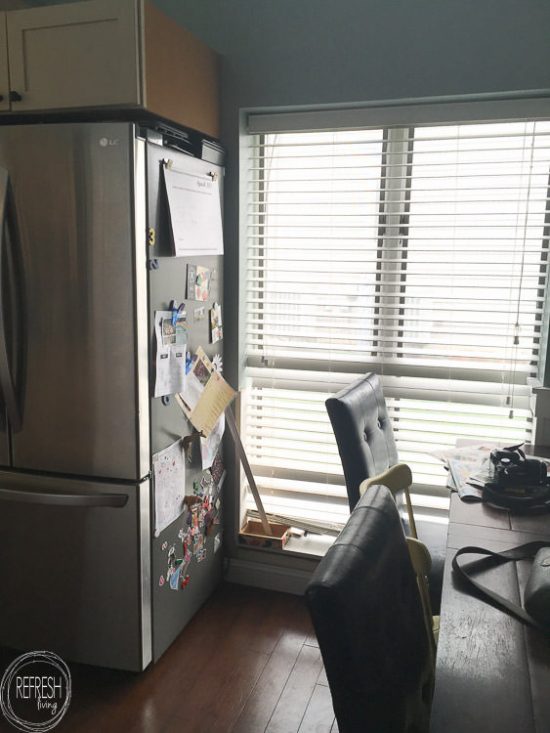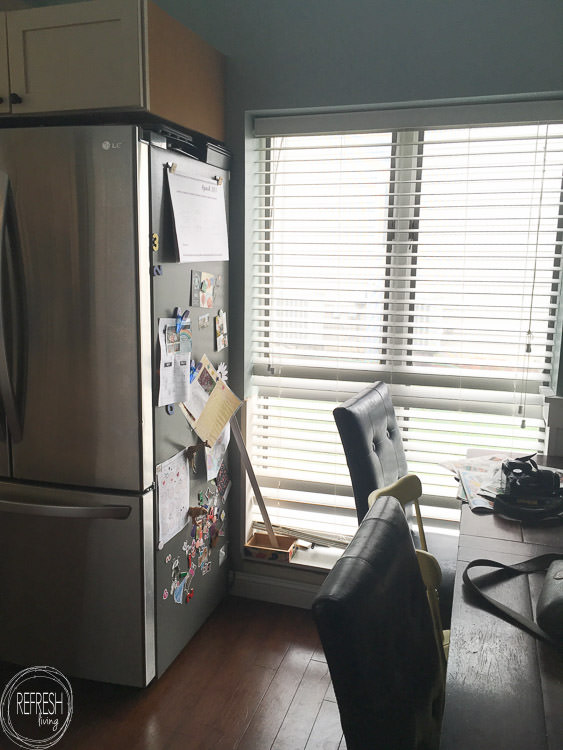 Especially this corner of the room.  I spy at least 5 projects left unfinished. I know I am not alone in the haphazard conglomerate of fridge papers, magnets, and who knows what else piled on the side of my fridge.  Wait until you see how it looks now.
After: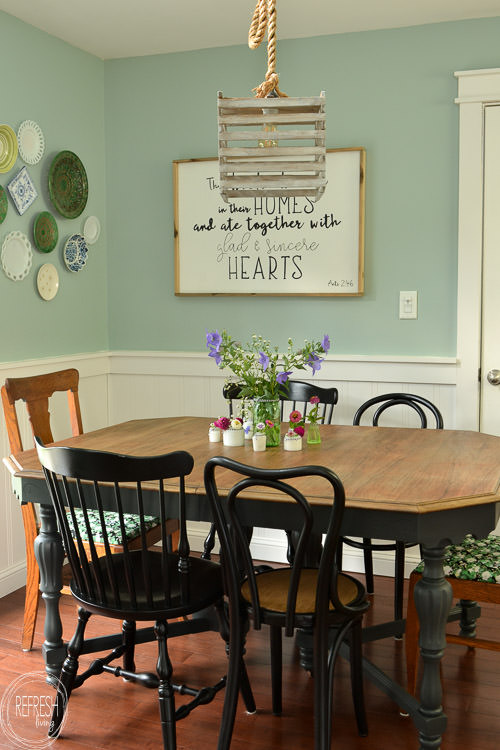 Eeeek.  I'm so excited about this room.  It was already my favorite room in the house because I love our family meals together here, and truly it would be my favorite no matter what it looked like.  But now that I've put in a ton of time, creativity, and love into this space, it's extra special.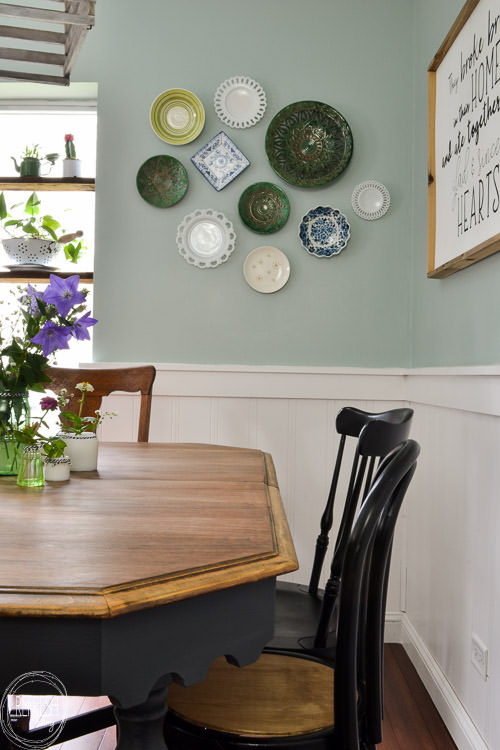 I found a couple more milk glass plates at an estate sale last weekend and added them to my gallery wall.  Those green plates were from a handmade market in Spain where I studied abroad.  I've always loved green and always had them displayed, but now I feel as if I've finally found a way to make it work in this space.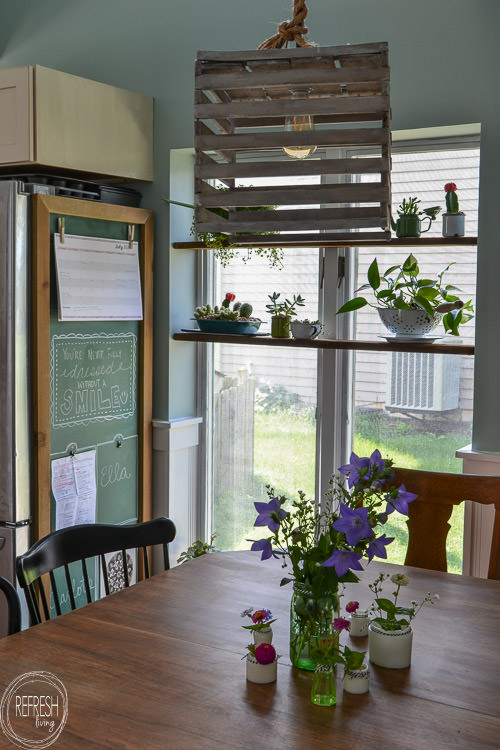 I brought in green by painting the side of my fridge with vintage green chalkboard paint (the same paint I used on an entire wall in my daughter's vintage schoolroom nursery), in the fabric on the chairs, and the natural green of the plants in the window.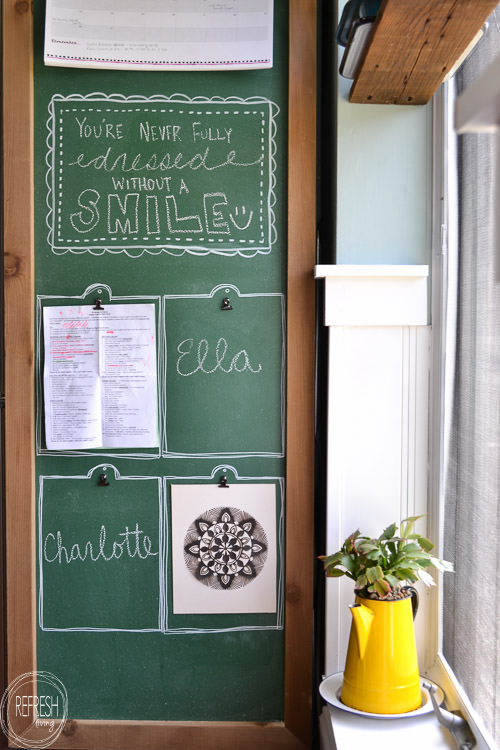 I really didn't mind the side of my fridge before, as having areas in my house that are disorganized doesn't really bother me, but I clearly didn't know what I was missing.  Now it's organized and beautiful, and there is still a place for each of the kids' artwork and papers.  Ahhhh.  Is this the zen feeling that accompanies an organized life?!
You can read all about how I transformed our boring side of the fridge into a framed command center!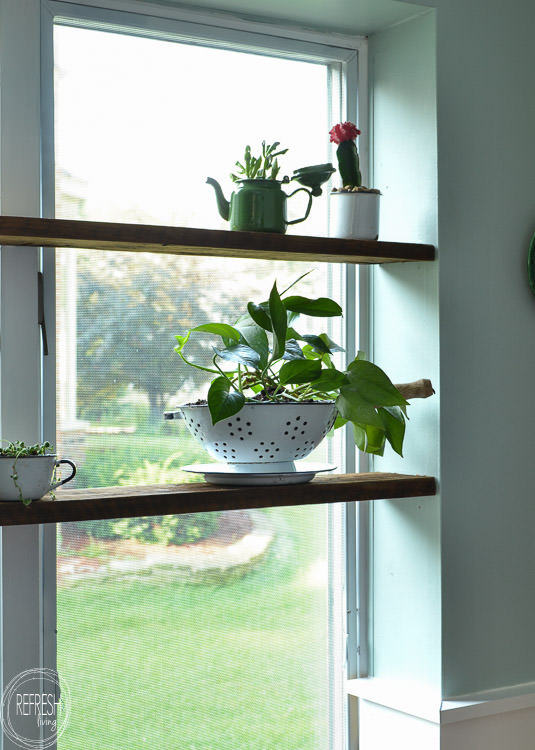 I'm definitely drawn to vintage enamelware, and I always pick up pieces that I love, without knowing exactly what I'll use them for.  All of these plants have been planted in enamelware that I've picked up over the past few years.  I never pay more than $5 for a dish, so these are plant containers on a budget!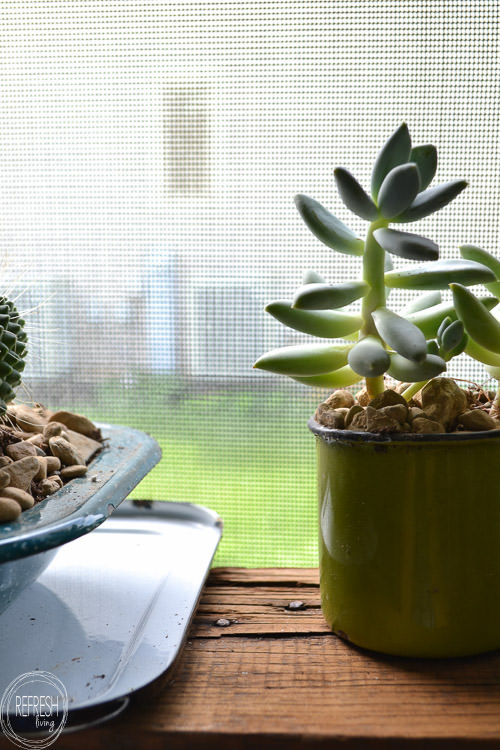 I've figured out how to help plants survive in containers without drainage holes.  I planted all of these plants with this method.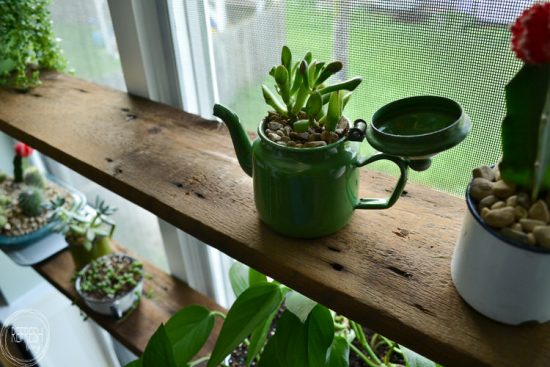 I used some old barn wood to make these floating shelves.  I'll have a tutorial on this soon, too.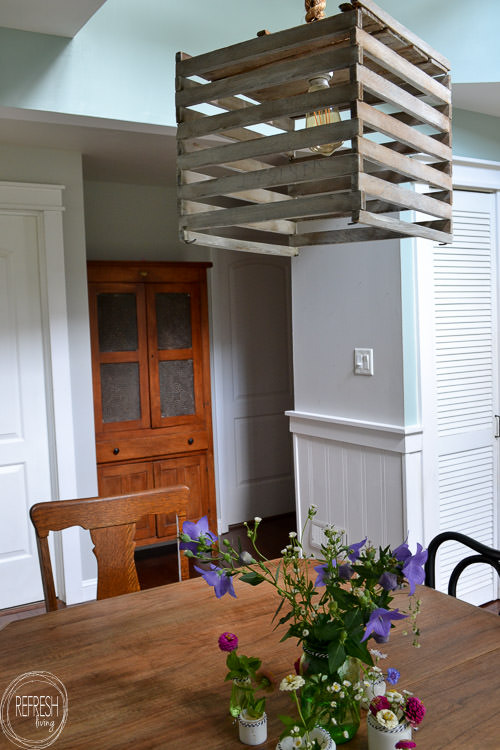 There is nothing special about this view, except my favorite piece of furniture ever!  I found this antique pie safe at an estate sale 4 years ago.  The color of the wood actually matches the quartersawn oak chairs that I brought into the room.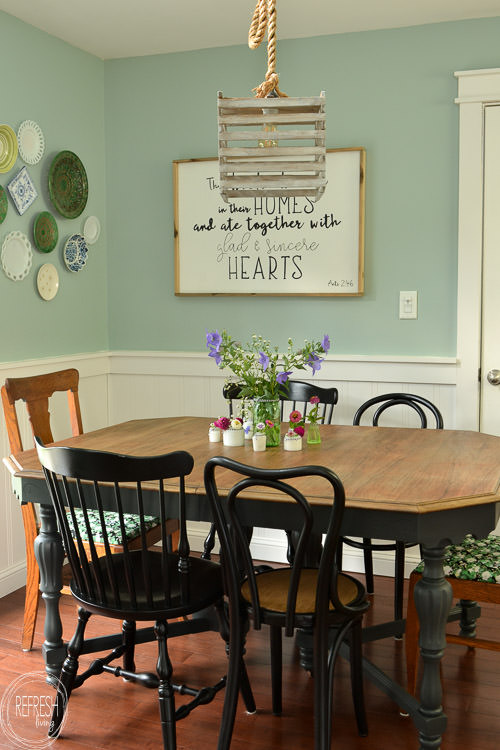 Speaking of chairs, each of these chairs cost $5.  In fact, I rarely pay more than $5 for a chair.  I've had to pass up a few beauties in the past because of the price, but I promise if you hold out, you will find gorgeous chairs for a steal of a deal.  The larger black chairs were  in the room before, they were just yellow.  I spray painted them in black, along with the small vintage chairs.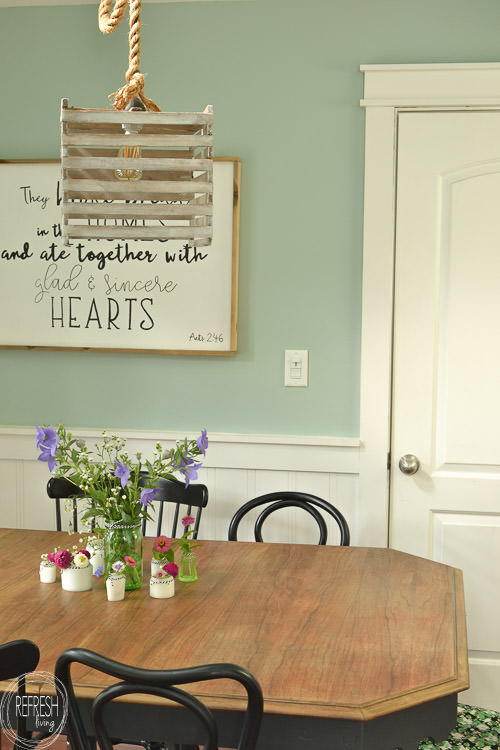 Since I used up my entire budget for this room, I had to get creative with the centerpiece. We found these old milk glass beauty product jars buried in our backyard.  A house used to sit on the back plot of our land, and apparently someone just buried a bunch of the glass jars at one point or another.  Most of what we find is in pieces, but we've unearthed a few whole bottles!  The flowers all came from my mom's backyard.  $0 decorating at it's finest.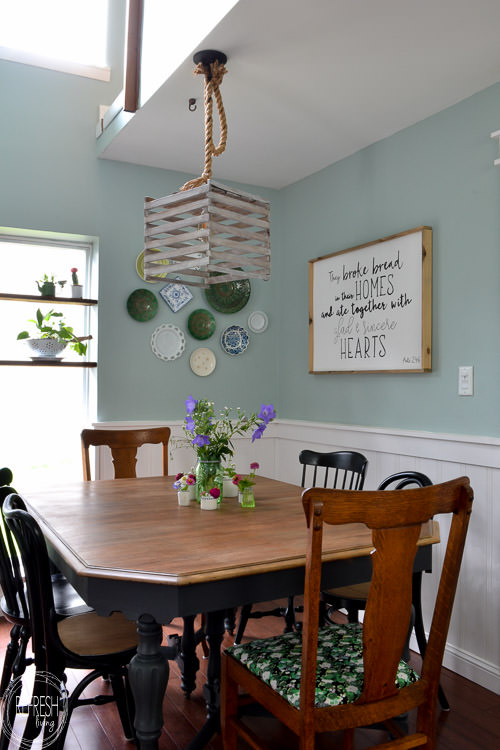 And although it's a pain in the butt to paint, and there are still some unfinished projects up above, you can't beat that vaulted nook with light natural light streaming in!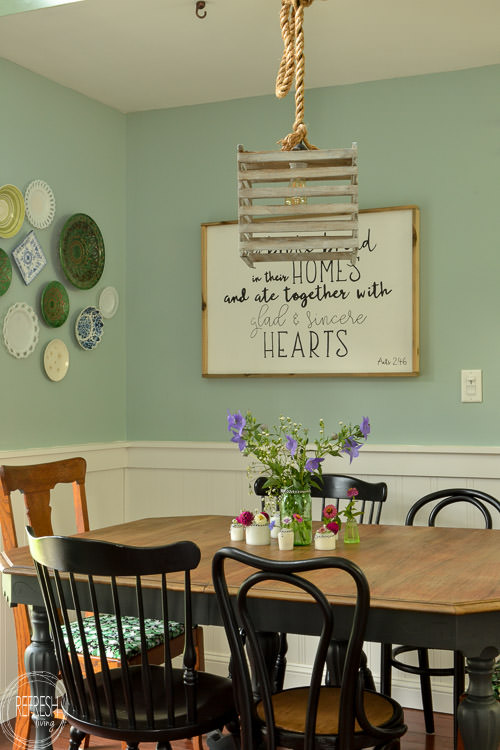 All of the work I've put into this house over the past 5 years is finally paying off as I finish these rooms.  Sometimes I turn on the light before bed just to take another peek at this space.
$100 Budget Breakdown:
$37 – dining table (originally purchased as a set for $72, but then I sold the 5 chairs for $35)
$15 – 3 chairs (two oak chairs and one small thonet style chair – the other thonet chair was holding a plant in my yard, and the two larger wood chairs were already in our dining room)
$16 – supplies for refinishing (wood bleach & spray paint – everything else I already had)
$8 – fabric for chairs
$10 – barn wood (for shelves) and cedar wood (frame around fridge) – purchased from an estate sale
$8 – extra plants (all the rest I already had growing in a tiny windowsill in my kitchen)
$6 – two milk glass plates
$0 – leftover chalkboard paint, glass jars, flowers, stash of vintage enamelware
TOTAL COST – $100
I still can't believe I brought in a "new" dining set within an $100 budget.  It goes to show that you can create a beautiful space on a budget, it just will take a lot longer to acquire everything you need for the space.
Love it? Pin it! (Thank you.)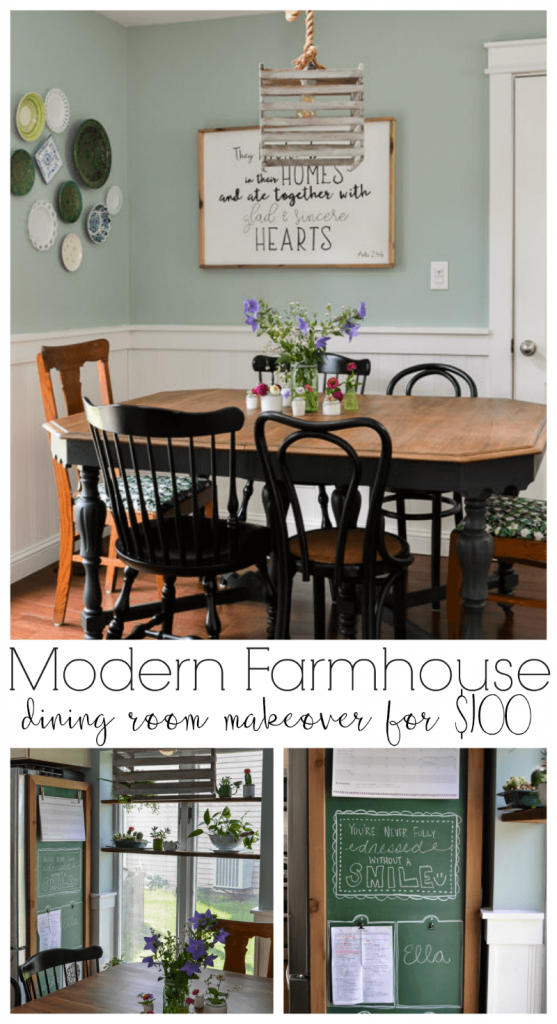 And if that wasn't fun enough, there are a ton of other amazing $100 room makeovers you can check out.  I can't wait to see them all and learn even more budget-friendly decorating ideas!

Like what you see? I'd love for you to follow along!

Join the Refresh Living DIY & Upcycling Community
Join the subscriber list to receive one to two emails per month with updates from the blog. PLUS, you'll gain access to my printables and graphics library. Every new design I create will be added here, and you'll have free access - forever!