When I heard the name, The Fab Furniture Flippin' Contest, I didn't need to even read about what it was before I signed up to participate.  Of course, once I did read about the monthly themed furniture flipping projects using a featured product, I was even more convinced I needed to participate.

Here I am – this brings me to my project for this month.  Meet my antique herringbone cabinet!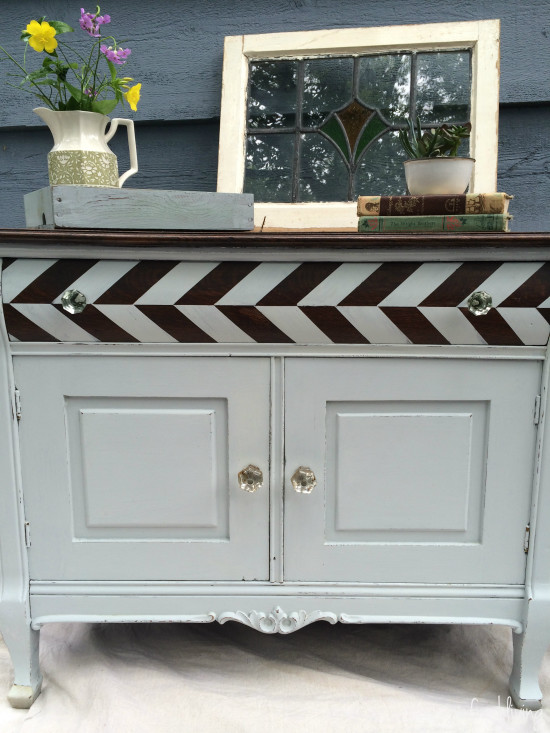 This month, the challenge was to use Old Fashioned Milk Paint to create a shabby chic storage item.  Well, any type of dresser, cabinet, or buffet is perfect for storage, so I knew I had free range of the pieces sitting my garage to choose from.
I had a piece all lined up for this makeover, but it's actually still sitting my garage.  After visiting and estate sale two weeks ago, this dresser quickly became the front runner for this contest.  Here's how she looked before.  The top had definitely seen better days.
I am a big fan of milk paint, so this piece felt very much in my comfort zone, until I decided to paint a herringbone pattern on the drawer.  I've never attempted this before, so it gave me a little bit of a new challenge.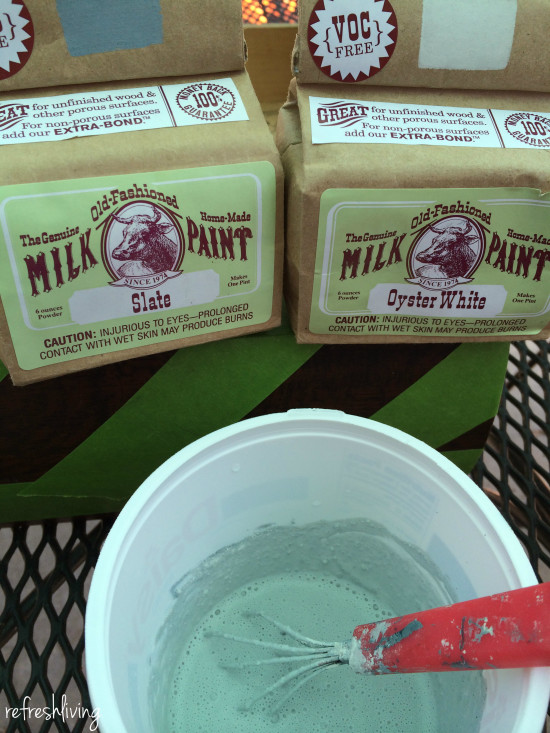 I combined five parts Oyster White with one part Slate. The end result is a tad bit whiter that I originally envisioned (see how the color in the cup was a bit deceiving?) but I still like the slight blue-gray tone.  I also added Extra Bond because I didn't want it to chip.  There were some parts of the finish that just weren't that appealing, and I didn't want those to show through.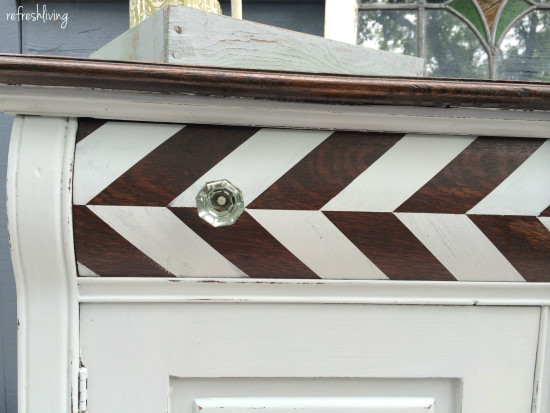 I have some tips for painting perfectly clean lines on furniture, but for now, look at that drawer.  Having never done this pattern before, I am pleased with how it turned out.  For awhile, that drawer was my favorite part of this piece.  (Those top handles are not original to the piece, they are from Hobby Lobby.  In fact, I had to use a credit card to get the drawer open at the estate sale to check out the inside.)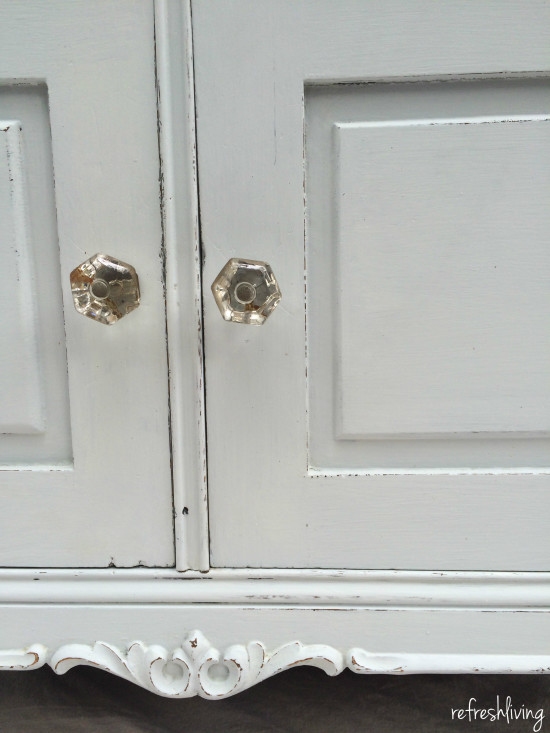 The bottom knobs are original, which then made me think that that was my favorite part of this cabinet.  I love a nice pair of original glass knobs.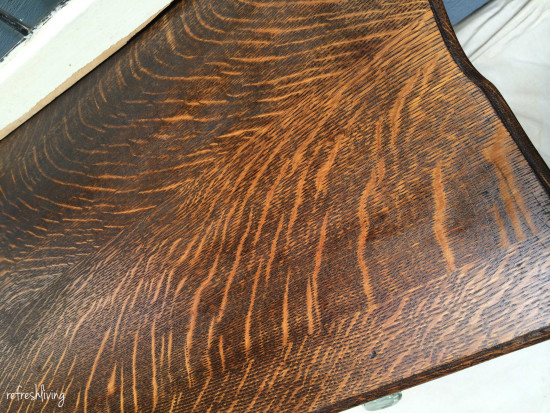 Yes, but then I finished the top of the dresser.  I sanded it down, a lot, and then used a dark stain and tung oil to finish it off.  Look at the wood grain on the top.  Ahh, I love it.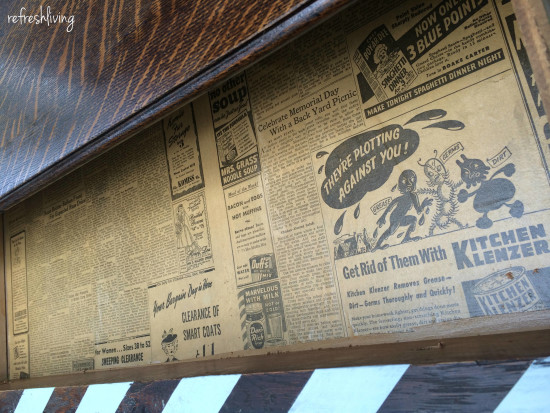 However, I think the best part of this whole piece of furniture is not actually a part of the furniture.  When I got the dresser home, I found that someone had lined the top drawer with an old newspaper.  The Chicago Daily News from June 24, 1944.  News headlines about the war.  There was not a chance I was going to throw that away.  I used Mod Podge to stick it right to the bottom of the drawer.  Although this dresser was definitely made before 1944, it's so neat to think that that newspaper has been lining that drawer for over 60 years.  Now, it'll stay in its place – a tiny piece of history preserved.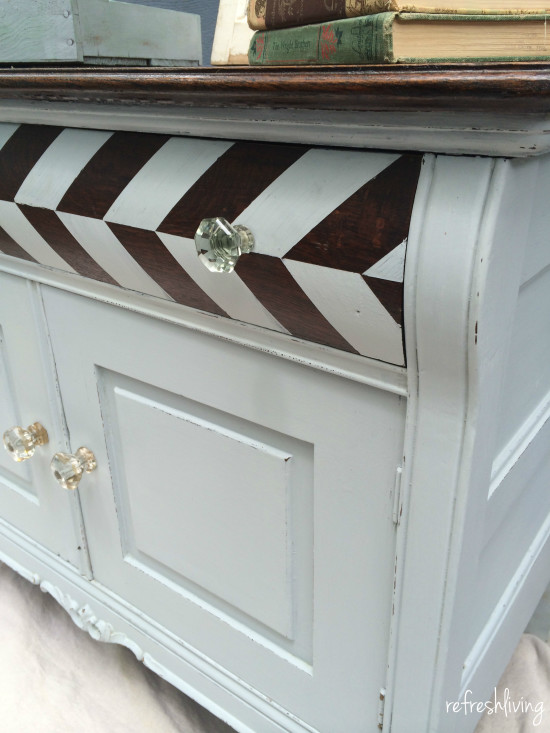 I sanded the whole piece down and slightly distressed the edges and detailing on the bottom.  I think this gives it a Shabby Chic look (minus that herringbone pattern staring you right in the face).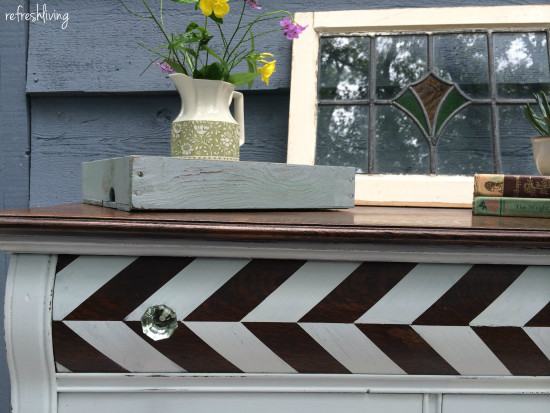 Now, you much check out the awesome transformations with Old Fashioned Milk Paint created by the hosts and the other Fab Furniture Flippin' Contest participants!
Ciburbanity || Thirty Eighth Street || Sweet Songbird Designs || Dandelion Patina || Anastasia Vintage || On Fern Avenue
Join the Refresh Living DIY & Upcycling Community
Join the subscriber list to receive one to two emails per month with updates from the blog. PLUS, you'll gain access to my printables and graphics library. Every new design I create will be added here, and you'll have free access - forever!