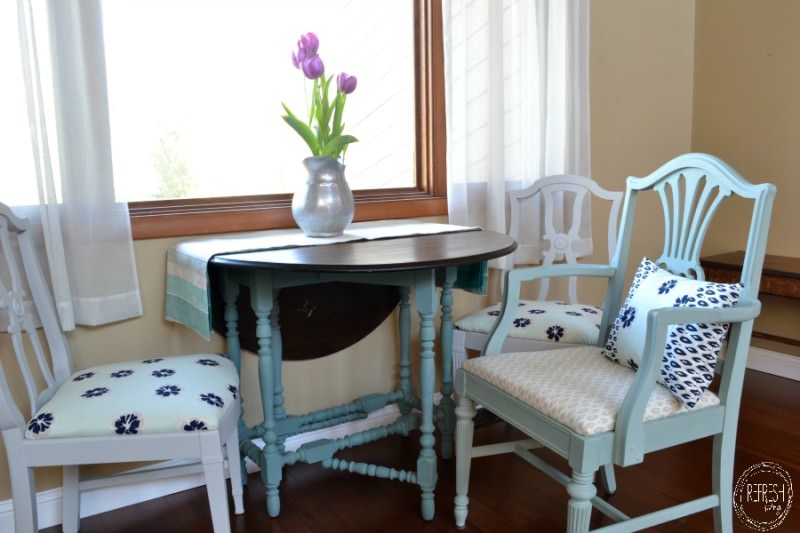 I love refinishing old chairs; it's so fun to combine paint colors with fabric patterns and give them a completely fresh look.  This month's Fab Furniture Flippin' Contest allowed me to dig out a few of the dozens of chairs I have in my garage (hmm, I might like refinishing chairs a little too much…) and redesign them.  The challenge this month was to play with different fabrics, paints, and styles to "Mix and Match" the designs.
Our sponsor this month is Fairfield World and they carry pretty much anything you would need to complete a re-upholstery or pillow project.  I like to think of them as the "behind the scenes" to my projects.  Although you can't see the foam, batting, interfacing or pillow forms, they're there – and so important to all of my furniture refinishing!  Fairfield World supplied me with the foam and batting supplies used for this piece.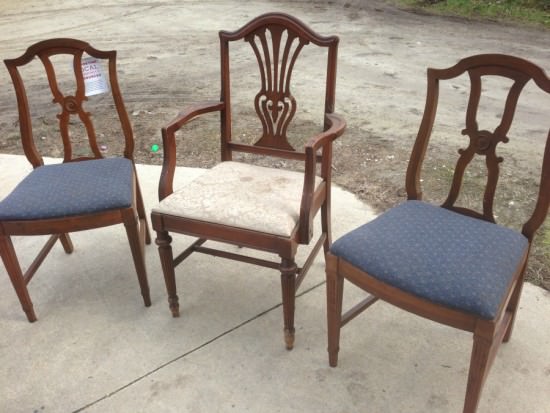 I started with three chairs, two of which were part of an original dining set and the third was a lonesome garage sale find.  Although they are different styles of chairs, I think they also compliment each other with their detailed backs and grooves on their legs.  I have a rule around here that I'll never pay more than $5 for a chair (and am almost always successful at it!), but the two blue chairs I paid $7 for each one.  Seriously though, if I didn't set this $5 rule, I'd have 50 chairs in my garage, so it's all about practicing restraint, and passing up pretty chairs that are way overpriced (or at least in comparison to my $5 budget).
Refinishing chairs is fairly simple, but I often underestimate the time it takes to paint them!  Simply unscrew the seat from the frame, and then lightly sand it.
No matter what type of paint I'm using, even chalk paint, I always, always lightly sand my piece.  It removes any extra grime and just gives a little something extra for the paint to grip to.
I had to do some repairs to one of the chairs because it was broken in a couple of places.  I just used wood glue and some clamps to hold it all together until the wood glue dried.
I sprayed the two gray chairs with General Finishes Milk Paint in Seagull Gray
and hand-painted the third chair with Annie Sloan Duck Egg Blue chalk paint.
For the seats, I removed all the layers of old fabric, and then cut pieces of 1″ foam to fit the size of the seats.  Then, I wrapped batting around each seat, securing on each side of the seat.  Finally, I wrapped the fabric around, stapling first once on each side, and then going around and stapling around the entire edge.  I have another post that describes the best way to reupholster in more detail.
I love adding a little fabric swatch from all of the different layers of fabrics I pull off chairs.  Then, I staple it to the bottom of the chair so the new owner knows the history behind the chair.  These fabrics were all on the turquoise chair before I refinished it, now, they're stapled underneath!
I screwed the chair seats back on and my mix and matched dining chairs were complete!
I chose three different coordinating fabrics from the Nate Berkus collection at JoAnn's.  This helped me to ensure that the blues, grays, and turquoises in each of the fabrics really were the same colors.
To tie everything together, I made a quick envelope pillow cover for a 12″ x 16″ pillow form using the fabric from the other chairs and a navy blue fabric in the same pattern as the gray.
I love how they all turned out.  I staged them with my antique gate leg table, and even though I used a different type and color of paint on the table legs, they almost match the Duck Egg blue perfectly.
I talked about how much I dislike staging photos in this post.  Case in point – check out the unfinished trim to the left of my front door…
At least this set of chairs is finished!
I'll be selling these dining chairs at an upcoming market at the beginning of May.  It will be interesting to see if they go as a set of three, or if the two gray chairs stick together and the turquoise is sold as a single.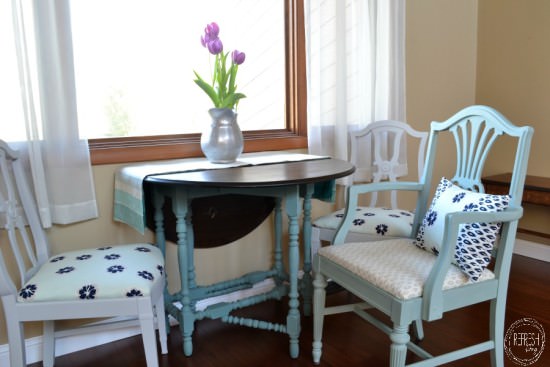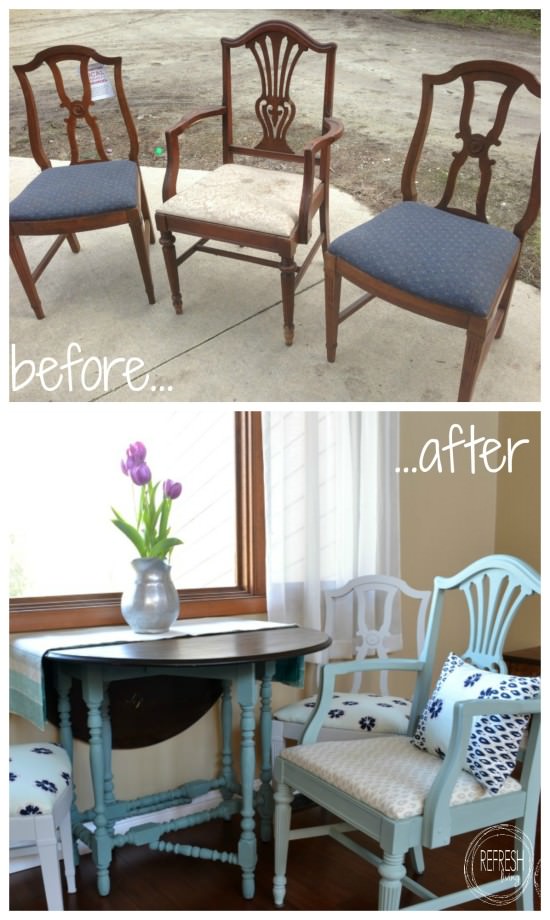 A bunch of other amazingly talented bloggers have participated in the Mix and Match Challenge as well.  Head on over to see their projects by visiting our hosts for the month: Colleen at 58 Water Street and Charlotte at Ciburbanity.
I LOVE refinishing furniture!  You can see all of my refreshed pieces here, or check out a few of my other Fab Furniture transformations below.

Join the Refresh Living DIY & Upcycling Community
Join the subscriber list to receive one to two emails per month with updates from the blog. PLUS, you'll gain access to my printables and graphics library. Every new design I create will be added here, and you'll have free access - forever!