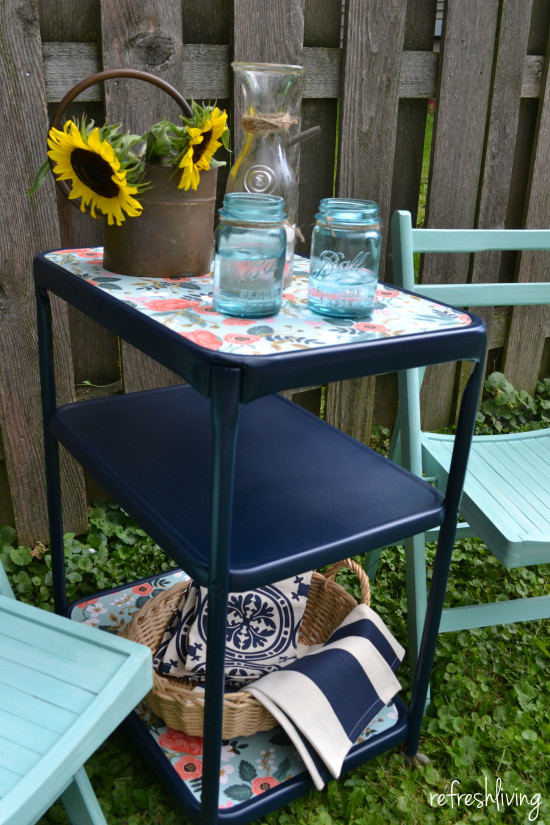 It's time to get real.  This whole blogging process has forced me to be a lot more open than I normally am.  Every post is putting a little bit of me out there, which is something that I'm just not used to doing.  Blogging has forced me to improve in areas that I don't excel in (eh hem – photography) and  continue to do the things that I love (like everything DIY) and share it with all of you!  Although I am loving the overall blogging process, challenges and all, I must admit, there are parts about all of this that I just don't love doing.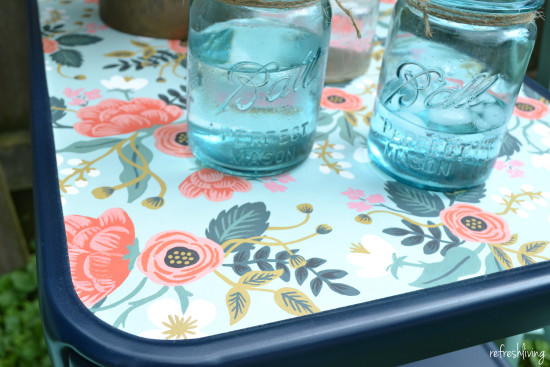 Staging photographs is one of those areas that is not my favorite.  I told you I was going to get real in this post, so let me be honest with you.  I usually dread setting up a project before photographing it.  Most of the time, I exclude everything else from the picture and just take a photo of the object (a big "no-no", I know).  But before we get to that dilemma, let's talk about the part I enjoy – painting and creating!  This post contains affiliate links, marked with an asterisk.  Feel free to read about our disclosure policy here.
I found this metal cart at an estate sale, and although I actually liked the green, it was a bit scratched and dinged up, and I didn't think the green would appeal to many others, so I decided to spray paint it.  I used Rustoleum spray paint in a satin finish and gave the cart two coats of paint.
I found this paper at a local stationary store and knew it would be perfect for my little cart.  I laid it out and folded the ends so that the edges matched the inside lip of the cart.  After cutting out each piece with a rotary cutter (nice clean, straight lines), I marked the corners off and cut the pieces off.
I sprayed each piece of paper with Clear Acrylic Spray
* (this helps the paper to remain in tact when applying the top coat later on) and let dry.  Then, I used Loctite High Performance Spray Adhesive*
and sprayed both the top of the cart and the back of the paper, and with a steady hand, laid down the piece of paper.
After it dried, I applied 3 coats of Satin Polycrylic
*, in the hopes of creating a strong finish to withstand use as a drink cart.
This wrinkling (on the left) scared me, but it ended up drying just fine (right).
So, when I finished up this vintage metal cart, it was time to figure out how in the world I was going to photograph this large object and make it look semi-nice.  Yep, I'm not even looking for beautiful here, just "nice".  Ugh.  Welcome to my least favorite part of this whole process.
But then, as I started to get going, I actually began to enjoy this one.  As I'm starting to develop my design style and collect unique finds from various sales, I realized I have a lot more options to choose from.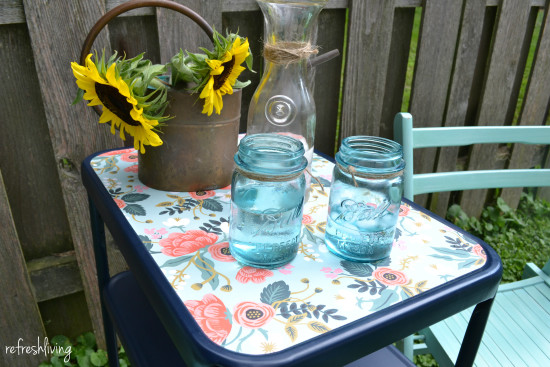 Some vintage blue mason jars, a copper watering can with sunflowers from the garden, and a basket and kitchen towels I had laying around the house…maybe this cart isn't looking half bad.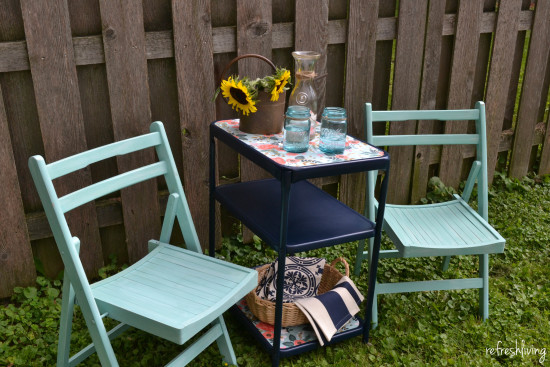 Oh yeah, those chairs are vintage wooden folding chairs that I found at a thrift store a couple of months back and painted.  They'll be for sale at a flea market I'm selling at in a couple of weeks, but for now, they're props!
I finally learned how to use my camera in manual mode, so taking the pictures is no longer a step I dread.  In fact, once I've dragged myself through that process of staging a photo, I actually enjoy taking photos of it.
Right, so I think I actually made it look nice.  But I told you I was going to get real in this post.  Even though I enjoyed staging this photo this time around, it's still not my cup of tea (or water).
Here's the reality of this photo shoot:
I took photos before adding Polycrylic to the top.  Of course condensation would form on the glass and drip on my paper.  (Don't worry, it dried out.)
This was in the middle of my living room.  I needed to take a basket from somewhere.
Those jars are dirty.  I grabbed them out of my garage and quickly rinsed them.  …and then my 18 month old tried to drink out of them.
One of the wheels in missing.  (How do I loose everything?  I had it a month ago…)
My gravel driveway is about two feet from that photo shoot.  Gross.
Those are weeds, not grass.
I really still don't enjoy staging photos.
But here's what you get to see!

Like what you see?  I'd love for you to follow along!
Facebook || Pinterest || Instagram || Google + || Bloglovin'
Linking up with these awesome parties!
Pink When | DIY Show Off | Making it in the Mountains | Refresh Restyle | Huckleberry Love | Finding Silver Pennies | Dwelling in Happiness | The Crowned Goat | 2 Bees in a Pod | Cedar Hill Farmhouse | My Uncommon Slice of Suburbia | Kammy's Korner |  Home Stories A to Z | Just a Girl & Her Blog  | The DIY Dreamer | Saavy Southern Style | Dandelion Patina | Gingersnap Crafts | Knick of Time | Posed Perfection | Live Laugh Rowe | Canary Street Crafts | Addison Meadows Lane | Blue i Style | Craftberry Bush | Miss Mustard Seed | The Girl Creative | Little Miss Celebration | Redoux Interiors | Sew a Fine Seam | Craftaholics Anonymous | Dagmar's Home | Tatertots & Jello | Funky Junk Interiors | House of Hipsters | Confessions of a Serial DIYer | Not Just a Housewife | Remodelaholic
Join the Refresh Living DIY & Upcycling Community
Join the subscriber list to receive one to two emails per month with updates from the blog. PLUS, you'll gain access to my printables and graphics library. Every new design I create will be added here, and you'll have free access - forever!