It's week 4 of the One Room Challenge, and I'm feeling as if I've accomplished a whole lot of nothing.  I actually didn't even write a week 3 update post, because I had nothing to update, because I did nothing!  I almost didn't write this post, either, because it feels like I haven't finished anything, and therefore have accomplished nothing.
I'll be the first to recognize that this is just a room design challenge, and if I don't finish it in time, I don't finish it in time. And it's okay.
I was starting to think I really might not finish this room, and felt a little discouraged about it all, but then I reflected back on the small pieces of the room that I have worked on. I may not have much to show for it right now, but all those little things I have done will come together in the end.
We still haven't ripped out the carpet and installed the laminate floors in the room yet.  I think once this gets done, it will feel like we've made some progress, but right now it's just a pile of boxes of flooring looming over my head.
The silver lining in the fact that the flooring is still not installed?  It makes it really easy to spray the crib inside the room.  Not worrying about getting paint on the carpet is the best!
Why, you might ask, am I spraying a piece of furniture inside?  Well first, I have this awesome spray shelter from Home Right that allows me to do so without making a mess AND it's been raining and will be raining here for awhile.
Just looking at this forecast sends a surge of depressive thoughts over me. The silver lining in this dreary forecast? At least there won't be any nice weather to beckon us to play and work on outside projects and we can actually install that floor!
I also finished the vintage rocking chair, which is something I am totally excited about, even if I don't have a room to put it in right now.  I stripped the old finish, stained it, sealed it, and added this fun fabric from Minted.
I haven't posted a to-do list yet, but I think it's about time to put it in writing what I still need to finish.  This usually helps to light a fire under my rear.
Paint walls and chalkboard wall
Install laminate flooring
Refinish and upholster rocking chair
Paint dresser
Paint crib
Build, stain, and install book ledges
Strip and refinish large shelf
Install gallery wall
Make frame for map
Sew curtains
DIY art projects – mobile & wall accessories
I really hope to share with you next week that the floors are installed. I think once those go in, I'll be motivated to put the whole room together.
Here's a look at what I've been up to during previous weeks: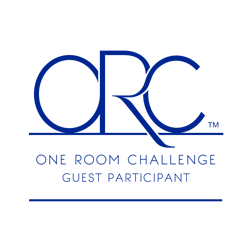 Be sure to head on over to Calling It Home to see all the other One Room Challenge participants!
Like what you see? I'd love for you to follow along!
The graphics library is free to all of my email subscribers; you can sign up by clicking the image below.

Join the Refresh Living DIY & Upcycling Community
Join the subscriber list to receive one email per week with updates from the blog. PLUS, you'll gain access to my printables and graphics library. Every new design I create will be added here, and you'll have free access - forever!