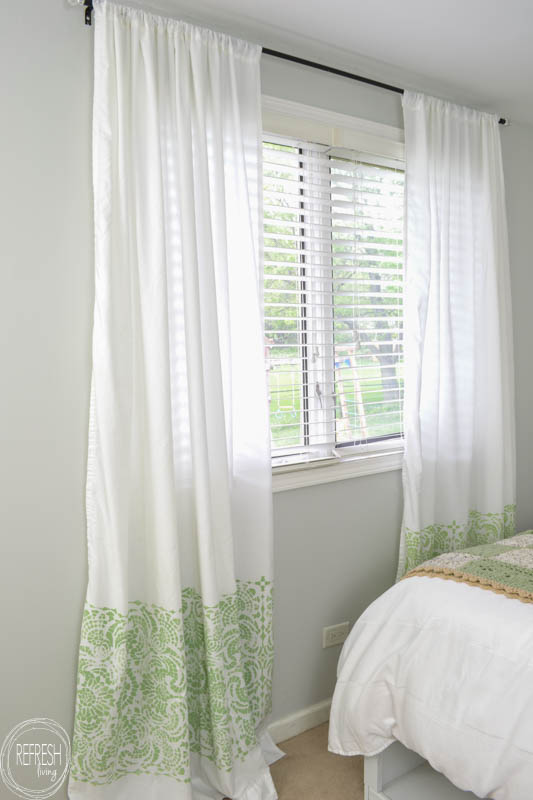 Back in April I updated our master bedroom, and similar to most everything I do around here, I found ways to give the space a new, vintage farmhouse look on a small budget.  I built our new platform storage bed, installed a shiplap plank wall, and made a headboard out of plywood.
The easiest, but also one of my favorite projects in the room, are my cheap curtains made from flat sheets – flat sheets that cost a whopping $5 each.  A few other creative bloggers have also found ways to use inexpensive flat sheets in their decor, too.  Be sure to visit their posts by clicking on the links at the bottom of the post.

Materials Needed to Make Stenciled Curtains
I started with two flat twin sheets from Walmart.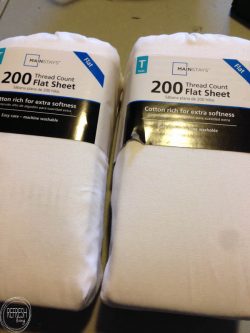 I hemmed a large loop in the top large enough to fit the curtain rod.  Then, I needed to hem up the bottom of each sheet by about 6 inches.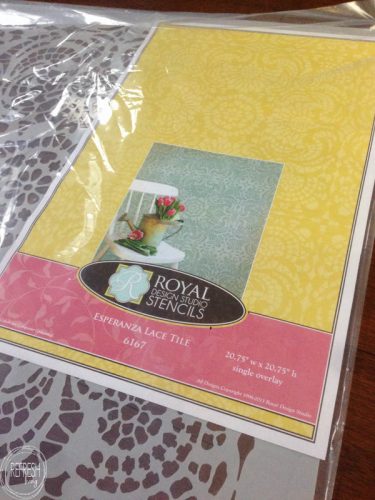 I used this large stencil from Royal Design Studio Stencils on my DIY headboard, and decided to put it to good use again to add the pretty pattern to my curtains too.
To paint on the fabric, I used leftover acrylic paint and fabric medium.  Basically, the fabric medium is mixed with any acrylic paint to turn it into a washable fabric paint.  Another option would be to just purchase fabric paint in a color of your choice, but you'd probably need a couple of bottles, which is more expensive than regular acrylic paint with the medium.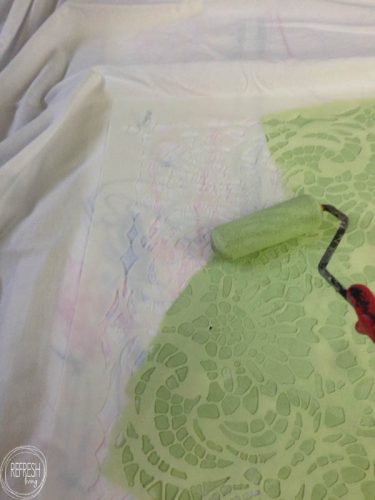 Because the stencil I used was quite large, I only needed to move it a couple of times for it to span across the length of each curtain.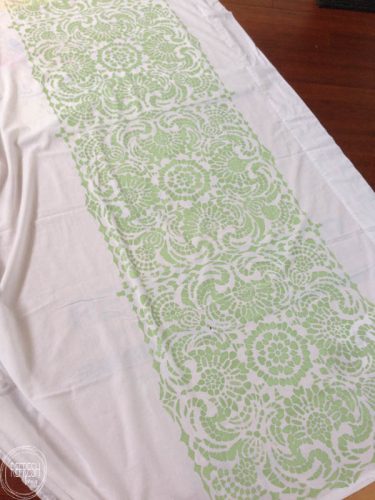 I followed the directions on the fabric medium to wash the curtains, and my cheap DIY curtains were complete.  You could also use a small stencil and randomly paint the pattern on the curtain, or a section of the curtain.  Truly, using a stencil lets you choose exactly how you want your curtains to look.  I don't think you'll be able to find a pair of custom curtains for $10 anywhere!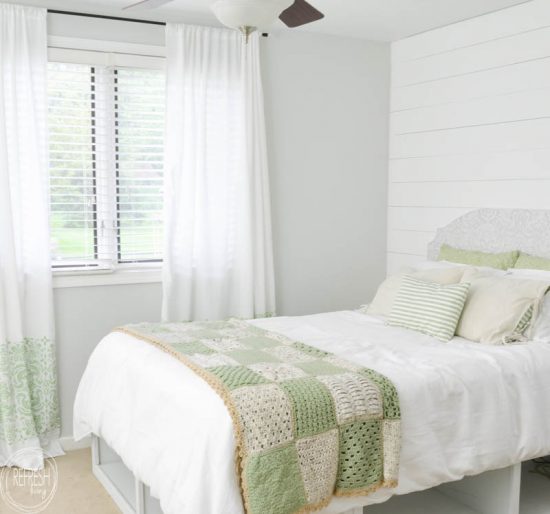 Looking for other ways to use flat sheets?  Check these projects out:
DIY Blue Ombre Curtains – Lovely Etc.
DIY Embroidered White Curtains – Pocketful of Posies
DIY Stenciled Curtains – Refresh Living
DIY Pom-Pom Curtains – This Is Our Bliss
July Create & Share Challenge: DIY Hand Stamped Canopy – Creatively Homespun
DIY Pom-Pom Napkins – Casa Watkins Living
Take a look at some of my other related DIY projects:

Join the Refresh Living DIY & Upcycling Community
Join the subscriber list to receive one to two emails per month with updates from the blog. PLUS, you'll gain access to my printables and graphics library. Every new design I create will be added here, and you'll have free access - forever!