I painted the room this week, and the dresser, and that's about all that I've accomplished.  I didn't realize how difficult it is to work in a room where a baby sleeps virtually all day.  Now, I am certainly not complaining that my 3 month old sleeps what feels like all day and all night.  In fact, I'm a little hesitant to even type that she sleeps so well, because all you parents out there know what can happen when you make the comment that you have a great sleeper, right?!
We don't have much extra space in our house, and the girl really likes to sleep in her room and not much anywhere else, so my husband and I need to get creative when we figure out when to install the flooring.  We still don't have a plan, but it'll get done!
For now, I've made a little work/pile zone outside of her bedroom door.  (When I took this picture, you guessed it, she was sleeping behind that closed door.)
I stripped the finish off that rocking chair and am already loving it so much more than before.  I'll stain it and reupholster the seat with a black and white fabric.
Like I said before, painting is what I accomplished this week.  The room is a disaster zone, but we now have a vintage green chalkboard wall and a painted dresser.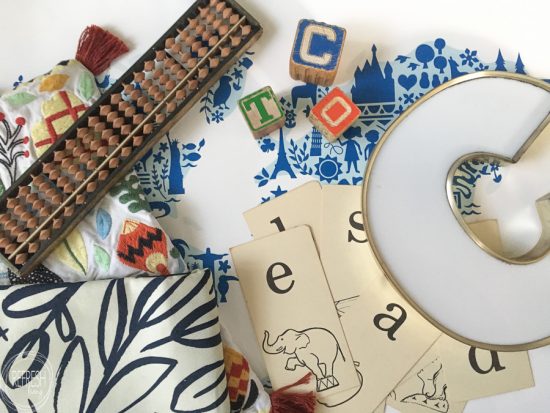 I'm most excited for the accessories in this room, because I love vintage anything.  Here is a peek at a few of the fabrics and items that will be going in the space.
That's all the updating I can do right now.  Here's hoping those floors are installed by next week (and that my little girl keeps sleeping like an awesome-sauce baby).
If you missed my ideas for my vintage schoolroom inspired nursery, you can see them here: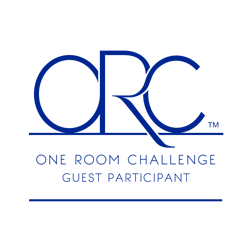 Be sure to head on over to Calling It Home to see all the other One Room Challenge participants!
Like what you see? I'd love for you to follow along!
The graphics library is free to all of my email subscribers; you can sign up by clicking the image below.

Join the Refresh Living DIY & Upcycling Community
Join the subscriber list to receive one to two emails per month with updates from the blog. PLUS, you'll gain access to my printables and graphics library. Every new design I create will be added here, and you'll have free access - forever!