I'll be the first to admit this room looks boring right now, but it's all part of the room transformation process, right?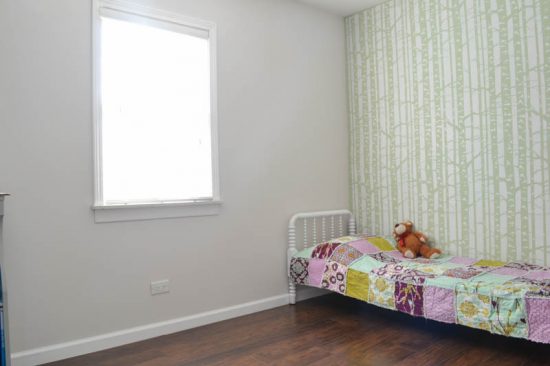 I'm trying to create a bedroom, with only 99 square feet of space, into a shared space for my two young girls.  The plan is to create individual areas that will help them to not pull each other's hair when they get to that dreaded middle school age.  We'll see how that goes!
You can take a look at the room when we started two weeks ago, and take a look at the design plan for the space.
This week, we removed the carpet and installed the new laminate floors.  We painted the room and gave the trim a fresh coat of paint as well (I couldn't help myself.  When the flooring is ripped out, there's no better time for it!)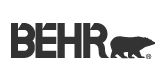 A special thanks to Behr for providing the paint for this room!  Using quality paint really does make a difference when painting a room, and the Behr Premium Plus Ultra made painting this room a breeze!  
We chose Spun Wool for the wall color, and I used my go-to for painting trim, an Alkyd based paint.  I shared all my tips for quickly painting a room including the best order for painting the ceiling, trim, and walls.
Here's that list of what still needs to be completed.  I'm really not nervous…should I be?
Paint room and repaint baseboards and trim
Remove carpet and install laminate floors
Construct a lofted bed and install
Make a macrame closet cover
Build wall mount bookshelves
Make a hot air balloon hanging pendant light
Sew a quilt for my daughter
Wall art – inspirational quote canvas
Wall art – song lyric artwork
And  a couple of new additions that I forgot needed to be completed when I first made this list (awesome…):
Make and install DIY curtain rods
Organize the girls' closet
Be sure to check out the progress of all the other rooms at Calling it Home!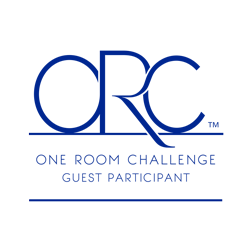 Like what you see? I'd love for you to follow along!
Facebook || Pinterest || Instagram || Google + || Bloglovin'