A week has passed, and the room looks virtually the same as it did last week.  The only addition I made in the actual room is the installation of the base shoe, but besides that, all of the work for the space has come on DIY projects for the room.
The trouble is, I have a hard time focusing on one project at a time, so I've started about 5 different projects, but none of them are actually finished!
I have my strips cut for the jelly roll quilt I still need to sew.
I've spent more time than I'd like to admit making knots around the pendant light cord.  I'm 2/3 of the way done!  The paper lantern in the image will be the top of my hot air balloon light, and I finally ordered the item I plan to use for the bottom basket.
I stained the wooden brackets and dowel rods that I plan to use for my curtain rods in the room.  I'll add a little bling to the ends and then I can install them.
I cut all the boards and started building the wall mounted bookshelves for the room.  I need to finish putting those together and then stain them.
The girls' new rug will be arriving this Friday!
I still haven't started to build the loft bed or to make the macrame closet cover, but I have my plans ready for both, so I hope to finish them this weekend.
Here's a look at the past three weeks:
Well this is a bummer.  I can't actually cross off anything from my list this week.  Have you ever made a list and crossed out half of the words because you're halfway done, just to make yourself feel better?  I'll admit, my paper list has some partial lines on it…
Paint room and repaint baseboards and trim
Remove carpet and install laminate floors
Construct a lofted bed and install
Make a macrame closet cover
Build wall mount bookshelves
Make a hot air balloon hanging pendant light
Sew a quilt for my daughter
Wall art – inspirational quote canvas
Wall art – song lyric artwork
Make and install DIY curtain rods
Organize the girls' closet
Be sure to check out the progress of all the other rooms at Calling it Home!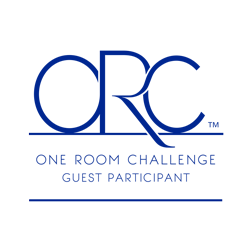 Like what you see? I'd love for you to follow along!
Facebook || Pinterest || Instagram || Google + || Bloglovin'

Join the Refresh Living DIY & Upcycling Community
Join the subscriber list to receive one to two emails per month with updates from the blog. PLUS, you'll gain access to my printables and graphics library. Every new design I create will be added here, and you'll have free access - forever!